20
Apr
2012
Details

Category: Movie Reviews
Written by Gilbert Seah
Two documentaries, CHIMPANZEE and IN THE ARCTIC (not reviewed due to screening clash) about nature open this week commemorating Earth Day.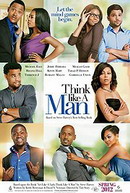 CHIMPANZEE (USA 2012) ***
Directed by Alastair Fothergill and Mark Linfield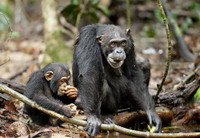 CHIMPANZEE is about a young one named Oscar who finds himself orphaned in the African forests until he is adopted by another chimpanzee, Freddy.
CHIMPANZEE, because one has to make head and tail of the documentary footage might be above the heads of a younger audience.  But the film contains no violence or animal attacking animal segments.  The only intense moment is the fight for territory between Scar and Freddy.  Even then, the fight is likely made up and not a real one.  So for all matters, CHIMAPNZEE is totally family friendly.
Narration is by Tim Allen.  But it is annoying the way Allen talks down to the audience as if the entire audience is made up of children.  Comments like: "Yum, yum" when Oscar is eating could be done away with.
The documentary also contains too many sequences of the chimpanzees looking for, preparing and eating their food.  There are at least 4 separate sequences.  The most remarkable footage is the time lapse camera showing the movement of the plants in the jungle s well as the movement of a river of giant ants.  The part of the chimps eating the ants on a stick is the most memorable.
Concocting a story out of gathered footage must be difficult enough.  Still one wonders, as the film progresses, how much is made up.  The fight sequences simply show the chimps swinging up and down the branches and are hardly convincing.
Christophe Boesch, head of the Wild Chimpanzee Foundation, served as principal consultant and Alix Tidmarsh as producer.  CHIMPANZEE was shot over three years in the tropical jungles of the Ivory Coast and Uganda.
Similar to other Disneynature releases (EARTH, OCEANS and AFRICAN CATS), a portion of the film''s opening week proceeds will be donated to a charity, in this case the Jane Goodall Institute for the "See Chimpanzee, Save Chimpanzees" program to help protect chimpanzees and their habitats.
Make sure you stay during the end credits as the directors and crew talk about their experiences in the making of the movie.  The end footage is both insightful and humorous and it shows how difficult it is to get a film like this made.
DAMSELS IN DISTRESS (USA 2011) ****  
Directed by Whit Stillman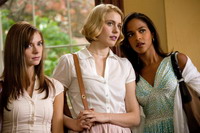 Indie writer/director Whit Stillman returns after a 13 year absence with DAMSELS IN DISTRESS, a sort of MEAN GIRLS kind of comedy in which everyone speaks with perfect arguments and knowledge – Stillman style.
I must admit that I am not a Whitman fan.  I disliked METROPOLITAN, BARCELONA and THE LAST DAYS OF DISCO because they were pretentious and everyone spoke as if they knew and they did know everything, and were all so smart and argumentative.  But to my surprise, I loved DAMSELS and only caught this movie at the Toronto International Film Festival because of screening scheduling problems with this film shown in place of another I wanted to see.  This film makes fun of all the other three Stillman films and characters, poking fun at people's successes and smugness.  The smart, tall and handsome are put down though they can still argue their way out.
The film takes a unique look into the psyche of privileged American youth, this time focus­ing on a group of undergraduates at a leafy East Coast university that has only recently begun to accept female students. The film stars Greta Gerwig as Violet, a kind of post-modern Jane Austen character. Prim, proper and extremely odd, Violet is the alpha/leader to a trio of attractive girls who have vowed to improve anyone they deem in need.  When the girls spot a new transfer student named Lily (Analeigh Tipton), they take her under their wing and show her what to wear (think Grace Kelly by way of the 1980 Preppy Handbook), who to date (unattractive and dumb boys are ideal candidates for repair) and how to help prevent campus suicides (solution: tap-dancing, free donuts and good hygiene).
However, when Violet is betrayed by her (wildly inferior) beau and begins to pine for Lily's new flame (Adam Brody), her orderly world starts to crumble.   The status quo is threatened.  The girls create their kind of havoc everywhere they go.  If they did nothing, all would have gone on just fine.  Stillman also ends his film with Fred Astaire dance numbers.  The music score is just lovely with hits like Another Night.
DAMSELS IN DISTRESS is one of the most delightful movies made of a morbid topic.
I'M YOURS (Canada 2011) **
Directed by Leonard Farlinger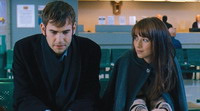 I'M YOURS is a quirky romantic Canadian comedy that tries hard enough though does not quite make it from the director of ALL HAT, Leonard Farlinger.
The film contains two well-known Canadian actors Rosiff Sutherland (son of Donald and brother of Keifer who debuted in POOR BOY'S GAME) and Don McKeller.  Sutherland has proven himself as a solid lead as the boxer in POOR MAN'S GAME and it is surprising to see McKellar in a rare role as a well groomed meticulously clothed (in a  suit) best friend of the protagonist.  Of course, one knows something else is going on in his mind.
I'M YOURS is basically a romantic comedy/drama.  But writer/director Farlinger puts in as many different angles as he can as is obvious from the film's start.  The first meeting of the lovers Robert (Sutherland and Daphne (Quebec actress Karine Vanasse) in a bar contains an ingenious pickup line.  The two have a one night stand after which she kidnaps him (hence the title I'M YOURS) to bring him north to Canada to meet her parents who have rejected her in the past.  All this makes interesting and different fodder for a love story but the film's monotonous pacing brings the material down.  The meeting of the in-laws is also quirky enough but nothing in the film strikes out.  Perhaps one or two laugh out loud comedic set-ups would have helped.
The film contains a few very typical Canadian scenes.  The sight of the lake as viewed from the in-laws' house is nothing short of spectacular.
As expected, Robert discovers that despite his kidnapping, Daphne is not that bad a girl after all.  The romance continues and the so does the film's flatness.  I'M YOURS turns out to be an ok date movie and nothing more than that.
SOUND IT OUT (UK 2011) ***
Directed by Jeanie Finlay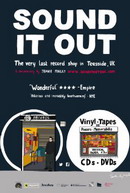 SOUND IT OUT is a small likeable little movie not really about the last surviving record shop in Teeside in North England (as it seems) but of the owner and the people affected by it.
As little happens in director Finlay's film as in the record store which is mostly empty.  But one cannot help but root for the small entrepreneur and his store that has affected the lives of so many.  It is wonderful to see Tom Butchart in his element, surprising his customers with his extended knowledge of music and where all the records are kept in the rather cluttered store.
Finlay also brings the town of Teeside into the picture.  She grew up a few miles from the shop.  Here is a town where unemployment is high and the youth are restless.  But like the store, there is an unexplained loyalty of the town folk who refuse to leave the town, say for London.  Finlay also incorporates several performers who know their favourite artist sing or lip-sync several songs or perform in the record shop.
Toronto has its own specialty vinyl record stores too, the most famous called Play De Record which caters primarily to a select group of customers including DJ's who want different extended mixes of dance hits.  Visiting this store would make a good accompaniment to watching the movie.
SOUND IT OUT is the Official Film of Record Store Day, which embarked on a theatrical tour of the UK last year after receiving support from over 400 backers on the crowd funding website IndieGoGo.
THINK LIKE A MAN (USA 2012) *
Directed by Tim Story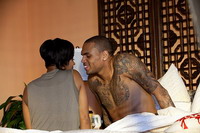 THINNK LIKE A MAN is an African American black comedy adapted from the best seller of the same name by Canadian Steve Harvey.  One would expect better from a guy writing a chick flick (maybe offering two gender points of view on relationships) but this film is not only plain awful but foul.
The centre of the story is a book written by Harvey called THINK LIKE A MAN.  On a talk show, Harvey proposes that women learn the game to win in relationships by reading his book.  This, the four women in the story do, but their guys also read the book to come up one upper from their ladies.  It is sort to be a guys winning story.  But since this is a chick flick, the women find out that the book has been read by their guys and freak out.  They leave them but they guys pine and beg fro their women back.  Since the film is supposed to be a chick flick, the reasoning makes sense but in real life it doesn't.  So, it is ok for the girls and not the guys to read the book?  Steve Harvey must have been some hen-pecked guy in reality!
All the four interconnected couples in the film have model perfect (both guys and girls) bodies and wear GQ wardrobe.  When the guys appear semi-nude, one can hear the audience swoon in their seats.  But this is not what real people are like in real life.
As the film deals with not one, but 4 couples, the running length of the film runs to almost 2 hours.  The audience gets to suffer through not one but four predictable and boring romances.  But the couples are distinguishable as their nuances (one is a mama's boy and a single mother; another is a part-time waiter and one very rich financial analyst, etc.), so they also hold interest.
Steve Harvey also narrates and appears a few times in the film.  Queen Latifah (really funny here) has an uncredited cameo as well.
One would expect a little respect from an American African film for other minorities.  The unforgivable insulting gay slurs that occur not once (the start had a look down on a son that plays a violin or cello as being gay) but twice leaves a really foul taste in the mouth.
To the stars credit, they try really hard, despite the bad script and come up with a few scattered laugh out loud moments.  But these are not sufficient or an excuse for this kind of movie.
WEST WIND: THE VISION OF TOM THOMSON (Canada 2011) ***1/2
Directed by Peter Raymont and Michele Hozer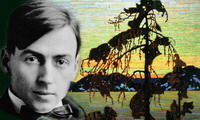 Filmmakers Peter Raymont (THE BORDER, THE INNER LIFE OF GLENN GOULD) and Michele Hozer (SHAKE HANDS WITH THE DEVIL) new documentary on Tom Thomson is an exhaustive study of one of Canada's most famous artist and colourist.  It is everything you need to know about Thomson.
Thomson has been described as Canada's foremost colourist and own Van Gogh.  In the film, audiences are treated with the life story of Thomson, from birth to death, the influences on his work, his actual workings and how others felt about him.  Most of the interviews in the film are given by his contemporary artists, family, friends and critics while the film includes many shots of him (re-enactments) at work painting in various locations.
With the story of his life, the audience is brought to understand the way Thomson lives.  His non-city upbringing would naturally attract him towards nature and ultimately Algonquin Park where he resided to do most of his painting.  He grew up in Georgian Bay.  The directors also reveal how the War affected Thomson and other artists.  The directors' fondness of Thomson is evident throughout the film.  Thomson can do no wrong.  Whether not serving in the army or doing what he liked in real life (Thomson never did manual chores), Thomson is always given the benefit of the doubt that what he did was correct for the sake of art.
The directors also explain the meaning of impressionist paintings as well as how Thomson achieved creating a different image of Canada to be seen by all.  Lots of Thomson's actual works are also flashed on the screen and even more during the end credits.  The formation of the Group of 7 is also explained.
The most film's most moving moment is the segment involving the painting of the West Wind (the film title).  During a wicked storm in Algonquin Park, Thomson left the cottage and went into the storm to paint.  The resulting painting displaying both the fragility and strength of nature is reflected also in the character of Thomson himself.
Quite a large portion of the documentary (the last 20 minutes) is devoted to the controversy surrounding Thomson's death.  According to the autopsy, Thomson died from accidental drowning. (He died on July 8, 1917 mysteriously on Canoe Lake with his body found days later and his canoe capsized.)  The film determines that he was injured during a fight and his body put into a canoe which was pushed into Canoe Lake.
WEST WIND: THE VISION OF TOM THOMSON is a meticulously researched documentary on Thomson.  The famous artist will get the wider recognition he deserves through this film.
BEST BETS OF THE WEEK:
Best Film Opening: Damsels in Distress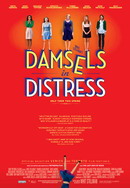 Best Film Playing: The Deep Blue Sea
Best Action: Mission Impossible 4: Ghost Protocol
Best Drama: The Deep Blue Sea
Best Foreign: A Separation
Best Comedy: 21 Jump Street
Best Family: Dr Seuss' The Lorax
Best Documentary: Happy People: A Year in the Taiga