03
May
2012
Details

Category: Movie Reviews
Written by Gilbert Seah
Biggest film opening is MARVEL'S THE AVENGERS.  Others include DETACHMENT and THE BEST EXOTIC MARIGOLD HOTEL.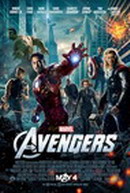 The Toronto Hot Docs Film Festival continues its run in Toronto as well.
THE BEST EXOTIC MARIGOLD HOTEL (UK 2011) **
Directed by John Madden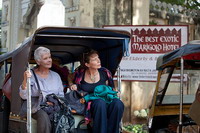 The original title of the film, THE BEST EXOTIC MARIGOLD HOTEL FOR THE ELDERLY AND BEAUTIFUL is exactly what the film is – a film for those over 60.  This film is exactly what is expected, provided escapist entertainment for an elderly target market.
The plot is simple and nothing sort of ingenious.  It follows a group of British retirees who decide to "outsource" their retirement to less expensive and seemingly exotic India - to Jaipur in North India, to be exact.  Enticed by advertisements for the newly restored Marigold Hotel and bolstered with visions of a life of leisure, they arrive to find the palace a shell of its former self.  Though the new environment is less luxurious than imagined, they are forever transformed by their shared experiences, discovering that life and love can begin again when you let go of the past.
Yes, romance can still be found in the golden years.  Well, in movies anyway!  Douglas (Bill Nighy) a man in a cooped up marriage with Jean (Penelope Wilton) falls in love with Evelyn (Judy Dench).  Don't worry – Jean lets him go as she discovers that that is the best thing.  Nobody should be hurt, emotionally ord physically in this over well-intentioned film.  Two singles (Celia Imrie and Ronald Pickup) who fail to find another match eventually do in Jaipur.  To open the target audience to the younger crowds as well, a youthful romance between the hotel manager (Dev Patel) and Sunaina (Tena Desae) as well.  Of course, the mother objects but finally gives in, thanks to the predictable script.
The film praises all that is different in the exotic city of Jaipur in India while putting down drab Brit culture.  (Isn't it the opposite in real life?)  The hustle and bustle of the streets, the efficiency of the tut-tuts (bike taxis), and Indian spicy food are praised.  Of course to those who have been to India, the novelty of the land might already be too familiar.
There is nothing really wrong with the film.  It is just that THE BEST EXOTIC MARIGOLD HOTEL is just too predictable and easy going for the liking.  The elderly should be respected and be given a bit more in terms of entertainment instead of this sentimental rubbish from the director who has done better with MRS. BROWN and SHAKEPSEARE IN LOVE.
DETACHMENT (USA 2011) ***
Directed by Tony Kaye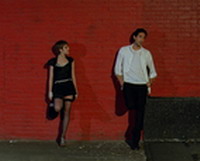 Tony Kaye's DETACHEMNT is interesting to see how teacher classroom drama has changed from films like THE BROWNING VERSION, TO SIR WITH LOVE and UP THE DOWN STAIRCASE.  Now the students are violent, verbally abusive and have no qualms about beating up or even killing their teachers.
DETACHMENT is a dead serious film – at times too serious for its own good.  It could do away with the preachy talking head Adrien Brody talking to camera expressing his view (or rather the director's) on the subject.  But to director Kaye's credit, his film packs quite the punch, especially from the film's two early scenes, one with the principal's (Oscar winner Marcia Gay Harden) from the Board inspectors and Henry's  (Oscar winner Brody) first day of class.
Detachment chronicles three weeks in the lives of several high school teachers, administrators and students through the eyes of a substitute teacher named Henry Barthes.   Henry roams from school to school, imparting modes of knowledge, but never staying long enough to form any semblance of sentient attachment.  Henry has his problems but has a perfect profession for one seeking to hide out in the open.  One day Henry arrives at his next assignment. Upon his entry into this particular school, a secret world of emotion is awakened within him by three women.   First there is a girl named Meredith (Betty Kaye) in his first period, then a fellow teacher Ms. Madison (Christina Hendricks, and a street hooker named Erica (Sami Gayle), whom Henry has personally granted brief shelter from the streets.  Each one of these women, like Henry, are in a life and death struggle to find beauty in a seemingly vicious and loveless world.
The performances are top notch from Brody to the great supporting cast which includes Harden, James Caan and Lucy Liu as fellow staff.  The segments with Caan demonstrating offensive humour and Liu losing it with a rude student are the film's most dramatic parts. The music and the song that comes in the middle of the film feel odd.
With all the bleakness in the film, one wonders how Kaye would end his movie.  He ends it appropriately with Henry finishing his supply teaching assignment and his class professing the praise Henry deserves.  If there is a message in the end, it is probably that one has to ride out life's most difficult trials.
The classroom lessons (Henry's first day in class) and confrontations (the principal and her husband) are very well written by Carl Lund who also produced his movie.  It will be worthwhile to see what director Kaye and writer Lund will come up next.
HEADHUNTERS (HODEJEGERNE) (Norway 2011) ****  
  Directed by Morten Tyldum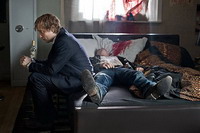 The film HEADHUNTERS has a script that Hitchcock would have picked up in a second.  The story is a suspense thriller with a lead character that is full of class (Cary Grant type) who steals art paintings for a living in order to support a beautiful icy blonde wife who looks just as classy as Grace Kelly or Tippi Hedren. 
The film also has bouts of violence like THE GIRL WITH THE DRAGON TATOO.  So this Scandinavian entry has no surprisingly been picked up by North American distributors as they expect the film to be a sure hit.  If not Hollywood would more than likely buy the rights for a remake. Based on the crime fiction Norwegian best seller by Jo Nesbo, HEADHUNTERS centres on a headhunter (corporate recruiter) by the name of Roger Brown (Aksel Hennie, Norway's top star, MAX MANUS, COLD LUNCH).  He is a 1.68 metre man who has to prove himself beyond his height status.  He loves his wife, Diane (Synnove Macody Lund), cheats within reason and eventually does all he can to win her back.  This is how the script gets the audience to root for a womanizing thief. 
What works most to the film's advantage is the story's unpredictability.  There are twists around every corner, right down to the last reel.  The happy ending is one that Max worked too hard for (he has to jump in the bucket of shit in the outhouse, bitten by a pitbull and to shave his head bald) and clearly deserves where he pays back one of his robbed clients by offering a highly paid job that pines for. 
It is interesting to see director Tyldum play with false alarms.  The audience knows that the intended victim owns a dog that is not to be present at the house till a day later after the burglary. When Roger enters the home to steal the painting, a loud barking sound is heard.  But that comes from a dog being walked by a neighbour outside the apartment in the hallway.  There is another segment in which Roger determines his colleague Ove (Eivind Sander) as dead only to discover him alive and then have to kill him in the end.
The only credibility flaw of the story is the reason Clas Greve (Nikolaj Coster-Waldau) needs to have Roger killed.  The film is likely more violent than what Hitchcock would have envisioned, but is one in which modern audiences have grown to expect.  But the film is as slick as its main character, manipulating his clients as well as committing the art thefts. 
In the end, HEADHUNTERS turns out to be a satisfying thriller but unfortunately the type American audiences should see but seldom do because the film is subtitled and foreign.  The best crime thriller so far this year!
MARVEL'S THE AVENGERS (USA 2012) ***1/2
Directed by Joss Whedon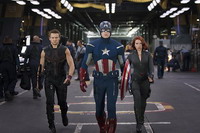 The most anticipated action film of the year, MARVEL'S THE AVENGERS literally explodes into theatres this weekend.  Basically a comic book action film at heart complete with more than one action hero, several other genres like disaster, sci-fi and horror are also touched.
The Avengers are made up of Marvel Super Heroes Iron Man (Robert Downey Jr.), The Incredible Hulk (Mark Ruffalo), Thor (Chris Hemsworth), Captain America (Chris Evans), Hawkeye (Jeremy Renner) and Black Widow (Scarlett Johansson).  The plot is nothing out of the ordinary but spiced up enough for audiences to sit up to take notice.  Yes, the fate of the planet is at stake.  So Nick Fury (Samuel L. Jackson), the Director of International Peace Keeping, S.H.I.E.L.D. recruits the 6 super heroes to battle the evil Loki (Tom Hiddleston).  But the heroes also have super egos and they have to settle their differences before working together.
Everything is up on super scale for display in this movie – as should be in blockbusters.   For example: one character quips: "Is this a submarine?".  Then this massive machinery rises out of nowhere from the ocean.  The technical jargon is plentiful as well.  The audiences are assumed to be familiar with for instance, reflective panel encryption.  "Speak English!" is an ironic line Captain America says to Iron Man at one point.
Comic book fans will get a share of excitement when they see their super heroes battle each other.  Thor fights Iron Man and Captain America battles The Hulk.  The Hulk goes after Black Widow.  Director Whedon has not forgotten to provide humour into the proceedings as well.     Of all the actors Tom Hiddleston as the evil and creepy villain, Loki (in outlandish costume) steals the show.  Already seen by most North Americans in WAR HORSE and as the volatile lover in THE DEEP BLUE SEA, Hiddleston brings out the raison d'être behind his motive of destroying the planet and the superheroes.  Downey Jr. does his IRONMAN/ SHERLOCK HOLMES shtick while Evans and Hemsworth awe audiences with their charm and perfect bodies.
Point of interest to note is that The Human Torch from the Fantastic Four cannot join the Avengers Group. (Reason is that Luke Evans cannot play two different parts in the same movie.  (Or can he?)
It is no simple feat for a film to maintain action packed edge of the seat viewing from start to end.  MARVEL'S THE AVENGERS has a muddling slow middle.  But for the most part, the film delivers top notch special effects action sequences that should satisfy the majority of comic book fans.
PLANET YOGA  (Canada 2011) **
Directed by Carlos Ferrand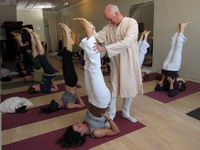 Director Carlos Ferrand professes not to practice yoga though he is fascinated by it.  He claims 50 million North Americans who practise cannot be wrong. (Or can they?)  I myself have attended a few but found them a tad boring.  (I taught aerobic classes for 12 years.)
As such his film is not really convincing.  In fact there is not much research but looking up past swamis who have made their presence felt in North America.  Fearrand traces the thoughts and saying of a few teachers and students but these are never dealt with in any depth or with scientific reason.  The 'miracles' are proclaimed thought these are few and far between.
Ferrand talks about different types of yoga classes such as naked yoga and dog yoga but fails to show any of these oddities on film.  The recent fad of 'hot yoga' is also neglected.  His film could have been spiced up with shots of naked or dog yoga.  In fact, Ferrand's film is quite boring from start to finish.
PLANET YOGA does not provide much insight on yoga or its history, practices or art.  One can learn more by attending a yoga class.  At the end of the film, Ferrand finally confesses that he ahs done yoga.
Ferrand claims that yoga has earned all his respect.  If only his film would display his enthusiasm.
BEST BETS OF THE WEEK:
Best Film Opening: Headhunters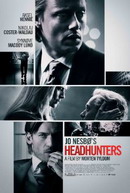 Best Film Playing: The Deep Blue Sea
Best Action: Marvel's The Avengers Best Drama: The Deep Blue Sea
Best Foreign: Headhunters (Norway)
Best Comedy: Damsels in Distress
Best Family: The Pirates! Band of Misfits
Best Documentary: Ai WeiWei: Never Sorry (Opening Film: Hot Docs)