02
Aug
2012
Details

Category: Movie Reviews
Written by Gilbert Seah
More than 8 films open this week including TOTAL RECALL the remake.
The Summer in France series at the TIFF Bell Lightbox continues for those close to Toronto.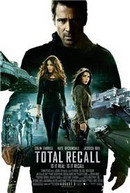 2 DAYS IN NEW YORK  (France 2012) ***
Directed by Julie Delpy
2 DAYS IN NEW YORK is the second similar film by French actress Julie Delpy after 2 DAYS IN PARIS.  Her films could fall into similar territory as the Richard Linklater films BEFORE SUNRISE and BEFORE SUNSET and the Woody Allen set in New York nuanced romantic comedies.
But her new film contains some bizarre and new material to her credit.  The situations occurring in the 2-day adventure include Marion (played by Delpy) selling her soul, grabbing the groin of actor Vincent Gallo and falling from a tower in Central Park.  Though one wonders of the purpose of her movie, one cannot deny her talent at coming off with unconventional situations
Marion and Mingus (Chris Rock) live cozily - perhaps too cozily-with their cat and two young children from previous relationships. However, when Marion''s jolly father (played by director Delpy''s real-life dad, Albert Delpy), her oversexed sister, Rose (Alexia Landeau), and her sister''s outrageous boyfriend, Manu (Alexandre Nahon) unceremoniously descend upon them for a visit, it initiates two unforgettable days that will test Marion and Mingus''s relationship. With their unwitting racism and sexual frankness, the French triumvirate hilariously has no boundaries or filters...and no person is left unscathed in its wake.
Chris Rock plays a straight role as Marion's long suffering husband.  The inter-racial relationship is a given which is a plus on Delpy's direction.  Though the film moves along slowly for the first half, the comedic situations pick up fast and furious during the second half.  The French are played down in terms of their promiscuity, food and behaviour.  Rose trots around nude and has no qualms seducing Mingus.  Marion returns one morning with a whole bunch of croissants to the delight of her French visitors and the visitors' behaviour are more rude than polite.  Rose and Manus' lighting up of a spliff in an elevator then speaking rudely in French while her (French fluent) neighbour is listening on is hilarious.
But for all the troubles between Mingus and Marion and between Marion and her odd French family, the message that family means everything still comes through loud and clear.  2 DAYS IN NEW YORK comes off better than expected, thanks to Delpy's risk taking paying off
360 (UK/France/Brazil/Austria 2011) ***
Directed by Fernando Meirelles
As the title 360 implies, this is a film about the lives of several characters that come full circle.  Directed by Brazilian Fernando Meirelles who astounded audiences with CITY OF GOD, 360 is a film many have been anticipating.
Inspired by Arthur Schnitzler''s classic La Ronde, screenwriter Peter Morgan and director Fernando Meirelles'' 360 combines a modern and dynamic roundelay of stories into one, linking characters from different cities and countries in a vivid, suspenseful and deeply moving tale of love in the 21st century. Starting in Vienna, the film beautifully weaves through Paris, London, Bratislava, Rio, Denver and Phoenix into a single, mesmerizing narrative.
The film begins with a story set in Vienna about a newly employed call girl whose sister goes missing as a result.  She is set up to meet a new client, Michael Daley played by Judd Law and his story is slowly linked to others, and hers again is.  The multiple story film format is nothing new, but 360 is still interesting as these stories are all vividly different.  The stories, for once do not follow the predictable route.  Some bad guys and really bad but some having some saving grace, as in the case of a convicted sex offender, played by Ben Foster.
The film is slow at the start, a necessity in order to get the audience familiar with each character.  To the scriptwriter Peter Morgan's credit, his stories are more intriguing than those found in the average film, so the film comes off more interesting as such.
360 does not contain the wild camera movements found in director Meirelles' CITY OF GOD, but 360 still contains some impressive camera work, like the shot where the camera pulls back from the pimps' vehicle to the bus transporting the call girl and her sister. 360 does not contain the wild camera movements found in director Meirelles' CITY OF GOD, but 360 still contains some impressive camera work, like the shot where the camera pulls back from the pimps' vehicle to the bus transporting the call girl and her sister.
The film would work better if the stories shared a common theme or perhaps contained a subtle message.  But as they say, everyone loves a good story and several good stories work better than just one.
CELESTE AND JESSE FOREVER (USA 2012) *
Directed by Lee Toland Kreiger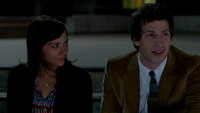 As far as the well trodden romantic comedy genre goes CELESTE AND JESSE FOREVER is the most boring, God-awful film that has appeared on screen this year.
Though not a huge fan of romantic comedies, a few such as the original Elaine May's BLUME IN LOVE has always been one of my favourite films of all time.  The reason that film has been brought up is that CELESTE AND JESSE  FOREVER also deals with the theme of the romance while in separation.  In BLUME IN LOVE, the George Segal character sets up to woo his ex-wife.  In CELESTE AND JESSE FOREVER, a divorcing couple who is still very much in love with each other, Celeste (Rashida Jones who also wrote this piece) and Jesse (Andy Samberg) tries to maintain their friendship while they both pursue other people.  Of course, they love each other to the very end of the movie divorce or no divorce, but not after they have put not only their friends but the audience through a most boring and waste of time.
The film contains infantile unfunny humour that only this couple finds amusing like speaking in accents, copying each other or fondling penis look-alike (pencils) objects.  When not doing this, they go on ridiculous dates in which each meet up with obvious losers so that they show up as romantic winners.  But they actually turn out as self righteous hypocrites.  Celeste has a job as a trend forecaster.  How much more pretentious a job could one even imagine of?
There is absolutely no chemistry between the two leads.  Samberg is also not as funny as he thinks he is and the script is lost in Kreiger's unimaginative direction.  Worst of all, the characters are not in the least likeable.  They would even come across as ill mannered, rude and loud if one meets them at a bar.  There are too many examples in the film to even lay out here.
Watching CELESTE AND JESSE  FOREVER is like going out with a couple who throughout the entire evening is doing lubbydubby things with each other totally ignoring you, as if the whole world revolves around them and that what they are doing is entirely cute.  The evening is not only a total bore but a total annoyance.
But Jesse and Celeste should go back together forever.  These two deserve each other.  No one else can put up with either.
THE INVISIBLE WAR (USA 2011) ***
Directed by Kirby Dick
Kirby Dirk's documentary about military sexual abuse begins light-heartedly with nostalgic images of women in the army, navy and air force accompanied to old tunes.
Everything appears idyllic.  Females join to serve their country and fulfill their dreams of ambition.  As the film progresses, Dick tears away the layers of hidden sweetness.  The women start confessing to being sexually abused and raped.  Then the military judicial system is criticized and finally the shocking truth comes clear that the horrors continue to this very day.  THE INVISIBLE WAR is an angry documentary.  It needs to be so.  And the film cries out to everyone to do something about it.  Dick clearly wants his film to make more of a difference and hopefully it will as it has already done a part.
THE INVISIBLE WAR is a groundbreaking investigation into the cover-up of rape in the U.S. military, Air Force, Navy and Coast Guard.  Profoundly moving, the film follows the stories of several idealistic young servicewomen who were raped and then betrayed by their own officers when they courageously came forward to report. 
The camera spends ample amount of time on each of the young servicewomen.  Each has her story, with one tale just as harrowing as the next.  Included too, is a serviceman's testimony of being raped by two men while on training, whose identities are still unknown up to this day.  When the film ends, it is revealed that all these rapists are still free, many promoted and all living as if their crimes were trophies to be cherished.
THE INVISIBLE WAR is not an easy documentary to watch.  Though sexual abuse and rape in the service of the country are already common knowledge, seeing first hand on film still upsets a great deal.
. RUBY SPARKS (USA 2012) ***
Directed by Jonathan Dayton and Valerie Faris
As the old adage goes, be careful of what you wish for.  Two films RUBY SPARKS and the upcoming THE ODD LIFE OF TIMOTHY GREEN concern fantasized human beings.
Where in TIMOTHY GREEN, a childless couple wishes for the perfect son, in RUBY SPARKS, a writer with writer's block, Calvin (Paul Dano) yearns for the perfect lover.  Calvin has no luck so far.  He does not even get laid in his dreams.  So when he creates a female character he thinks will love him, and when she appears, Calvin is in bliss.
RUBY SPARKS plays like a fantasy romantic comedy.  The couple, Calvin and RUBY SPARKS (Zoe Kazan who also penned the script) undergo the same trails and tribulations that most couples in Hollywood romantic comedies go through.  They argue, fight, and do things that irritate each other but nothing large enough to break their relationship.  But there is one difference.  By writing lines like "Ruby was miserable without Calvin or Ruby was effervescent, Calvin can modify Ruby's behaviour to be what he likes in a partner.  Finally he discovers that Ruby should not be controlled but left to be the way she would be.
Dano and Kazan spark good chemistry on screen which is not surprising as they are a real life couple.  It is good to see Annette Bening in a non-bitchy role, as Calvin's mother and a barely unrecognisable Antonio Banderas as her new age lover.
The film also sneaks in the obvious message that one should let his or her partner develop in their own way without being a control freak.
The script takes the concept all the way through the very end, also encompassing a segment in which Calvin reveals to the astonished Ruby that he can control her by writing her into his manuscript.  The film occasionally gets too dark and weird, but directors Dayton and Faris keep the darkness of the plot under check.  Fortunately too, the film avoids getting sentimental unlike THE ODD LIFE OF TIMOTHY GREEN.
The film is sort of disappointing with its capped on happy ending.  Still, RUBY SPARKS despite its flaw is a likeable romantic comedy with a nice little niche in its premise.
THE QUEEN OF VERSAILLES (USA 2012) **
Directed by Lauren Greenfield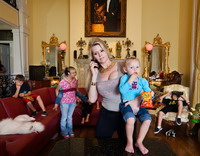 When director Lauren Greenfield asked billionaire David Siegel the reason behind building a patterned after Versailles in France and the Paris Hotel in Las Vegas mansion in the U.S. with 30 bathrooms, 10 kitchens and a 90,000 footage, his answer was: "Because I can!"
One wonders about the reason d'etre behind the making of this documentary.  When director Greenfield started, Siegel at age 74, was doing very well financially with his time sharing Westlake properties.  By the end of the doc, he is flat broke with threatening foreclosures on his multiple properties.  The purpose of the doc is therefore not on the downward spiral of this financier.  Is his wife, the title of the film THE QUEEN OF VERSAILLES the subject?  Quite a lot of the film's footage is on her.  Or is it the mansion itself?  No one can be really sure as the film meanders meaninglessly from subject to subject.
Greenfield appears to have obtained carte blanche from the Siegel family regarding filming their lives.  The camera weaves in and out of the rooms as well as captures intimate moment of the lives of David and the Queen.  The trouble is that despite the demise of the family, one can hardly sympathize with the rich and famous when they lose their fortunes.  When shopping compulsive wife Jackie still fills her shopping cart with new bicycles and useless clothes and shoes and complains about scaling down to a $350,000 house, one can only shake ones head in disbelief.
Nothing is really revealed at the end either – not that the audience cares – about the final state of the Siegel family.  It appears that Siegel has borrowed another million to keep things going.  So the QUEEN OF VERSAILLES can keep on shopping, leaving all the electricity on and have her dozen dogs (not to mention her reptiles) poo all over the house.
TOTAL RECALL (USA 2012) ***
Directed by Len Wiseman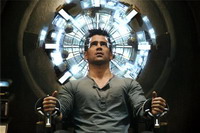 Odd that the company making TOTAL REACLL is called Original Film as this is the too soon remake of the Arnold Schwarzenegger 1990 futuristic auctioneer of the same title.  A few alterations to the plot do not really qualify for the 2012 film to be termed 'original'.
There are a few reasons to see TOTAL RECALL.  For one, the filmmakers have strived to make this one more down-to-earth, resetting the action from Mars to local planet earth.  Earth is now separated into two areas, The Colony and The United Federation of Britain separated by chemical wasteland.  The time is still 20184 and the protagonist is still Master-Spy Douglas Quaid (Colin Farrell), whose memory has been wiped out but bits start to re-surface after Quaid attempts at a memory induced vacation.
This is when his world with his wife (Kate Beckinsale) falls apart.  His world is entirely made up and he finds back his mission of saving the earth from the evil Cohaagen (Bryan Cranston (ARGO, ROCK OF AGES) with the help of girlfriend, Melina (Jessica Biel).
The script by Kurt Wimmer and Mark Bomback is relatively easy to follow and the story unfolds in chronological order.  The important points in the story, like the words: "I promise I will find you!" from Quaid to Melina strangely stay in the minds of the audience as do certain other key parts, like the bullet shot through the hands and the start dream sequence.
Director Wiseman does not rush the story part of the film, which does result in a few lags in the action sequences.  Shot in large part but hardly recognizable in downtown Toronto, Wiseman edits scenes with computer graphics so that it is hard to tell what is a real location and what is not.  All the sets looks stunningly futuristic as well as maintaining an earthy authenticity to them.  The two areas look like an east vs. a west kind of civilization.  But this version lacks the violence and spark (Schwarzenegger tearing out his face) of the original.
This version is not as violent as the 1990 version that I recall unless my memory has been erased with time.  For a futuristic blockbuster, TOTAL RECALL still delivers!
BEST BETS OF THE WEEK:
Best Film Opening: 360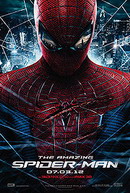 Best Film Playing: The Amazing Spider-Man
Best Action: The Amazing Spider-Man
Best Drama: Savages
Best Foreign: The Intouchables (France)
Best Comedy: The Dictator
Best Family: Brave
Best Documentary: First Position