10
Aug
2012
Details

Category: Movie Reviews
Written by Gilbert Seah
More than 8 films open this week including THE BOURNE LEGACY and HOPE SPRINGS.
The Summer in France series at the TIFF Bell Lightbox continues for those close to Toronto.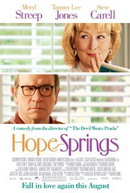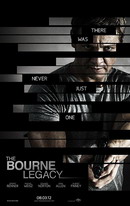 2 DAYS IN NEW YOUR (France 2012) ***
Direcetd by Julie Delpy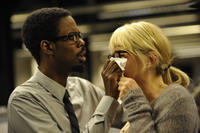 2 DAYS IN NEW YORK is the second similar film by French actress Julie Delpy after 2 DAYS IN PARIS.  Her films could fall into similar territory as the Richard Linklater films BEFORE SUNRISE and BEFORE SUNSET and the Woody Allen set in New York nuanced romantic comedies.
But her new film contains some bizarre and new material to her credit.  The situations occurring in the 2-day adventure include Marion (played by Delpy) selling her soul, grabbing the groin of actor Vincent Gallo and falling from a tower in Central Park.  Though one wonders of the purpose of her movie, one cannot deny her talent at coming off with unconventional situations
Marion and Mingus (Chris Rock) live cozily - perhaps too cozily-with their cat and two young children from previous relationships. However, when Marion''s jolly father (played by director Delpy''s real-life dad, Albert Delpy), her oversexed sister, Rose (Alexia Landeau), and her sister''s outrageous boyfriend, Manu (Alexandre Nahon) unceremoniously descend upon them for a visit, it initiates two unforgettable days that will test Marion and Mingus''s relationship. With their unwitting racism and sexual frankness, the French triumvirate hilariously has no boundaries or filters...and no person is left unscathed in its wake.
Chris Rock plays a straight role as Marion's long suffering husband.  The inter-racial relationship is a given which is a plus on Delpy's direction.  Though the film moves along slowly for the first half, the comedic situations pick up fast and furious during the second half.  The French are played down in terms of their promiscuity, food and behaviour.  Rose trots around nude and has no qualms seducing Mingus.  Marion returns one morning with a whole bunch of croissants to the delight of her French visitors and the visitors' behaviour are more rude than polite.  Rose and Manus' lighting up of a spliff in an elevator then speaking rudely in French while her (French fluent) neighbour is listening on is hilarious.
But for all the troubles between Mingus and Marion and between Marion and her odd French family, the message that family means everything still comes through loud and clear.  2 DAYS IN NEW YORK comes off better than expected, thanks to Delpy's risk taking paying off
THE BOURNE LEGACY (USA 2012) *** 
Directed by Tony Gilroy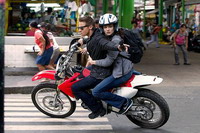 Co-written and first time directed by Tony Gilroy who has worked on the other Bourne films, the 4th instalment of the series, THE BOURNE LEGACY has a few major differences while certain similarities remain. 
The feel of a BOURNE was established when Irish director Paul Greengrass came aboard during the second BOURNE SUPREMACY and created the multiple cut edits during the action sequences giving them the choppy yet intense feel of intensified agitation.  Gilroy keeps this tactic as is evident especially during the motorbike chase segment around the busy streets in Manila, Philippines
Based on the Jason Bourne character in the late Robert Ludlum novels, this script relies on the basic premise of a protagonist about to be eliminated by his superiors.  The new hero here, Aaron Cross (Jeremy Renner) though not suffering from amnesia still undergoes the same problems as Jason Bourne (Matt Damon) given a cameo in this film, courtesy of a framed photograph.  Cross is kept in the dark as to what is happening.  The story concerns his training that involves the taking of blue and green pills to survive.  When the agency decides that the entire project Cross is involved in is to be terminated, his pills stop arriving.  As Cross's contemporaries die one by one, he figured his only way to survive is to infiltrate the agency and this he does by kidnapping Dr. Marat Shearing (Rachel Weisz) so that she can get him his pills.  As it turns out, she also knows nothing about the project and a cat and mouse game ensues between the two and the agency led by clean up expert, Eric Byer (Edward Norton). 
One major difference between LEGACY and the other 3 Bourne films is that this one plays more as a thriller than an action film.  Quite a bit has to do with the main plot unfolding only a bit at a time.  The audience is kept in the dark from what is going on at the start.  When the story is eventually revealed, the film becomes more of a chase film that an action film, though enough action set-ups still exits to satisfy the action fans.  Quite a few of the old Bourne characters played by the likes of Joan Allen, David Strathairn, Albert Finney, Scott Glenn and Matt Damon (if one wants to count his framed picture) also appear in this film, which would satisfy true Bourne fans. 
Renner (THE HURT LOCKER) satisfies the action hero role that Damon established.  As the film takes place in the same time fame as the other Bourne films, one would not have been surprised if Damon actually appeared in a personal cameo.  Or better still, if both of them would star in the next Bourne entry, Universal Pictures might make enough money to compete with MARVEL'S AVENGERS.
HOPE SPRINGS (USA 2012) ***1/2 
Directed by David Frankel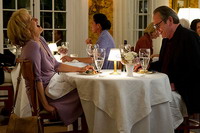 Meryl Streep's first romantic comedy since her embarrassing MAMMA MIA! Is a lot more drama but she herself is a good enough reason to watch this movie.  As usual, she delivers an amazing performance of a desperate housewife going all out to save her 31-year old marriage. 
The script by Vanessa Taylor has a simple plot which allows the acting talents of both the leads Streep and Tommy Lee Jones to shine.  The couple now live alone after their adult children have led separate lives.  The routine of breakfast, work and sleep in separate rooms has affected Kay to the point that she cannot take it anymore.  She psychologically forces her husband Arnold (Jones) to fly together to Maine to attend an intensive one-week course on marriage counselling conducted by Dr. Feld (Steve Carell). 
HOPE SPRINGS is a modest production set in Maine with no special effects, elaborate production sets or expensive costumes.  The surroundings are down to earth and dramatic set ups believable.  The normally uncomfortable sex scenes among older stars are plausible and made effective by both Jones and Streep.  Jones plays the over serious love insensitive role he played so well in the recent MEN IN BLACK III.  Carell also does well in a very restrained role as the patient and helpful marriage guide.  Would Streep earn another Oscar nomination for this performance?  She clearly deserves one for this remarkable performance. 
The obstacles faced by the couple like sexual attraction after 30 years, over familiarity and unsurfaced conflicts are real life problems facing real people married for many years.  The script contains many moments of both emotional sensitivity and humour.  I helps too that the Arnold character is complex and willing to do his share at reviving the love in the marriage. 
There is a segment in which Kay and Arnold view a French comedy.  The choice of the French film is interesting as it is LE DINER DE CONS which was remade into DINNER FOR SCHMUCKS starring Steve Carell.  It is as if Carell is still helping the couple. 
HOPE SPRINGS is the name of the town in Maine hat the couple go to.  The title could also stand for the hope that springs back to the marriage.  There are not that many romantic films that deal with elderly couples.  But HOPE SPRINGS works better than the recent commercial THE BEST MARIGOLD HOTEL that deals with too many implausible romances.  Even young couple have a thing or two to learn from this film.
IRON SKY (Finland/Germany/Australia 2012) **
Directed by Timo Vuorsola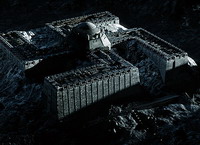 As outrageous plots go, IRON SKY beats the lot.  But now would have hoped that the film would have turned out more entertaining than just inventive.
For a low budget ($35 million Euro), the special effects are impressive.  The film has to look modern for a World War II era setting with all the mechanics as well as post modern when the Nazis invade the earth in 2018.  Samuli Torssonen, responsible for the computer generated effects does a fine job.
Finnish comedies reaching North America have been known to be downright dead pan like the Aki Kaurismaki comedies like LENNINGRAD COWBOYS GO AMERICA or last year's LE HAVRE.  This one is less dead-pan and more Mel Brooks slapstick like, but still most of the laughs fall flat.  It appears that the filmmakers have taken too much on their plate.  They concentrate on technology leaving out the pure fun from genuine comedy.  The satire on U.S. politics do not work that well either.  As for political correctness, anti-semitism is safely clearly left out, but replaced by a lame black astronaut, James Washington (Christopher Kirby) being cleansed by transformation to a white Aryan.
The film opens with an American manned landing mission returning, in 2018, to the Moon. The spacecraft carries two astronauts; one of them a black male model, James Washington, specifically chosen to aid the current (Sarah Palin-like) President of the United States (Stephanie Paul) in her re-election. It turns out that Nazis have been occupying the dark side of the moon since 1945, planning an invasion to conquer the earth when the time is right.  And this is the time.
The plot gets too complicated for its own good, with the President using the Nazis for her re-election campaign while the United Nations realize the Nazi threat.  A space battle STAR WARS style ensues.  While all this occurs, a romance buds between Washington and an innocent Nazi recruit, Renate (Julie Dietz).
IRON SKY is still entertaining for its sheer outrageousness in story.  The filmmakers have already announced two sequels.  But still, one would have wished that IRON SKY have turned out funnier.  As such, most of the comedic potential is left untapped.  The funniest scene, however is the North Koreans at the United nations summit claiming responsibility to the attack on earth.  If only, there were more segments like these.  Filmed appropriately in German and English and partly in black and white.
KILLER JOE (USA 2011) ***1/2
Directed by William Friedkin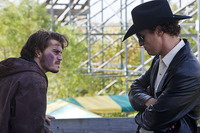 William Friedkin's (THE EXORCIST, THE FRENCH CONNECTION) KILLER JOE is a totally demented hit-man drama has all the sex, mayhem, violence and outrageousness that makes it such a guilty joy to watch.
22-year old Chris (Emile Hirsch) broke, desperate and not very bright barges into his equally dumb father's (Thomas Haden Church) trailer with the only plan he can think of: murder.  If they kill his mother, they can collect enough insurance money ($50,000) to settle his drug-dealing debts and escape their squalid little life.  But he hires KILLER JOE (Matthew McConaughey), a demented Dallas cop with no money to pay till they collect the insurance money.
Joe takes Chris' younger sister, Dottie as a retainer.  Things of this nature never turn out as planned.  The two develop a bond.  After the murder is committed, a double cross is revealed with things getting bloodier and bloodier.  Every actor is exceptionally good in this movie with Gina Gershon stealing the show as Chris' stepmother.
The only flaw is the over eventful climax, the sort that is normally seen in a play about murder, which comes as no surprise as this film was based on the play by Pulitzer Prize and Tony Award winner Tracy Letts.  William Friedkin is in top form!
SEARCHING FOR SUGAR MAN (Sweden/UK 2011) ***
Directed by Malik Bendjelloul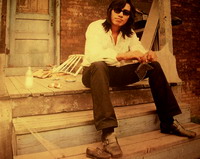 As the title indicates SEARCHING FOR SUGAR MAN is a documentary about the search of a musician nicknamed Sugar Man, a Mexican-American rocker who fell off the music map in '70s America but, unbeknownst to the singer, became a phenomenon in Apartheid South Africa.
The film is not based only on the search for the musician.  The film covers many other grounds.  For one, it is a film that examines the effect of fame and perhaps fortune on an unexpected person who has known poverty all his life.  The other is a celebration of Rodriguez's music and thirdly, the doc also unfolds like a detective mystery that unravels as the film progresses.  Director Bendijelloul's film works on all the accounts enabling the audience to be entertained on different levels.
Rodriguez's music is catchy and amazing.  One can clearly understand the reason behind his popularity in South Africa.  The other reason, of course, being the songs' lyrics that stand for freedom.  It is also intriguing to observe Rodriguez's reaction to his sudden fame.  There is no misuse of finances nor is there any ego that goes to his head.  His humility remains.  One wonders whether this would be the case in the event the same happens to another  poor person.
A bootleg recording found its way to South Africa at a time when the country was becoming increasingly isolated as the Apartheid regime tightened its grip.  With local pressings made, the album became an anthem of the resistance among white liberal youth.  The government's banning of the record and rumours of Rodriguez's death only helped secure his cult status. Over the next two decades, Rodriguez became a household name there. The album called COLD FACT went platinum, outselling artists like the Rolling Stones.
Director Bendjelloul has also documented quite the comprehensive study on Rodriguez.  Though part of his troy, such as his discovery in the smoked filled bar is an enactment, the care and research put into the film is impressive.
The film won two awards (Special Jury Prize and Audience Award) in the World Cinema program at the 2012 Sundance Film Festival.  To those who view the film and end up mesmerized by Sugar man's music, the soundtrack is available on Sony Records.  No need to travel to South Africa to buy the album.
BEST BETS OF THE WEEK:
Best Film Opening: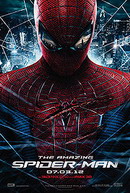 Best Film Playing: The Amazing Spider-Man
Best Action: The Amazing Spider-Man
Best Drama: Savages
Best Foreign: The Intouchables (France)
Best Comedy: The Dictator
Best Family: Brave
Best Documentary: First Position