02
Nov
2012
Details

Category: Movie Reviews
Written by Gilbert Seah
Big films opening this week inlcude WRECK-IT RALPH, MIDNIGHT''S CHILDREN and Robert Zemeckis'' FLIGHT.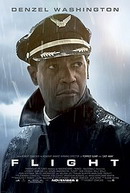 FLIGHT (USA 2012) ***1/2
Directed by Robert Zemeckis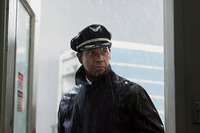 In what is advertised as an action-packed mystery thriller, Academy Award winner, Denzel Washington stars as Whip Whitaker, a seasoned airline pilot, who miraculously crash lands his plane after a mid-air catastrophe, saving nearly every soul on board.  After the crash, Whip is hailed as a hero, but as more is learned, more questions than answers arise as to who or what was really at fault and what really happened on that plane?  Alcohol and traces of cocaine are found in Whip's bloodstream.
The romance between Whip and Nicole (Kelly Reilly) is strongly developed but oddly dropped in the second half of the film.
Washington delivers a brave performance in a character that has more faults than plusses, i.e. a dislikeable lead character.  John Goodman steals the show as his ultra-effective drug dealer as well as Melissa Leo as Whip's prosecutor.
Full marks for accuracy in technical details in all departments.  The inversion of a commercial airline is possible but it will burn out all the fuel in 30 seconds unlike fighter planes which are designed to fly upside down.  So, pilot Whips last minute instinct to invert the plane to prevent the nose dive is theoretically feasible in saving the day.  Zemeckis himself is a pilot, and the film demonstrates his attention to details like the plane readings during the flight.  Using cocaine (as coke destroys almost every substance taken) to whip Whip out of his drunken state is really the way to do it.  The scene in the elevator in which Whit is told to wipe the last traces of white from his nostrils is dead bang on for users careless enough not to look into the mirror after snorting up.
Though advertized as an action packed thriller, FLIGHT is in reality a redemption drama.  So, as the film progresses, those who would expect a solid action thriller would find the film stretching longer than expected with director Zemeckis seemingly de-sensationalizing the events of the story.  What appears to be distractions like the visit of Whip to the house of his ex-wife and son is actually the gist of the story.
FLIGHT turns out to be a solid drama carefully thought out and executed by a good team comprising of director, scriptwriter and lead actor.  FLIGHT is one of Zemeckis' (BACK TO THE FUTURE, FORREST GUMP, CASTAWAY, POLAR EXPRESS) better films.
HOW TO SURVIVE A PLAGUE (USA 2012)
Directed by David France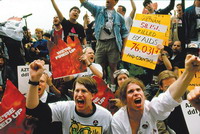 Please note that this movie is not rated as the screener obtained by this reviewer was faulty with the result that only one half of the film was viewed.  It would be thus unfair to rate the film and what is written below is based on what this reviewer saw during the first half of the film.  But the content of the documentary is important enough for this review to be written.
Firstly, despite the humorous title, the doc HOW TO SURVIVE A PLAGUE is extremely serious material.  It details an important part of history in North America that affected the lives now of millions.  The heroes in the film are the activists who fought for their lives – for the government, religious institutions and drug companies to stop their prejudices and hatred and work towards the cure or AIDS. 
Basically the film is the story of two coalitions-ACT UP and TAG (Treatment Action Group)-whose activism and innovation turned AIDS from a death sentence into a manageable condition.   Millions are now living full lives after being diagnosed with HIV positive.  Despite having no scientific training, the film demonstrates how these self-made activists infiltrated the pharmaceutical industry and helped identify promising new drugs, moving them from experimental trials to patients in record time.  With unfettered access to a treasure trove of never-before-seen archival footage from the 1980s and ''90s, filmmaker David France puts the viewer smack in the middle of the controversial actions, the heated meetings, the heartbreaking failures, and the exultant breakthroughs of heroes in the making.
For the first half of the film seen, France's film is moving to tears as well as a very important history lesson.
MIDNIGHT'S CHILDREN (Canada/USA 2012) ***1/2
Directed by Deepa Metha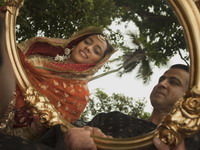 MIDNIGHT'S CHILDREN is Deepa Metha's (Canada's film community darling) ambitious film adaptation of Salman Rushdie's Booker of Booker's Prize Winner of the same name.  Because of the book's content and the author's reputation (that includes an open death reward for his death by Iran''s Khomeini), filming was done is secret. 
  The film had principal photography shot in Colombo, Sri Lanka.  Needless to say, Mehta's period piece looks stunning from the slums to the wet fields where buffalos graze for food.  For sheer spectacle alone, the film is worth the ticket price.  In fact this film is the most handsome production I have witnessed this year at the movies.  The film features Sri Lanka''s most original vintage cars and the best colonial type residencies in Colombo.  
  The theme is India''s transition from British colonialism to independence and to the partition of India as well as Pakistan.  The story is cleverly told by its chief protagonist, Saleem Sinai (Satya Bhabha).
Saleem is born at the stroke of midnight of India's independence.  But he is swapped as a baby at birth.  He is supposed to be of poor parents but instead lives of wealthy parents until a freak accident reveals him not to be from his father who exiles him to live with his relatives.  Here, his adventure begins which coincides with the politics of war.  This is an epic of a film lasting close to two and a half hours.  But the film is mixed, at times vast in scope but yet at times plodding along the way.
But the film covers conflicting issues such as heroism and cowardice; wealth and poverty; lost and found; and magic and reality.  Mehta's ambitious film covers some of these issues effectively while others like the magical portion not so well.
The MIDNIGHT'S CHILDREN of the film title refer to all the children born at that same time as Saleem.  Saleem assembles the children together, who are all supposed to possess magical powers.  Saleem falls in love with one of them who is able to magically make people disappear and thus smuggle back to his birth.  This is where Metha's film is flawed but where the book excels.  The magical portion appears frivolous and unbelievable and never really blends into the story.
But one has to give credit to Mehta for her daring film, shot at risk to herself and her crew.  The film is a testament for what filmmakers and activists have to go through for their art and for their beliefs.
PUTIN'S KISS (Russia/Denmark 2012) **
Directed by Lise Birk Pedersen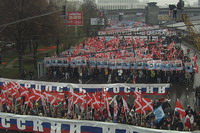 The film establishes very early where the loyalty of the film lies.  Journalist Oleg Kashin, who is prominently featured in the filmmakers the bold statement on screen that his is against Putin.  But this influential head of Russia has planted a kiss on 15-year old Masha and this kiss has influenced the way she leads the rest of her life.  Masha is the film's lead character and the film traces her work as a spokesperson in the government friendly and strongly nationalistic Russian youth organization, Nashi.  The movement aims to protect Russia against its ''enemies''.  Pedersen treats Nashi, something like a poor man's SS, with members doing silly scare tactics like taking a dump (shown on camera, and arguably the film's most shocking scene) on the government's opposition candidates.  Masha was seduced by the high energy of the movement by the age of 15 and has got a lot of benefits in return for her loyalty.  But then she starts seeing a group of critical journalists.  Among them is the well-known blogger, Oleg Kashin, who compares Nashi with ''Hitlerjugend''.   Masha grows up and starts recognizing how harassment and dirty provocations against the Russian opposition by ''unknown perpetrators'' is going on around her.  When Oleg is getting seriously beaten up and nearly dies, Masha has to take a stand for or against Nashi.   Though intriguing from start to finish, this is essentially the story of Masha.  Not much research and depth is gone into the film though, as not much material is presented on the Putin's Government or even Nashi.  The audience is only shown the Nashi summer youth camps, thus only skimming the surface.  For North Americans unfamiliar with Russia and her troubles, the film still leaves North Americans quite in the dark.  Where is Nashi now and what has it become?
 (PUTIN'S KISS will screen on Wednesday, November 7, at 6:30 p.m. and 9:15 p.m., and on Thursday, November 8, at 6:45 p.m. at the Bloor Hot Docs Cinema, 506 Bloor St. West. Filmmaker Lise Birk Pedersen will be in attendance to introduce the film and answer questions following the screenings.)
WRECK-IT-RALPH (USA 2012) ***1/2
Directed by Rich Moore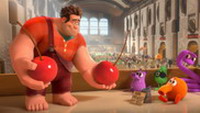 Disney's latest 3D animated feature WRECK-IT-RALPH is a feature that deals with a video game character instead of the game itself.
Ralph (John C. Reilly) is a 600 lb bad guy who wields a sledgehammer and destroys buildings in a video game. In the game the good guy is Felix (Jack McBrayer) or FIX-IT Felix, who fixes the wreckage as fast as or faster than Ralph can do damage.  At the game's 30th anniversary, Ralph finds his popularity close to zero.  Tired of being the bad guy, he opts to change his image into being the good guy.  This leads him into entering another video game called Sugar Rush in which he saves the day from viruses.
The film works better in the first third before gliding into predictable despite the climatic chase.  Most of the inventiveness is found at the film's start that include train stations with stops of names of various video games and cyber fare that include viruses.  There are rules that govern Ralph and friends.  If one dies outside his or her game, the character will not be rejuvenated.  The musical score especially the electronic digitized portion by electronica artistSkrillex, resembling video game sounds deserves mention.  The 'Bad-Anon' meetings that feature other video game baddies are the most hilarious bits of the film.
Animated features are obliged to provide some kind of message.  The one(s) found in this film are standard fare; be the person you are supposed to be or you do not need a medal to show you are a hero.
The voice characterizations especially Jane Lynch as Sergeant Calhoun and Sarah Silverman as Vanellope von Schweetz stand out.  John C. Reilly whose voice is instantly recognizable also does a fine job.
WRECK-IT-RALPH succeeds as the high standard entertaining Disney fare that one comes to expect from the studios.  But it is one step down from the last effort, BRAVE which was funnier, goofier and more stunning animation-wise.
BEST BETS OF THE WEEK:
Best Film Opening: Midnight''s Children
Best Film Playing: Argo
Best Doc: The Imposter
Best Drama: Midnight''s Children/Flight
Best Family: Frankenweenie
Best Action: Argo