24
Oct
2012
Details

Category: Movie Reviews
Written by Gilbert Seah
If ever a name is synonymous with the word zombie, it is horror director George A. Romero.  Romero is the horror master of the zombie movie, having made classics like NIGHT OF THE LIVING DEAD and DAWN OF THE DEAD which is reviewed below.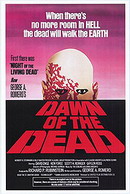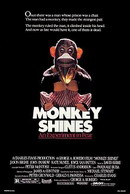 Arriving just in time for Halloween, the zombie films together with a slew of other horror films Romero has made, Romero's films should both delight and scare.
Romero himself will be present on the 31st Octobr as a special conversation presentation.
For a full listing of all his films, venue and ticket pricing, please check the TIFF website at:
Capsule reviews of a few of the films are provided below courtesy of screeners provided by TIFF Toronto.
CAPSULE REVIEWS:
CREEPSHOW (USA 1982) ***
Directed by George A. Romero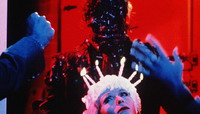 This collaboration with horror master Stephen King (he wrote the script) is more camp horror that anything else but the success of his low budget production which went on to gross millions just goes to show what horror fans want – a little wicked humour in their horror.  The film is made up of 5 horror short stories with the characters played by a stellar cast that includes Ted Danson, Ed Harris, Adrienne Barbeau, Hal Holbrook, Leslie Nelson with Stephen King himself and his son who plays Billy in the story that bookends the five horror stories.  The stories are entitled "Jolting Tales of Horror", "Weeds", "Father's Day", "They're Creeping Up on You!", "The Crate" and "Something to Tide You Over."  "Weeds" which stars Stephen King as a dumb buck-toothed yokel is less a horror story that silly comedy except for the meteorite that falls in his farm backyard.  The film maintains the spirit of comic books like Tales from the Crypt and everyone loves to be scared silly once ever so often. 
 DAWN OF THE DEAD (USA 1978) ***
Directed by George A. Romero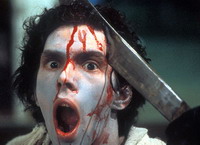 The sequel to NIGHT OF THE LIVING DEAD, DAWN takes all the reasoning behind the zombie invasion as a given.  Nothing is explained and when the film begins, the zombies are already attacking the U.S. towns with our small group of heroes trying to escape no matter what it takes.  It happens that one is a helicopter pilot (David Emge) who flies his girl (Gaylen Ross) and two cops (Ken Foree and Scott Reiniger) to safety.  Before that, they get supplies from a mall where most of the action takes place.  DAWN is like a zombie epic.  Despite the thin story line, Romero's film captures the audience's attention from start to finish.  There is always something interesting happening.  Be warned though that there is a lot of swearing and gross scenes of zombies eating flesh and the innards.  The film ends with the group of 4 attacked by a biker gang that serves more of a threat than the zombies.  Though Empire Magazine rated DAWN OF THE DEAD as one of the best 500 films of all time, the film is ok, but not that good.
MARTIN (USA 2012) ***1/2
Directed by George. A. Romero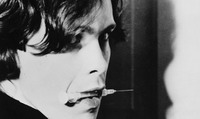 Touted as Romero's personal favorite, MARTIN about a would-be vampire feature is the only Romero film delving in the vampire genre.  After establishing himself as the Master of the zombie genre, Romero plays around with the rules of vampires.  Martin (John Smack) can eat garlic, toss away crucifixes and not burn to a crisp in sunlight.  However, the cursed teen has a genuine lust for blood.  The trouble is that he is staying with his uncle who believes in all the vampire lore.  The fact that madness runs in this family does not help either.  In fact it blurs the line between reality and fantasy.  Romero puts all this into good use and sets his story in a rough run down Pittsburg neighborhood where a lurking vampire is the least of the city's problems.  In fact Martin is quite the lad's man and when his blood thirst is kept in check, he functions well in society.  The beginning sequence in which he sucks the blood while having sex with a lady passenger in a cramped compartment is not for the squeamish!  (Screening at TIFF Bell Lightbox)
MONKEY SHINES (USA 1988) ***1/2
Directed by George A. Romero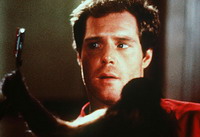 MONEKY SHINES is Romero's big studio flop at the box-office that resulted in his going back to indie productions.  The studios wanted a happy ending and forced on a shock ending, which is in reality not that bad a way to end this film.  Ironically, this is my favourite Romero film.  The film tells the story of an athlete, Alan Mann (Jason Beghe), who is rendered quadriplegic when struck by a truck.  Mann fails to adjust to his condition, becoming suicidal and despondent.  When Geoffrey (John Pankow in a hammed performance), a scientist friend of his, who has been experimenting with the injection of human brain tissue into monkeys, learns this, he is prompted to supply one of the experimental monkeys, named "Ella" to Alan as a helper.  But the bond leads to something sinister with the monkey becoming a telepathic receptacle for Mann''s anger at his state and his desire for revenge against friends and family for slights both real and imagined.  The film contains some great moments like the way Mann's nurse and Mann torture each other in their hate/care relationship, an intimate love scene between the love interest, Melanie (Kate McNeil) and Mann and Mann's love/hate relationship with his overbearing mother (Joyce Van Patten).  Ella is both extremely cute and horrific which gives the films a certain extra edge.  Overall, a satisfying but rather nasty little movie, which is likely the reason audiences stayed away.