24
Oct
2012
Details

Category: Movie Reviews
Written by Gilbert Seah
EKRAN Polish Toronto Film Festival
October 25th to October 28th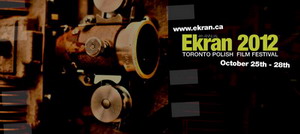 It is with great pleasure that EKRAN welcomes you to the 4th Annual Ekran Polish Film Festival in Toronto. This year promises to be even better than the last, and EKRAN is simply thrilled to see the festival grow from strength to strength with each and every year.  This would not have been possible without your support, and EKRAN is immensely grateful to everyone who has contributed to our efforts, whether through official sponsorships or by participating in the events that are organized.
As always, in making this year's film selection EKRAN aims to showcase the best of contemporary Polish cinema.  Many of the works included in the program are debut feature films, and we look forward to the day when you have a chance to say that it was at the Ekran Film Festival in 2012 that you first encountered the work of Tomasz Wasilewski (In the Bedroom), Bartosz Konopka (Fear of Falling), or the Toronto-based Tom Sokalski (Tourist), to name only a few of our debutants. EKRAN is also proud to have been able to include a significant number of female film directors in our 2012 line-up (Barbara Białowąs, Anca Damian, Maria Sadowska, and Anna Plutecka-Mesjasz), and for finding a balance between films that espouse more traditional approaches to film narrative (such as Wojciech Smarzowski's Rose, or Mitja Okorn's Letters to Santa), and those that treat their celluloid medium in innovative ways (for example Jan Komasa's Suicide Room, or Przemysław Wojcieszek's Secret).
For complete information of the festival, please go to the Ekran website at:
Capsule Reviews of a few films screened at EKRAN:
MY NAME IS KI (Poland 2011) ***
Directed by Leszek Dawid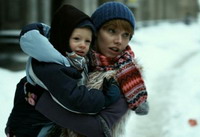 Ki, short for Kinga (Roma Gasiorowska) is almost like a single mother.  The father Antoni (Krzysztof Ogloza) shirks responsibility for looking after their son Pio (Kamil Malecki).  Trying to etch out a living, getting social insurance and dancing to make some extra cash, Ki is still human in wanting to have a good time at clubs.  After all, she is young and pretty.  So, director Dawid shows the audience her good and bad side, leaving them to judge whether to be on her side or not.  She is quite demanding and gets annoying (when she turns the radio full blast without consideration for others) though she is a responsible mother who does love her son.  Gasiorowska delivers an exceptional performance as the young mother, winning her the Best Actress Award in the Polish equivalent of the Academy Award.  A mix between comedy and drama, Ki's tale is a familiar one which many can relate to.
THE PATH TO BEYOND (Poland 2011) ***
Directed by Anca Damian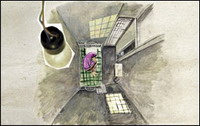 This curious Kafka-styled animated biography tells the true story of a Romanian by the name of Claudiu Crulic (Vlad Ivanov), who died in a Polish prison from a hunger strike.  Crulic went on it to prove his innocence for a theft he did not commit.  No authority listened to him and he was given the run around in as absurd a manner as in any Kafka story.  There is an actor playing Crulic as the film is a mix technique of hand-drawn animation, photographs and other artwork blending in real objects and human beings.  The result is an amazing looking piece of film that is as colourful as it is transparent, lively as it is aimless, and as captivating as the story unfolds.  Damian tells the story as narrated by the dead man, first telling of his childhood, background before coming on to the tragic event that led to the hunger strike.  This is a story of an unfortunate man who led an unfortunate life, a sort of really depressing tale, but never has one been told with such vivid imagination.  Artwork and animation was done at the animation studio DSG, by Dan Panaitescu, Raluca Popa, Dragos Stefan, Roxana Bentu and Tuliu Oltean. The film won the Cristal for Best Feature Film at the 2012 at the Annecy International Animated Film Festival in France.  Highly recommended!
SECRET (SEKRET) (Poland 2011) **
Directed by Przemysław Wojcieszek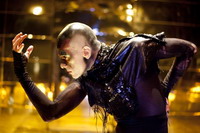 SECRET is a psychological drama focuses on the story of a 30-year-old drag queen (Thomasz Tyndyk) who learns that his grandfather, to whom he owes his happy childhood, might or night not have murdered a Jewish family trying to return to their home at the end of the Second World War.  This is THE CSCERET of the film title.  His girlfriend (Agnieszka Podsiadlik) is intolerable to this fact, suspects the grandfather and gives him trouble to no end.  Director Wojcieszek is fond of using jump cuts throughout the film, giving it an edgy feel.  The drag queen is also shown with her strange performances.  But Tyndyk is as annoying as in her performances and director Wojcieszek cannot decide what to do with him or her, shifting her from one sexual preference to another.  The one secret/theme film runs out of steam very quickly.