24
Oct
2012
Details

Category: Movie Reviews
Written by Gilbert Seah
BOND
Ever since Sean Connery uttered the lines: "My name is Bond.  James Bond", the character, double O Seven or 007, has been embedded in the minds of moviegoers.  It has been 50 years since the first Bond film DR. NO appeared on the screen in 1962.  It is 50 years later with SKYFALL ready to hit theatres in November.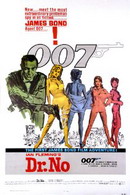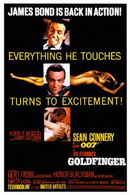 The actors that have worn the tuxedo of James Bond are almost too many to innumerate.  The first was Sean Connery, followed by George Lazenby in just one film ON HER MAJESTY'S SERVICE, then Roger Moore, Timothy Dalton, Pierce Brosnan and now Daniel Craig.  In between, the spoof CASINO ROYALE had multiple stars playing Bond including David Niven, Peter Sellers with Woody Allen playing Jimmie Bond, James' nephew.  And the list goes on.
And the Best Bond actor?  Most cineastes of the old school prefer Connery while a younger audience Roger Moore.  Moore was too comical while the latest Craig, on the other end of the spectrum took Bond too seriously.
TIFF Bell Lightbox present the almost complete (where is NEVER SAY NEVER AGAIN?) series of Bond films.  The capsule reviews below are a cross section of different actors playing Bond.
As to my favourites?
Bond Actor: Sean Connery
Film: GOLDFINGER
Bond girl: Ursula Andress (DR. NO)
Villain: Telly Savalas (ON HER MAJESTY'S SERVICE)
Bond ripoff: CASINO ROYALE
Least Liked: QUANTUM SOLACE and LIVE AND LET DIE
For full programming of the Bond films, description, venue show times and ticket pricing, please check the TIFF website at:
CAPSULE REVIEWS:
DR. NO (USA 1962) ****
Directed by Terence Young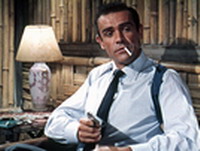 Perhaps the only Bond film that does not begins with an action sequence, the film is still memorable for its opening with the 3 assassins crossing the street to a Jamaican mix of the Three Blind Mice tune.  DR. NO is the first and many fans' favourite Bond film and it is not difficult to see why.  Stripped of CGI, as the film was behind then in the technology, DR. NO still manages to fascinate in its primitive special effects.  Doing away with Bond involves tacky methods like letting loose a Black Widow in his hotel room or have a henchman hide behind the curtains waiting for Bond to enter the room.  Coincidentally this henchman is Anthony Dawson who played Grace Kelly's would be killer in Hitchcock's DAIL M FOR MURDER.  Dated in the way the Chinese were all played by Caucasians in make up including the villain Dr. No (Joseph Wiseman) though the excuse given is that he is half Chinese, half German, the film has all other Chinese women played by whites with heavy makeup.  Still, this is the film that made the spy genre so popular.  The filmmakers got it 100% right, right from the very start with a gun barrel's view of the figure of Bond in the aperture to the famous Bond theme by Monty Norman.  Ursula Andress as Honey Rider is so memorable as the Bond girl here that her appearance out of the water is copied in a later Bond film, CASINO ROYALE by Halle Barry.  DR. NO is a delight when it first appeared in 1962 and still a delight when viewed again, dated or not.
GoldenEye (UK 1995) ***
Directed by Martin Campbell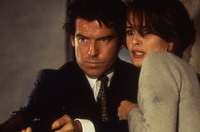 Average Bond film noted for the first Bond after a 6-year hiatus (due to legal quarrels) with Pierce Brosnan to step in the 007's shoes and also the first one to first one to feature actress Judi Dench as his boss M, with whom he addresses as 'mum'.  Dench was so popular as the stern mistress that she went on to keep her role up to this present Bond.  None mostly to keep Bond in his place and not to particularly like him (this she confesses in this film), she also says to him: "But do come back alive."  Martin Campbell directs the first time with a story not taken from an Ian Fleming novel.  Here, Bond fights to prevent an arms syndicate from using the GoldenEye satellite weapon against London in order to cause a global economic meltdown.  The Bond girl here is a Georgian sex murderer (Famke Janssen) who kills her victims during the act.  She obviously meets her match with Bond.  Gottfried and Sean Bean make above average villains  and it interested to note that actor Joe Don Baker returns playing a good guy in this film though he played the main villain in THE LIVING DAYLIGHTS.
GOLDFINGER (USA 1966) *****
Directed by Guy Hamilton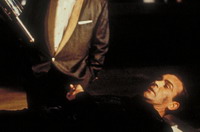 For many and for this reviewer too, the best of the Bond films in the series!  Sean Connery returns in the third Bond film with an extended pre-credit action sequence that led to all the following Bond films copying suit.  GOLDFINGER also has my favorite Bond song, GOLDFINGER by Shirley Bassey, the best name for a Bond girl, Pussy Galore (Honor Blackman) as well as the funniest line ever uttered by Bond.  When Bond wakes up from unconsciousness and sees Blackman, he asks: "And who are you?"  She replies: "I am Pussy Galore" to which Bond replies: "I must be dreaming!"  It also contains one of the best fight sequences; the one with Harold Sakata as Oddjob wielding a steel killer bowler hat.  The film''s plot has Bond investigating gold smuggling by gold magnate Auric Goldfinger (Gert Frobe) and eventually uncovering Goldfinger''s plans to attack the U.S Bullion Depository at Fort Knox.  The film also contains a very cleverly written and executed sequence of how Bond gets his own back on Goldfinger during a golf game in which the latter cheats.  GOLDFINGER is so much fun from start to finish and so super smug with its self mockery and outrageousness.  Notably, GOLDFINGER is also the Bond film that started the gadgetry and the extensive use of technology.  Norman Wanstall won the Academy Award for Best Sound Effects Editing.
LIVE AND LET DIE (UK 1973) ***
Directed by Guy Hamilton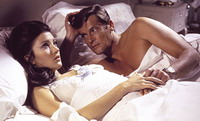 This is Roger Moore's first Bond film after Connery declined to reprise the role of agent 007.  Though directed by Hamilton again (his third Bond film) LIVE AND LET DIE turns out to be a bit too playful compared to the other Bond films.  Take for example, the extended boat chase scene with Sheriff J.W. Pepper (Clifton James) hamming it up for too long a time.  Still, this Bond adventure though mostly shot in the States and perhaps the most American of the series is colourful enough with lots of voodoo dances and cult practices.  The plot concerns the smuggling of heroin to destroy all the current competition so that Mr. Big (Yaphet Kotto) can come up as number one in the business.  Mr. Big has an underground fortress, just like in the other Bond films, that will eventually get destroyed by Bond.  The film has an anticlimactic ending with a villain still on the train that Bond is on.  LIVE AND LET DIE is mostly famous for its title song written by performed by Paul McCartney and his band Wings which was nominated for the Best Song Academy Award.
THE LIVING DAYLIGHTS (UK 1987) ***1/2
Directed by John Glen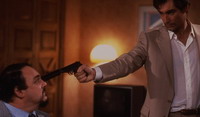 The first Bond with Timothy Dalton filling in Roger Moore's shoes!  Critically praised and a success at the box-office, Dalton does well as Bond though many thought him too dark to play the M16 agent.  Dalton looks like a grown up version of Ezra Miller the actor who plays the disturbed kid in the recent movie WE NEED TO TALK ABOUT KEVIN.  But looks aside, Dalton is suave, sexy and believable as Bond.  The story concerns Bond acting as a counter sniper to protect a Soviet defector, Georgi Koskov (Jeroen Krabbe). He tells Bond that General Pushkin (John Rhys-Davies), head of the KGB, is systematically killing British and American agents. When Koskov is seemingly snatched back, Bond follows him across Europe, Morocco and Afghanistan landing the film in the exotic locations required in a Bond film.  Compared to the other Bond films, this one has more emotions running. The romance between Kara (Maryan d'Abo) is stronger than most though she can be hardly remembered as a Bond girl.  Thoguh running a bit long, THE LIVING DYLIGHTS contains enough distractions and exciting action scenes (including a good fight one in a plane) to make this one of the better Bond films.
ON HER MAJESTY'S SECRET SERVICE (UK 1969) ***
Directed by Peter Hunt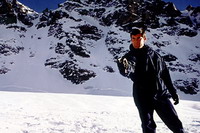 Film editor and second unit director of the earlier Bond series Peter Hunt takes over the director's chair in his only attempt at directing Bond.  His effort is not so bad, though his film is remembered as the only Bond film that starred George Lazenby and the one Bond got married.  In this film Bond faces once again Blofeld (this time played with subsequent relish by Telly Savalas) who is planning to sterilise the world''s food supply through a group of brainwashed "angels of death".  Sot partly in Switzerland, the film has lot of chases in the snow, included a ski chase and a bobsled ending in which Bond's wife, the Contessa Teresa di Vicenzo (the excellent Diana Rigg) meets her fate.  Australian Lazenby is the most cardboard of all the Bonds though Bond fans would not really complain with all the action happening around him.  At least he fights well, as evident in the exciting first fight scene on the beach at the start of the film.