26
Oct
2012
Details

Category: Movie Reviews
Written by Gilbert Seah
Lots of Halloween movies playing.  SILENT HILL REVELATION and IN THEIR SKIN are two new horror flicks opening.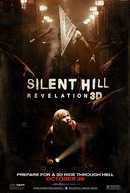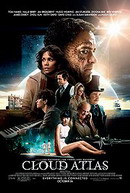 Screening at TIFF Bell Lightbox are the Bond films and the Romero films as well.  The Polish Film Festival makes its run from the 25th.
CHASING MAVERICKS (USA 2012) **
Directed by Curtis Hanson and Michael Apted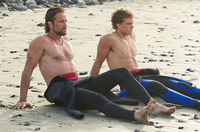 CHASING MAVERICKS is the true story of Northern Californian surfer Jay Moriarity (newcomer Jonny Weston) who achieves his dream of riding the huge white waves known as mavericks.
The end credits indicate Jay lived a short life though one can only guess he died while continuing to surf bigger challenges.  The film centres on Jay as he trains and struggles through life.  The climax has Jay riding mavericks successfully.  This is hardly sufficient fodder for a good film.  There is no villain, no convincing drama (only predictable melodrama) and a barely satisfying climax of Jay riding the big wave at the end.
But the film, directed by Curtis Hansen and later taken over by Michael Apted after the former took ill mainly lacks conviction.  Unless one is really interested in the sport of surfing, most of what transpires on screen comes off as unaffecting action.  It does not help that the weak script digs into melodrama – one between Jay and his non committal mother (Elizabeth Shue), the romance with his childhood sweetheart (Leven Remben) and his relationship with both veteran surfer Frosty Hesson (Gerard Butler) and his best pal who runs into bad company.
Butler looks miscast as the experienced over the hill surfer dude while Weston looks like the bright blue eyed boy right out of a Disney family movie.
At least the climax of the film with Jay riding the big wave is stunning cinematography.  Though it is hard to tell what are the special effects, CGI or true photography, what comes off on screen is still quite majestic.
CLOUD ATLAS (Germany 2012) **
Directed by Lana Wachowski, Tom Tykwer and Andy Washowski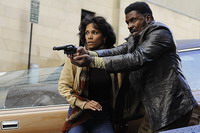 CLOUD ATLAS is a very ambitious film from the MATRIX Wachowskis and German's RUN LOLA RUN's Tom Tykwer.  Running at 163 minutes in length, the film is far too long and it feels it.
Based on the novel by David Mitchell, CLOUD ATLAS how the actions and consequences of individual lives impact one another throughout the past, the present and the future.  Action, mystery and romance weave dramatically through the story as one soul is shaped from a killer into a hero and a single act of kindness ripples across centuries to inspire a revolution in the distant future.  In short, anything that can happen, does and the result is a film with so many stories that it takes forever to tie the loose ends together in order for it to end.
Tykwer and the Wachowskis weave the various narrative threads that include these various stories. In the mid-nineteenth century, notary Adam Ewing (Jim Sturgess) keeps a journal of his voyage across the Pacific. In 1931 Belgium, musician Robert Frobisher (Ben Whishaw) writes of his experiences in letters to a male lover. In 1975 California, journalist Luisa Rey (Hally Berry) investigates a murder at a nuclear plant, and her story takes the form of an unpublished novel. In present-day England, the story of publisher Timothy Cavendish's (Jim Broadbent) pursuit by gangsters is rendered as a film within the film. In a dystopic future Korea, robotic clone Sonmi-451 (Bae Doona) is interviewed on the eve of her execution after rebelling against the totalitarian government that created her. In a post-apocalyptic Hawaii, tribesman Zachry (Tom Hanks) is visited by Meronym (Hally Berry), one of the last survivors of a dead civilization.
With the huge stellar cast performing multiple (including cross gender) roles, the directors keep the audience's interest piqued.  The best is Hanks doing Broadbent at one point in the movie.
But CLOUD ATLAS is alas too much of a good thing that eventually gets monotonous, loud and pretentious after the two hour mark.  Yet, there is much to see and the special effects are impressive at least.
FUN SIZE (USA 2012) *
Directed by Josh Schwartz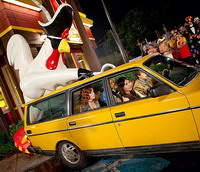 One would think Hollywood would have learnt from the God awful recent ADVENTURES OF BABYSITTING movie with Jonah Hill as THE SITTER.  In less than 6 months arrives FUN SIZE, about a teen who loses her little brother and spends the rest of the movie looking for him.  The difference here is that the action or non-action rather, takes place during Halloween.
Wren (Victoria Justice) is invited to a Halloween party by her crush, Aaron Riley (Thomas McDonell), but she is also ordered by her mother (Chelsea Handler) to take her oddball little brother Albert (Jackson Nicholl) with her when she goes out trick-or-treating on Halloween.  When she goes to the party instead, she loses him and must find him before her mother finds out.  So she ends up borrowing a car from some nerds, Roosevelt (Thomas Mann) and Pelt (Osric Chau) and they team up to find Wren''s brother.  They end up going through a lot of trouble to find him and go through some crazy shenanigans which in this case, are just not funny at all.
FUN SIZE is director Schwartz's debut feature but the film shows lack of any talent.  The prize scene with a giant chicken sign humping the car containing the teen heroes was already seen in the trailer and thus does not come off as funny any more.  It just seems that Schwartz just films one segment (though done just all right) without any thought or initiative.  The one segment done to the song of the Beastie Boy's "You Got the Right to Party" is done muffled.  He could have at least copied the lively original music video.
The funniest moments of FUN SIZE lies when the end credits roll, when Jackson Nicholl who plays the little brother doing his 'thing'.  But alas!  One has to sit through the entire unfunny movie to come to this part.
IN THEIR SKIN (Canada 2010) ***
Directed by Jeremy Power Regimbal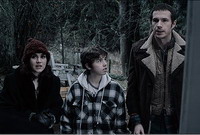 IN THEIR SKIN is a horror film, which is quite scary for the reason that the horrors are not supernatural in nature but come from the emotions and behaviour of human beings.        The audience can relate and the film is more effective.
The film deals with home invasion.  Films such as PANIC ROOM and particularly Michael Haneke's FUNNY GAMES deal with identical themes but Regimbal's film is quite different.
For one, this film deals with two families socially different.  Though both comprise one father, one mother and same aged-son, one family is financially dependent and socially inept while the other whose home is invaded is cultured and wealthy.  When the cultured Mary (Selma Blair) knowledgeable in wines, asks Jane (Rachel Miner) what wine she would she would like for dinner, Jane can only answer: "Whatever you are having."
The sight of one boy taking a knife to the throat of is also quite disturbing.  The fact that both couples are made to look alike (both men bear a moustache and the women have similar hair) is a good move.
One problem of the film is that the audience is initially mores sympathetic toward the villainous couple as they have nothing and are not so fortunate.  The film is scarier in the first half when tensions mount during the couples' first meeting and during the dinner.   Once the blood and weapons (knife, rife and gun) appear, the film reduces back to the slasher film genre which audiences are already saturated with.
There is one scene during a stand off when Jane confronts Bobby in the way in which she is treated.  But the script never follows up on this interesting conflict but instead goes on to the next scene in which Bobby forces Mary to have sex with him in front of Mark.
Made in 2010, but only just released, the home invasion horror film IN THEIR SKIN though flawed, show much promise and thus worth being seen for its potential.
THE SESSIONS (USA 2012) ***
Directed by Ben Lewin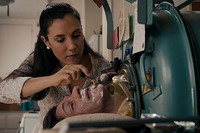 Based on a true article by Californian poet and journalist Mark O'Brien (John Hawkes), THE SESSIONS refer to the sex sessions experienced or enjoyed by man with iron lung Mark O'Brien with sex surrogate Cheryl (Helen Hunt).  O'Brien's body was contorted by polio but he wanted to lose his virginity at the age of 39.
The film goes about how he conquered the love of three separate women.
A film with this sex theme requires nudity as a necessity.  This the stars provide with the sensitive segments done with taste and restraint.  It is without doubt that Hunt feels uncomfortable with the filmed nude shots and it shows.  This discomfort rubs off on the audience all the same but it is meant to be this way.
Hunt is winning in her role and one has to love that smile of hers.  William H. Macy has the role of Father Brendan, a beer drinking, smoking priest that tries his best to comfort Mark in his condition.
The film was likely made for its provocative theme.  As it turns out, THE SESSIONS is in reality a charming and sensitive slice of life as experienced by a disabled man who strives and succeeds in attaining normalcy in his sex life.  Though the film is slow moving, it is necessarily so, but the end result is an uplifting piece of entertainment that is true to the wonders of what life has to offer.
SILENT HILL REVELATION (France/Canada/USA 2012) **
Directed by Michael J. Bassett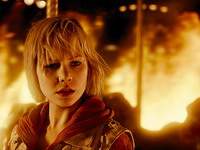 Taking over from the 1st SILENT HILL French director Christophe Gans (BROTHERHOOD OF THE WOLF), director Michael J. Bassett did number 2 and this 3rd installment of the SILENT BHILL franchise.  This is also the only one that he wrote as well.
Based on the video game of the same name, the film's story is all over the place with little explained.  There are huge gaps as to what is happening.  Take for example the slow motioned attack of the underlings that stop amidst their attack for no apparent reason.  But on the bright side of this dark tale, the graphics are amazing and the atmosphere scary enough to frighten even the seasoned horror fan.  Shot in 3D, the action and killings give director Bassett plenty of opportunities to have objects jump out at the screen at the audience.
The story has a girl called Heather Mason (Australian actress Adelaide Clemens) lose her father Christopher (Sean Bean) to evading forces of a nature that she does not fully recognize.  On the eve of her eighteenth birthday, plagued by nightmares and Christopher''s disappearance, she discovers that her presumed identity is false and her life''s origins as well. This revelation leads her to an alternate dimension in Silent Hill,with the latter also entered by her classmate Vincent (Kit Harington) who aids her find her father and escape the dark forces.  However, Vincent is a member of the dark forces himself, and his defection is hardly convincing at all.
Neither is the rest of the film.  The rather notable cast of supporting actors such as Martin Donovan, Carrie-Anne Moss, Radha Mitchell, Malcolm McDowell and Deborah Kara Unger is largely wasted in this silly horror tale of escape from Silent Hill.
Just watch the special effects, creature makeup (including a rather silly gothic spider) and set decoration.  All else should be buried in the underworld!
Best Film Opening: The Sessions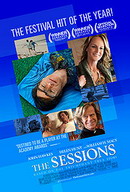 Best Film Playing: The Imposter
Best Action: Argo
Best Drama: The Sessions
Best Foreign: Crulic: The Path to Beyond (Ekran Polish Film Festival)
Best Comedy: Pitch Perfect
Best Family: Frankenweenie
Best Documentary: The Imposter