16
Nov
2012
Details

Category: Movie Reviews
Written by Gilbert Seah
Biggest box-office film of the year to open this weekend - the last of the Twilight Saga series: BREAKING DAWN 2.
Also worth a look are smaller films CITADEL and HOLY MOTORS from France.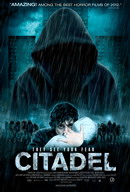 REVIEWS:
CITADEL (Ireland 2012) ***
Directed by Ciaran Foy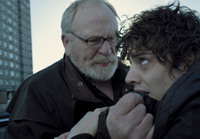 CITADEL is a semi autobiographical psychological horror film about a young father who must overcome his agoraphobia if he wants to save his baby daughter.  Director Foy himself suffered from agoraphobia when he was mugged by gangsters.
Shot mostly in Glasgow, the film is set in fictitious Edenstown, a rundown suburban sprawl that lies beneath three abandoned tower blocks.  Living in public housing with his baby Elsa, Tommy (Aneurin Barnard) has been scared to go out, ever since his wife was fatally attacked by feral children.  But now he finds himself terrorized by the same gang, who seem intent on taking Elsa.  Torn between the help of an understanding nurse (Wunmi Mosaku) and a vigilante priest (Scottish stalwart James Cosmos), Tommy doesn't know where to turn.  The nurse thinks the predators are just socially deprived street kids. The priest knows differently.  In order to rescue Elsa, Tommy must enter the one place he fears the most – the tower block where he and his wife once lived.
Foy's film takes a while to get on its feet.  The first half deals with Tommy's agoraphobia which is a tad boring and monotonous.  Once Tommy gangs up with the priest, the film gets really scary.
James Cosmos is excellent as the foul mouthed knowledgeable priest.  The blind boy with him who helps Tommy is creepy as well.  The best part of the film deals with the feral children being able to sense fear.  So, Tommy has to conquer his fear for the villains and the enclosed spaces to rescue his daughter.
Made on a shoe string budget, CITADEL succeeds as a different horror film in which syringes replaces knives and the feral children replaces monsters.
HOLY MOTORS (France 2012) ****
Directed by Leos Carax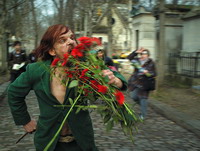 Definitely a movie not to be forgotten, French enfant terrible Leos Carax returns with a stunning new film HOLY MOTORS after a 13-year hiatus.
Carax is best known for his extravagant over budget LES AMANTS DE PONT NEUF, an excellent film that scared investors from doing any future business with him.  The film also starred Denis Lavant and Juliette Binoche bringing her instant fame.
HOY MOTORS is significantly different.  There is hardly any narrative sense.  The film begins when a man (Carax himself) unlocks a secret door to another world, where Monsieur Oscar (Lavant) lives.  Oscar appears to be a banker who travels the Paris streets in a stretch limo driven by Céline (Edith Scob).  But it turns out he's got nine assignments today – all requiring disguises.  The film is thus divided into 9 parts excluding the portion that binds the parts together.
Using his limo as a dressing room, Oscar turns himself into an old woman who begs near the Seine.  Next up, he's a latex-clad acrobat who simulates sex with a limber lady.  Then he's a sewer-dwelling beast who kidnaps a beauty (Eva Mendes).  This is the segment that Carax displays a full scale erection of Lavant's penis.  But this is not the first film Carax has done this – as Lavant's same member could be seen in a night silhouette scene in LES AMANTS DE PONT NEUF.  Oscar is also a fretting father, a sick uncle, a hit man and more.  Near day's end, he meets an ex-lover (Kylie Minogue) who sings a romantic song.
The film also contains a few film references.  Lavant has one role as Monsieur Merde, a reprisal of the same one in Carax's previous film TOKYO.  The mask that Celine wears towards the end of the film has a similar look with the ghostly face in Georges Franju's EYES WITHOUT A FACE.
HOLY MOTORS is not for everyone.  But with Carax's surrealism and imagination, the film will surely fascinate cinephiles.
THE TWILIGHT SAGA: BREAKING DAWN PART 2 (USA 2012) ***
Directed by Bill Condon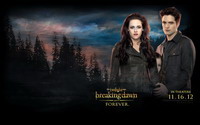 The fifth and final instalment of the Twilight Saga series arrives with full blast, no expense spared.  Director Bill Condon who made Part1 delivers what teens want in their romantic fantasy – tonnes of sexual innuendo, bloody gore and everlasting romance.
Never mind the confusing story!  If one is unfamiliar with the previous films, general story or the book's characters, expect to be in for a rather confusing time trying to piece together what is happening at the film's start.  But it really does not matter after a while, as it is the big orgy of the battle showdown (that lasts quite a while) and the romance between Edward and Bella Cullen (Robert Pattinson and Kristen Stewart) are all that matters.
The plot involves Bella, after being brought back from near-death by Edward after childbirth. Bella begins her new life as a vampire and mother to their daughter, Renesmee (Mackenzie Foy). But when Irina (Maggie Grace), a member of the Denali Coven, misidentifies Renesmee as a immortal child, a human infant who has been bitten and transformed into a vampire, to the Volturi, they set out to battle and destroy the Cullens for their betrayal. In a final attempt to survive, the Cullens begin to gather foreign Vampire clans and nomads to stand and witness against the Volturi, including the Denali, the Amazonian, the Egyptian, the Irish and Romanian Covens, with European and American nomads. With their allies, the Cullens and the Wolf Pack stand to prove their innocence to the Volturi once and for all.
The special effects are top notch, an improvement from film after film in the series – done with CGI and with great care.  The fights are in the forest and bare open spaces.
The transformation from man to wolf is well executed. The segment in which Taylor Lautner takes out his shirt to show his rippling muscles followed by his pants to transform into a wolf got the film's loudest cheers from the female audience.  The declarations of eternal love uttered more than a few times between Edward and Bella would also more than satisfy the target audience.  Despite its flaws, BREAKING DAWN PART 2 delivers what the target audience wants, and the film is successful in that respect!
BEST BETS OF THE WEEK:-
Best Film Opening: Holy Motors