12
Dec
2012
Details

Category: Movie Reviews
Written by Gilbert Seah
WHAT THE DICKENS?
As Christmas arrives, what would be more appropriate than a Dickens film series.  The many great films include the early works of David Lean down to the grand musical rendition of OLIVER! By Carol Reed.  Most of these are British productions and a few seldom seen ones such as LITTLE DORRIT parts 1 and 2.
The series also offers two versions of GREAT EXPECTATIONS to tie in with the 20112 Mike Newell version which will open soon.
For complete show times, venue and ticket pricing, please check the TIFF website at:
Capsule reviews are provided for two of the films below:
GREAT EXPECTATIONS (UK 1946) Top 10 *****
Directed by David Lean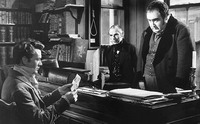 One of the two adaptations of a Charles Dicks novel by David Lean (the other being OLIVER TWIST) who also co-wrote the script, GREAT EXPECTATIONS is one of the best British films of all and much, much better that the new Mike Newell version out this year.  Shot in black and white and winning the Oscar for best cinematography and art direction, the film opens in a graveyard and shows the marshlands of Britain where young Pip lives.  This is classic Dickens, with poverty and class making an effect on the story.  Poor country boy Pip grows up (played by John Mills) and offered to becomes a gentleman of Great Expectations.  At the same time, Pip learns about humility while finding love at the same time.  Leans is an excellent story teller, using just the right amount of voice over narrative while retaining the novel's adventure, suspense and excitement.
OLIVER! (UK 1968) ***** Top 10
Directed by Carol Reed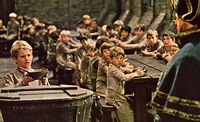 Charles Dickens' Oliver Twist is given the full musical treatment in the otherwise drab story of how orphaned Oliver (angelic looking Mark Lester) survives thieves, street urchins and one of the vilest in British literature, Bill Sykes (Oliver Reed).  The result is on of the best musicals ever made based on the book by Lionel Bart.  Songs like "Who Will Buy this Wonderful Morning" will brighten anyone's day while others like "Consider Yourself" and "Oom-Pah-Pah" will have audiences whistling in the aisles.  Ron Moody almost steals he show as a comical and sympathetic villain who when contemplating turning over a new leaf from a life of crime will start crooning the best song of the musical: "I am reviewing the situation."  The one that steals the show is the pitbull playing Bill Syke's dog, Bulls Eye who looks like the canine right out of FRANKENWEENIE.  OLIVER! Is a blast and should be seen one so often, the best during the festive tide.