19
Dec
2012
Details

Category: Movie Reviews
Written by Gilbert Seah
Early openings of these films Dec 19th Wednesday.  More opening Friday and Christmas day.  Check for updates.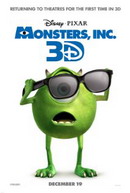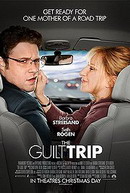 HAPPY CHRISTMAS!
REVIEWS:
CIRQUE DU SOLEIL: WORLDS AWAY 3D (USA 2012) **
Directed by Andrew Adamson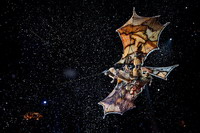 For Christmas, (what more an appropriate time?) from the big top to the big screen, visionary filmmaker James Cameron (AVATAR, TITANIC) and director Andrew Adamson (Shrek, Narnia) brings on an all new 3D adventure: Cirque du Soleil Worlds Away.
A young couple who is separated, must journey through the astonishing and dreamlike worlds of Cirque du Soleil to find each other, as audiences are supposed to experience the immersive 3D technology that will allow them to leap, soar, swim, and dance with the performers.
It all begins with an innocent waif, Mia (Erica Minz) wandering a circus (called 'Marvellous') grounds before being attracted to various performers.  She enters a tent where she is fascinated, if not in mesmerized with an aerialist (Igor Zaripov).  During this performance, he falls on to the ground, the sand sucking him.  Mia dives as if to save him.  The two end up sucked into a different world where they, like the audience experience the Cirque Du Soleil performances.
For a romantic story, the film does not work.  The audience is too distanced and no effort is made to make any sense of why the two should even look at each other.
As for Cirque Du Soleil, the 3D and all the special effects, the result is a complete bore rather than fascination.  The title WORLDS AWAY says it all.  The individual sequences such as The Beatles' 'Under the Sea" segment are all mesmerizing but too much with no differentiation will eventually bring on big yawns.
No doubt, those who are unable to cough out more than a $100 will have the film as the only opportunity to experience CIRQUE DU SOLEIL, but there is nothing like watching this live.  But this can also be boring as it is one performance after another.  It is either one is all out for it or not!
DJANGO (Italy/Spain 1968) ***
Directed by Sergio Corbucci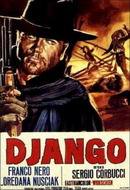 DJANGO is one of the original spaghetti westerns and the one that shot actor Franco Nero to fame.  Nero has also a friendly cameo in Quentin Tarrantino's DJANGO UNCHAINED.  If ever one wants to know the definition of a spaghetti western, DJANGO is it.  The film is tacky, cheesy, violent, nonsensical for the most part, but mostly fun.
The film opens with Django (Nero) rescuing a damsel in distress.  Apparently there are two feuding sections, the Mexicans and Americans led by Ted.   Django has allegiance initially with the Mexicans, or the Mexican general in particular but it is the Mexicans that crush his hands to pieces in the end.
The plot involves Django falling in love with the damsel and stealing the gold from a fort.  The bad guys, both Mexicans and Americans are both done in at the end as expected.
Tackiness takes the form of cat fights in the mud, cloths torn of the whores and the gunfight action scenes in which Django always comes upon top, smashed or no smashed hands.
The film is obviously re-released to cash in on the opening of Tarantino's DJANGO UNCHAINED, and will be screened at TIFF in the subtitled, not dubbed version.
DJANGO UNCHAINED (USA 2012) ***** Top 10
Directed by Quentin Tarrantino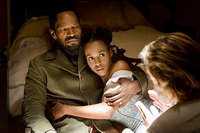 DJANGO UNCHAINED begins with the familiar title song sung by Elisa that was originally written by Ennio Morricone.  The music and look from the muddy and rocky landscape immediately immerse the audience in the atmosphere of the spaghetti western genre.  What follows is a typical styled spaghetti western but given the Quentin Tarrantino touch.  DJANGO UNCHAINED is the critic's most anticipated film of the year.  It already went on to win a slew of award nominations mostly notable the golden globes, including Best Picture and acting honours for both its 2 leading stars.
The film, set in 1958, two years before the civil war, begins with a travelling dentist, Dr. Schultz (Christophe Waltz), a German rescuing black slave Django (Jamie Foxx) from slavery, and hence the film's title.  The sight of the free Django riding high on a horse with a white man draws more than resentment from any white folk in any town.  It turns out that Schultz is a bounty hunter who recruits Django to help.  In the process, the two attempt to rescue Django's wife from Mr. Candy (Leonardo DiCaprio) a, slave trader who dabbles in black boxers.
Dialogue (especially sweet talking) is always of prime importance in a Tarantino film.   In his last INGLORIOUS BASTERDS, he got away with the entire film shot in French and German.  In this film, German is also spoken but it is the word 'nigger' that is heard so often that it does not bother the audience any more.
Though Christophe Waltz has most often been cast as a psychotic villain, casting him here as the hero and lead character is a good decision.  Waltz is also Tarrantino's best sweet talker.  Waltz is so good and full of surprises, one cannot get enough of him.  His voice is immediately recognizable once he first appears, full bearded on screen.  Foxx is not bad but incomparable to Waltz and there are a few surprise cameos including Franco Nero (the original Django).  Samuel L. Jackson is definitely memorable as the really nasty black slave master, Steve who is s scary as he is over-the-top.
Tarrantino leaves his strong imprint in this as in his other movies.  The film has an exceptional lot of dialogue in certain scenes (the best being the debate on the wearing of white masks during a raid), violence (the most cinematic being the blood sprayed on the white flowers in the field) and surprises, not counting the director's own cameo near the end of the film.   The all out shootout climax at the end is quite the blast, well worth the almost 3 hour film length.
At one point in the film, the DiCaprio character remarks to Schultz that Django has aroused his curiosity but questions whether he will get his attention.  Though DJANGO UNCHAINED is not as good as INGLORIOUS BASTERDS, his film will undoubtedly still be quite the attention grabber.
GREGORY CREWDSON: BRIEF ENCOUNTERS (USA 2012) ***
Directed by Ben Shapiro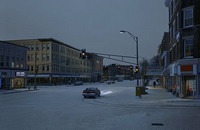 Gregory Crewdson, now a Yale Professor, is known in the art world for his painstaking, meticulous elaborately staged photographs, many taken with little light around the towns of Massachusetts that have always fascinated him.  Director Ben Shapiro paints a jovial natured character out of Gregory, taking his camera along when Gregory scouts for his new locations and works on his projects.  Though these may concern a lot of just driving around, the audience do get a good fell of the effort put into the artist's work.
It is not surprising then that the work chosen for this documentary is Gregory's project entitled 'Beneath the Roses' which included his most difficult shot of a freshly snow covered main road in a small town in the wee hours of the morning.  The town had to be closed off and lights brought in to enhance the brightness.  Shapiro also brings the other side of the picture into the work.  An angry dissatisfied snow shoveller of the town, when told not to clear the snow for spoilage of a shot retorts that Greg and crew just come in and take over the town and that if any one slips on the ice, it is him that is responsible for not clearing the snow.
The film includes a brief but eye-opening profile of the stories of Gregory's Park Slope childhood (in which he tried to overhear patients of his psychologist father), his summers in the bucolic countryside (which he now imbues with a sense of dread and foreboding), and his encounter with Diane Arbus''s work in 1972 at age 10.  Interviewees chosen include novelists Rick Moody and Russell Banks, and fellow photographer Laurie Simmons, who comment on the motivation behind their friend''s haunting images.  But what is glaringly missing is Gregory's current life.  Is he married, is he settled with a girlfriend or what even is his sexual orientation?  He could seem like a fussy queen hobbling about always wanting his own ways.
That aside, Shapiro's documentary on Gregory Crewdson does his work justice.  It is beyond doubt that the artist's work is stunning, and a lot of time is also devoted for the audience to appreciate this fact.
THE GUILT TRIP (USA 2012) ***

Directed by Anne Fletcher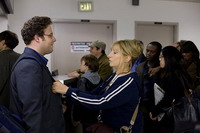 Mother, Joyce Brewster (Barbra Streisand) and son, Andrew (Seth Rogen) take on a road trip ending in San Francisco so that son can sell his latest invention.
As far as road trip movies go, this is a road trip movie, so don't expect FUNNY GIRL or a great Barbra Streisand comeback.  In fact, when the film opens, and motor-mouth Streisand starts talking non-stop, one immediately reminded on a similar role she had in the 70's in THE OWL AND THE PUSSYCAT, a romantic comedy in which she drives lover George Segal insane with her talk.  This time around, it is her son she drives crazy.
So much so, that he has moved far away from her to go to school and tries to get her hitched again.  The problem with Fletcher's film is that the plot pints are entirely predictable.  One can also tell when a confrontation scene is approaching or when Andrew is finally going to nail a sale.  But director Fletcher (27 DRESSES, THE PROPOSAL and STEP UP) knows how to please her audiences anyway as can be witnessed from her past box-office successes.
Apart from that and that quite a few jokes just do not work (like the Grand Canyon jokes that fall as deep as the World Wonder), Streisand and Rogen do make good chemistry.  THE GULIT TRIP is also a well-intentioned good hearted comedy about how mothers and sons should love each other despite all differences.
The only surprise is the end segment when the camera moves back in the airport lounge to reveal…. (sorry, no spoiler here!) a neat touch to the ending of the film.
THE IMPOSSIBLE (Spain 2012) ****
Directed by P.A. Bayona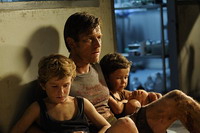 The film is based on a true story.· And the words 'true story' remain on the screen to emphasize that this incredible tale of a Spanish family holidaying in Thailand when the Tsunami hit in the 26th of December is all true.
Many films have been made on the effects of the Tsunami on people, but none as immediate as this one.· THE IMPOSSIBLE does not deal with how a family or how people recover from the Tsunami's aftermath but with a family's desperate search for each other right after the storm hits.· It is an imperious journey, and not one short on hope, of survival and the search for lost ones.· The story is incredible and hence the appropriate title of the film THE IMPOSSIBLE.
The story is effectively adapted from a Spanish family to an English speaking family working in Japan holidaying in Thailand.· When the Tsunami hits, the story focuses first on the mother, Maria (Naomi Watts) and the eldest son, Lucas (an incredible performance by blue eyed wonder boy Tom Holland who will definitely go far in the film world).· Maria is injured and both end up in a hospital where Lucas helps others find their lost family.· In the mean time, father Henry (Ewan McGregor) makes the difficult decision to leave the other two sons at a shelter while searching for his wife and Lucas.
This seems a simple tale of the triumph of the human spirit.· But the script by Lopez is excellent from both dialogue and events points of view.· In terms of dialogue, there is an amazing written scene of Lucas chatting with a 76-year old survivor while gazing at the stars in the sky.· After exchanging information of their ages, the elderly woman (Geraldine Chaplin) says that the light in the sky could come from stars that are dead.· When asked by the boy how one can tell if a star is alive or dead, she replies that one cannot.· When Maria is given anaesthetics for sleep when she undergoes surgery, the doctor tells Maria to think of pleasant things.· When she closes her eyes, director Bayona uses the opportunity to offer the audience a second look at the stunning special effects of the Tsunami hitting the beach resort, this time with Maria as the focus.
One can forgive any plot implausibilities when the film is titled THE IMPOSSIBLE.· Despite the film getting a bit sappy, THE IMPOSSIBLE is still a well crafted feel-good family movie.
JACK REACHER (USA 2012) ****
Directed by Christopher McQuarrie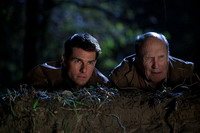 It seems as if there are insufficient MISSION IMPOSSIBLE films for Tom Cruise that he has to take on another lone super hero figure.  He is Lee Child's JACK REACHER, a character in one of Child's more than a dozen novels.  But this time around, the hero is a sexless (not interested at all in sex of either kind) but a protector of the innocent and totally street smart.  To differentiate the films, JACK REACHER is suspense mystery as opposed to action type MISSION IMPOSSIBLE.  Director McQuarrie (VALKYRIE) keeps reminding the audience of this throughout the movie, right down to the Hitchcock style overhead shot of blonde heroine Helen (Rosamund Pike, British actress now turned into American films) of falling to the floor after being tasered in the elevator.
JACK REACHER is as slick and as efficient as McQuarrie's film is executed.  As in the novels, ex-military police Jack Reacher is a loner, moving from town to town his whereabouts unknown till a caught sniper scribbles the words ('Find Jack Reacher' on paper while coming out of a coma.  The sniper has shot 5 apparently innocent victims, and defending attorney Helen (Pike) seeks to get him off death row but not without the help of Reacher (Cruise).
When the films starts, the film looks like DIRTY HARRY, the one in which a sniper (Andy Robinson) holds a city ransom but Lee Child's story is more solid that the film and at times just as satisfying.
JACK REACHER moves at a slower pace than action films and necessarily so and this is not an action film.  But the tactic pays off, as the film incites much, much audience anticipation as it incites the inherent violence in the audience.  In many segments, one would want Reacher to beat the hell out of his victims.  The script, written by McQuarrie (who also wrote THE USUAL SUSPECTS) is not without humour.  But at times, it sinks into obvious preaching, as in the segments in which Reacher educates Helen on what freedom is and on what is the right thing to do besides just doing her job.
Cruise is fine and credible enough for his Jack Reacher character despite the character in Child's novel being 6 foot 5 inches.  Childs as a very brief cameo as a police officer in the station while the strong supporting cast including David Oyeolo (looking in many shots like a young Sidney Poitier) and Richard Jenkins aid the film along.
JACK REACHER is the only action film, oops, I mean suspense mystery thriller around this Christmas and definitely worth a look!
MONSTERS, INC 3D (USA 2012) ****
Directed Pete Doctor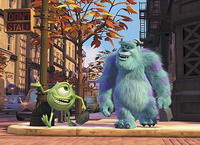 The fourth entry from Pixar Animation and just as successful as their TOY STORY films, MONSTERS, INC. gets a full re-release treatment in 3d, just in time for Christmas.  A favourite and a box-office success when first released, MONSTERS, INC is imaginative, pure delight and deserve a second viewing be it in 3D during the festive tide.
Directed by Pete Doctor and co -directed by Lee Unkrich and David Silverman, the story centres on two monsters who work for a company named Monsters, Inc.: top scarer James P. Sullivan (John Goodman with his bear-like voice) known as "Sulley" and his one-eyed assistant, Mike Wazowski (Billy Crystal).  Monsters generate their city''s power by scaring children, but they are terribly afraid themselves of being contaminated by children, so when one enters Monstropolis, Sulley finds his world disrupted.  The villains of the piece are Sulley's rival, Randall (Steve Buscemi) and the owner of the company, Henry J. Waternoose (the late Oscar winner James Coburn).  In the mayhem, a little girl, Boo (Mary Gibbs) escapes into the monster world.  With every monster after her, Sully saves her and the day.
Goodman and Crystal make up one of the best pair of voice characterizations since Murphy and Myers in the SHREK films.  But the prize voice goes to Bob Peterson who does Roz, the bespectacled femal clerk who is always after Mike for the paperwork.
The animated sets particularly the doors and doors on conveyor belts running through the factory warehouse are both imaginative and stunning.
Though the film has a monster theme, the filmmakers keep their animation of the creatures to be funny rather than scary.  Most of the time, the monsters are oafish, clumsy objects with more feet or tentacles or less members like one eye ending up amusing to look at.
MONSTERS, INC is enchanting enough with or without the 3D.  The prequel MONTSERS UNIVERSITY should be a worthwhile wait.  It is scheduled to open in 2013.
PARENTAL GUIDANCE (USA 2012) *
Directed by Andy Fickman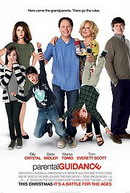 PARENTAL GUIDANCE is the only live action family comedy about a family to open this festive season that would be the perfect family outing to the cinemas.  Unfortunately, it is also the worst film to open and a brutal viewing experience.  The film feels much, much worse when you have the next person seated to you thoroughly enjoying this awful film.
Old school grandfather Artie (Billy Crystal), who is accustomed to calling the shots, meets his match when he and his eager-to-please wife Diane (Bette Midler) agree to babysit their three grandkids when their type-A helicopter parents (Marisa Tomei, Tom Everett Scott) go away for work. But when 21st century problems collide with Artie and Diane''s old school methods of tough rules, lots of love and old-fashioned games, it''s learning to bend - and not holding your ground - that binds a family together.
As the story goes, it is all predictable material and an uninspired production.  Crystal and Midler give it everything that they have to no avail.  The fact that the film concentrates on baseball does not help either, as not every family in the world, notable those outside the U.S. would be that interested in this American sport.  But the most embarrassing performance belongs to Tomei who delivers a clueless a performance as her clueless mother character.  And the film is not without the barfing and kick in the groin infantile humour.
If PARENTAL GUIDANCE had better writing and direction, or perhaps had Crystal and Midler replaced and the entire film remade, the film might have been a classical.  This makes Billy Crystal's other embarrassing family piece MY GIANT by comparison, a classic.  There are worse things I could write about this movie, but this is the season of good cheer.
RUST AND BONE (France 2012) ***
Directed by Jacques Audiard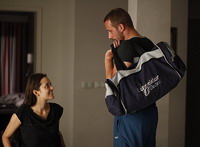 The much anticipated Cannes Grand Prix winner from the director of UN PROPHETE and DE BATTRE MON COUER S'EST ARRETE, Jacques Audiard, RUST AND BONE is just as dramatic, if not more but with a freer flowing style.
The story centres on boxer, Ali.  Broke, homeless, and drifting, Ali (Matthias Schoenaerts from BULLHEAD) scrambles to make a living for himself and his young son: he steals food, sleeps on the streets, and finally relocates to the French Riviera to live with his estranged sister in her cramped apartment.  All too happy to let his sister watch the boy, Ali focuses on his burgeoning career as a back-alley boxer, dreaming of making it big as a mixed martial artist. Taking work as a nightclub bouncer, he crosses paths with Stéphanie (Marion Cotillard), who works as a killer-whale trainer at an amusement park, commanding the beasts with an ease absent from her interpersonal relations.   But Stéphanie suffers a terrible accident, losing both her legs in the process.  Director Audiard films the accident sequence artistically without too much gore and violence.  The unlikely pair fall into a tender, tentative courtship.
The trouble with RUST AND BONE compared to his other films is not that there is not enough emotion or drama.  But there is not enough story.  The only subplot concerning Ali's sister and their relationship cold has been expanded, as could the father son relationship.
Cotillard delivers a good enough performance but it seems a cop out that her character should be comfortable in Ali's boxing world.  She has to hobble around in her artificial limbs but is still able to collect all the bets.
Despite its flaws, Audiard's film is still engaging, thanks to the two lead performances.  Ant it is always dramatic to watch two misfortune creatures learn to get back on their feet.
THIS IS 40 (USA 2012) ****
Directed by Judd Apatow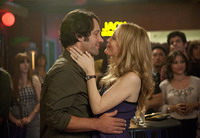 From responses of colleagues, THIS IS 40 is a hate it or laugh it comedy.  Writer/director/producer Judd Apatow (HE 40 YEAR OLD VIRGIN, FUNNY PEOPLE) brings his mown brand of an original comedy that expands upon the story of Pete (Paul Rudd) and Debbie (Apatow's wife, Leslie Mann) from the blockbuster hit KNOCKED UP as we see first-hand how they are dealing with their current state of life.
And they are not dealing with it too well.  It is hard to tell whether they are loving each other or quarrelling it all out more than half the time.  The film is long at over 2 hours, but I found the loud out laugh moments just too much – and I did not want the film to end.  As said, many would feel otherwise.
As the ads go, the film is family- this is life and THIS IS 40.  The loose plot deals with Peter reaching 40 and his wife, now newly pregnant but unknown to Pete, who has just reached the same age, though she lies that she is 38.  They have two daughters, Maude and Charlotte brilliantly played by Iris and Maude Apatow, the director's daughters.  That aside, they are pretty brilliant young actresses.  There is a strong comic supporting cast that includes Jason Segel, Melissa McCarthy and especially Albert Brooks and John Lithgow as the two very different fathers of the couple.
Those who enjoyed BRIDESMAIDS will be pleased to see McCarthy at her funniest as well as Chris O'Dowd as Pete's business colleague.
There is one comical segment involving Debbie cornering and telling off one of Sadie's classmates at school for him taking her (Sadie) off his 'hot list'.  The repercussion is the boy's mother cornering Pete who brushes her off while abusing her at the same time.  The next has all three parents in the school office at a faceoff.  These three skits put together are the funniest I have witnessed on film this year.  (Having the awards consideration screener, I have watched these 3 parts countless times to my amusement.)
The script is timely with a story of a typical family in the present.  The characters deal with itunes, ipods with problems such as hot lists, relationships, parent/children relationship, work and friendship issues as well as parent issues.  Apatow has rounded up all the problems a couple in a typical modern family can face, the least of all their relationship with each other.
The result is a very realistic funny film, with many off-colored jokes (that are really hilarious), great comedic set-ups and unforgettable hilarious moments.  THIS IS 40 is the best comedy this year.
.
BEST CHRISTMAS MOVIES: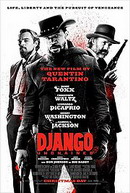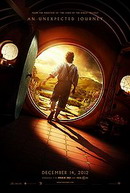 1)   THE HOBBIT: AN UNEXPECTED JOURNEY
2)   DJANGO UNCHAINED (Warning: May offend!)