Canadian television audiences have for many years enjoyed viewing the CBC's AIR FACE — a New Year's eve tradition where the popular comedy troupe skewers Canadian politics, current affairs and pop culture. In addition to the successful New Year's Eve specials which have been airing since 1992, AIR FARCE was also a weekly program enjoying 16 highly-rated seasons on CBC (1993-2008) and prior to that the troupe entertained Canadians on CBC Radio for 24 seasons (1973–1997).
This well-oiled machine seems to show no signs of losing steam or relevance with an audience of over 2 million viewers for its latest New Year's eve special.
Since 2014, the troupe gained some multicultural flavour for their New Year's eve special with the addition of Etobicoke-born actor, writer and comedian Darryl Hinds. After joining AIR FARCE he jokingly said: "Now I finally have a chance to do impressions of all the big-name black Canadian politicians!"
Fitting into a complex box
The Second City Theatre 15-year-veteran can also be recognized from roles and appearances in TV shows like Little Mosque on the Prairie, Rookie Blue, Degrassi, Lost Girl, Being Erica and several more. Born and raised in the GTA, Darryl represents the multicultural tapestry which makes up Canada on our country's 150th birthday. Darryl's parents are both from Jamaica. His father is black and his mother is of Indian heritage.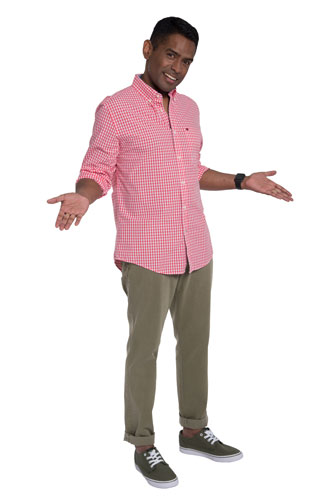 "A lot of Indian people will look at me and think I'm completely Indian, because I have a lot of very Indian features," he said. But the fact is he grew up in a very Caribbean household. "I was steeped in Caribbean culture. … My mom didn't speak Hindi and we didn't grow up with any of the Indian culture. I related more to black culture just because I didn't really see myself as Indian," as he shared.
When he began appearing Little Mosque on the Prairie, people would often approach him speaking in South-Asian languages assuming that he could fluently engage in conversation. Nevertheless, Darryl is happy to be able to represent both sides of his family on screen. Of course, there are challenges:
"When I go out to auditions where I have to play and Indian person, it's a challenge to speak in an accent because I never heard an Indian accent growing up in my household. Whatever accents that I heard, that I would put on, are accents that I heard other people doing. So, it always felt like I was making fun of an Indian accent, because I had to perform one on screen. So that was always tricky. I don't think that's how it came across, but I always felt that way.
Likewise, when I was auditioning for a character who was black, I felt like I'd go into the audition room and see all these black actors looking at me going, 'What is this Indian guy doing in here, auditioning for this role?' So, it's a double-edged sword. I love being able to connect with these different cultural groups, but at the same time, I kind of belong to neither. I belong to both and neither."
Telling the Canadian story after 150 years
On the occasion of Canada's celebration of the nation's 150 years, CBC is airing a special Canada Day edition of AIR FARCE. This is obviously a much bigger canvas to work with than the usual annual retrospective. How do you capture 150 years of history in country that as changed so much in cultural, ethnic and so many other aspects?
"The writers had a lot to pull from. That's the difficult job for the writers — taking 150 years of material and going, 'What is the most important thing in the last 150 years?' Then whittling it down to nine sketches, which is difficult. But, I think they did a great job, kind of covering almost every era in Canadian history," said Darryl.
"Usually, we like to poke fun of political events that have happened over the years, with the New Year's Eve special. But, this had less politics and was more just kind of a retrospective on Canada and celebrating Canada," added Darryl. Of course, there's also a certain dose of poking fun at Canada and critiquing where there's a need for it but "there was definitely more of a celebratory feel about this one."
When asked if there were any additional pressures on him as a visible minority in the troupe as far as providing a multicultural perspective, he said he didn't particularly feel the burden of living up to anything. The best value in his eyes is that the AIR FARCE troupe understands that involving more people of different cultures is important for an inclusive visual representation on screen.
"There's a scene where I'm playing a settler in Canada that mentions nothing about my race and that mentions nothing about who I am. I'm just a settler in Canada and I'm coming into a sketch. I have Jessica Holmes, who plays my wife in the sketch, and we're married and we're interracial. But, it's not really like this thing that is made a deal of," he said.
Learn more about AIR FARCE Canada 150! Coming to CBC this Canada Day .
AIR FARCE CANADA 150 premieres on Saturday, July 1, 2017:
9:30 PM Newfoundland & Labrador
9:00 PM Atlantic Canada
8:00 PM Ontario and Québec (Eastern)
7:00 PM Manitoba (Central)
6:00 PM Saskatchewan, Alberta, and the North (Mountain)
5:00 PM British Columbia (Pacific)