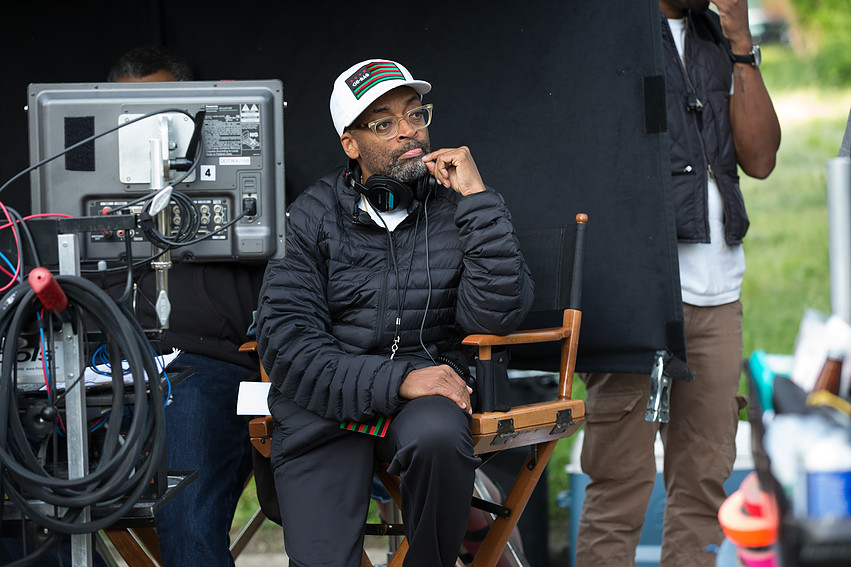 A trendy art gallery, located east of Yonge Street near Toronto's historical district, seemed like a perfect setting for a roundtable interview with filmmaker Spike Lee. While I had met Spike on a couple of occasions before while covering red carpets for AfroToronto.com at the Toronto International Film Festival (TIFF) in years past, sitting down with him, along with a handful of other journalists, was a welcome opportunity to dig deeper into his creative mind.
The purpose of this intimate press junket was to discuss his latest film, or joint, CHI-RAQ, surrounding its Canadian premiere on Friday, March 18 at the TIFF Bell Lightbox. Starring Nick Cannon, Wesley Snipes, Teyonah Parris, Jennifer Hudson, Angela Bassett, John Cusack and Samuel L. Jackson, the film is also available on iTunes.
As the publicists led us into the room where Spike Lee stood waiting next to a pre-arranged table, he immediately pointed to a more cozy area in the back of the room with white couches encircling a small white coffee table. "Let's do it there," he said.
Perhaps he felt inspired by the nearby framed illustration of basketball legend Michael Jordan hanging not far behind the white couch I sat on. Referring to MJ's portrait on the wall more than once during the interview, he said: "My man right there. One word doesn't describe the totality of that greatness."
Spike Lee made that reference within the context of a question asked by one of the journalists sitting with us about how the word "anger" is so often associated with his work.
"It's easy to label Spike Lee the angry Black man," Lee said. "So they can run with that and not see all the aspects. And on top of that, I really detest whenever a piece of work, or person, is given a one-name label."
"A one word description is just laziness. Maybe with Donald Trump we could do that. But in most cases, we need more than one word," he added with a mischievous smile.
Impactful art is multifaceted
The film CHI-RAQ is indeed a representation of Spike Lee's multifaceted storytelling talent. The story is actually based on a classical Greek comedy by Aristophanes, dating back to 411 BC, called Lysistrata. The ancient satirical tale recounts the unorthodox mission of a Grecian woman named Lysistrata who sets out to persuade women to withhold sexual privileges to their war-thirsty husbands and lovers. The ultimate goal being to force their bellicose men into ending the bloody Peloponnesian War.
Also using the tool of satire, Spike Lee adapted this ancient storyline to the harsh environment of modern-day Chicago's South Side – notoriously plagued by gun violence.
Similarly to the ancient Greek story, the beautiful Lysistrata (played by Teyonah Parris) who is in love with aspiring rapper and gangbanger Demtrius (played by Nick Cannon), is torn by the violence and turf wars of rival gangs Spartans and Trojans.
Following the tragic death of an 11-year-old girl in their neighbourhood, Lysistrata joins forces with her neighbor Miss Helen (Angela Basset), who previously lost her own daughter to a stray bullet, and convinces the women from the Spartan and Trojan gang turfs to swear off sex with their men until the fighting stops.
When the trailer for the film was originally released, some accused Spike Lee of making light of the serious problem of gun violence in Chicago's South Side because it contained some humorous moments.
Lee's response was: "Some people are getting it twisted and think that this is a comedy. CHI-RAQ is not a comedy. CHI-RAQ is a satire. And there's a difference between humour and comedy. In no way, shape or form are we not respectful of the situation that is happening in CHI-RAQ. In no way, shape or form are we making light of the lives that have been murdered with this senseless violence. So, people, don't get it twisted."
A New Yorker in Chi-Town
Another point of contention was the title of the movie itself. The name "Chi-Raq" was coined by South Side residents, representing a combination of the words "Chicago" and "Iraq," to highlight the extremely dangerous streets likening their world to a war zone. Several Chicago residents and politicians, including mayor Rahm Emanuel himself, called on Lee to change the name of the film.
I asked Lee if he thought the fact that he's a New York filmmaker, telling such a deeply felt Chicago story, played a role in the backlash he received. Were Chicagoans worried about him being capable of telling the story the right way?
"There's always that concern," he told me. "But I didn't come up with that title Chi-Raq. So I think the mayor should raise his concern with the rappers of Chicago who coined that term." With respect to being a New York filmmaker telling a Chicago story, his response to me was: "What people don't realize is that I was in Chicago doing research for six months. … It's not like we showed up the day before shooting."
He knew what he was walking into going in. When he filmed Do the Right Thing, he was at home. Lee likens it to an athlete playing with a home court advantage. "If you're an athlete, you play a certain way at home but on the road you don't get the calls. So we just know going in that we're not at home."
Dealing with the controversies
Taking on those types of challenges and criticism is certainly not new to Spike Lee. He reminded us that this coming August 9 will mark the thirtieth anniversary of She's Gotta Have It, his very first film. "If that stuff affected me, I wouldn't be able to continue making films for 30 years," he said. "I've been keeping stepping for thirty years."
While being careful not to insinuate that anyone is above criticism, Lee said: "You've got to believe in yourself, believe in your voice and keep moving. Because if you take to heart every single criticism you get, that's going to become stifling. You're going to be immobilized and put into an artistic straitjacket."
Many people in creative fields, or otherwise, wonder endlessly about how people will react if they go one route or another. "You can't create like that," said Lee. At the end of the day, by second-guessing themselves, people also trick themselves into shortchanging their creativity and creating bland products for the sake of being non-confrontational and trying to appeal to everybody. "That doesn't work. Then you get blasted for doing that."
Embracing satire
That creative philosophy has informed Spike Lee's embrace of satire for not only CHI-RAQ but also for one of his earlier films, Bamboozled. As he explained: "Bamboozled begins with the lead character, Damon Wayans, giving to the camera the Webster's definition of satire. People didn't get it. So they're not going to get this one."
"I made people upset," as Lee acknowledged. But he points out that CHI-RAQ is not a documentary. It's not a straight-up drama. "That's the way I wanted to do it." He wanted to be careful with the way violence was shown in the film. "We didn't want to be exploitative and make it sensational. Like Greek tragedies, the violence is always off-stage."
CHI-RAQ is currently screening at TIFF Bell Lightbox (350 King St W, Toronto) until March 24. See schedule.
Related Links