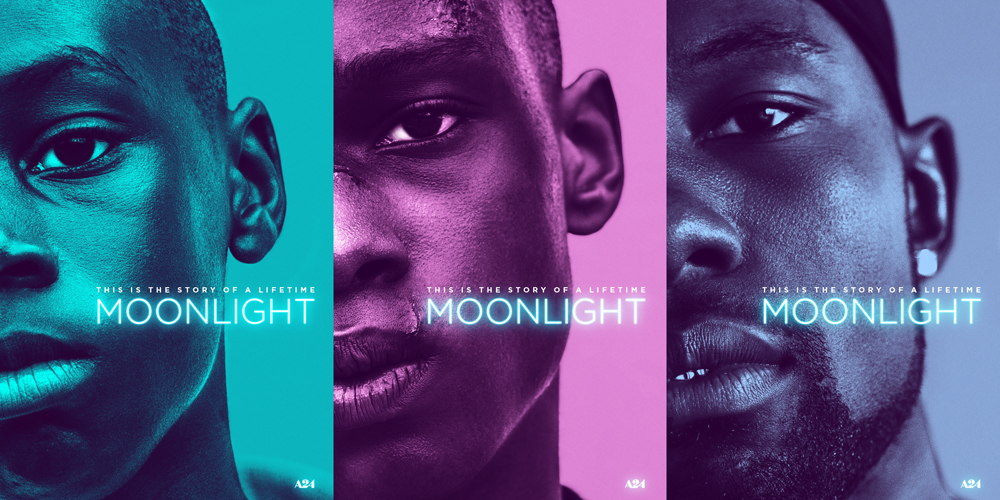 "An authentic story, from an actual place, about real people going through real things," is how Moonlight's director Barry Jenkins described his latest film. The story follows a young black gay man coming to terms with his identity over about two decades. Much as Jenkins did with his skillfully textured Medicine for Melancholy, his sophomore effort Moonlight offers a rare cinematic look into the black experience through its multi-layered complexities. Given the dearth of fully-fledged stories on the silver screen with leading black protagonists, it's easy to predict that Moonlight will earn it's cult flick status in black communities — similarly to how Theodore Witcher's Love Jones shed an unconventional light on black love. As might have been expected, however, the film's queer-identifying examination of black masculinity has not been met without controversy.
Told in three parts, the film is a loose adaptation of playwright Tarell Alvin McCraney's play In Moonlight Black Boys Look Blue. Set in inner city Miami, we follow the principal character, a boy named Chiron, as he comes of age and grapples with his identity (played at different ages by Alex Hibbert, Ashton Sanders and Trevante Rhodes). Jenkins chronicles the character's life journey from a vulnerable boy taunted for his as-yet-unexplored difference, to a teenager grappling with his sexuality, to a grown man forging his path.
We find that Chiron's challenges are not so different from those of many other black inner-city youths — navigating the perils of crime, poverty and broken homes. In a sense, that's the power of this story. Chiron's queerness isn't explored in a setting divorced from the realities of a racialized social system. "My gayness doesn't give me any pass. I've still had the police pull me out of a car, put guns to my head, lock me in handcuffs and leave me face down in the pouring rain for no reason," McCraney told The Guardian recently as he reflected on his autobiographical work.
By coincidence, Jenkins came of age in the same rough and tumble Liberty City housing projects where McCraney grew up, and where much of Moonlight the film unfolds. Jenkins actually shot the film on some of the same city blocks where he grew up. It's also interesting how, while they didn't know each other as children, Jenkins and McCraney attended the same elementary and middle schools. They both also grew up in a household in which their mothers grappled with severe drug addiction.
In Moonlight, we first meet Chiron, nicknamed Little, as a 10-year old boy caught between schoolyard taunters calling him "soft" and "weak," and his drug-addicted mother (played by Naomie Harris). He finds a father figure and mentor in a mid-level local drug dealer, Juan (played by Mahershala Ali). The latter impresses on Chiron the importance of standing up to his tormentors. "At some point you got to decide for yourself who you want to be. You can't let nobody make that decision for you," said Juan as he turned to Chiron along a beachfront in Miami.
That's essentially the message of Moonlight. It's a story about masculinity and how it can be expressed in unconventional ways amid sometimes hostile societal milieus. "I'm examining black masculinity in this movie, but on a deeper level I'm exploring inner city impoverished black masculinity. We needed someone who could be menacing one moment and extremely caring the next," as Jenkins explained.
See Moonlight at TIFF Bell Lightbox
CONTEST
Enter our draw for a chance to win a pair of tickets to see Moonlight by This email address is being protected from spambots. You need JavaScript enabled to view it.. We will run weekly draws through November.