As we celebrate Canada's 150th anniversary this year, a new short-film by emerging Canadian filmmaker Howard J. Davis asks us to examine the ghosts in the closet of our history. His film C'est Moi explores the story of Marie-Josèphe Angélique, an enslaved African in 18th century New France, who became an emblem of resilience against slavery in Canada. The 9-minute film will have its Canadian premiere in Toronto on Sunday, May 28th as part of the Censured in Canada Film Festival.
"I think it is important to be accountable for our actions and recognize all injustices of our history as opposed to marginalizing and erasing it from our collective identity," Howard said.
Exploring the past through a modern lense
"The film is a poetic retelling of Angelique's history using music, spoken word, and visual film elements," said the British-born Canadian actor, singer, dancer and budding filmmaker who identifies as mixed-raced. The story straddles old and modern-day Montreal, itself celebrating the 375th anniversary of its founding this year, as Angélique, a Joan of Arc in her own right, is seen navigating through the present day streets where the events of Friday, June 21, 1734 leading to her trial, torture and execution for allegedly burning down the city took place.
Official Trailer - C'est Moi (English Subtitles) from Howard J. Davis on Vimeo.
"I find it's an interesting juxtaposition of past and present. But for the most part it's her alone, talking, and confessing her alleged crime," said Howard. As the city embarked on restoration projects of these old buildings and monuments, the filmmaker laments that some of this important history is at risk of being also erased in the restoration. " I wanted to pose the question," he said. "It's a declaration. … There's a plaque in Montreal that has been demolished which I actually showed in the film. In a nutshell, that's how it came into fruition."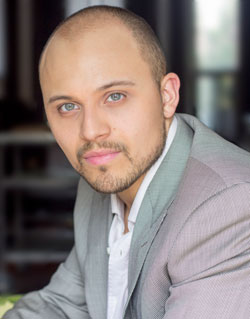 Howard's journey of exploration into his heritage began as he studied pre-colonial African history and the African Diaspora while attending Ryerson University, alongside his acting degree classes. He sought to delve deeper into Canada's involvement in slavery, which appears to have disappeared from the nation's collective consciousness, and find a way to bring this forgotten history to the forefront.
Finding the medium
After eight years of development, from concept to realization ultimately as a short film, Howard explored options of telling this story in various forms. "I had written the beginnings of a story at Ryerson theatre school — which I thought would be a dance piece. Then I started adding music to that, thinking its form would be in a stage play with music, to then moving to a musical form, where I wrote some songs for the piece," as he shared.
But when he made the decision do the film version, the project was completed in the span of a few months. He wore many hats from scoring the music himself, developed for the musical version he explored, to teaching himself video editing on platforms like Final Cut Pro and Adobe Premiere.
As he was ready to delve into the film project, he was lucky to know a playwright, Mike Payette, who was working on the same story for the stage in Montreal. The actress playing Angélique in the late Lorena Gale's Black Theatre Workshop production in Montreal was Haitian-Canadian performing artists Jenny Brizard. Howard immediately asked Mike if he could approach Jenny to play the role of Angélique in his film as well.
The film has Jenny, for the most part of it, walking amongst a modern-day Montreal. Howard wasn't able to close off streets to shoot the scenes; so that was ended up being both a challenge and opportunity. We see people walking around, unaware that they're contemporary extras in a work bringing historical context to a modern lens.
Toronto Screening Info:
Screening on Sunday May 28
Censured in Canada Film Festival 2017
Location: CineCycle
129 Spadina Ave (b/w Richmond & Adelaide)
Toronto, ON M5V 3A8
Canada
$10
Related article from the archives: