Actress Halle Berry speaks to CBC's Amanda Parris as part of the 2020 Toronto International Film Festival (TIFF) about her distinguished career and her most recent film project and directorial debut, 'Bruised.'
I'm of the generation of black youth which came of age in my twenties during the 1990s — which arguably was the golden age of black storytelling on the small screen and big screen. Back in those days, before Netflix and the internet at scale, we eagerly clung to our sacred Wednesday and Thursday nights in front of the TV to catch the iconic 90s black sitcoms and series like A Different World, New York Undercover, and Living Single.
On the big screen, movies like Love Jones and Boomerang — starring Eddie Murphy, Robin Givens a Halle Berry, depicted the full humanity of an all-black cast dealing with real issues of love, careers, aspirations and betrayal.
"I had a feeling when we shot Boomerang that we were slightly ahead of our time. The industry wasn't ready to see black people in that way. I knew that we were part of pushing the envelope," said actress Halle Berry on Day 2 of this year's Toronto International Film Festival (TIFF 2020) as part of an online interview with CBC's Amanda Parris.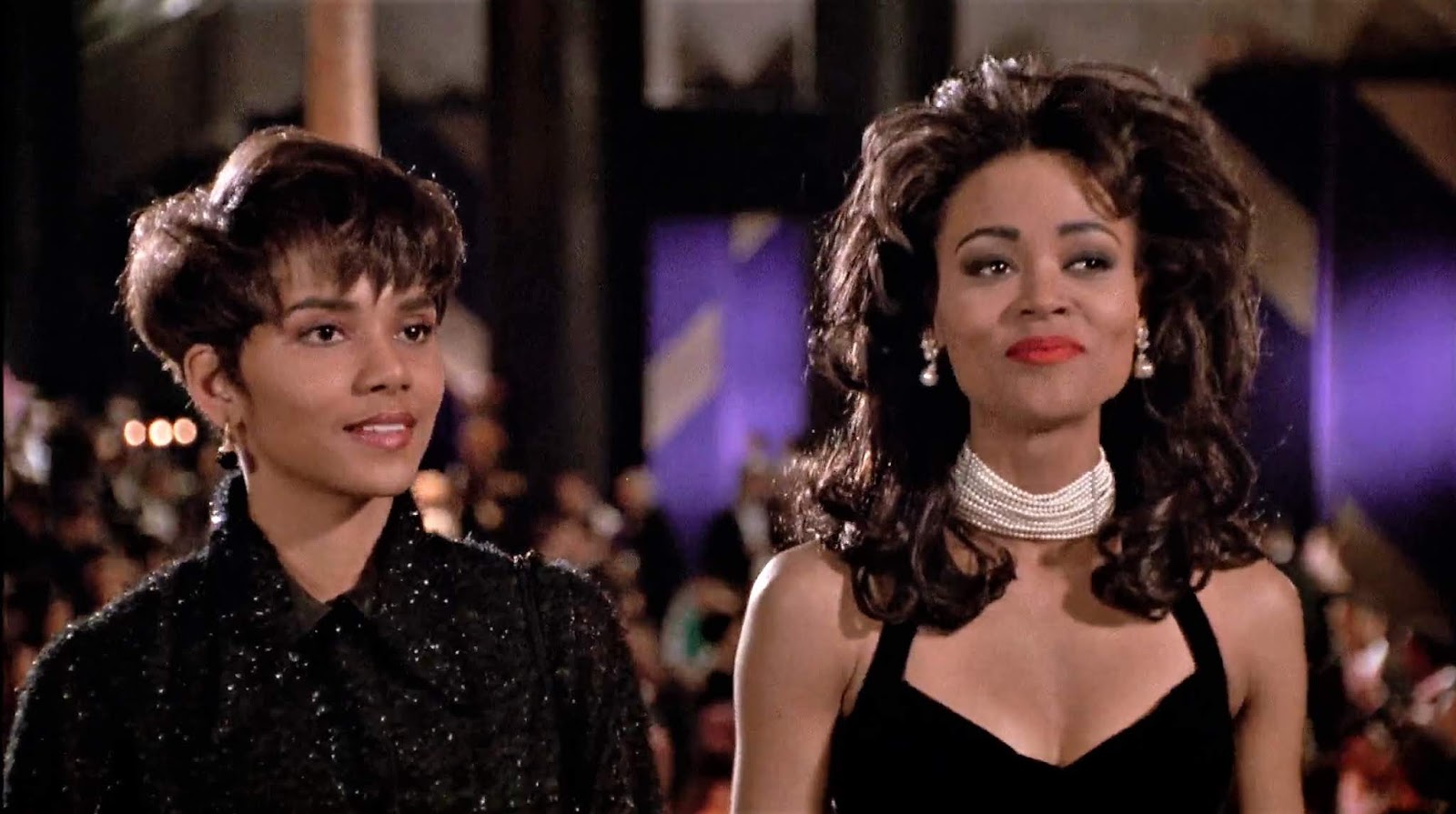 Boomerang (1992 film)
Berry knew that Boomerang would matter more one day. "Society hadn't caught up with that truth yet."
Black millennials used to the #blackexcellence hashtag on their timeline and being able to login to their laptop at their own time and see themselves in a relatable way on-screen through shows like Insecure and others may be taking this for granted.
Today's proliferation of digital publishing platforms has allowed a greater diversity of storytelling from many more voices. Back then, we were at the mercy of a handful of major television channels and studios who decided when and how the black experience would be displayed on the screen. While progress has indeed been made, the industry still has work to do.
Reminiscing on her memorable acceptance speech, in 2002, when she won the best actress Oscar for her role of Leticia Musgrove in Monster's Ball, she laments the fact that no other black woman has since stood beside her in nearly twenty years.
Where things have evolved in the right direction, though, is that there are now more roles available for diverse women than was the case twenty years ago. She's proud to be a part of this continuing journey.
Her directorial debut
Halle Berry is currently promoting her directorial debut, an MMA drama titled Bruised, through this year's Toronto International Film Festival. She thanked TIFF's artistic director and co-head, Cameron Bailey, for encouraging her to bring her work-in-progress feature to the festival. Some great news was made yesterday, on September 11, when a massive deal was announced with Netflix.
"I can't stress enough the importance of festivals, and especially this festival. ... To get it bought at this early stage is a thrill," as Berry said during her TIFF online interview with Parris.
"All of my films have brought me something important to my evolution as an artist, and as a woman." ––@HalleBerry on her decades-spanning career #TIFF20 #ShareHerJourney pic.twitter.com/8rxRMvnMqQ

— TIFF (@TIFF_NET) September 11, 2020
The film idea came to her as an original story depicting an Irish Catholic woman. But Berry saw an opportunity to reshape and re-imagine the story with her, as a black woman, playing the starring role. The first challenge was to convince the film's producers, who owned the rights to the story, to agree to the pivot. Once they bought into her vision, she was then asked to find a director to make the vision a reality.
Soon enough, she also realized that the universe was conspiring to make this her debut directorial film project. She then contemplated the idea of approaching the film's producers once again to propose herself for the job.
Rewriting, starring, and directing her first film was quite a tall order, but it was a challenge she accepted willingly and with purpose. She was encouraged by a friend to take on the project after Berry complained that nobody understood what's in her head.
When Amanda Parris asked what drove her to be a director, Berry said: "A desire to tell more stories [from our own lens]. Not only of women but women of colour."
Breaking barriers and facing limiting expectations
Halle Berry is no stranger stepping out of her comfort zone and challenging people's expectations of what she can do. Her breakout role in director Spike Lee's 1991 film Jungle Fever, is a perfect example. Known at the time as a beauty queen, the young actress was given a career-defining chance by Lee to play Vivian, a foul-mouthed and dishevelled crack addict. She was initially slated to play the role of Lee's wife, but she really wanted to play the "crack hoe."
"That role really set my career off," as Berry shared. "I knew I was full of substance and full of stories to tell. ... Spike will forever be my special person. ... He was able to see that I could play that kind of character."
Over the intervening years, she has kept pushing those external perception barriers. When producer Lee Daniels initially didn't see Berry as the right fit to play the character of Leticia Musgrove in Monster's Ball, she fought for the part, which eventually earned her the Academy Award.
"I'm always drawn to characters that are fractures and broken. ... the dark horse in the race," she said. It's sort of a cathartic experience for her because it's a reflection of her own journey.
Interestingly enough, she admitted to never going back to watch her film performances. She only watches her movies once before the press junkets, since she needs to speak about it to journalists, and one last time at the film premiere.
For her latest film project, however, it was different. As the film's director she found herself, for the first time, reviewing her performance over and over again in the editing suite. But the experience of crafting and telling her stories authentically makes it all worthwhile.
Berry encourages female creatives to take advantage of the industry's shifting landscape to choose the right projects and keep true to themselves and their vision.
"You have the right to say no. Create, create, create. That is the power. Imagine your own stories, and don't be denied. Create your own stories, write, produce. ... Be relentless in your pursuit and be the hardest working person in the room."
See TIFF's screening schedule for Bruised.
Related articles