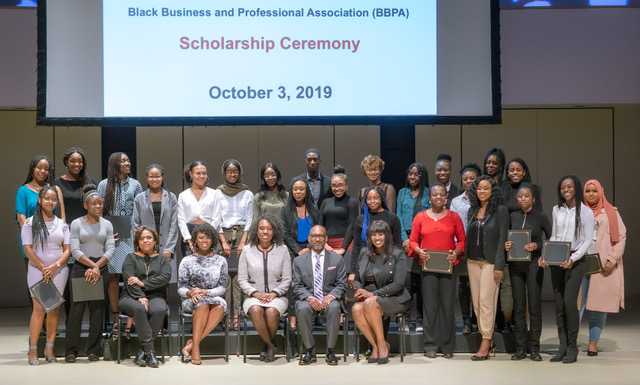 The BBPA National Scholarship Program is proud to announce the 50 African-Canadians from across Canada who recently received the 2019 BBPA National Scholarships. The BBPA National Scholarships provide financial assistance to Canadian students of African descent currently enrolled in post-secondary programs. Recipients were selected based on academic excellence, a demonstrated financial need and recognized contributions to their communities.
York University was pleased to join the BBPA National Scholarship Fund in hosting the 2019 BBPA National Scholarships presentation ceremony, which took place on Thursday, October 3, 2019, at the Tribute Communities Hall, 83 York Blvd, Accolade East Building, Main Floor at York University at 6:00 p.m.
"We are very proud of the young women and men who are receiving the 2019 BBPA National Scholarships," said Luther Hansraj, Chair of the BBPA National Scholarship Fund. "They have achieved academic success while making significant contributions to their communities. These young people will be the future leaders that all Canadians can be proud of."
The President of the BBPA Nadine Spencer shared; "The BBPA is inspired by the truly remarkable talents and resilience of our scholarship recipients. They represent the significant positive narratives in our community that are often overlooked and unpronounced. I am honoured and humbled to have the BBPA and our donors demonstrate our commitment to their success."
"Our government is proud to invest and celebrate these exceptional students, as we work together to ensure they reach their full potential in a province that recognizes the God-given ability of every student. Their commitment to service, leadership, and learning is commendable, and underscores my confidence in the future of our country, democracy, and economy," said Stephen Lecce, Minister of Education.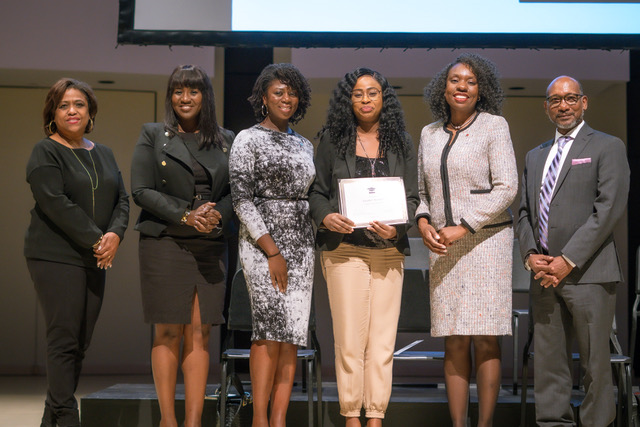 The Black Business and Professional Association established the BBPA National Scholarship Fund, formerly entitled "the BBPA Harry Jerome Scholarship Fund" in 1986. The BBPA National Scholarships are made possible through the contribution of diligent sponsors and donors. Since the scholarship fund began, over 1000 post-secondary students from the Black community nationwide have been awarded scholarships totalling $3.7 Million.
Donors to the BBPA National Scholarship Program include:
Ministry of Education
BBPA Future Leaders Scholarship
The Dentons Canada Scholarship
Christeen Ross Julien Scholarship, Stanley Julian
The Minerva Scholarship, Dr. Ross
Toronto Community Housing
TD Bank Scholarship
University of Toronto
Dr. Quida M. Wright
Ray Williams
Chef Roger Mooking
York University
The 2019 BBPA National Scholarships recipients are:
Aaron Parry
Adara Harry
Aishat Bello
Amanda Owusu
Aniyah Stuart-Veira
Anthony Downy
Ayesha Hassan
Caila Palmer
Cameron Rodriguez
Carl Lamers
Chante Hamilton
Charmaine Ross
Chidubem Nkoloagu
Debora Ocholi
Eki Okungbowa
Falan Bennett
Jinepher Koduah
Jordyn Goins
Joycelyn Asantewaa-Akuoko
Keneca Pingue-Giles
Keona Simmons
Khalil Wheatle
Kimathi Bwomono
Lama Elfaki
Leigh-Ann Grant
Lilian Dwira
Lina Elfaki
Marisa Coulton
Muna Mohamed
Mya Hastings
Najma Abdalla
Natalie Ramaabya
Nicole Mfoafo-M'Carthy
Nyah Wagner
Rebecca Amoah
Rebecca Konadu-Bruce
Ross Cocks
Safia Hirsi
Shanice Nkathazo
Shaquille Morgan
Sommer Knight
Sonia Igboanugo
Sophia Tracey
Taejah Noble
Tafyra Poyser
Teresa Akinbodun
Tsinat Semagn
Victoria Ebereany

The BBPA, founded in 1983, is a non-profit, charitable organization that addresses equity and opportunity for the Black community in business, employment, education and economic development. Our purpose is;
To encourage and support the pursuit of entrepreneurship, business, professional excellence, higher education and economic empowerment.
To facilitate access to ecosystems and resources.
To identify and reward excellence in achievement.
To establish linkages and co-operate with other organizations on matters pertaining to business, education, economic development and community wellness.
To build cross-cultural understanding and promote equity.
For more information please visit us online at www.bbpa.org, call (416) 504 - 4097 or email This email address is being protected from spambots. You need JavaScript enabled to view it.
Related articles