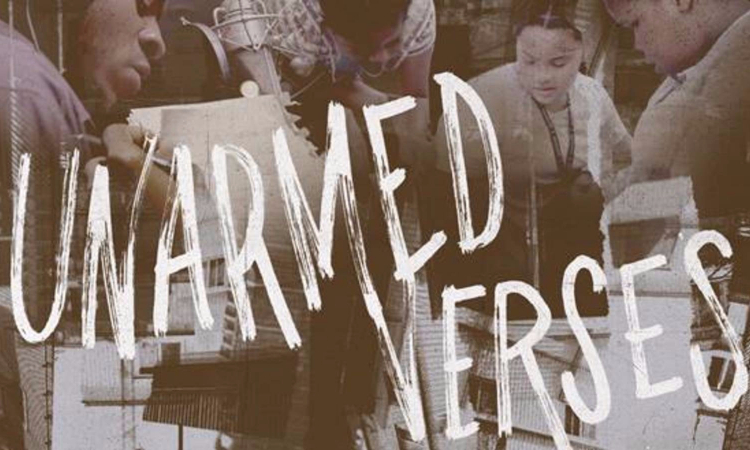 Named Best Canadian Feature Documentary at Hot Docs 2017, Charles Officer's powerful National Film Board of Canada production Unarmed Verses returns to the big screen in Toronto at the Hot Docs Ted Rogers Cinema, 506 Bloor St. W., starting Friday, October 6. There will be a Q&A with producer Lea Marin and guests from the film on opening night, October 6; and with director Charles Officer and guests from the film following the 8:30 p.m. screening on Monday, October 9.
The film was hailed by critics during its world premiere in Toronto this past spring, with Matt Fagerholm of RogerEbert.com writing, "Unarmed Verses is both about poetry and a work of poetry in itself," and Ezra Winton in POV magazine declaring, " Unarmed Verses is a cultural intervention that will undoubtedly be added to the documentary canon in this country."
As Toronto audiences get their second chance to see this acclaimed work, festival-goers at the Vancouver International Film Festival can watch Unarmed Verses on Wednesday, October 4, at SFU's Goldcorp Centre for the Arts , and on Friday, October 6, at the Rio Theatre.
About the film
Unarmed Verses (Trailer) from NFB/marketing on Vimeo.
With Unarmed Verses, acclaimed Toronto director Charles Officer offers up a thoughtful and vivid portrait of a community facing a difficult transition, when the largely low-income residents of a rental housing block in the city's northeast end are threatened with imposed relocation due to the impending demolition of the place they call home. At the centre of this story is 12-year-old Francine Valentine, a curious and compassionate girl whose astute observations and innate ability to express her thoughts belie her young age.
Francine's remarkably insightful reflections on life, the self, and the soul are beautifully framed by her love for art of all kinds, from poetry to drawing, dancing, and music. The difficult realities of her existence—poverty, girlhood, family rifts, and community tumult—are no match for this bright and expressive youngster. Francine and her peers are aided through their community's transition by teachers and mentors who show them the power of art and creativity in navigating adversity.
While Francine's unforgettable voice speaks for an entire community facing change, Unarmed Verses gives agency to those who are rarely heard in society. Her transformative journey transcends a simple coming-of-age story: it mirrors our universal need to express ourselves, find our voice, and belong.
Unarmed Verses is produced by Lea Marin (My Prairie Home ) and executive produced by Anita Lee (The Apology ) for the NFB's Ontario Studio, in Toronto. Officer's debut feature, Nurse.Fighter.Boy, premiered at TIFF in 2008, screened in Berlin and at MoMA, and garnered 10 Genie nominations, including for Best Picture and Best Director. His debut feature documentary was the 2010 NFB production Mighty Jerome , winner of four Leo Awards and a Regional Emmy Award.