Two Caribbean Canadian authors got the Zoom calls of their lives. $410,000 later Brand and Lubrin are still gobsmacked.
By Stephen Weir
What do you say when you find out you have just won $205,000? For two Caribbean Canadian authors, Canisia Lubrin and Dionne Brand, when they learned via Zoom that each of them had just won one of eight Windham-Campbell Prizes, it was short and sweet. "Wow" said Brand, and "this is thoroughly shocking," echoed Lubrin.
On Monday, Yale University on March 22 announced the eight recipients of the 2021 Windham-Campbell Prizes. The writers, whose work explores matters both personal and political, were honoured for their literary achievement or promise. Each will receive $165,000 US ($205,000 Cdn) to support their work.
Canadian Trinidad & Tobago won for her fiction writing. Canadian St Lucia's Canisia Lubrin was honoured for her poetry.
"Through original and intensely moving work that challenges what we think we know about genre and style, these extraordinary writers cast a forensic eye on the issues that make us human: our identity, our history, our cultural and political experiences," said Michael Kelleher, director of the Yale University's Windham-Campbell Prizes. "We are incredibly proud to recognize and celebrate such exceptional literary talent."
The awards, among the world's most generous literary prizes, are awarded annually to eight authors writing in English anywhere in the world. Prize recipients are nominated confidentially and judged anonymously in four categories: nonfiction, fiction, poetry, and drama. They don't know they are being considered for the prize until Kelleher contacts them about the judges' decision.

Typically, the winners gather at the New Haven, Connecticut school to take part in a fall literary festival. Due to the pandemic, this year's festival will be held on line.
The big money programme is the brainchild of Donald Windham and Sandy M. Campbell. The couple were deeply involved in US literary circles, collected books avidly, and read voraciously. The first prizes were announced in 2013.
37-year old Canisia Lubrin is a writer, editor, teacher and critic, with work published widely in North America, as well as in the U.K. She is the author of the awards-nominated poetry collection
Voodoo Hypothesis
and
augur
. She was a finalist for the 2018 bpNichol Chapbook Award. Her fiction is anthologized in
The Unpublished City: Volume I
, a finalist for the 2018 Toronto Book Award. She teaches English at Humber College and Creative Writing at Sheridan College and in the University of Toronto's School of Continuing Studies. Born in St Lucia she now lives in Whitby.
Winning the $206,000 Prize is not the only piece of good news. Last week it was announced that Lubrin has been made the new poetry editor at the M&S publishing house. She takes over; you guessed it, from Dionne Brand.
68-year Dionne Brand is a Canadian poet, novelist and essayist. She was the city's third Poet Laureate (2009 – 2012) and received the Order of Canada in 2017. Brand has won the Governor General's Award for Poetry, the Trillium Prize for Literature, the Pat Lowther Award for Poetry, the Harbourfront Writers' Prize and the Toronto Book Award.
AND THE HITS KEEP RIGHT ON COMING
Back in May of last year I wrote an article asking Why are Caribbean Canadian Authors winning all the Canadian and now American big literary prizes. I didn't have an answer then, and I don't have one now beyond saying they are all damn fine writers.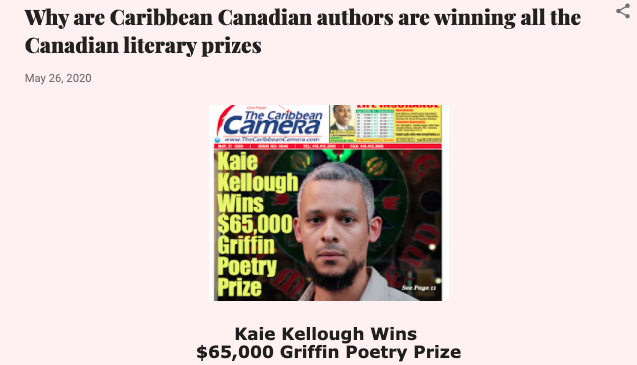 In recent years the following Caribbean Canadian authors have won some of this country's top book prizes. The authors include, in order of the year of winning major literary prizes:
DESMOND COLE former Toronto Star columnist and non-fiction author Desmond Cole. He won the 2020 Toronto Book Award for his memoir "The Skin We're In: A Year of Black Resistance and Power".
ZALIKA REID-BENTA, a Toronto-based Jamaican Canadian novelist has won several prizes for her first book Frying Plantain. It is about a young Jamaican Canadian girl growing up in "Little Jamaica" (the Eglinton West neighbourhood in Toronto.)
KAIE KELLOUGH. Back in May2020 The Guyanese Canadian poet Kaie Kellough was awarded the annual $65,000 Griffin Poetry Prize for his book, Magnetic Equator. Kellough was born in BC and now lives in Montreal. His maternal family is originally from Guyana and much of his poetry revolves around that Caribbean heritage and life experiences.
ANDRE ALEXIS was born in Trinidad and grew up in Ottawa. He is a past winner of the Scotiabank Giller Prize and the Writers' Trust Fiction Prize for his novel Fifteen Dogs (2015). The 44- year old award winning author now lives in Toronto.
IAN WILLIAMS The Scotiabank Giller Prize is a $100,000 award that annually recognizes the best in Canadian fiction. It is the richest literary fiction prize in Canada. Last year's winner was Trinidad & Tobago Canadian poet and writer Ian Williams.
DAVID CHARIANDY. author David Chariandy
is an award winning Canadian writer. His parents immigrated to Canada from Trinidad in the 1960s. He was born in Scarborough and now teaches at Simon Fraser University in BC.Brother, his second novel set in Scarborough, received rave reviews, was named a Best Book of 2017 on no fewer than eight lists, and won the Rogers Writers' Trust Fiction Prize.
Related articles