Moving Blackness: Identity, Hope & Love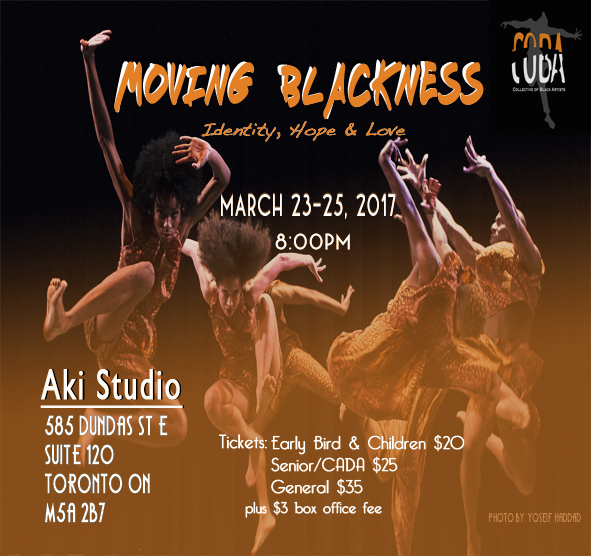 COBA's Dance Season Has Arrived!
If all lives matter, what stories do we carry as we celebrate blackness in a changing world? Where do we find identity, associations, hope and love? COBA presents a Season of Dance focused on the lived experiences of persons with a connection to blackness in the Canadian and Africanist realities. This expression is suspended in the physicality of movement, music and contemporary traditions. Moving Blackness: Identity, Hope and Love, explores the language of the body, social and political change in celebration of the importance of the African based influence on music and dance in three intriguing dance pieces featuring one world premiere and the reimagined work of Meme: #OurLivesMatter, and the remount of Mande Variations which incorporates 'urbanography' , a dance style of urban Africanist choreography.
Voted best dance company in NOW best of the City 2013 and with a technique rooted in the African Aesthetics of presentation COBA's versatility in choreographic themes and music "makes you sit up and take notice for all the right reasons" Deirdre Kelly, Globe & Mail. The Season of Dance choreographers choose to investigate the loss of collective social consciousness and awareness in a world where the potential and its relevance today how can many stories help in creating one voice to tradition, history and purpose of future.

Given the focus on human trafficking and abuse, "Meme: #OurLivesMatter" which saw its premiere in 2015, has been developed further in a response to the consistent assault on Black bodies globally. Initially prompted by the abduction of the Nigerian school girls by the Boko Haram, the "Bring Back Our Girls" campaigns, choreographer Charmaine Headley realized with the national and international violence against Black bodies in space, resulting in the online call "Black Lives Matter," further exploration was needed, and as an artist/choreographer, she has a responsibility in creating work that addresses social concerns. These are indeed global stories! These have inspired actions and activism bringing awareness to the historic and cyclical violence, abstracting the struggles and fears of unprecedented, at times, non-aggravated assaults on and of the rights of Black people. Initially created on an all female cast, this iteration is reimagined with a mixed cast. The work includes original composition by N'dere Nimon Headley-Lindsay.

Mande Variations shatters the pre-conceived notions of what traditional African music can look and sound like. With the use of the Kora, a complex harp-like stringed instrument, the dancer juxtaposes notions of classical and traditional movement. The dynamism of this piece also expands upon modern forms of movement with the use of 'urbanography,' (coined in the studio) – a dance style of urban Africanist choreography.

COBA, Collective of Black Artists is dedicated to the preservation of the cultural traditions of Africa and the African Diaspora. The company presents traditional West African dance, music and folklore; Caribbean indigenous dance, music and rituals; and contemporary works centered on African movement aesthetics expressing modern social themes. At the front of dance education, preserving and innovating on Africanist movement aesthetics for over twenty years COBA has the distinction of being the only company in Canada with a specialized training method developed in Toronto in the 21st century.

Co-Artistic Director | Charmaine Headley is a champion of Africanist dance. Through her work as an artist, choreographer, teacher and mentor, she advocates for the recognition and inclusion of the contributions of ethno-cultural dance practices in Canadian dance history and culture today and pushes for a broadened societal appreciation of these art forms. Presently this is her focus of her PhD studies at OISE, University of Toronto. A graduate of the School of Toronto Dance Theatre and a strong believer in the healing power of dance, Headley holds an honours diploma in Gerontology/Activation Coordination and has created a movement-based program for seniors for her Master's thesis at York University.

Co-Artistic Director | Bakari Lindsay was born on the sunny isle of Trinidad, West Indies. Perfecting his crafts for the past 25 years, BaKari is a dancer, choreographer, researcher, singer, musician, costume designer/ maker and father. He studied at the Alvin Ailey American Dance Theater, The School of Toronto Dance Theatre on scholarship and with various teachers from the Caribbean and the African Continent, and holds a Masters Degree in Dance Ethnology, from York University. BaKari has developed a physical language for training in West African and Diasporic African dance culture entitled A-Feeree - The Physical Language .

Collective of Black Artists (COBA) Present Moving Blackness: Identity, Hope and Love

Contemporary dance incorporating issues of identity, love and political change

Choreography by Bakari I. Lindsay, Charmaine Headley,

Musical Composition N'dere Nimon Headley Lindsay

Performers: Kadeem Faustin, BaKari I. Lindsay, Mafa Makhubalo, Aisha Nicholson, Melissa Peter

Costume Design: BaKari I. Lindsay

Friday, March 23 – 25, 2017 8pm each night! Aki Studio, 585 Dundas St East, Suite 120, Toronto, ON M4X 1B2 Tickets $25-$35 (children, seniors and students) plus $3 service charge.

FOR TICKETS, VISIT:

http://www.nativeearth.ca/boxoffice/

This event is sponsored by:

Canada Council for the Arts

and

Toronto Arts Council

Media Reference: Tanya Tulloch - Collective of Black Artists

This email address is being protected from spambots. You need JavaScript enabled to view it.

416-658-3111