Sweet sounds of Zimbabwe featuring Nhapitapi Mbira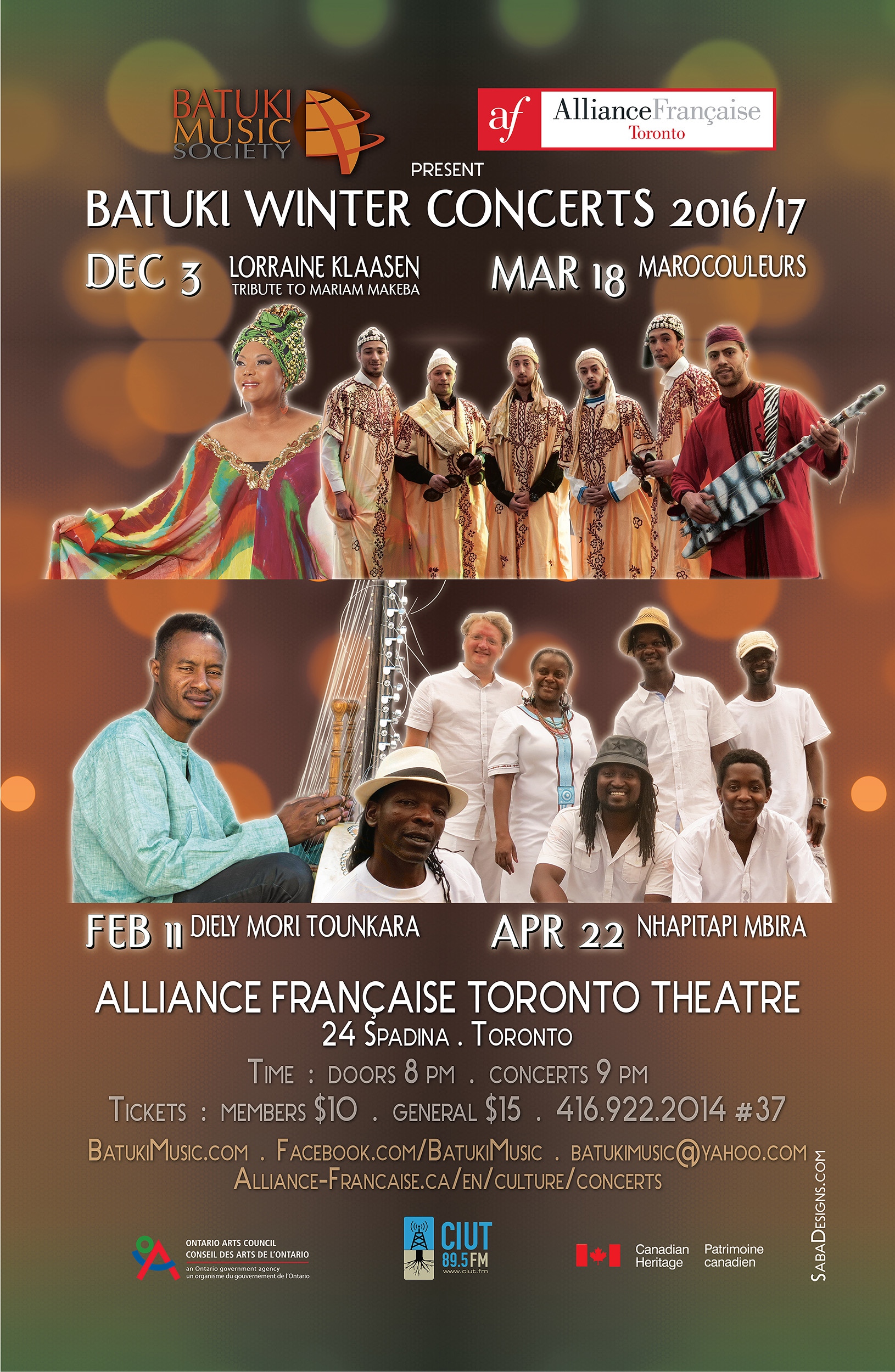 Batuki Music Society and the Alliance Francaise Toronto celebrate the musical heritage of Zimbabwe with a concert featuring Nhapitapi Mbira, at the Alliance Francaise Theatre on Saturday April 22nd at 9 PM.

Nhapitapi -- a Shona word meaning sweet sounds -- is a dynamic ensemble of Zimbabwe musicians, singers and dancers, who expertly weave ancestral rhythms and melodies with contemporary African flavours, conjuring musical magic in their midst.
Nhapitapi's music is a kaleidoscopic journey through space and time. Their sound takes root in the old voices of the African continent, and travels seamlessly towards its modern progeny of Afro-jazz, funk, rock, reggae and ska, all the while holding fast to the sacred spirit of ceremony. To those who know it well and those newly acquainted alike, many have found in this creation the quality of universal appeal.
Nhapitapi's performances open with the healing serenity of mbira and marimba, both grounding and energizing. Vocals, shakers, guitar, bass and drum are then introduced, producing complex layers of auditory enchantment. Once audiences have fully surrendered to this soaring soundscape, a deft duo of dancers hits the floor with unparalleled vigor and bold flirtation, drawing onlookers in to join the outburst of cathartic joy.
And so, we invite you with open hearts and arms to join us in song and dance, and you too will feel the breath of the lion on your neck.

Nhapitapi Mbira
Saturday April 22, 2017
Alliance Francaise Theatre
24 Spadina Road, Toronto
Doors open at 8 PM / Show at 9 PM
Tickets: $10 members, $15 general admission
Online: http://www.brownpapertickets.com/event/2640054 Tel: (416) 922 – 2014 X37

https://www.alliance-francaise.ca/en/culture/concerts/concert-of-south-african-music-with-nhapitapi

Batuki Music Society gratefully acknowledges the support of the Ontario Arts Council, Canadian Heritage and CIUT 89.5 FM