COBA's 20th Annual Dance & Drum-a-thon
Saturday, 29 April 2017 09:00 – 17:30

Location:

COBA Studios, 585 Dundas Street East, Toronto, Ontario, Canada

Category:

Dance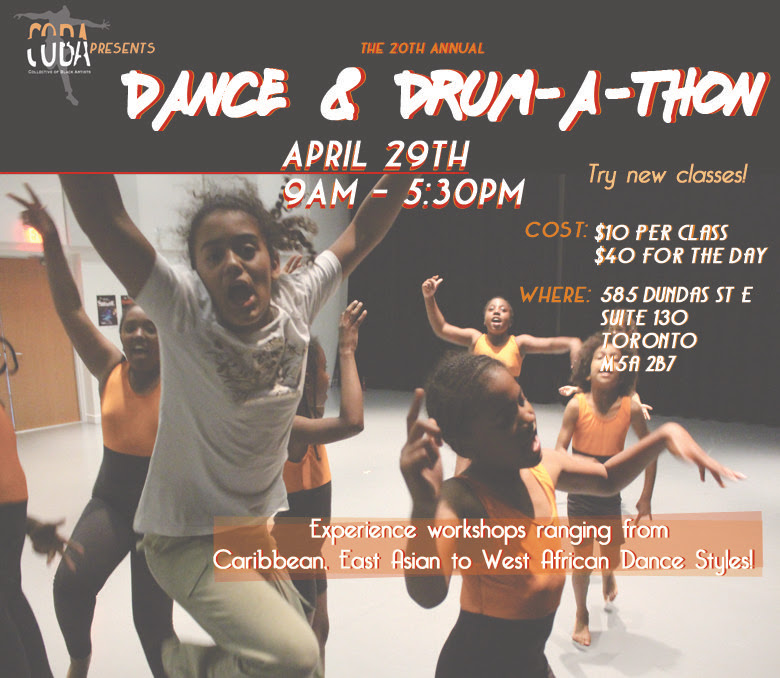 In celebration of International Dance Day, COBA's Dance & Drum-A-Thon is an annual event that brings together our students and community members for a day of drumming and dance like no other. Participants can try new classes and participate in ones that they are well versed in. All are welcome to join.
Classes are geared towards all levels of fitness and ability.
WE RUN TINGS
Join for our first Dance and Drum Fun Run: a fundraising event to support COBA. Our Dance and Drum Fun Run is a healthy and fun event for runners, walkers, and their families.
​
The Race begins at 8:00am!

Register ​Online at www.werun4.com
In Person at 7:30am
* Registration includes a free class at COBA's Dance and Drum-a-thon

Race Options
Twinkle Toes - 2K
Funky Feet - 5K
Sole for Real - 7K

Location
​COBA Studios, 585 Dundas Street East

Cost
Adults $20,
Children 12 and under $5

You can also join us for post-race breakfast!