UNKNOWN and I AM NUMBER FOUR vie for top spot at the box-office this weekend.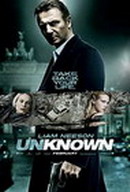 Also opening are smaller films LEMMY and SMALL TOWN MURDER SONGS.
FILM REVIEWS:
I AM NUMBER FOUR (USA 2011) ***1/2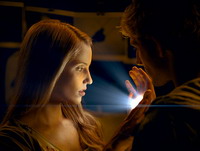 I AM NUMBER FOUR, directed by D.J. Caruso (SISTURBIA and EAGLE EYE) is based on the young adult science fiction novel by Pittacus Lore.  It is easy to see why.
The film caters totally to the young adult market with topical issues like bullying, keeping cool and romantic jealousy blended into an action sci-fi flick that moves as fast as any video game.  Directed by Caruso who has proved his mettle as making action flicks based on previous material (like DISTURBIA mimicking REAR WINDOW), the film actually succeeds.  It is TWILIGHT, SPIDERMAN, MEAN BOYS (male version of MEAN GIRLS) and RUNNING ON EMPTY done right and adapted for the youth market.  And the two leads are the hottest sex objects to be seen on screen this year!
The romanticism is familiar to TWILIGHT.  In this case, we have two ladies vying for the interest of FOUR.  The running from one city to another and the need to settle down for love is right out of RUNNING ON EMPTY.  The learning by FOUR of harnessing his supers is copied right out of SPIDERMAN.  But those be older films and most audiences would have forgotten about them.
I AM NUMBER FOUR begins with NUMBER THREE being eliminated.  What happened to numero uno and duo?  Caruso spares the audience that, as what happened to the first two has been seen in the film's trailer.  The story is a tale of surviving alien children on the planet earth trying to blend in with normal human beings.  The children are being hunted down to be killed by Mogadorians dressed in black cloaks with bad nose etiquette.  Number Four (Alex Pettyfer) has moved with his guardian (Timothy Olyphant) to Ohio where in school he falls for Sarah (Diana Agron).
The best thing about the film is not really the action but the teen routines and problems depicted in the story – real events that teens can relate to.  What really works well, for example is the introduction a nerdy bullied kid named Sam (Callan McAuliffe).  Sam's father has disappeared and it turns out that the disappearance is linked to Number Four's demise.  Sam becomes Four's reluctant side-kick and the two kick butt.  Majorly!
The film ends predictably with the likely possibility of a sequel.  Judging from this film, a sequel will definitely be a good idea.  The audience have met Number Four and Six, and there are more to come to battle the Mogadorians.
LEMMY (USA 2010) ***
Directed by Wes Orshoski and Greg Olliver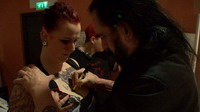 When the film opens, the voiceover and several talking heads praise Lemmy Kilmister of Motorhead for all that he is worth and more.  For many who have never heard of Lemmy (including this reviewer), all this seems strange.  Of course one hopes to find out more from this documentary what made Lemmy so great.
But the question why the world or rather his fans find him great is clearly a one-sided thing.  The answer is in his music.  If one finds his music great, that one would find this man just as great though he could commit a multitude of sins which he does – from womanizing, poor work ethics, strange hobbies (collecting Nazi paraphernalia), heavy drugs (crystal meth) and many others.  So, great man or asshole, at least Lemmy was never violent.
LEMMY is about rock icon Lemmy Kilmister, the singer/bassist/songwriter for Motorhead, the British trio that's credited with putting heavy metal on the map.  The film includes plenty of footage displaying Lemmy's talent in this field.  As the only original member, Lemmy has been the band's driving force since its inception 35 years ago, making music that's influenced everyone from Metallica to The Damned to Anthrax.  Interviewed are members of Metallica and the Damned as well as other celebrities like Billy Bob Thornton, Alice Cooper, Ozzie Osbourne and Joan Jett.
But the most interesting thing about the doc is Lemmy's personal life.  His relationship to his son is particularly poignant for a man who has little time for family.  His drug habits and bad behaviour are also intriguing though most of these are only heard from the mouths of those interviewed rather than seen first hand.
But one can tell that it is the directors' first film.  Though thorough in covering all aspects of the subject's life, the film contains little dramatization or sensationalism which may be a good thing.  But one downside, is that the film's impact is compromised.  Lemmy is also not that articulate a talker (slurring and mumbling his words half the time) and less footage should have him talking.
The filmed concert segments are satisfactorily shot – and contain more verbal praises of Lemmy's music than anything else.
If the aim of the directors is to show the connection between Lemmy, his music and his fans, then the film succeeds.  Other than that, the documentary will just be an account of a person one would care little about.  If one would not mind spending some money and two hours in a dark room for this purpose, then this film is for you!
UNKNOWN (USA 2011) ****
Directed by Jaune Collet-Serra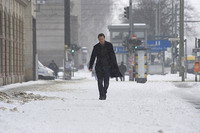 UNKNOWN rides on the success of Liam Neeson's TAKEN.  Though both films contain well executed action segments, TAKEN is more a suspense thriller – the kind churned out by Master of Suspense, Alfred Hitchcock.  In fact several scenes play homage to the Master (see below).
Liam Neeson plays Dr. Martin Harris, who arrives in Berlin with his wife, Liz (January Jones) for a biotechnology conference.  A car accident occurs and Martin wakes up after several days in a coma.  He finds his wife does not recognise him and that another man (Aidan Quinn) has adopted his identity.  The mystery deepens and he begins to question his sanity until he finds the taxi driver (Diane Kruger) who aids him get his identity back again.
The film plays like a ghost story in the first third and it is easy to see why as director Collet-Sera did well with his ORPHANS ghost film.  The solution starts unravelling only after the second half – satisfactory and credibly.  At the same time, the film shifts from mystery mode to action flick.  The action sequences are well executed and exciting enough.  Continuity and editing is above par and the audience can follow the action, as evident in the extended car chase sequence where a thud chases after the escaping duo.
The camera work is impressive and one can see, foe example the facial expressions of the actors when the vehicles plunge into the cold river waters during the accident.
The supporting role of the ex-German spy who helps Martin played by Bruno Ganz is the film's most interesting character.  There are exciting suspense set piece (the dismantling of the bomb) and a few good surprises in the film (the bomb goes off) as well.
As for suspense, director Collet-Serra puts in his two cents worth of Hitchcock nods.  There is the scene of mass evacuation from the hotel (the fire evacuation scene in Hitchcock's TORN CURTAIN), the full blown typical Hitchcock climax (hotel explosion) and a famous long one-to-one fight (here between Neeson and a thug) like in TORN CURTAIN in which Hitchcock wanted to make a point on how difficult it is to kill another human being without a weapon.  Even the blond Diane Kruger looks like Eva Marie Saint in NORTH BY NOTHWEST and the scene with her and Neeson walking by a train at the Berlin railway central station is reminiscent of a similar scene with Cary Grant and Saint waling by a stationary train.  The loss identity of Martin Harris works as an antithesis of the Richard Thornhill character in NORTH BY NORTHWEST.
UNKNOWN is a satisfying suspense thriller that works well by adopting what works from past films of the same genre.  The topical issues (the environment) also help in making the film more relevant.
SMALL TOWN MURDER SONGS (Canada 2010) **
Directed by Ed Gass-Donnelly


Police Officer Walter (Peter Stormare) has a questionable past history of violence, not really revealed in the film.  Living in a Mennonite farming town, he tries his best to remove the past and be a gentle being.  But he is put to the test when he believes the new boyfriend (Stephen Eric McIntre) of his old fling, Rita (Jill Hennessy) is responsible for a murder.
The trouble with this film is that the audience find t difficult to root for a hero with no balls, and worst that writer/director Donnelly refuses to endow him with positive character traits.  A story like this has been done before, most memorably in David Cronenberg's A HISTORY OF VIOLENCE.  It would be more satisfying to see Walter pushed to the limit and exhibit his violent nature again.  Instead he is beaten up and the audience forced to listen to hymns all the way throughout the film.
The least the audience is offered the non-commercial alternative (though more boring) story of a man trying to hide from his past.
BEST BETS OF THE WEEK
Best Film Opening This Week: Unknown
Best Films Playing: The Social Network/The Illusionist/True Grit/Another Year
Best Family: Tangled
Best Documentary: Inside Job
Best Foreign: Incendies
Avoid: From Prada to Nada, The Dilemma, The Rite