Music Africa presents: Black History Month Concert Series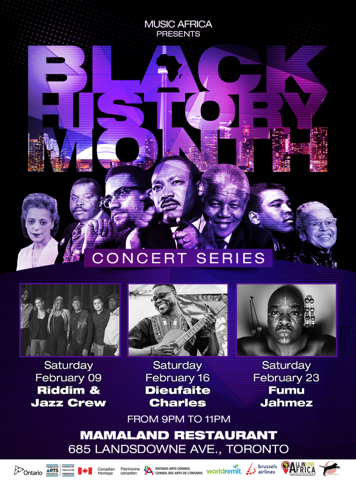 SATURDAY NIGHT
FEBRUARY 9th, 16th & 23rd, 2019 at

Mamaland Restaurant and Lounge, 685 Landsdowne Av., Toronto, ON M6H 3Y9
Showtime at 9:00 PM
Admission is FREE
Music Africa, presenters of AFROFEST will be saluting Black History Month with our annual Black History Month concerts series. The events will see AFROFEST activities branch out to one of Toronto's up and coming African gathering places, Mamaland Restaurant and Lounge. The series will feature a diverse selection of top African artists living and working in the city. All concerts will promote different line-ups of local African talent performing live, so get your dancing shoes ready!
Concert line-ups:
AFROFEST is a chance to discover Africa in the heart of Toronto, presented by Music Africa. Held annually since 1989, it is a free showcase of the rich and diverse African culture. Peter Toh, Executive & Artistic Director of Music Africa says, "We hope that the concerts during Black History Month bring together the community to not only enjoy the local musicians of African music, but to also highlight the importance of African history and culture in Canada."
AFROFEST will be taking place at Woodbine Park, Lakeshore Boulevard East and Coxwell Avenue; celebrating its 31st anniversary on July 6th & 7th, 2019.
Watch for info on more Afrofest events in 2019!!
About Music Africa: Music Africa is a non-profit community-based organization whose main objective is to promote African music in Toronto through the AFROFEST music festival and other occasional events. Established in 1990, Music Africa is among the oldest and most respected organizations promoting African music in Canada.
Music Africa provides a strong platform for emerging artists from the many African communities in the city and elsewhere in Canada. In recent years, the organization has taken the initiative to include more youth-centered African musical forms both at Afrofest and other venues. Music Africa presents both English and French artists along with many other African languages in order to better represent the diversity within these communities.
Music Africa also supports the activities of other non-profit cultural organizations through partnerships for various events. Through its activities, Music Africa is committed to enhancing appreciation and awareness of African music among Canadians while also striving to establish Toronto as a thriving global centre for African music.
Music Africa wishes to gratefully acknowledge the support of the Department of Canadian Heritage, Ontario Arts Council, Celebrate Ontario and Toronto Arts Council, World Remit, Brussels Airlines and All in One Africa.
Please add this information to your listings. Thank you!
For information, please contact:
Music Africa – 416-469-5336, This email address is being protected from spambots. You need JavaScript enabled to view it.
www.afrofest.ca