THE BELKO EXPERIMENT (USA 2016) ****
Directed by Greg McLean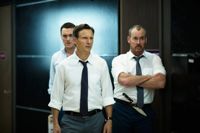 Aussie director Greg McLean (Australians always have their special edgy sense of humour) and scriptwriter James Gunn (remember his super-gross SLITHER?) join forces to deliver the perfect horror thriller on office culture. Originally premiered in the Midnight Madness section at last year's Toronto International Film Festival, the film still proves a fascinating watch the second time around.
Office politics turns into a real-life survival of the fittest when workers at Belko Company are forced into a sick game of kill or be killed by unknown sinister forces (revealed at the end of the film) that lock down their building, in this gruesomely funny horror thriller. It at first seems to be an ordinary morning on the job for a group of Americans working for a not-for-profit company in a modern office building in Colombia. After noticing that their Colombian colleagues have not arrived for work, office worker Mike (John Gallagher, Jr.) spots some unfamiliar security guards entering a large hangar nearby. Moments later, an icy voice comes over the building's PA system and calmly explains that the employees must kill 2 other employers of their choice within 30 minutes — if not, they will be killed themselves. While the boss (Tony Goldwyn) tries to calm the troops, Mike belatedly realizes that something truly sinister is going on — and when metal doors come sliding down on all the building's exits and windows, it becomes clear that friends and colleagues are now suddenly enemies in a bloody and brutal battle to the death.
Even before the action begins, McLean delivers lots of inside office jokes like the isolation of working in a cubicle, sexual harassment and the introduction of new employees. The film contains a good cross-section of workers like the maintenance men, the security, the bitchy lady manager et al. The film is a mix between disaster, sci-fi, horror and comedy which means that the filmmakers have plenty to play around with. In the kill to survive scenario, there is the good guy with all the right motives, the bad boss (handsome Goldwyn doing the villain as he did in GHOST), the unstable psycho, the asshole, the plump good meaning lady and so on.
The music, by Tyler Bates (GUARDIANS OF THE GALAXY VOL.2), is an assembly of musical numbers from classical Tchaikovsky to a Latino version of "I Will Survive" effectively used at appropriate intervals. The sounds effects are superb especially the metal closing of the windows and doors.
Besides being a well-made horror thriller, McLean also squeezes in office satire and a fews good metaphors like the segment of the dos shitting and covering up its shit outside the Belko compound. There are a few predictable parts - like the one involving the office pervert/asshole sexually harassing the pretty employee. His comeuppance, with his life at her mercy comes as no surprise but provides the biggest cheer of the movie.
Best of all, the ending is unexpected, also providing a good twist to the story. THE BELKO EXPERIMENT proves to be very violent and satisfactory fun, if one can stomach the graphic violence.
Trailer: https://www.youtube.com/watch?v=9W46xo3AvBA
BON COP BAD COP 2 (Canada 2017) **
Directed by Alain Desrochers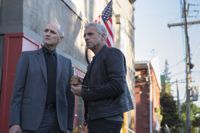 It is a wonder the reason it took a full 10 years before the highly box-office successful ($12 million) and quite funny sequel to the 2006 BON COP BAD COP to emerge.
The title, a French take on the GOOD COP BAD COP cop genre mentality, again features David Bouchard (Patrick Huard), the rule-bending, francophone detective for the Sûreté du Québec and Martin Ward (Colm Feore), the by-the-book anglophone Ontario Provincial Police detective. The bilingual detectives must once again resolve their professional and cultural differences as well as their bigotry and prejudices to solve a case. When the film opens, Dave is undercover on a car heist job when Martin and his men break into the garage. Following the events of the first film, Martin Ward (Feore) and David Bouchard (Huard) have remained friends but have gradually grown apart as their lives and careers have taken them in different directions; Ward is now a senior officer with the Royal Canadian Mounted Police. In the present day, they are reunited to investigate a car theft ring which turns out to be a front for a much bigger terrorist plot.
Quebecois actor Patric Huard seems to have taken more than he can chew. In the sequel he is producer, writer and main actor. The first was written by Huard and 3 other writers, and this one he tackles the whole task alone. While the script contains a few genuine brilliant bits, especially concerning Canada's American neighbours, but the script is far from funny and dips into too much sentiment. If Martin is not working hard enough and suffering from a degenerative motor-malfunctioning disease (the Lou Gehrig disease), Dave is faced with a neglected wife. And if that is not enough, Dave's son has gone bad and almost gets himself killed. The script also contains a few discontinuity problems. At the start, during the illegal vehicle takedown, Martin is heard telling his men over the wire that Dave, while taking him hostage is undercover. Why then in the next scene, does Martin insist on Dave beating him up to convince his men of his escape? The car chase at the film's start also has continuity problems. (The same background of the Toronto highway and viaduct is shown twice at different parts of the chase.)
BON COP BAD COP 2 is the kind of film that will make the big bucks in French Canada. Huard also brings in the national game of hockey for additional boost. But English Canada will likely stay away from this film, and even more so for the southern neighbours, the Americans, especially when they are insulted this much in the film.
The film is shot in both French and English. Feore proves himself to be quite the bi-lingual actor, cursing all the time in French like a true natural. Feore and Huard make a good team in the film.
Number 2 is not as funny as the first (which I recall was very entertaining), and not even as exciting.
Trailer: https://www.youtube.com/watch?v=Un2iSp0VEMY
BUSTER'S MAL HEART (USA 2016) ***
Directed by Sarah Adina Smith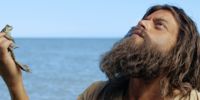 If quirky films are your cup of tea, writer/director Sarah Adina Smith's (MIDNIGHT SWIM) BUSTER'S MAL HEART has much to offer. The title is even strange - a mix between Spanish and English which translates to Buster's Bad Heart because the film's protagonist is Latino and that he is discovered to have a bad heart in the later part of the film.
The film is occasionally as confusing as the film is quirky, primarily because Smith does not take the route of a straight narrative. Her film opens with a troubled man sporting a full beard growth looking like a mountain hillbilly, nicknamed Buster by the media (Mr. Robot's Rami Malek) on the run in the wilderness, hunted down by the local police. The film flashbacks to 5 days prior to explain the incidents leading to the state of affairs. But the film quickly jumps back in time to the present, so that the 5 days prior does not hold for more than 5 minutes or so. If one can forgive the confusion, Smith's film is as intriguing as it is absorbing. Be forewarned that this is a mindf*** film, so be prepared for an open ending.
Buster is on the run from the authorities, surviving the winter by breaking into empty vacation homes in a remote community. Regularly calling into radio talk shows — where he has acquired the nickname "Buster" — to rant about the impending dangers of Y2K, he is haunted by visions of being lost at sea, and memories of his former life as a family man.
Smith also intercuts her film with Buster (Rami Malek) who was once Jonah, a hard-working husband and father whose job as the night-shift concierge at a hotel took its toll on his mood and, consequently, his marriage to the sensitive and long-suffering Marty (Kate Lyn Sheil).
Things are going well work and family-wise, until a chance encounter with a conspiracy-obsessed drifter (DJ Qualls) changes the course of his life forever. The drifter warns of Y2K and how he will benefit from the disaster. The audience already knows the nonsense from the false prophets as Y2K has passed with nothing happening with all it false prophets put to ridicule. But the drifter warns of an earth's inversion. This is shown as inverted numbers as in clocks in hotel room numbers.
Smith's film is full of polar opposites. Buster is at one point a family man and hotel clerk, neat, well-groomed and handsome. In the other, he is unkempt, bearded, untidy and ghastly. Butler can also be quiet, calm and calculated while angry and loud, screaming at the top of his voice in another scene. Actor Rami Malek is excellent in his role of Buster, able to convey different personalities. DJ Qualls is also impressive as the talkative drifter.
BUSTER'S MAL HEART is a strange film. There are unexplained segments like the one with Buster in a small rowboat in the middle of a vast ocean. Or an unexplained killing in the hotel room which the audience is supposed to deduce the culprit. Still, BUSTER'S MAL HEART is a carefully crafted film, nevertheless and should prove an intriguing experience.
Trailer: https://www.youtube.com/watch?v=K9S9F5DRhbg
HOUNDS OF LOVE (Australia 2016) ****
Directed by Ben Young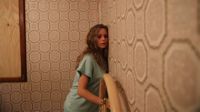 Not wholly original, but still absorbing, HOUNDS OF LOVE, writer/director Ben Young's story of an abducted teenager by a disturbed couple pays homage to David Lynch's BLUE VELVET. The slow motion beginning of HOUNDS OF LOVE and the common theme of kidnapping reminds cineastes immediately of BLUE VELVET.
HOUNDS OF LOVE is supposed to be based on true events - macabre as they may be. The setting is 1987, Perth, Australia whee a seemingly typical Australian suburban couple have a secret hobby – kidnapping schoolgirls and murdering them. But their latest desperate victim finds ways inside their heads.
The slow motioned tracking shot of schoolgirls playing netball after school is stunning as it is eerie. One can tell something is going to happen - the abduction of the first victim of the kidnapping couple. For those unfamiliar with the game (played in places like Britain, Australia and Singapore where this reviewer was born), the scene is even more fascinating with the girls in netball outfits tossing a ball into a net.
The film then settles on the next victim. Vicki (Ashley Cummings), a rebellious teen, is first seen in the film after having 'it' with her boyfriend Jason (Harrison Gilbertson). Vicki is staying with her mother, Maggie (Susie Porter) who she cannot get along with. After being grounded, Vicki sneaks off to a party at night when she is abducted by Evelyn and John White (Emma Booth and Stephen Curry). The audience would likely think that this is what Vicki deserves, after misbehaving and disobedience. But then, no human being should go through what she does in the next few days.
The one thing that stands out in this film (and differentiates from Lynch's BLUE VELVET) is director Young's ability to connect his audience with his characters.
Director Young devotes a lot of time towards his female characters. Evelyn is shown to be the most sympathetic of the film's characters. She loves her dog, her partner-in-crime, John (a real nasty piece of work) and is just caught with all the bad luck. The audience ends up sympathizing with both her as well as Vicki. Vicki's mother, Maggie is also portrayed as a strong mother, who despite having to take s*** from her daughter, loves her to no end and will not give up in the search for her. The father, Trevor (Damian de Montemas) and Jason are hilariously given token roles.
What is impressive too are the top notch performances all around. Emma Booth carries the lead role confidently as well as the two other women Cummings and Porter. Stephen Curry who plays the nastiest villain seen in a while, looks completely different (most remembered from the Aussie film THE CASTLE) with his tacky moustache. Young spends some time with him grooming his moustache in the mirror before strutting out of the bathroom like a stud.
The film is expectedly violent and the ending matches the violence of BLUE VELVET without resorting to tricks like the cutting off of an ear. The climax of the film is a real nail-biter.
HOUNDS OF LOVE unsettled festival audiences in Venice and at SXSW and will definitely do the same with audiences everywhere. Young is clearly a talent to watch. Universal Pictures has already signed him on to direct the new 2018 sci-fi thriller EXTINCTION.
Trailer: https://www.youtube.com/watch?v=UNEurXzvHqE
RISK (USA 2017) ***
Directed by Laura Poitras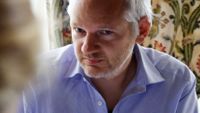 One might remember the name - Laura Poitras. She was the one who accompanied Edward Snowden from Hong Kong to Moscow when he was in exile, while making the comprehensive doc Oscar Winning CITIZENFOUR that educated the world on the world's most famous NSA whistleblower. Poitras returns to her roots, dealing again with what she knows best - making docs on whistleblowers or the like. Her new subject is an equally wanted man by the FBI, WikiLeaks founder Julian Assange. Julian is from Norfolk, England.
As with documentary subjects, the subject has to be larger than life, more than a normal person. In a surprise interview with singer/activist Lady Gaga at the embassy, Assange's answer to one of her questions sums up the man. "Let's not pretend for a moment I'm a normal person."
The film begins with his call to the top brass in the U.S. , Julian wishing to speak personally with Hilary Clinton. His famous quote on the phone, Julian Assange: We don't have a problem, you have a problem. Of course the U.S. authorities do not believe him, and the film documents the escalation of how Julian became one of America's most wanted men.
As a result since the summer of 2012, Assange has been living at Ecuador's London Embassy, having received asylum following sexual assault allegations in Sweden – offences Assange denies committing. Going to Sweden would also make him eligible for extradition to the U.S.
One of the most interesting things about documentaries is that the documentarist can never be 100% sure of the film's end outcome. The same can be said for RISK. Her subject says that he never foresaw the events happening the way they did, and she herself was concerned with the film's ending. The most important fact is that the doc would highly compromise Julian's safety.
The film also detours with the side subject of Private Manning who was prosecuted by the U.S. and finally sentenced to more than 140 years of prison.
RISK, as in her other films, incites the anger of the audience at the U.S. authorities especially the FBI, a favourite target. The silly excuse of terrorist protection is again given as an excuse to compromise the privacy of the public. But the case is that they lie and do not reveal how much they have already violated citizen's rights. The doc is good to explain that unless one is in their radar, they cannot do much with the data that they have - a case of too much data and too little manpower.
RISK ties in with Poitras other doc CITIZENFOUR with Sbowden on display in this film as well.
Because of the film's nature and subject, it is at times all over the place, as Julian runs from one safe haven to another. The film also feels like an espionage thriller - only that this is the real thing. A fascinating documentary that should be seen!
Trailer: https://www.youtube.com/watch?v=1teM525rVlc
SNATCHED (USA 2017) ***
Directed by Jonathan Levine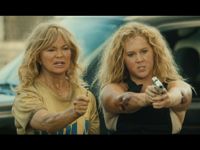 Written by Katie Dippold, inspired by her own relationship with her mother, the new Mother's Day comedy SNATCHED follows the unexpected adventures of a daughter Emily Middleton (Amy Schumer) and mother Linda (Goldie Hawn) when they get kidnapped while vacationing in Ecuador.
The script offers plenty of opportunities for hilarity. The story calls for Emily to be jilted by her boyfriend (Randall Park). She convinces her single mother, who never goes out to vacation with her. While on holiday, Emily's constant flirting with men causes her to be conned on a day trip where she drags mother along. It is a trap for a kidnapping and ransom. Their escape means a possible hilarious escape through the Amazon while dodging bullets and arrows. Throw in a few very odd characters like Emily's agoraphobic brother who is a mamma's boy, two fellow tourists who are supposed to be experts on South America, jungle doctors and a Indiana Jones adventurer who is dying of cancer and one might expect a big hit comedy.
Not quite! The many opportunities for comedy result in the film often being all over the place. This fact might be good in a way, as it escapes the trap (almost) of dealing with the past broken mother/daughter relationship. To director Levine and scriptwriter Dippold's credit, a few of the comedic set-ups are really funny - laugh-out loud funny.
The segment in which Emily is discovered with a tropical ailment - the infection of a tapeworm is inspired madness. The local doctor lures the tapeworm out (a monster of a reptile equivalent to anything from the ALIEN films) with a chunk of meat before the monster worm squirms itself out of Emily's mouth.
The prized comedic performance goes to Ike Barinholtz as Jeffrey, Emily's crazy brother who she initially despises. But when he discovers his mamma (that is what he calls her in the film) and sister kidnapped, he bravely leaves the house, contacts the American Embassy and leads a rescue mission in Colombia. Barinholtz , who has never been anything short of hilarious (remember him as the loud laughing clown in NEIGHBORS TWO) totally steals every single scene in this movie. It is hard not to laugh every time he utter the word 'mamma'. Goldie Hawn who won the Oscar for Best Supporting Actress way back when in CACTUS FLOWER still proves she has the acting chops. In the one dramatic scene where she stands by her principles touting her unthankful work of a mother, she demonstrates once again a superior screen presence. John Cusack and Wanda Sykes play a 'gay' couple who help rescue Emily and Linda. Cusack's military stunts are perfectly timed for hilarity.
The film does not shy away from being an adult comedy. Schumer bears her tit in one funny scene. There are quite a few killings in the film, though the bad men are the ones accidentally shot or speared.
Despite the film's few flaws, SNATCHED has lots to enjoy - Goldie Hawn on the scene again, scene stealer Ike Barinholtz, Joan Cusack's acrobatics and mostly, the priceless laugh-out loud moments.
Trailer: https://www.youtube.com/watch?v=QcyeYFXdHNQ
THE WALL (USA 2017) **
Directed by Doug Liman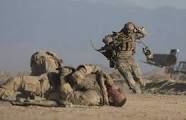 Two American Army Snipers SSG Matthews and SGT Isaac are trapped between a wall and an Iraqi sniper while conducting a counter sniper mission after contractors who are constructing a pipeline are killed. This is the entire movie. This is not the first low budget war movie involving snipers. The quite recent British 2014 film KILO TWO BRAVO by Paul Katis gave audiences a similar premise in which a company of young British soldiers encounter an unexpected, terrifying sniper at a dried-out river bed, and under every step the possibility of an anti-personnel mine.
In THE WALL, the Iraqi war has just ended. After spending 22 hours over watch, SGT Matthews (wrestler John Cena) goes to collect the radios of the dead security guards. While walking away, he is wounded by an Iraqi sniper "Juba" (never seen). SGT Isaac (Aaron Taylor-Johnson) attempts a rescue but in the process, he is wounded, has his radio damaged and his water bottle destroyed.
Though that is basically the plot the script attempts more. Taking cover behind an unsteady wall SGT Isaac tends to his wounds. While tending to his wounds the Iraqi sniper "Juba" manages to get on the soldiers local radio and communicate with SGT Isaac. SGT Isaac thinking he is speaking to higher is actually speaking to "Juba" who deceives him. SGT Isaac attempts to call for help but his SINGAR radio is damaged with a broken antenna he manages to repair his radio with another antenna from the dead contractors. When he finally repairs it he hears that Juba had used their information to call for help to lure them into a trap.
The monotony is interrupted by a few grisly scenes like the ones where Isaac extracts the bullet from his leg (only thing missing is the clinking sound of a bullet dropped into the metal pan) and his picking of the bugs off his wounded infested leg (yummy!).
The film's narrative is hard to follow and director Liman has to rely on difficult means to relay the plot twists as there are only two characters seen in the film and one unseen with only the voice heard. I have to admit that I had to read the story from wikipedia as I had missed parts of it.
THE WALL is well shot with a realistic location. Liman's film is clearly an anti-war film as it is set right at the end of the Iraqi war with the vents unfolding as if the war is still on. But the film is a hard sell. I cannot see any reason anyone would pay good money to see a depressing and violent film where hope is thrown to the wind. It does not help that the ending (though not revealed in this review) is not exactly a 'happy' one
Though the film is basically a two handler with Isaac and Matthews, it is mainly Isaac who is in focus. Taylor-Johnson (the grown teen actor from KICK-ASS and KICK-ASS 2) does a kick-ass job portraying the troubled and endangered soldier. It is a story of sniper vs. sniper which he conveys quite clearly throughout the picture.
Forget THE WALL and rent KILO TWO BRAVO instead. K2B fetters a tighter plot, more believable premise while delivering greater suspense and terror. THE WALL just crumbles at the end from the ridiculous twists in the story.
Trailer: https://www.youtube.com/watch?v=OZbjGKtR8QQ
VIOLET (Belgium/Netherlands 2014) ***
Directed by Bas Devos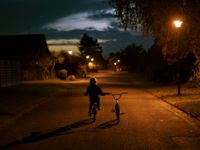 Bas Devos has been described by the film's publicist, from his film VIOLET as a young Bela Tarr. Though both directors share their love for long takes, there are also differences and similarities. For one, VIOET has a running time of only 81 minutes compared to the lengthy Bela Tarr epics.
VIOLET tells the story of the aftermath emotional trauma caused on 15-years old Jesse (Cesar de Sutter) when he witnesses the meaningless killing of his friend Jonas in a mall. The entire horrible incident is captured on close circuit television, and viewed by the mall's security as well as the audience. Director Devos puts the audience in voyeur mode. But what is seen is from the point of view of what is in front of the camera rather than what is at the end of it.
Another segment, worthy of mention has the camera placed outside Jesse's house at night time. From the figures in the windows that are lit up, the audience can see what is happening with the three family members - a sort of a more ingenious take of the split screen technique.
The most stunning visuals are shot in the woods where Jesse and his BMX rider friends ride their bikes across the moguls. The sight of the bikes and riders jumping up and down, without showing the ground will well be remembered from the film.
The killing is seen in a long take, as observed by an unseen security guard (who even goes and returns from a break). Afterwards, it shifts to the activities and emotional trauma of Jesse.
What is important is that Jesse feels guilty that he did nothing to intervene with his friend's stabbing. His friends and family cannot understand why Jesse's behaviour either. His guilt is heightened by one if his friends ostracizing from his bike group, saying to him that he cannot be one of them. The deed results in the additional odd behaviour of his parents (Raf Walschaerts and Mira Helmer). His father shows him sudden bursts of affection like hugging and kissing while his mother acts as if nothing has happened, as evident in the scene where the two eat popcorn and laugh, watching TV.
The film is characterized with long takes and imagery that is often hazy, distorted, colour saturated and blurry. Perhaps they are used to emphasize Jesse's the mental state.
The film contains intervals of silence. The film title is taken from the musical group Deafheaven's song "Violet". In contrast, the film contains a heavy metal song in a set-piece when father and son attend a Deafheaven concert, where the spectators are seen (out-of-focus) jumping up and down.
VIOLET has an open ending in which there is a 6-minute long, long take that is both mesmerizing and puzzling.
Though this art house piece might be too slow and artsy for commercial audiences, Devos' film is nevertheless fascination in its look, presentation and execution. That is perhaps the reason this 2014 film took a while, but at least got commercial distribution.
Trailer: https://www.youtube.com/watch?v=77d1wq-1qBw
THE WEDDING PLAN (Israel 2016) **
Directed by Rama Burshtein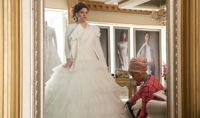 THE WEDDING PLAN is not the first film where the female protagonists decides she should get married and then starts to find a suitable groom. Eric Rohmer's 1982 comedy of manners LE BEAU MARIAGE share the same premise.
In the Israel film THE WEDDING PLAN, Michal (Noa Kooler) at the age of 32, is finally looking forward to the comfort and security of marriage. But unexpectedly, she has just been ditched by her fiancé. No total fault of the fiancé. Michal practically scares him away from the alter from her obsessiveness for answers, showing her to be a control freak, something no man can tolerate.
THE WEDDING PLAN is that rare comedy that examines the anxieties arising from a marriage. Most wedding comedies are romantic comedies that mostly assume that everything is perfect once the wedding takes place. But as writer/director Rama Burshtein (FILL THE VOID) demonstares, this is often not the case. One is settling down with a total stranger, and each would want their own way, and both do not want to be controlled.
After being ditched (in a comical yet believable way in which the audience both feels for Michal despite her part blame), she decides to book the wedding hall in 28 days and then find a groom. Being a Jewish film, religion plays a big part. Michal convinces herself that marriage is the best thing for her and why would not God want the best thing for her. Good reasoning, but what unfolds might not be directly what she think's God plan is.
Unwilling to return to lonely single life, Michal decides to put her trust in fate and continue with her wedding plans, believing Mr. Right will appear by her chosen date. Confident she will find a match made in heaven, she books a venue, sends out invitations and buys a wedding dress, as her skeptical mother and sister look on with trepidation. During Michal's month-long search for a spouse, she enlists the help of two different matchmakers, goes on a series of disastrous blind dates and finds an unexpected connection with a charming but utterly unsuitable pop star — all while dismissing pleas by concerned friends and family members that she reconsider her risky plan. As the day of the ceremony grows closer and no suitor appears, Michal puts everything on the line to find happiness.
The success of the film rests on the performance of lead actress Noa Kooler. She delivers sincere and heartfelt performance that many will sympathize with, as many would likely be in the same boat as Michal.
The trouble with the film is its last 20 minutes. At that point, it becomes obvious who she will marry. Burshtein's film also becomes annoyingly manipulative. Everything Michal does is fine and everything works too conveniently well towards her big wedding day. There is a family song and dance that is so awfully coy that it is unbearable to watch.
Like most romantic comedies with female protagonists, THE WEDDING PLAN is clearly a chick flick and one with religion thrown in. THE WEDDING PAN eventually lies on the list of forgettable Hollywood romantic comedies.
Trailer: http://www.filmswelike.com/films/the-wedding-plan
(Review will be posted Saturday)