Busiest week of the year so far. Chinese New Year, Valentine's Day Weekend, Family Day! New biggies opening include BLACK PANTHER, MONKEY KING 3 and EARLY MAN.
BEST FILMS PLAYING:
Best Animation:
COCO
Best Action:
THE COMMUTER
Best Foreign: (lots to see in this category)
THE SQUARE; A FANTASTIC WOMAN; IN THE FADE
Best Period:
PHANTOM THREAD
Best Sci-fi
THE SHAPE OF WATER
Best Drama:
THREE BILLBOARDS OUTSIDE EBBING, MISSOURI
FILM REVIEWS:
BEFORE WE VANISH (Japan 2017) **
Directed by Kiyoshi Kurosawa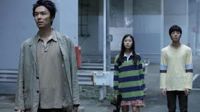 Before watching BEFORE WE VANISH or reading this review of BEFORE WE VANISH, it is best that a bit of background be known of the film's director, Kiyoshi Kurosawa.
Kiyoshi Kurosawa is better known in North America as an art-house horror director with films like CURE and PULSE both of which I have seen but have not praised. His best film to date is PENANCE, made for Japanese TV but screened here at the Toronto International Film Festival and also played at Cannes which won Kurosawa the Best Director Award in the Un Certain Regard Section at Cannes. Korosawa's latest, BEFORE WE VANISH (Sanpo suru shinryakusha), is a sci-fi thriller that also serves as a story about the redemptive power of love, played at Cannes 2017 in the Un Certain Regard sidebar. Not his best film, but interesting, nevertheless. It should be noted that the film is based on the play by Tomoshiro Maekawa, and co-written with Sachiko Tanaka.
There are strange goings-on in an otherwise ordinary Japanese town. While investigating a gruesome murder, journalist Sakurai (Hiroki Hasegawa) meets two aliens (Yuri Tsunematsu and Mahiro Takasugi) who have taken up residence in human hosts. Preparing for a takeover of the planet, the aliens are not only snatching bodies, but also robbing humans of values (family,
work, good, evil, etc.), leaving only hollow shells, all but unrecognizable to their loved ones. Meanwhile a third alien has taken over a man named Shinji Ryuhei Matsuda). After disappearing for several days, Shinji reappears, acting nothing like his former self. His marriage to Narumi had been on the rocks. But Shinji seems kinder now. As chaos ensues, Sakurai and
Narumi each must make a decision. Narumi's, in particular, is heartbreaking.
Interesting though the premise might seem, bringing down an alien invasion down to the personal level, the film has major problems, primarily in the credibility of its story. The invasion is supposed to take place, masterminded by just three aliens who have taken over human bodies. Two of them need to find the third, Shinji for success. The conception idea is a good one, when aliens absorb a human concept from a human. But the film's climax is silly and gets worse when the film concludes to a period of two years after the conclusion, when reverse conception takes place. The film runs into even more problems when Kurosawa brings in human values to save the world. Kusrosawa turns too preachy as well with a sermon on love: "Love never records wrongs; love never gets angry… etc."
As talented as Kurosawa is and as good as his best films are, BEFORE WE VANISH is a major disappointment. Silly even from the very start from the way aliens inhabits bodies or captures conception, the premise might have succeeded in an artsy play, as is the source material, but moviegoers expect certain rules to be followed in a sci-fi alien invasion thriller.
Trailer: https://www.youtube.com/watch?v=P8UctjMoo8o
BLACK HOLLOW CAGE (Spain 2017) **
Directed by Sadrac González-Perellón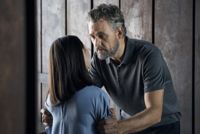 It is strange enough that this low budget stylish Spanish horror suspense thriller that cost 1.5 million euros to make got distribution here while many Canadian features do not. The plot is even stranger.
The story unfolds in Chapters that last approximately 20 - 25 minutes each. The first Chapter is called the Cube. A girl, 13-year old Alice (Lowena McDonell) lives secluded in a house in the woods with the only company of her father (Julian Nicholson) and a wolfhound finds among the trees a mysterious cubic device with the ability to change the past. She can also lie inside the cube that can open and close. The wolfhound can speak using a device tied around her neck. Alice converses to her as if the dog was her mother, which her father denies it to be. Whether or not the fact is true, the wolfhound offers advice to Alice throughout the film.
Writer/director González-Perellón's film opens at a snail's pace. It requires of the audience a lot of patience, also because not much sense can be made of the plot. Many questions are posed at the start: Why does Alice despise her father? Why does she have a prosthetic (bionic) arm? Why are they living in a modern accommodation right in the middle of the woods? What is their past?
Just before any of these puzzles can be solved, Chapter 2 appears entitled The Strangers. Two strangers arrive, a teen girl, Erika (Haydee Lysander) beaten up and her mute brother, Paul (Marc Puiggener). Again, more questions are posed with their arrival: Who are they? Where do they come from? Why is Erika all bruised? To complicate matters, father has a crush on Erika and invokes Alice's anger when he strokes her hair in from of the dog, that Alice still insists is her mother.
González-Perellón ups the angst with the third chapter called The Listening. The cube (that opens) instructs Alice to listen to her headphones in front of a black clock at 4 o'clock. Which she does. She is told to let her father out of the house, to kill Paul, and then her sister. She refuses to succumb to the instructions but later, as the cube can change the past, decides to kill Paul… with disastrous results that lead the film to its climax. There is another chapter.
To González-Perellón's credit, the film does keep the audience guessing as to what is it that all the events are about. When the explanations are revealed, the result is disappointing as the explanations make no sense. except for some excuse to create an adventure around a modern house in the woods.
Going back to the first paragraph of the review, the strangest of it all is after watching the entire film is the realization that BLACK HOLLOW CAGE is one nasty, pointless violent little film that is a waste of time.
Trailer: https://www.youtube.com/watch?v=yebYCgFzvG8
IN BETWEEN (BAR BAHAR) (Israel/France 2016) ***1/2
Directed by Maysaloun Hamoud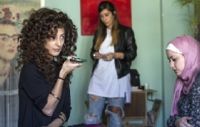 IN BETWEEN is a film that follows the lives of three young Palestinian women living in the vibrant heart of Tel Aviv. For males just about to dismiss the film as another feminist movie, it should be noted that though all the characters, writer and director all being female, IN BETWEEN especially opens the eyes of those in North America, male and female alike on what it is like to be female in Tel Aviv. For one, the film covers the little-known underground club scene (which the director grew up on).
The three women are Lalia (Mouna Hawa), Salma (Sana Jammelieh), and Nur (Shaden Kanboura) who share an apartment in Tel Aviv. Lalia, a criminal lawyer with a wicked wit, loves to burn off her workday stress in the already described underground club scene. Salma, slightly more subdued though no less lively, is a DJ and bartender. Nur is the younger, religious Muslim girl who moves into the apartment in order to study at the university. Nur is both intrigued and intimidated by her two sophisticated roommates but eventually grows closer to see a new view of life.
Director Hamoud then introduces males into the picture. The most hilarious of these is
Nir's conservative fiancé who visits. He is totally horrified (to the audience's delight) by her secular friends, entreating her to hasten their marriage, leave Tel Aviv, and assume her rightful role as a wife. This is when Hamoud's film begins to make a statement, and an important one for all females all over the world that has more meaning now with all the sexual abuse allegations going on in the world. Hamoud turns on the dramatic content in the film's second half. Nur refuses her fiance's wishes, and his violent rebuttal leaves all of the women shaken. Salma and Lalia also face turmoil: Lalia has found love with a modern Muslim man whose acceptance proves less than unconditional while Salma discovers that her Christian family in a northern Galilean village is not as liberal as they claim. Hamoud riles up the audience's anger at the fiancé by making him also a hypocrite and bold face liar.
The three interwoven stories are all very interesting and different enough. Hamoud has her audience rooting for her spirited characters of three very different women finding themselves doing the same balancing act between tradition and modernity, citizenship and culture, fealty and freedom. The film's soundtrack also deserves mention.
Looking deeper into the film, the three characters incorporate females younger and older; from the town and the city as well as more traditional and less traditional. Feminism is revealed in a different light especially in the film as a necessity to be liberated from the abuse of men. Hamoud accomplishes the rare achievement of having even males despise male behaviour in her film.
The film has been selected for quite a few International Film Festivals so far including the Toronto International Film Festival in 2016 where it won the NETPAC Award, 2016 Toronto International Film Festival.
Trailer: https://www.youtube.com/watch?v=fPiVZj8Mm7o
THE MONKEY KING 3 (Hong Kong/China 2018) ***
Directed by Cheang Pou-soi
The third instalment of the MONKEY KING films, THE MONKEY KING (2014) and THE MONKEY KING 2 (2016), number 3 arrives just in time for Chinese New Year opening on the first day of the lunar New Year. Chinese film goers are always promised a good blockbuster commercial film treat yearly, and THE MNKY KING 3 is one of the big Chinese films opening that should guarantee good box-office receipts.
Like the other two films, this is an adventure fantasy film based on the classic novel Journey to the West by Wu Cheng'en. All three are directed by Cheang Pou-soi and all three stars Aaron Kwok, though only the last two with him playing the title role.
The first film had Donny Yen and the second Sammo Hung as the fight choreographers. This one has none credited as this instalment takes the franchise on a different route. Romance replaces fights. The only fights are against monsters. The Buddhist Monk Xuanzan (Willija Fend Shaofeng) meets his match romantically.
The story involves Buddhist monk Xuanzang and his disciples – Wukong the Monkey King (Aaron Kwok Fu-shing), pig demon Bajie (Xiao Shenyang) and the blue-skinned sand demon Wujing (Him Lo Chung-him) – inadvertently entering the Womanland of Western Liang, a nation populated by women raised to believe that men are fatally deceptive in matters of the heart. Love nevertheless blossoms between Xuanzang and the Womanland's young queen (Zhao Liying), even though her royal preceptor (Gigi Leung Wing-kei) is hell-bent on sentencing the men to death. As Wukong and friends search for a way out of this nation surrounded by a vast magical net, it soon transpires, conveniently, that romantic love is the only key to opening the gate. So the magic question is whether Xuanzang will give up on his sacred mission and stay with the queen.
The magic net is an excuse for some of the film's special effects - cheesy though the results turned out. Monk and gang also get to fly up into the sky with the huge moon in the background.
The film is a take on Amazon Women. As in similar films tackling this subject, they fall into into identical traps. The foremost is credibility. Thee is no explanation on how these females reproduce themselves. The impregnating river is a laugh. When the males arrive, they are again initially treated with hostility, but that is made way to love (and maybe sex, if the film is more daring).
The humour that largely replaces the action could have been funnier or insightful. The segment on abortion (called miscarriage in the film) is nothing short of ridiculousness. There is a scene where the two main characters talk about their shortcomings. The main one is is monk's sexual abdication, but like the film, he cannot bring himself to talk about it.
As hard and well-intentioned though the efforts may be by the filmmakers and cast, MONKEY KING 3 ends up a flawed but handsomely mounted production with gorgeous costumes, elaborate sets and landscape, colour and special effects. Undemanding families out for a good Lunar New Year outing, however should be satisfied.
Trailer: https://www.youtube.com/watch?v=F7MR5MsIoSQ
POOP TALK (USA 2017) **
Directed by Aaron N. Feldman
POOP TALK or in other words, SHIT TALK is a comedy doc that premiered at the Toronto International Film Festival last year that luckily got picked up for distribution. It is an hour and a quarter documentary about shit, if one can take it. At least the doc takes a humorous look at it, as seen primarily from the point of view from a wide selection of stand-up comedians. "If I had one wish only from a genie, it would be that I would never have to shit," jokes one comic at the film's introduction. A few shit experts (Dr. Joel Brown and Dr. John Vainder as themselves) also have their say, if that means anything. The film aims at giving an inside look at all things poop — from uncensored, embarrassing moments to scientific explanations recounted by 50 experts and comedians
Most of the comedians are not too famous, that majority of them unheard of, though that does not mean that they are not funny. The one appearing most might be familiar with would be Kumail Nanjiani who also starred in his recent hit romantic comedy THE BIG SICK.
If the film is about to run short of material and begins to drag, director Feldman is quick enough to insert segments from the comics about poop that will guarantee at least a laugh or two.
Among the film's funnier stand-up comic moments are the ones in which a female describes how she flooded the toilet and her friend's bathroom ending up with her poop splashing on her mother's face and the other where a dwarf comedian describes his experience pooping in a public toilet with the lights shut off.
Ironically, I am writing this review in Cuba when my partner is having traveller's diarrhoea. He has had the runs at least 5 times in the last half hour last evening, and has to be taken to the hospital. But this is another story. Another poop story.
Do not expect major insights, even on poop from this doc. Feldman offers doses about poop in Africa, Russia and a few other foreign countries. Mildly funny, at best!
The film also talk about different types of toilets like the squat toilets, especially in India. All Pakistani bathrooms for example, there are washers for washing poop. There a lot of funny stories about shit in other countries, but India has the funniest ones.
The most public place one has pooped in? there is a segment in the film about this. At the beach? In the sea?
The psychology of shit? The film has comedians talk about not shitting in public. And the best is shitting on cocaine. Those in the know, know how much smellier poop can smell after snorting a line.
The most disgusting (or funny) is King Kong Bundy the wrestler , 6 foot foot five 400 pounds taking a shit.
For all that is worth, POOP TALK does its best on the topic, despite the subject's limitations. Sadly though, this is not enough of a full length documentary. The film also lacks a solid climax. POOP TALK is an ok small movie, maybe to watch on the small screen, unless one want to spend extra bucks for shit.
Trailer: https://www.youtube.com/watch?v=3pBWbjxVEoI
SHINERS (Canada 2017) ***
Directed by Stacey Tenenbaum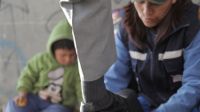 SHINERS is a feel good, occasionally over manipulative documentary on shoe shiners. Writer/director Tenenbaum ensures the audience is constantly kept up with their uplifted emotions.
The film is narrated by the shoe shiners themselves, who dish out their values on life. What they say is occasionally insightful, though one must always take what they say with a pinch of salt. They might be biased and slanted in putting in their two cents worth, though what they say may be funny and insightful.
Tenenbaum loos at shoe shiners around the world from the United States to Canada to as far as Bolivia and Japan.
The film opens with shoe shiner Don from New York City, the U.S. "I plan my route," he proudly admits while smooth talking, sometimes insulting the passersby while he shines his customers' shoes on his contraception. Ron is funny enough to entertain the audience, in fact providing the most laughs of all the shoe shiners on display in the film.
On a more serous note are two shiners from La Paz, in Bolivia. Balloo covers his face, as do most shiners in La Paz, afraid of what their friends will think while seeing them doing this low profession. Sylvia, on the other hand, is proud and carries her baby and does the job with her face uncovered. She brings dignity to her job as well as the film. Another shiner wears a suit and charges $25 per job, which could take as long as an hour. Yuya in Tokyo, polishes shoes in a high end establishment. As does Kevin and Company in San Francisco in another high end store.
Ramiz in Sarajevo is a man who talks about taking over his father's shoe shoe business. His family's business is recognized by the city's mayor and the entire town.
Toronto, Canada is not forgotten when Tenembaum introduces Vincent in his haircutting place. Vincent suffers from a mental and physical disability (he is also gay and knits) but the job gives him a life and dignity.
Credit goes to Tenembaum for an excellent cross-section selection of charismatic shoe shiners from all over the world. What they share is their love for their profession which all of them are very good at.
Personally, shoe shining is a formidable task. Being in the army, shining ones own army boots takes days, care, patience and skill. The lumpy boots have to be burnt smooth with a heating iron before they can be polished with a cloth, water and and black kiwi. It was an art and one that I myself could not master.
SHINERS premiered in Toronto during the Hot Docs festival. SHINERS might not be the best movie of the year, being small in production (and less than 90 minutes), values and limited in scope by its subject, but it still comes close to being as mighty uplifting as getting a bright new shoe shine.