ANNIHILATION is the big Hollywood film opening this weekend.
BEST FILMS PLAYING:
Best Animation:
PADDINGTON 2
Best Action:
THE COMMUTER
Best Foreign: LOVELESS
Best Period:
PHANTOM THREAD
Best Sci-fi
THE SHAPE OF WATER
Best Drama:
THREE BILLBOARDS OUTSIDE EBBING, MISSOURI
FILM REVIEWS:
ANNIHILATION (USA 2018) ***1/2
Directed by Alex Garland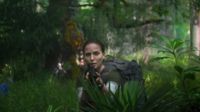 Alex Garland is known for his sci-fi scripts that have gone on to make memorable films like THE BEACH, 28 DAYS LATER, SUNSHINE, my favourite NEVER LET ME GO and EX MACHINA which he also directed. The latter brought him prominence and the chance to make his first big budget $55 million Hollywood movie. But the film was shelved 2 years ago after production was completed when Paramount was unsure what to do with the film after test audiences found it too 'intellectual'.
By intellectual is meant 'hard to follow' and 'difficult to make sense'. Based on Jeff VanderMeer's award-winning novel, (supposedly the first of a trilogy) the film is filled with stunning visuals, scientific propositions and biological concepts of human and alien integration. The fact that plants can transform to another different type means that the idea of DNA integration is not that far-fetched.
The story can be simplified in a few lines. A biologist's husband (Oscar Isaac) disappears while on a mission. He reappears suddenly out of the blue and begins going into convulsions as if possessed by aliens. Lena (Natalie Portman) puts her name forward for an expedition into an environmental disaster zone, but does not find what she is expecting. The expedition team is made up of herself, the biologist, a psychologist (Jennifer Jason Leigh), an anthropologist, a surveyor and a linguist (Gina Rodriguez, Tuva Novotny and Tessa Thompson).
Garland directs his film as a horror sci-fi. At times, ANNIHILATION plays like a cross between ARRIVAL and ALIEN. The horror scenes are particularly gory, Garland going all out to scare his audience. The best segment in the film is the one where a member of the previous crew gets his stomach cut open with a short, sharp knife to reveal his insides being occupied by some alien parasite. The scene ends up with a joke that had the entire audience laughing out loud in a second right after being grossed out to death. I cannot recall what was the joke but the change in mood shows Garland's skill at playing with the audience's emotions.
ANNIHILATION also marks a solid female film with a female heroine and a full female team saving the world.
It s true that the film becomes intellectual (there is even a debate on self-destruction vs. suicide) especially when the audience is expected to interpret the goings-on and what is happening with regards to the transformation of the expedition team. It is clear that only Janet survives on the inset (as she confesses to her interrogator (Benedict Wong) that the rest of her team are no more. Still, ANNIHILATION is suspenseful, scary and tense despite its relatively slow pacing. An additional bonus is the trippy visuals (the film perhaps being the perfect one to watch while on a brownie) and gorgeous photography, courtesy of D.P. Rob Hardy.
ANNIHILATION opens in Canada and the U.S. and internationally on Netflix after a few weeks. But this is a film that should be seen on the big screen but being on Netflix, would reach a larger audience, as Garland admitted.
Trailer: https://www.youtube.com/watch?v=89OP78l9oF0
LOVELESS (Russia/France/Germany/Belgium 2017) Top 10
Directed by Andrey Zvyagintsev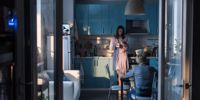 Russian director Andrey Zvyagintsev's (THE RETURN, LEVIATHAN) latest film of a boy gone missing, is one that appears simple on the surface but is in reality an extremely powerful (with strong political overtones) film on the tragedy that emerges from the result of lovelessness. A divorcing couple's son goes missing after all their shit. LOVELESS is an analysis of the couple's shit intercut with the detailed process with the police and volunteer group involved with the exhaustive search process.
Films about a couple's breaking up have been surfacing quite frequent lately, the most recent two being AFTER LOVE (L'ECONOMIE DU COUPLE) a French film that has still no release in Toronto and the upcoming Emma Thompson film THE CHILDREN ACT about a high court judge's foundering marriage. Though expected to be a difficult watch, these films (LOVELESS included) have astonished with what else can be drawn in with the subject.
Zvyagintsev's tale unfolds in the midst of the Russian invasion of Ukraine. While searching for the missing boy, news can be seen on the TV of dozens of people killed senselessly from the war. The couple's relationship is also under deep scrutiny by the audience.
When the film begins, Boris and Zhenya are in the midst of a nasty divorce. They still live together (as in THE CHILDREN ACT and AFTER LOVE) which makes matters worse. In one of their fights, they argue that their 12-year old boy, Alyosh was a mistake. Neither one wants custody of the boy and the father remarks that he best be sent to boarding school, in preparation for the army afterwards. She says she never wanted him in the first place. The boy, meanwhile, in the film's most moving scene is shown crying his eyes out, after overhearing what have been said by his parents. He is clearly, in his opinion unloved. He disappears.
Boris and Zhenya are forced to come together to search for their missing son. The police do not have sufficient resources to help and they seek the aid of a volunteer group. A huge segment of the film is devoted to the boy's search. Besides watching the amazement in efficiency of this group, the audience is treated to the thoroughness of how a search for a missing person could take place. In the midst, the resentment of husband and wife is still clear, with one fiery argument leading to Boris dumping Zhenya out of the car in the middle of the road. One can only wonder where their love (if ever they had any) had gone. Zvyagintsev explains in one scene that this love never existed in the first place.
LOVELESS is not devoid of much needed humour. The most hilarious scene is the meeting of Boris and Zhenya at her mother's house. The verbal intercourse that goes on, says it all. Zhenya's mother is all caustic and says the first thing that comes across her mind, including her telling Zhenya in the past to have aborted the child.
Meanwhile Zhenya has another man while Boris another woman. They do not find the boy but life must go on. The film ends a few years after the boy's disappearance - no spoilers to be given in the review. LOVELESS is a powerful film that instead of showing the power of love, shows the opposite, how life cannot survive with love. A terrific movie that won the Jury Prize at Cannes!
Trailer: https://www.youtube.com/watch?v=mLegoO4NdD8
MOM & DAD (USA 2017) ***1/2
Directed by Brian Taylor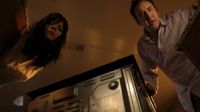 MOM & DAD is a black horror comedy in which parents go on a rampage turning violently killing their children. It is not the first time films have pitted parents against their children. The very clever PARENTS was one of them, way back when, when the son had to deal with his human flesh eating parents. Black comedy is the best way of dealing with this subject matter.
MOM & DAD imagines a 24-hour nightmare where parents worldwide succumb to a mysterious mass hysteria that turns them violently against their own children. It is a macabre and inspired conceit, and works mainly because writer/director Brian Taylor (CRANK: HIGH VOLTAGE, CRAMER, GHOST RIDER) knows how to play the genre right and keeps his film funny and smart. Though one might think this one idea premise might run out of steam, Taylor has fresh ideas all through the film, that runs only at 83 minutes.
Taylor use the tactic of flashbacks to inject humour to many a horror scene. Taylor has one where Cage and son sit down talking about his f**ked up life with a flashback on how Cage drove his dad's car into an accident and had to work and pay him back for the damage. The same goes in the segment where Cage lets it all out in a flashback in the pool table man cave episode.
Taylor pays tribute to the great suspense and horror directors like Hitchcock, Truffaut and Argento. The scene in which mom and dad spend ages trying to open the basement door is reminiscent of the segment in TORN CURTAIN, where Hitchcock shows how difficult it is to kill a man without a weapon. The sealing of the air of the basement door immediately reminds one too of Truffaut's THE BRDE WORE BLACK when Jeanne Moreau sealed off the air from the staircase locker to suffocate Michel Lonsdale. The suspenseful scene with daughter, peeking through the keyhole where a knife is at the other end is right out of Argento's OPERA. There are many other classic film nods that are fun to pick out. Taylor's film contains a few ultra violent scenes (the dental hook), though they should be taken tongue-in-cheek.
Like Hitchcock's THE BIRDS, Taylor does not go into the explanation how the state of affairs parents wanting to do away with their children came about. It is immaterial. It could be guilt or nature's revenge, none really knows. Like Hitchcock's THE BIRDS, MOM & DAD has an appropriate abrupt ending.
Nicholas Cage and Selma Blair are nothing short of perfect as the killer parents. Cage goes into his famous self-ranting rage, playing himself at his crazy best. He is plain hilarious while occasionally being scary at the ams time. Blair complements his performance.
MOM & DAD appropriately premiered at the Toronto International Film Festival Midnight Madness Section in 2017 last year. It is the perfect film parents, frustrated at their disobedient kids need to see to get some steam off. It is also the perfect anti-family day movie.
Trailer: https://www.youtube.com/watch?v=sPVicWnq_BU
MY PIECE OF THE CITY (Canada 2017) ***
Directed by Moze Mossanen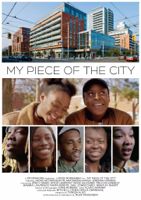 Every year, young people from Regent Park come together to perform "The Journey", a musical exploring the complex history of their community's revitalization, one of North America's largest urban transformations. The young artists come together to perform THE JOURNEY, a musical that helps them explore various challenges during this crucial period of their lives. MY PIECE OF THE CITY is the new Canadian documentary that follows these young artists as they create the building blocks of the show, soar with their own artistry, and explore all that they have lost and gained as a new world builds around them.
The transformations are shown in archive footage showing the old buildings together with the new.
Regent Park first started as a residential estate where there are no roads or streets entering it. It therefore formed a bubble in the city of Toronto, different from other housing estates. But this no-streets community became enclosed resulting in high crime of violence and drug dealing with the result of run-down buildings that finally had to be demolished to make for the new. MY PIECE OF THE CITY is a documentary that tells the stories of the resident of Regent Park - both old and new, from different cultures as far as Brazil and Jamaica all striving to make their lives a better living. Among the interviewees who have their say are Jackie Richardson, Alana Bridgewater and Jeremiah Sparks. The documentary captures the hard work and drive of these people, often touching and moving mainly because these rare real people dealing with real problems.
One character at one point in the doc says how she first came from Jamaica to Canada and this is the only Canada she know. Another complains about the old community that is lost and how new residents fail to see the history of the community.
This is a story of poor people in a poor community. Still, it is powerful to see how these people try to make the best of what they have. The film also shows the difficulty of putting up the musical. At one point, the organizer loses it for the participants not showing up for rehearsals on time.
MY PEACE OF THE CITY opens at TIFF Bell Lightbox Friday 23rd of February with a Question and Answer session at the 7 pm showing with its director Moze Mossanen. In his own words: "I am more than thrilled to have "My Piece of the City" screen at the TIFF Lightbox as we'll be able to share this extraordinary and moving story about the young artists in Regent Park with a larger part of our great city. The transformation of Regent Park is one of the key turning points in Toronto's evolution and I'm truly grateful to the programmers at TIFF for shining a light on this important moment as well as the people who are partners in this transformation."
This is a small doc with a running time of just an hour that might be a hard sell at today's box-office. Still MY PIECE OF THE CITY is a quiet important piece that is well worth ones time at the cinema.
Trailer: https://vimeo.com/237568333
PORCUPINE LAKE (Canada 2017) ***1/2
Directed by Ingrid Veminger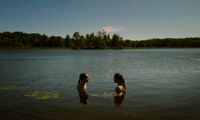 Canada's darling Ingrid Veninger has always been a director of films with strong female content. Who then best to write and direct PORCUPINE LAKE, a story of bravery and the secret life of girls set in Georgian Bay, Northern Ontario during a hot and hazy summertime when adulthood has not yet arrived, but childhood is quickly vanishing?
Verninger has made low budget Canadian films that have gone on to win many awards. ONLY, MODRA, i am a good person/i am a bad person are her most popular ones. They all reflect the ease of Veninger's craft and are personal yet entertaining features.
Port Severn is displayed proudly on a sign in one of the film's scenes. This is a beautiful yet quiet region that a few tourists venture to, for good old Canadian nature. Veninger has chosen an appropriate and pretty place for her film's setting, that few films have. Another scene has a Canadian flag on a pole.
Ally (Delphine Roussel) arrives with 13-year old daughter, Bea (Charlotte Salisbury) in tow from Toronto to meet up with her husband, Scotty (Christopher Bolton). Bea learns through a local, Kate (Australian Lucinda Armstrong Hall) independence, as well as the facts of life about boys and growing up. All Be a wants is a friend she can hang around with. As they say, be careful what you wish for. Kate is the companionship Bea's mother is unable to offer, and the two bond a strong friendship. But Kate is sometimes a friend from hell. Kate teaches Be a nasty things, like practical French kissing and some facts of life.
Verninger is quick to insert conflict into her characters. In one scene she has Scotty talking about keeping his store (place) within his family and another next scene with Ally telling another person about selling the place. Another has Bea keen to sleep over at her friend's with Scotty asking Ally to let her. "Please don't,' says Ally to Scott right after. Most of the conflict occurs between couples, as can be seen in other instances in this film and in her others, perhaps reflecting director Veninger's personal experiences (not a bad thing) with conflict with her relationships.
The climx of PORCUPINE LAKE is whether Kate will end up going to Toronto with Bea. Kate wants to go and Bea loves for her to come along. The mothers object for obvious reasons.
PORCUPINE LAKE is the most ambitious and strongest of Veninger's films (also beautifully shot by Benjamin Lichty), her popular film ONLY being screened at a local cinema that Bea and Kate attend at one point in the film. Veninger proves once again, she is always in control of her material and meticulously drives her film to its emotional climax and coming-of-age message. The film works because Verninger shows she understands her characters, all of whom undergo development for the better.
Trailer: https://www.youtube.com/watch?v=S0Lm-EC3e5s
TOM OF FINLAND (Finland/Sweden/Denmark/Germany/USA 2016) ***
Directed by Dome Karukoski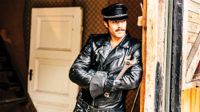 Who is TOM OF FINLAND? Straight people will likely have no clue who or what Tom is. And with reason. It is comic drawn gay pornography - weathermen drawn with their big dicks. Gays are totally familiar with Tom of Finland. They likely grew up with the drawings of Tom. TOM OF FINLAND popularized comic drawn porn as well as the look of leather men in dark glasses and big bulges in their tight trousers with a bit of S&M. Even famous Finnish director Aki Kaurismaki had his cool characters in films like LENINGRAD COWBOYS GO AMERICA and CALAMARI UNION sport that look. And if that is not enough, there is a very popular gay dance bar in the heart of gay Berlin named Tom of Finland. And finally the film. TOM OF FINLAND the film is the biographical drama of the man who invented (or drew) the character.
The plot involves Touko Laaksonen aka Tom of Finland (Pekka Strang) returning home to Finland after serving in World War II. In post-war Helsinki, he makes a name for himself with his homoerotic drawings of muscular men. Before finding fame, Laaksonen finds challenges from his sister, Kaija (Jessica Grabowsky) and Finnish society due to his art.
One thing director Karukoski emphasizes in his film is the non-acceptance of the gay lifestyle or practices. It is understandable as it is after World War II and unlike the present times, the world was not ready to accept homosexuality. "We used to put scum like you into concentration camps and then gas them to death," quips a German soldier. That is the reason Touko kept his sexual orientation secret from his sister. A lot of graphic violence is depicted in the film from police beating up gay cruisers in the park to gay bashing in the toilets.
The film also contains touching moments as in the scene Kaija tells his brother that he needs someone to settle down. It is in moments like these, that gay audience realize how fortunate that times have improved so much for the better in terms of acceptance of gay life in the wold today.
Warning: Due to the subject matter of the film - gay sex drawings - objectionable scenes need be included, though tastefully done.
The film also deals with other issues urgent in those times. The emergence of AIDs and coming out into the open in public are also examined.
TOM OF FINLAND premiered in Toronto at the LGBT Gay ad Lesbian film and video festival last year. The film was also Finland's entry last year for the Best Foreign language Film for the Oscars. Though it did not win a nomination, probably the film not being good enough, TOM OF FINLAND is still worthwhile viewing if not an eye-opener providing some insight of a prohibited lifestyle in Finland after WWII.

Trailer: https://www.youtube.com/watch?v=TKFA4WrPlfo