THOROUGHBREDS is the best film opening this week, a deliciously black comedy dealing with murder and two girl best buddies.
BEST FILMS PLAYING:
Best Animation:
PADDINGTON 2
Best Action:
THE COMMUTER
Best Foreign: LOVELESS
Best Period:
PHANTOM THREAD
Best Sci-fi
THE SHAPE OF WATER
Best Drama:
THOROUGHBREDS
FILM REVIEWS:
HANNAH (Italy/France/Belgium 2017) ***
Directed by Andrea Pallaoro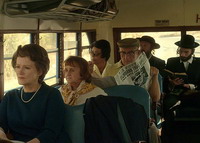 Charlotte Rampling plays HANNAH. HANNAH is a Charlotte Rampling vehicle. If you do not like her, this is a film definitely to avoid. Rampling is in every scene of the film and she is heavily relied on to make this movie. In her hey day, Rampling was one of the highest paid European stars. She was young and beautiful and starred in sexy films like films like THE NIGHT PORTER, and blockbusters like ORCA THE KILLER WHALE. She finally won an Academy Award nomination for 45 YEARS a few years back after playing sexually frustrated character roles as in UNDER THE SAND and SWIMMING POOL.
When the film opens, HANNAH is accompanying her husband (Andre Wilms) to what appease to be a prison. Her husband is to be imprisoned for reasons unexplained and Hannah has to deal with it. The film is an intimate portrait of a woman drifting between reality and denial when she is left alone to grapple with the consequences of her husband's imprisonment. Besides the fact, other thins are not going all for Hannah. Her dog is not eating, her son does not want to see her any more and prevents her from seeing her grandson, for again reasons unexplained. The only solace is her emlyerm which she works for as a cleaning lady. She appears to be kind, giving Hannah her old clothes that she no longer can wear that are still attractive. Hannah must cope. Hannah breaks down and cries in the bathroom on day. This is pretty much the film. Not much story, not much plot, not much explained n terms of reasons things occur to Hannah. To director Pallaoro, those explanations are unimportant even though one might argue that they are to make the story more believable and to have the audience therefor care for for Hannah.
Director Pallaoro shows that Hannah is not the only person in the world having difficulties. On Hannah is riding the metro one day, she witnesses a young black lady in the same train screaming at an unseen passenger how she has had it and cannot take it anymore. She bangs the train doors and finally exits the trains while Hannah is clearly disturbed by the incident.
A film that runs on similar lines as Hannah and one that demands comparison is Chantal Akerman's JEANNE DIELMAN, 23 QUAI DU COMMERCE, 1080 BRUXELLS which detailed its heroine Jeanne Dielman leading a hums drum life that eventually leads to her suicide in the film's shock ending. Akerman's film was 3 hours long, repeatedly showing Dielman performing identical household chores. While this sounds boring, it is not, especially when the film ending with a shocking suicide. Pallaoro's film, however does not work as well. Akrman understands her character whereas Pallaoro does not seem to know what to do with HANNAH. Despite Rampling's riveting performance, though fans of hers have seen her in roles like this, HANNAH is a hard watch and will be a definite bore to many. HANNAH is a depressing film involving a character that can never seem to redeem herself as everything else around her is going wrong. Do we need to watch a film like this?
The film is shot in French. Rampling is English educated in France.
Trailer: https://www.youtube.com/watch?v=jq6mB1Syt-I
JUGGERNAUT (Canada 2017) ***
Directed by Daniel DiMarco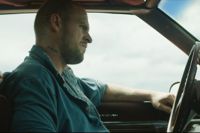 This JUGGERNAUT is not to be confused with the Richard Lester film of the same name that starred Richard Harris about bombs planted on a cruise liner. JUGGERNAUT 2017 is a very different Canadian nitty-gritty family crime drama that America churns out quite well. This one turns out pretty solid as well.
JUGGERNAUT is the story of two brothers, one good and one bad. Sounds like a parable (Caine and Abel) from the Bible. Of course, good and bad are relative. The protagonist is the 'bad' one for the obvious reason that not only is the bad one a more interesting character but there is a chance for redemption as well.
Saxon (Jack Kesy) has just been released from prison. Saxon is, as described in the film, a misanthrope (a person who dislikes and distrusts all human beings). He re-unites with his older brother, Dean (David Cubitt) in a small agricultural town in British Columbia. Dean is the town hero, bringing jobs to the town. Saxon learns from Dean that their mother has passed away while he was in prison, but he believes and goes out to prove that it was not suicide as stated in the death certificate.
A few incidents are too predictable. The first girl Saxon meets happens to be Amelie (Amanda Crew). When Amelie confesses that she is Saxon's brother's fiancee, one can tell that thee is an affair that is just waiting to happen.
There is a debate about bad person doing a good thing versus a good person doing a bad thing. It is too obvious that the audience is made to consider which one Saxon is. Not that it really matters to the plot.
To enhance the film's nitty-grittiness, DiMarko often shoots in dimly lit settings with moody period music and songs. Veteran actors Stephen McHattie (as bad guy Hank Sr.) and Peter McRobbie as the father also add to the atmosphere. The film has a side plot regarding Saxon's estranged relationship with his father who favours Dean over him. Here, there are EAST OF EDEN overtones especially felt during the reconciliation (well, sort-of) scene.
DiMarco paints a good character out of this chosen hero. Saxon is described as dumb but not stupid. Kesy, portrays Saxon with a rugged charm that eventually wins Amelie over.
The story moves along at a good pace but suffers from an odd ending which at least is unpredictable. But he shoot-out ear the end is a bit of a cop out stretching the story's credibility.
JUGGERNAUT is a satisfying small Canadian film that achieves what it set out to do, entertain with a story set in a grim atmosphere. The film opens this week with a VOD/Digital release on March 27, 2018. The film marked its world premiere at the Shanghai International Film Festival in 2017 as part of the Panorama program and was also screened at the San Diego International and Whistler Film Festivals.
Trailer: https://www.youtube.com/watch?v=XBOs-_RB28o
MEDITATION PARK (Canada 2017) ***1/2
Directed by Mina Shun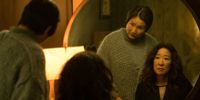 Before viewing MEDITATION PARK, one should be made aware of the legacy behind Hong Kong actress Cheng Pei Pei who executively produced and stars as the lead in the film. Cheng Pei Pei was a star in her youth, who rose to fame from her first Shaw Brothers swords fighting action movie directed by King Hu, COME DRINK WITH ME. She was rumoured to be the mistress of one of the Shaw moguls. She continued her action roles in many other Shaw productions. Her last well known role was Jade Fox in Ang Lee's CROUCHING TIGER HIDDEN DRAGON. She always sports the tomboyish short haircut, which she still does in MEDITATION PARK. In MEDITATION PARK, Cheng Pei-Pei shines and shows star power as it is seldom seen.
Cheng stars as Maria, a devoted wife and mother who is forced to reassess her reverence for her husband after she finds another woman's thong in his laundry. She discovers that her supposedly devout husband, Bing (Tzi Ma) is not the perfect husband she thought him to be. They are visited by their daughter (Sandra Oh) who wishes her mother attend the brother's wedding. The brother has been disowned by Bing. Maria starts tailing her husband to find out more of his affair. At the same time, Maria opens up her life and finds companionship through her assortment of friends as well as through a neighbour (Don McKellar). She finds that life has more to offer than just tending to her husband, and to one who has been unfaithful at that.
Shun's (DOUBLE HAPPINESS) covers many issues the main one being, oddly enough, a senior's coming-of-age. Maria learns to stand for herself finally and do what is right. Shun also brings in her Chinese culture in the Canadian setting. Maria is shown as the typical Chinese elder, who stays home. Maria speaks limited English and cannot drive. When she tails her husband, she pays $240 in cab fare before learning how to ride a bicycle instead, a cheaper means of tailing her husband.
There are some magnificent performances on display here, Cheng Pei Pei's being the most obvious. Sandra Oh, who has been in Shun's films in the past is always good and a pleasure to watch. Her confrontation scene with her father, also brilliantly played by Tzi Ma is the film's highlight.
Shun injects some sentimental moments through the character of a neighbour (McKellar) that Maria meets. Kleenex should be handy for the segment where he announces the death of his sick wife.
Shun does not compromise her film for the typical Hollywood ending. The father does not end up attending his son's wedding as would be expected. Maria and Bing do not reconcile in the usual way. This is what stands out in Shun's film, which is a big improvement over her past two efforts. MEDITATION PARK should be seen for it being Shun's best work and for Cheng Pei Pei's controlled yet powerful performance.
Trailer: https://www.youtube.com/watch?v=tMo7DdGdaq8
MY ENEMY, MY BROTHER (Canada 2017) ***
Directed by Ann Shin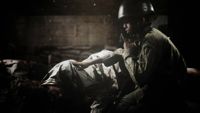 Base on her short documentary about an Iraqi and Iranian who became good friends, MY ENMEY, MY BROTHER is an expanded full length feature that is a basically an enactment of the documentary.
The film tells the real-life story of two former enemies from the Iran-Iraq war who become blood brothers for life. The film begins with Najah in his town of Basra in Iraq. The camera pans to show the roads, vehicles and sights of Basra, a good educational experience for many who have never seen the sights of an Iarqi city. The film traces the young Najah, falling in love and getting married with son in the sight of Allah. But things turn bad. The Iran-Iraq war led to him being imprisoned for 17 years. Finally freed, he finds Basra totally destroyed and he is unable to find his wife and son. Najah now lives in Vancouver.
The other characters in the film is Zahed. When the audience first sees Zahed, he is a Iranian child soldier.
Director Shin has her political say as well, blaming the Russians and Americans, the two countries that benefit monetarily from selling arms to Iran and Iraq. Clearly as always, it is the individuals who suffer.
Najah and Zahed meet in Vancouver 30 years after Zahed, an Iranian child soldier saves Najah, a wounded Iraqi soldier's life, they are now about to embark on an emotional journey back to Iran and Iraq for the first time in 20 years. The film chalks their journey takes them into the heart of present-day conflicts in a region ravaged by war and ISIS. Their quest is a surprising affirmation of redemption and humanity.
Najah and Zahed play themselves in this documentary which is really a series of re-enactments. If the film starred actors instead, the film would be classified a non-fiction film instead.
But the film is till not without flaws. Director Shin seems too intent to re-enact everything even Najah's childhood. The audience is not told how Najan and Zahed came to immigrate to Vancouver.
Nevertheless, the story is an extremely moving one and therefore makes the film compelling to watch. The likelihood that an Iranian saves an Iraqi, an enemy is in itself slim and the fact that the two actually meet 20 years late and discover themselves is nothing short of a miracle. The scene where Zahed has a meal with Najah's family is nothing short of inspiring, demonstrating there is still good in human beings.
Special to the screening: War Games
Accompanying the theatrical release of MY ENEMY, MY BROTHER is the world premiere of EYE OF THE BEHOLDER a dramatic and spectacular 30-minute FREE VR experience made available in the lobby for all theatre goers prior to the screening. Set in a conflict zone, players encounter another soldier in a bunker who may be friend or foe. Whether the player decides to collaborate with or combat the other in the ensuing challenges, determines who gets out alive. This short VR experience questions how we pre-judge others, and is a teaser for a longer VR game that will be released later in 2018.
Trailer: https://www.youtube.com/watch?v=42YFUwCnWzE
NELLY ET SIMON: MISSION YETI (Canada 2017) ***
Directed by Nancy Florence Savard and Pierre Greco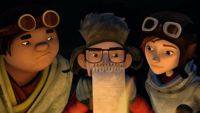 A Quebecois animated feature, it would be assumed that English Canada would get the English version. The film opens after premiering at TIFF kids 2018.
The film is set in Quebec 1956. The Nelly and Simon of the title are two friends that embark on an expedition in the Himalayas in search of the Yeti, a sort of missing link.
Nelly Maloye is a very amateur private eye who stumbles into the research lab of Simon Picard. Picard is a young anthropologist. Frustrated and nearing the end of his research grant, Simon has yet to find evidence of the existence of the elusive Yeti and prove his hypothesis that the Yeti is the missing link in human evolution. Given a three-month reprieve by his wealthy yet suspicious investor, Simon reluctantly accepts Nelly's help as they set out on a mission through the Himalayas in search of the Yeti. Using an explorer's journal that supposedly contains the location of the mythical creature's den, the two must learn to combine their methodological and improvisational approaches if they are going to be able to navigate the challenging terrain.
Nelly and Simon caters mainly for younger kids, judging from the humour. The animated humour contains lots of slapstick (Simon, the sherpa all falling down in the underground cave and swept away in the underground stream; the dancing and laughing Yeti tribe). The characters frequently gesture with frantic movements and there are kid anecdotes like good luck or bad luck story told to the sherpa. The animation looks great, though not concentrating on detail - similar to a cross between the look of the INSPECTOR GADGET cartoons on TV and the look of the Belgium comic book "The Adventures of Tin Tin". The use of shadows enhance the atmosphere of the private investigator's world.
The film aims at a message (though too obvious) for the younger folk too, that all species (like the Yeti) need to be respected and not turned into a circus. The bad guys are once again the establishment like Simon's boss and Simon's financier, Edward who wants to make money from the discovery of the Yeti. Edward is clearly the villain of the piece, and he gets what is coming to him (in slapstick terms) at the end.
One wishes that for this grand adventures set in the mountains and with the discovery of a tribe of (Shrek-looking ) Yeti's, the film could have been funnier. Perhaps the Quebecois jokes did not translate well into the English version.
For adults, the film can be a bit childish, especially with the introduction of a rather unfunny chatty myna bird named Jasmin. The film also lags in the middle. Still there is no excuse for an animated feature not to cater to both adults and kids, films like SHREK and even the fairytale BEAUTY AND THE BEAST serving as examples.
SIMON ET NELLY is an ok family animated feature but one wishes it could have been catered more to the adults.
Trailer: https://www.youtube.com/watch?v=KvukQXpI3Ws
THE STRANGERS: PREY AT NIGHT (USA 2018) **
Directed by Johannes Roberts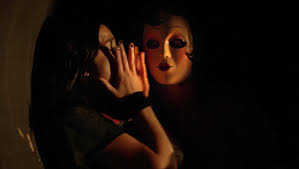 THE STRANGERS: PREY AT NIGHT serves as a loose sequel to the 2008 horror schlock THE STRANGERS that was written by Bryan Bertie who also co-wrote this sequel with Ben Ketai.
A family - mother, father, estranged daughter and her brother spend a night at a mobile campground owned by their uncle only to find him murdered and cut up. 'The strangers' make the family their next target who hold up in one cabin. The strangers wear various masks and dispatch their victims with weapons like knives and axes. The killers are Dollface (Emma Bellomy), Pin-Up Girl (Lea Enslin) and the man in the mask (Damian Maffei).
It takes 30 minutes before the first victim is discovered, in this case, the uncle. (Alfred Hitchcock took a full hour to reveal the first victim in THE BIRDS). Director Roberts spends the time investing in the family issues. Parents Cindy (Christina Hendricks) and Mike (Martin Henderson) love each other, but have problems with the youngest daughter, Kinsey (Bailee Madison) who they are sending to boarding school. The son, Luke (Lewis Pullman) is the model child, playing baseball while obeying what mummy and daddy ask. When daughter storms out at one point, brother is sent after her to calm her down. They discover the body while the parents go in search for them after a weird visitor asking for Tamara show up twice.
At this point, horror fans will likely ask themselves that with this super slim storyline, what tactics will be used to pass the time. The answer is a variety of them like: the family playing silly games; false alarms like a dog that appears out of nowhere and scare them and never show up again in the campground or in any part of the movie; useless dialogue and lots of walking around. (The family spends a lot of time running from the predators.)
The next question horror fans will ask is which of the 4 of the family will be dispatched first or is the script going to keep them alive. The answer comes right after the 30 minute mark when poor mother gets a knife right in the back. At least this solves the enmity between mother and daughter that was pre-eminent during the first 30 minutes. Father gets it next, pretty badly while in the car leaving the younger siblings to care for themselves. "Leave us alone." is the line that is screamed out to the strangers and repeated a number of times in the film.
Several obvious question come up - the most important of which is the reason the strangers are on a killing spree. Daughter gets to spring this magic question to one of her stalkers right before dispatching off with her. And her answer: "Why not?"
Same reason millions of moviegoers are paying good bucks to see low-budget slasher flicks like this one: Why not?
Roberts is a British director specializing in cheap horror flicks, his first being SANITARIUM, a 5000 quid production released around the world. THE STRANGERS shows a little promise but nothing really something to scream about.
Trailer: https://www.youtube.com/watch?v=GdPz3NKf9fg
THOROUGHBREDS (USA 2017) ****
Directed by Cory Finley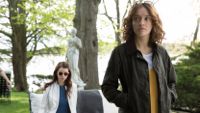 THOROUGHBREDS is about two upper-class teenage girls in suburban Connecticut rekindling their unlikely friendship after years of growing apart. Before one can dismiss this as a boring teen chick flick (though it is a bit of a teen chick flick), THOROUGHBREDS is a deliciously black comedy that won the Best Film Award at the Denver International Film Festival and nominated for Best Film at the London Film Festival. And it is a very good film!
When the film opens, Lily (Anya Taylor-Joy) is tutoring Amanda (Olivia Cooke). These two have been friends before but have not seen each other for a while. Apparently, Amanda's mother has hired her, besides the tutoring, so that the isolated Amanda can have a friend. Amanda is a person who feels nothing, though she has learnt to fake feelings that include crying on cue. Lily on the other hand, feels everything.
As the plot thickens, they decide to do away i.e. kill, Mark (Paul Sparks), Lily's stepfather as he is a complete dick and besides doing her and her mother no good, does no good for anyone else in the world. They blackmail the local drug dealer, Tim (Anton Yelchin in his last role) to do the killing while they stay away as an alibi. However, when Tim chickens out and never shows up, the story gets nastier.
THOROUGHBREDS demonstrates the worse in men, without any sexual allegations (as going on in today's current events) involved. This is personified in Lily's stepfather, Mark. Mark is self-centred, obnoxious, rude and plainly a bad human being. Finley's script is clever enough to reveal this side of the male character.
Another brilliant touch is the character development undergone by both Lily and Amanda. It is not really character development but character change. As the story progresses, Amanda's character flows into Lily's and vice versa. By the end of the film, it is difficult to distinguish the two, as the two start to work together.
The film also brilliantly contains one line that poses a very important question to everyone: "Do you think your life is worth living?" This line also explains Amanda's reason for going through her final deed in the story.
The soundtrack is varied. The suspenseful moments are accompanied by a tribal soundtrack complete with the sound of bongo drum beats and screeching while other moments by classical songs like "Ava Maria".
Finley's music is divided into untitled chapters, each one radically different from the previous.
One might complain that the film's pace is a bit slow, but the film is nevertheless compelling. One might also complain that the characters are distant and one cannot feel close to the characters. This might be true but one should not feel close to characters on a black comedy. The film also contains some Hitchcockian moments that would do the Master of Suspense proud. Warning: spoiler alert (skip the bold italics but I wish to make the point.) The actual killing of the stepfather is not shown on screen, but the segment showing the blood on the gloves and apron of the murderer is more effective.
The film had its world premiere at the Sundance Film Festival on January 21, 2017 under the title THOROUGHBRED. Indie news accurately describes the film as HEATHERS meets AMERICAN PSYCHO. If you like your entertainment twisted, you are in for quite the ride!
Trailer: https://www.youtube.com/watch?v=qylb0dvPOf8
A WRINKLE IN TIME (USA 2018) **
Directed by Ava DuVernay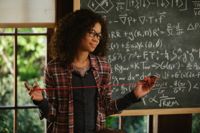 A WRINKLE IN TIME is the new Disney family fantasy based on the 1962 science fantasy novel written by American writer Madeleine L'Engle. The book won the Newbery Medal, Sequoyah Book Award, and Lewis Carroll Shelf Award, and was runner-up for the Hans Christian Andersen Award. This is Disney's second film adaptation following the 2003 TV movie.
The film follows daughter, Meg (Storm Reid) who with the help of Mrs. Which (Oprah Winfrey), Mrs. Who (Mindy Kaling) and Mrs. Whatsis (Reech Witherspoon) and accompaniment of adopted brother (Deric McCabe) search for her 4-year missing scientific father, known as Dr. Murry (Chris Pine). They encounter different characters and strange animals and things before finally rescuing the father after wining the fight of light vs. the darkness.
Music and soundtrack are not impressive. The ending song "I believe (in me)" by DJ Khaled is the typical 'America is great, I can do anything' mentality that President Trump so often engages that non-Americans are sick of. The soundtrack has the 'wowing' sound that is supposed to enhance at the audience's 'wow' factor. The music also goes up and down in mood as if to constantly remind the audiences how to feel during the film.
The script and film concentrate more on the rescue of Dr. Murry that on the universal fight of good vs. evil. The result is a rather sappy film. The family reuniting scene does not bring tears into the audience's eyes as the film is bad that there is little emotion to be felt anywhere.
The film delivers mixed messages among them: "Be a warrior:" "I can do anything"; and others. But unfortunately the negative message of putting work before family also comes through. There is also an odd moment when the camera shows that Meg has forgiven her taunting schoolmate, Veronica.
The cinematography By German D.P. Tobias A. Schliessler is impressive and the film looks occasionally stunning though all this would be put better into perspective if the film was not all over the place.
The film is enough to give one a splitting headache. Besides the screeching children - young actor McCabe has an especially high-pitched shrill voice. If he not taunting his sister when 'possessed' he will certainly be taunting the audience with his voice. The other scene is the bouncing ball scene whee a dozen or so boys in a neighbourhood simultaneously bounce their basketball as they go: "Thump, thump, thump…" indefinitely.
A WRINKLE IN TIME is noticeable for making a point of having a higher percentage of African Americans and women working in the film. Director DuVaernay's resume includes only one past documentary MIDDLE OF NOWHERE and SELMA, quite different for big budget sci-fi films. Making the Murry family mixed, the husband white (Chris Pine) and the mother black (Gugu Mbatha-Raw) for no apparent reason except to be currently politically or racially correct, does not really work either.
Disney has had a solid string of hits, the latest being the Oscar winning animated COCO and the box-office hit BLACK PANTHER. A WRINKLE IN TIME, which is plain awful puts a huge wrinkle in this trend of hits. It is noticeable worse than the second of Disney's ALICE IN WONDERLAND movies and prove that good intentions do not necessarily turn out good movies. The element of wonder is missing in this fantasy picture.