Besides blockbusters MAMMA MIA 2 and EQUALIZER 2, other films like DON'T WORRY, HE WON'T GET TOO FAR and UNDER THE TREE deserve a look.
BEST FILMS PLAYING:
Best Animation:
The Incredibles 2
Best Crime:
American Animals
Best Documentary:
The Quest of Alain Ducasse
Best Foreign:
Under the Tree (Iceland)
Best Horror:
Hereditary
Best Drama:
Don't Worry, He Won't Get Far on Foot
FILM REVIEWS:
DON'T WORRY, HE WON'T GET FAR ON FOOT (USA 2018) ***1/2
Directed by Gus Van Sant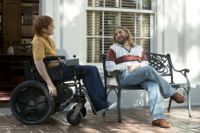 DON'T WORRY HE WON'T GET FAR ON FOOT is a comedy-drama biography film based on the memoir of the same name by John Callahan. Gus Van Sant (DRUGSTORE COWBOY, MY OWN PRIVATE IDAHO, GOOD WILL HUNTING, GERRY, ELEPHANT) wrote the screen adaptation and directed the film.
When the film opens, John Callahan (Joaquin Phoenix) is addressing an audience after winning some award for his cartoons. Callahan is in a wheelchair as a result of a car accident involving drinking. But Callahan is still drinking though he is attending an AA group led by Donnie Hill (a totally unrecognizable Jonah Hill).
The film unfolds in non-chronological order, centring on Callahan before and after the accident, including his rise to fame with his cartoons.
DON'T WORRY will inevitably be compared to the French film, Julian Schnabel's The Diving Bell and the Butterfly (French: Le Scaphandre et le Papillon), a 2007 biographical drama based on Jean-Dominique Bauby's memoir of the same name, on a man's disability and rehabilitation. The film depicts Bauby's life after suffering a massive stroke that left him with a condition known as locked-in syndrome. Bauby is played by Mathieu Amalric. Bauby is totally conscious but unable to move all parts of his body but his left eye that he used to write the memoir. The Diving Bell and the Butterfly won awards at the Cannes Film Festival, the Golden Globes, the BAFTAs, and the César Awards, and received four Academy Award nominations and is considered by critics as one of the best films of the decade.
DON'T WORRY never reaches the high standard hit by Le Scaphandre et le Papillon but goes towards a different direction, stressing more on the emotional than physical comeback. Whether Callahan can have sex is one of the main conditions examined. The main difference between the two films lie in the difference in the two main characters. In the French film, Bauby was strong and fixed on recovery while in this film, Callahan is self destructive and wallows in self pity. This is not helped by the fact that Callahan is still an alcoholic.
The film also considers the emotions that Callahan goes through right after the accident in the hospital. Ironically the drunk driver, Dexter (Jack Black) that caused the accident walked away with only a few scratches. Callahan met Dexter by chance at a bar and spent the night drinking heavily and driving. The film fails to mention what happened to Dexter after the accident. But Callahan asks key questions like: "Why is this happening to me?" - a question that is invariably asked by probably every person undergoing such a tragic accident. Callahan also confesses to a worker, Annu (Rooney mara) that he promised God that he would do anything and or would make a pact with the devil to become normal again. These key emotions differentiate DON'T WORRY from the French film.
Callahan's birth as an artist only begins at the film's one hour mark. A few of the cartoons are revealed to the audience and to Callahan's credit, they are quite funny - a kind of THE FAR SIDE by a guy in a wheelchair.
Van Sant's DON'T WORRY encompasses the best of his 'lonely' films like ELEPHANT and GERRY and 'hidden talent' films like GOOD WILL HUNTING, offering audiences gut wrenching insight in his soulful biography of a troubled human being.
Trailer: https://www.youtube.com/watch?v=2BwxeOzSx8A
THE EQUALIZER 2 (USA 2018) ***
Directed by Antoine Fuqua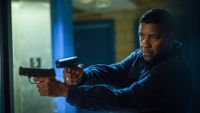 Watch the TV series, the first film adaptation and then the sequel! Denzel Washington returns as what has been touted as his first sequel, reprising the role as vigilant fighter for the people.
The lean and lazy plot involves EQUALIZER 2, Robert McCall (Washington) learning that one of his longtime friends, Susan Plummer (Melissa Leo, the best thing about the movie - watch her fight), has been murdered. McCall decides to return to his old ways and seek out, find and punish the perpetrators. In the mean time, he helps several Bostonians including a young black man who has the gift of painting, Miles (Ashton Sanders, from MOONLIGHT) and Fatimah (Sakina Jaffrey). In the midst of all this, he pines over the loss of his wife. He is still friends with his ex-partner, Dave York (Pedro Pascal), his pal and former partner in the CIA who turns out to be a and guy, quite early in the film. Dave has a family and children, which the story totally neglects towards the end of the film.
Washington puts in his 2-cents worth as McCall even going over emotional in trying to lead Miles to turn over a brew leaf. Veteran actor Bill Pullman is largely underused as Susan's husband, targeted to be killed being a 'loose end'.
The film has a few interesting points like the first appearance of Washington at the start of the film on a train in Turkey. When the camera first offers the audience a glimpse of him, he is wearing an orange beard with a white cap and glasses looking like devout Muslim. The scene is obviously milked for laughs. It is very funny, though I found self the only one in the theatre breaking into laughter. Director Fuqua also inserts a few suspenseful scenes that deserves mention, like the one in which Miles is hiding in a panic room where there is a two-way glass separating the killer and Miles.
Impressive too, is the storm cinematography. The film's climax coinciding with a hurricane arriving in Boston by the sea where the fighters engage in the fight out in the open amidst strong winds and gushing sea water makes a welcome change. This climax does remind one of the blowing tumbleweeds in the ending shoot out in THE MAGNIFICENT SEVEN, Fuqua's last action movie. Cinematography is by Oliver Wood ( who normally does work of this kind in action movies like the BOURNE series and DIE HARD, who first gained attention with his work using natural light to light up the 1969 cult movie THE HONEYMOON KILLERS). One could argue that a hurricane in the climax might be distracting to the action, but one must give director Fuqua credit for trying something different.
There was a clash of times for the promo screening for EQUALIZER 2 and MAMMA MIA2. I had picked EQUALIZER 2 as I hated MAMMA MIA one, especially having to watch Meryl Street jumping up and down the bed like an annoying teenager, not to mention hearing Pierce Brosnan sing. The latter film has so far gotten positive reviews compared to EQUALIZER 2, likely for the reason of expectations. One expect better and different from EQUALIZER 2 director of turning point films like TRAINING DAY. EQUALIZER 2 is not that bad. It is what one would expect from the action director - a generally slower moving actioner, with over quick fight edit sequences and lots of blood and gore.
Trailer: https://www.youtube.com/watch?v=HyNJ3UrGk_I
THE THIRD MURDER (Japan 2017) ****
Directed by Hirokazu Kore-eda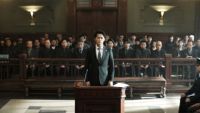 THE THIRD MURDER is director Hirokazu Kore-eda's (AFTER LIFE, AFTER THE STORM LIKE FATEHR LIKE SON) first murder mystery/courtroom drama and one that encompasses deep thoughts on morality. From the first scene, Misumi (Kôji Yakusho) robs and kills an industrialist. Misumi freely confesses to the cops, claiming he was desperate to settle a gambling debt. But defence attorney Shigemori (Masaharu Fukuyama) isn't entirely satisfied with his mild-mannered client's testimony. As Shigemori and his team go about their research, secret histories are brought to light, inconsistencies surface and unlikely alliances point to a more complicated set of circumstances. One flaw of the film is the point is that it is brought up later Misumi might not have killed the industrialist and someone else could have done it. But showing the killing at the start of the film, dismisses the fact that someone else could have done it. It is the film's classic case where a director should never lie in a flashback scene. (Hitchcock did it once in STAGE FRIGHT and was never forgiven for it.) Kore-eda's shot of Misumi's reflection in the glass in the film's final scene when he finally concludes his case with his attorney demands mention. The image in the reflection is different from his actual face reflecting the two sides of the man. Brilliantly thought of and executed THE THIRD MURDER marks Kore-eda as his continuous best.
Trailer: https://www.youtube.com/watch?v=Plr3V4TYBQE
UNDER THE TREE (Iceland/Denmark/Poland/Germany 2017) ***1/2
Directed by Hafsteinn Gunnar Sigurðsson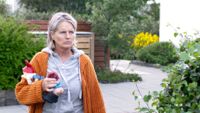 UNDER THE TREE is a simple story that unfolds in all its unpredictability and horror. It is trouble for two neighbours, something that many can relate to. The shade from a front yard tree brings tensions to a boil for two families in an Icelandic suburb. The husbands Baldvin (Edda Björgvinsdóttir) and Konrad (Þorsteinn Bachmann) have a small argument over trimming the big tree as Konrad's wife, Eybjorg (Selma Björnsdóttir) likes to lie in the sun and does not want the shade from the tree. But the wives argue. The tires of a car are slashed followed by rude gnomes ornaments placed in the front of the house. Then when the cat goes missing, all hell breaks lose.
Amidst the arguing, there is a subplot of the son, Atli (Steinþór Hróar Steinþórsson) losing custody of his daughter after cheating on his wife., Agnes (Lára Jóhanna Jónsdóttir).
Director Sigurðsson knows how to up the angst, as evident at the film's start, the wife catches the son watching porn. "Is that you in the porn?" she suddenly notices. "Isn't that Rakel in it with you in the porn?" she asks again before kicking him out of the house and taking custody of their daughter. Again this is an incident that many separated couple go through, fighting for custody. Sigurðsson also keeps certain factors unknown to keep the audience guessing. Did the neighbour really slash the tires? Did the neighbour really put in the gnomes? And where is that darn cat that has disappeared, though the final incident is revealed at the end of the film.
Sigurðsson keeps his film engaging from start to end by making his characters real, reacting and doing things that normal people all over the world might end up doing, when pushed to the limit.
Of all the characters, Inga (Edda Björgvinsdóttir) seems the nastiest. She seems to be director Sigurðsson's favourite. Inga slings dog shit at Eybjorg, calls her a cow and even calls her son a loser when he cheats on his wife. The wives inch their husbands, who seem more tolerant, on.
Besides the black comedy, the film also contains segments of dramatic tension, like in the ones where Atli abducts his daughter or when he abuses her at her workplace.
The film is shot in the suburbs of the Icelandic capital of Reykjavik. These houses are modern looking, colourful, modest and too close to each other for comfort. Trees and sun are scarce in Iceland so one can understand a neighbour not wanting the shade and the other not wanting his tree touched.
Sigurðsson's film demonstrates the worst there is in human beings, creating a dark comedy at its blackest. His characters are unforgiving (Agnes cannot forgive Atli for cheating), vindictive (Agnes calls her cheating husband out as a masturbator of sex videos he indulges in, at a community meeting) and cowardly.
The ending comes with a good twist that leaves audiences satisfied that they have seen a really black comedy/drama. The film dominated the Edda Awards (Icelandic equivalent of the Oscars) with seven wins, including best film, director, actor (Steinþór Hróar Steinþórsson), actress (Edda Björgvinsdóttir), supporting actor (Sigurður Sigurjónsson), screenplay and visual effects.
Trailer: https://www.youtube.com/watch?v=tU7KeDwJCAc
UNFRIENDED: DARK WEB (USA 2018) ***
Directed by Stephen Susco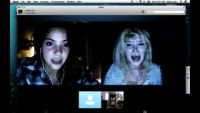 Writer/director Stephen Susco's sequel to the laptop horror UNFRIENDED can hardly be called a sequel (note there is no number 2 tagged on to UNFRIENDED) as it is a stand-alone sequel with completely new characters and a totally fresh storyline. The only similarity between the two films is that the films unfolds as if seen on a lap top. So, expect to be watching a laptop screen for 90 minutes or so. It is quite a torturous 90 minutes, which requires a lot of concentration to follow the story as one will be required to not only read the texts on screen but watch multiple goings-on as well as group of friends communicate online via Skype. UNFRIENDED: DARK WEB like the original UNFRIENDED is a clever novelty resulting in a tidy economically made film that caters to the new large target market of computer/lap tops users. Who does not use a lap tip theses days? The original film costs only $1 million to make and grossed more than $65 million. Susco's film, which contains a cast of unknowns teens took only a week to film.
The film opens with a user trying to get into a found lap top by trying different combinations of passwords. Password, nope. Password 123, nope. After a dozen or so tries, ? works and Matias (Colin Woodell from UNSANE) gets into the used laptop. He begins a game on Skype with his friends, computer-savvy Damon (Andrew Lees), Lexx (Savira Windyani), newly engaged couple Nari (Betty Gabriel from GET OUT) and Serena (Rebecca Rittenhouse) and Matias' deaf girlfriend Amaya (Stephanie Nogueras). As the game night progresses, an intruder who calls himself Charon IV, begins sending messages to Matias, instructing him to return the laptop and keep his friends online. The reason is that the lap top contains a list of crooked people as well as $10 million in crypto currency. If he is unable to return the lap top, he will kill Amaya.
Despite the simple looking plot, the script is clever enough to include modern age technology like Skype, messaging, Bitcoin, Ethereum and other cryptocurrencies. To those unfamiliar with computers, best advised be to avoid this film. Political correctness in the film include having a lesbian couple in the story and a deaf character (played by Nogueras, herself a deaf actress). Though UNFRIENDED: DARK WEB is a horror film, Susco's horror film has neither blood or gore though the killing scenes are just as horrifying (pushing the victim on to a subway track upon an approaching train).
The film also contains two different endings. Audiences will not know which cinema will be screen which ending and watching the film twice (the film is ok, but not really worth watching a second time) is still not guarantee of viewing both endings.
It looks like Blumhouse has another low-budget horror winner. How much money will this one make?