There is a record number of films opening this weekend in preparation for Christmas - varying from animation to drama to foreign.
BEST FILMS PLAYING:
Best Documentary:
Thy Shall Not Grow Old
Best Foreign:
Burning
Roma
Border
Best Comedy:
Christmas Chronicles
Best Drama:
Green Book
Best Doc:
They Shall Never Grow Old
BEST FILMS OF 2018 (so far)
Angels Wear White
The Ballad of Buster Scruggs (Netflix)
Burning
Green Book
Hereditary
Isle of Dogs
Mary Poppins Returns
Roma (Netflix)
They Shall not Grow Old
You Were Never Really Here
FILM REVIEWS:
BEN IS BACK (USA 2018) ****
Directed by Peter Hedges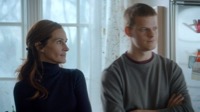 Peter Hedges, the writer/director of the new family drama cum thriller BEN IS BACK rose to film fame with the successful WHAT'S EATING GILBERT GRAPE? BEN IS BACK tells what happens when Ben, (played by Peter's son Lucas Hedges, last seen in BOY ERASED and MANCHESTER BY THE SEA) the drug addict son of the family returns home for Christmas against the advice of his worker.
His mother Holly (Oscar Winner Julia Roberts) is the only one standing up for him. Neither her new husband Neal or Ben's sister think it good idea for the unannounced Christmas visit.
It is either Ben making Christmas right or making the biggest f***ing mistake.
The script plays on whether Ben's intentions on staying clean are genuine. Mother Holly has already warned her son that she is keeping her eyes and checking in him 24/7 and one mistake and she will send him packing to rehab. The film offers many opportunities for hm to be slipped drugs and director Hedges nor makes it clear to Holly or the audience whether he got some or did not. This is the fun part of the film - being in the dark and in suspense as to waits going on.
Ben's past acquaintances will not leave him alone either. When the family returns from a Christmas Cantata, the family home is broken into and their dog Ponce (played by Nigel) missing. Ben takes off with Holly to find the dog. He ditches her to find his supplier (when he was dealing) to get the dog back but not until doing one last job.
Hedges ties in the thriller element into the family drama. The tactic works wonderfully with the audience tense and glued toothier seat while always on the side of Holly and Ben. Hedges knows how to connect his audience to both the characters and the story.
The script contains one flaw when Ben goes back to drug usage at the end, which is believable as no one can give up a bad habit including smoking and substance abuse. Ben overdoses. One would think that being a dealer would know the safe dosage of cocaine (no to mention he was given only a baggie) that would never overdose. One can only guess that the overdose segment was inserted for the purpose of artistic dramatization.
The film is aided by two Oscar worthy performances. Julia Roberts is so good by just sitting it the car looking scared and confused. Her anger dialogue is also well-written allowing her to show her acting prowess, her character hen breaking out into then use of many 'f' words. Hedges is also excellent keeping the advices int he dark as to his true intentions. They make the movie.
The script also works entertaining set-pieces into the story. The segment with Ben's sister at the Christmas Cantata singing "O Holy Night' is beautiful especially when her soprano solo reaches the high 'F' note.
But the film's best segment is the one where Holly, after discovering drugs on Ben again, drags him to the graveyard, screaming atheism asking whether wants to be buried. It is a moving and explosive scene and one obviously written (and with success) for artistic dramatization.
BEN IS BACK is a rare family drama tied in with an added thriller element, making it an engrossing watch from start to end. And the greatest joke on the audience is that the same question at the start of the film "whether Ben is making Christmas right or making the biggest f***ing mistake" is still left for the audience to answer.
Trailer: https://www.youtube.com/watch?v=j7ckCekdGr8
BLAZE (USA 2018) ***1/2
Directed by Ethan Hawke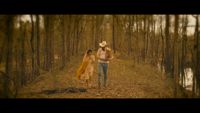 Who is this American country and western singer called BLAZE? For one, he is not that famous that many have heard of him. Blaze Foley (played by non-actor Ben Dickey) is supposed to be the one that blazed (pardon the pun) the way for Willie Nelson. And why would actor Ethan Hawke make it his ambition to direct his biography and co-write the script with his girl Sybil, based on her book? That could be the very reason Hawke decided to do it - that Blaze was that ordinary a person. To Hawke's credit, as much as I am a non-fan of country music, BLAZE is a remarkable piece of work, one that comes across as a sincere warts and all tale of Blaze Dexter.
The film interweaves three stories into one. The first is Blaze's love affair with Sybil, the second of his songs as he performs around the country and at his home bar, often not that successfully and the third is the story told by his two buddies after his death. The latter is told from an interview conducted by Hawke himself, his back to the camera and him smoking away just as all the characters in the bio do. Hawke has created the total character of his subject showing both his ease at creativity as well as the demons haunting him, that include his drinking. He smashes the guitar that Sybil saved her money up to get for him in one self-destructive act after being being thrown off stage for insulting the audience. It is his love, loneliness, creativity, insecurity and self-destructiveness that make up a life wonderfully created by Hawke on screen.
Are his songs good? Well the genre is country western, but Blaze's songs (there is rendering of songs like "If I Could Fly") are at least decent, though one can hardly tell from the film as Blaze plays to empty bars most of the time.
The film contains messages in terms of life lessons subtly dished out to the audience. One can be learnt from the way Blaze died - by taking a bullet in the stomach after intervening with the son who stole his father's security check. When asked whether he wants to be a star, Blaze says no, that he wants to be a legend. He tells to his girl seriously but smiling while they hitch a ride at the back of a pick up, 'a star shines for himself; a legend is forever and for things that matter." This is one of the film's very poignant and effective moments, that captures the spirit and genius of Blaze, a man so casual that his insight passes through you.
The real BLAZE can be observed in the reading aloud of a heartfelt written letter he writes to Sybil, telling her of his love for her and his true feelings about his music.
Hawke captures the drama in the man's life - the difficulties of both his relationship with Sybil and his performances. One of the film's most amusing scenes is Blaze's encounter with an offer by three record label's representatives played by Richard Linklater, Steve Zahn and Sam Rockwell.
In the end, Hawke's non-judgemental bio leaves the audience to make up their minds on whether Blaze Foley was a loser with no money or a cool guy. Legend? I don't think so.
Trailer: https://www.youtube.com/watch?v=sXvwFdTTwhI
THE HOUSE THAT JACK BUILT (Denmark/France/Germany/Sweden 2018) ***
Directed by Lars von Trier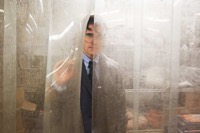 After being banned in France for pro-Nazi remarks (there is a brief reference to Hitler as an icon after 2/3 of the film) and finally let back in, von Trier returns with a controversial film about a serial killer called Jack (Matt Dillon). Von Trier apparently did quite a bit of research on serial killer motives for the film made. (Hopefully, he didn't interview them in prison.)
The film is called THE HOUSE THAT JACK BUILT because Jack attempts to build a sue but never manages to complete the task.
The film arrives laden with controversy When screened at Cannes, a large number of the audience walked out though the film received a 10-minute standing ovation at the end. So love it or hate it, as they say. This goes too with the body of work - the films of Von Trier. He has made the best films like EUROPA and THE KINGDOM while making messes of films like THE IDIOTS.
The director's unedited cut was screened in North America for a one-showing in November and released after in an edited version. The same went for Toronto though the date of the director's cut screening was in December at 11 pm at the Ted Rogers Cinema.
THE HOUSE THAT JACK BUILT begins with a totally black screen in the dark where the audience can only hear voices, only barely audible. Jack (Matt Dillon) speaks to an unknown person, Verge (voice of Bruno Ganz) and talks about his killings, art, his behaviour and logic. The person offers him his views while also putting the film into two different perspectives. For example, Jack talks about his killings and what it relates to while the person argues the point. Killings by Jack are referenced to the poet, Blake with the lamb and the tiger.
The film is divided into 5 random incidents as Jack describes them taking place over a span the 12 years. Some of the incidents include more than one victim. The film grows more violent as it progresses. A few unwatchable incidents include the one Jack as a boy dismembering a duckling.
Von Trier's film is absorbing for the first 30 minutes or so, as he reveals his structure of story-telling. The killings are sudden for shock effect with the necessary violence added in - some with the violet scenes repeated. The first kill is that of an annoying woman (Uma Thurman) whose car had a flat tire. She taunts him constantly, even saying that the looks like a serial killer even going through the process of whether a killer would get away or not.
Arguably, the most intriguing segment is the 4th one, he nicknames Simple (Riley Keough) that involves Jack's romance. Jack goes around on crutches for sympathy and easier alluring of non-suspecting victims into his car. He tells Verge: "I have more feeling for the woman, more than psychopath would ever have.." implying that psychopaths do not have any.
See THE HOUSE THAT JACK BUILT as a Lars von Trier curiosity. Not many would really want to learn the truth about serial killers or care.
I would not walk out of the screening. I would also not have given the film a standing ovation either.
Trailer: https://www.youtube.com/watch?v=BYF2tfdD1fA
MARY QUEEN OF SCOTS (USA/UK 2018) ***1/2
Directed by Josie Rourke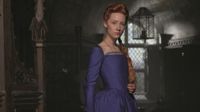 MARY QUEEN OF SCOTS is yet another historical drama made on Queen Mary this time around, updated with strong feminine content and with more openness regarding sexual orientation. The film is directed by Josie Rourke and adapted by Beau Willimon based on John Guy's biography My Heart Is My Own: The Life of Mary Queen of Scots.
The centre of the story is the 1569 conflict between their two countries and the two queens Mary (Saorise Ronan) and Elizabeth of England (Margot Robbie).
Both ladies Ronan and Robbie deliver outstanding Oscar worthy performances that keep the film an intense drama. Ronan has matured from playing teen characters as in ATONEMENT, LADY BIRD, BROOKLYN and HANNAH. Her Irish accent still comes across in her dialogue causing a slight distraction. Their confrontation scene is the highlight of the movie, though it was believed the two never met in person. The excuse: "No one must know that we have met together," as on queen says in confidence to another.
The film updates the feminist movement with Mary insisting that no male shall tell her or Elizabeth what to do. Mary is always shown in control, especially over her often drunken husband, Lord Darnley (Jack Lowden). The film also shows Mary not only a strong individual and queen but a determined and always correct one in her decisions. It helps that the film is directed by a woman.
Though the film contains a few battle scenes, this is not an action picture. In fact, it is a strong female film, but one of those rare films that can also be enjoyed by both sexes. In one moving scene a humble male subject confesses that he would gladly lay down his life for his queen. Mary replies that in heaven, all will be equal. Action is substituted by high royal drama, as the too queens plan the future of their Kingdoms. Queen Elizabeth is unable to bear children. If Queen Mary bears a male boy, after married to an English protestant, her son will rule that will unite both Scotland and England. But Mary is quick to point out that when they are both dead, it does not matter who rules.
The film is a handsome period piece that comes complete with stunning Scots landscape (cinematography by John Mathieson) and top royal costumes (especially the wardrobe of the two queens). Elizabeth looks sufficiently nasty with her red hair as did Glenda Jackson when she played that part in the 70's.
A brief history lesson at the end of the film explains a few facts that puts this story into historical perspective. It is mentioned that Elizabeth was the daughter of King Henry VIII and Anne Boleyn (as popularized by Charles Jarrott's film ANNE OF THE THOUSAND DAYS) who was beheaded for not bearing the King a male child. The film also goes on to reveal that Richard, the son of Mary eventually ruled England and Scotland while Queen Elizabeth continued her rue for 14 years.
Christmas season often seems a better quality of films, and MARY QUEEN OF SCOTS, that has so far garnered positive reviews, marks a solid royal drama that I have not enjoyed since Anthony Harvey's THE LION IN WINTER (the counterpart male royal drama).
It should be noted the film's inaccuracies that will mislead audiences. Historians insist that the two queens never met, were never cordial as friends and Mary never had a Scots but a French accent.
Trailer: https://www.youtube.com/watch?v=wnqjSgMU36U
MORTAL ENGINES (USA/NZ 2018) ***
Directed by Christian Rivers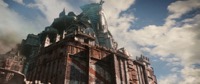 Christian Rivers (who began his career working with LORD OF THE RINGS helmer, Peter Jackson) makes his directorial debut with an expensive $100-$150 million, no-holds barred blockbuster, MORTAL ENGINES based on the young adult novel of the same by Philip Reeve.
There is a lot of background concept to take in as the film begins. The story is set in a post-apocalyptic world, ravaged by a "Sixty Minute War", which caused massive geological upheaval. To escape the earthquakes, volcanoes, and other instabilities, a Nomad leader called Nikola Quercus (known as god Nicholas Quirke by the time of the book) installed huge engines and wheels on London, and enabled it to dismantle (or eat) other cities for resources. Think Transformer cities like Studio Ghibli's HOWL'S MOVING CASTLE come to life. If you admire the mechanical special effects of the TRANSFORMER movies, the effects here will blow you away. The technology rapidly spread, and evolved into what is known as "Municipal Darwinism". Because scientific progress has almost completely halted, "Old Tech" is highly prized and recovered by scavengers and archaeologists. Europe, some of Asia, North Africa, Antarctica, and the Arctic are dominated by Traction Cities, whereas North America was so ravaged by the war that it is often identified as "the dead continent", and the rest of the world is the stronghold of the Anti-Traction League, which seeks to keep cities from moving and thus stop the intense consumption of the planet's remaining resources.
When the film begins, the predator City of London is after a small mobile mining town called Salthook, constructed to fold itself up like a hydraulic steampunk Transformer and drive away at the first sign of danger. London is a monster of a predator city compete with artifacts like St. Paul's Cathedral and The London Eye. Salthook is captured and it inhabitants consigned to low level jobs while given the basic necessities. The dystopian future offers lots of metaphors for today's Trump-era America which the script by Fran Walsh and Philippa Boyens indulges a little.
The audience is quickly introduced to the hero of the story, a rather hard-working geeky, but by no means unattractive, Tom Natsworthy (Robert Sheehan), an apprentice at the Museum of London, specializing in the technology of "the ancients" (people of the 21st century). An ancient artifact is at one point revealed humorously to be two minions. The villain of the piece is Thaddeus Valentine (Hugo Weaving), a vaguely populist authority figure with an unusual interest in collecting rusted 21st century power sources to build a special weapon in order to rule the world. Nothing will stop him including murder. His innocent daughter Katherine (Leila George) slowly learns the truth about her father after a young woman named Hester Shaw (Hera Hilmar) emerges from a crowd of refugees to kill him.
The film goes nowhere from here but continue with chases and battles culminating in the climatic battle of London vs. the good guys. A welcome breather is introduced in the form of notorious outlaw, Anna Fang (Jihae). Karen actress John has the great acting skill of providing one expression while wearing those stylish shades that survived all the battles of the world.
As MORTAL ENGINES go, it is an exceptionally well conceived CGI movie, top marks in looks and special effects. But too much of a good thing can even lead to boredom. Think the extended sequence of King Kong destroying New York City in Peter Jackson's KING KONG. One must know when to stop and tone down a little. MORTAL ENGINES is spectacular in its first 20 minutes in structure, look and story telling but at the film's 90 minute mark, one knows that the epic battle is about to take place which means another 30 minutes of film running time to trudge through.
One has to admire at least the immense and difficult effort of visualizing the dystopian YA novel on screen.
Trailer: https://www.youtube.com/watch?v=IRsFc2gguEg
THE QUAKE (Skjelvet) (Norway 2018) **
Directed by John Andreas Andersen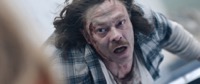 It was not too long ago, back in 2015 when director Roar Uthaug broke Norwegian box-office record with his disaster movie THE WAVE. THE WAVE to me was a disappointment after hearing all its hype before reviewing the film. THE WAVE played like a poor Hollywood blockbuster disaster movie - similar to films like TOWERING INFERNO, TWISTER, EARTHQUAKE and countless end of the world films. It was cliche ridden, predictable and unbelievable. It is bad enough when Hollywood remakes foreign films and even worse when foreign films imitate Hollywood successes.
THE QUAKE feels no different. It is touted as a sequel to TH WAVE and it is understandable why. THE QUAKE hopes to cash in on the success of the former film.
But the film has some true past fact. In 1904, an earthquake with a 5.4 magnitude on the Richter scale shook Oslo. Its epicentre was in the Oslo Rift, which runs directly through the
Norwegian capital. There are recorded quakes from the rift on a daily basis. No one can say for sure, but arguments indicate that Oslo, with its density and infrastructure, is significantly more vulnerable today than in 1904.
One plus of the film is that the film does a big benefit for the Norwegian tourism. I have visited Norway twice (the most beautiful country I have ever visited) including Oslo, the capital and the fiords. Both are presented in all its glory. There is a segment with a barge travelling along the wages between high vertical cliffs and another with shots of ultra-modern Oslo. The country begs another visit after viewing the film.
Th story for THE QUAKE takes place three years after geologist Kristian (Kristoffer Joner) saved many lives from the tsunami. Although hailed as hero in the media, Kristian
is haunted by the event. He still lives in Geiranger, a town just outside Oslo, now separated from his beloved wife (Ane Dahl Torp), daughter (Edith Haagenrud-Sande) and son (Jonas Hoff Oftebro) who relocated to Oslo. But his life is interrupted when a fellow geologist dies in the Oslofjord Tunnel. Upon investigating, Kristian is convinced (of course, and no one believes him of course) that his friend was on to something. An earthquake is about to hit Oslo – and it could kill thousands, including Kristian's family. Off goes Chicken Little to the rescue when he is proved right.
The quake begins 40 minutes to the end of the film. It should have started earlier as the film up to this point is unbearable to watch. Cliche is piled upon cliche with director Andersen stealing from Hollywood films of the disaster genre from CLOSE ENCOUNTERS OF THE THIRD KIND ( an unkempt Kristen looking just like a hazed, unkempt Richard Dreyfuss) to MINORITY REPORT (the image of Tom Cruise with the actress playing his daughter looks all to familiar). He keeps the suspense till past the film's half way mark, again a tactic already used too often in films like Hitchcock's THE BIRDS and Spielberg's JAWS.
When the disaster finally happens, it is CGI all the way (that looks at least quite real). Andersen resorts to a few violent segments (a woman being dragged from block of concrete that fallen over half her lower body) to increase the tension. From toppling skyscrapers, to shattered glass, to tilted floors that send humans sliding into space, nothings have on display have not been done before. With the the same actors playing the same family at the centre of the story, credibility has been pushed past its limit. The climax centres on these few people. Where are the rest of the city folk?
Trailer: https://www.youtube.com/watch?time_continue=8&v=T1c8KTIKD5E
SPIDER-MAN: INTO THE SPIDER-VERSE (USA 2018) ***
Directed by Bob Persichetti, Peter Ramsey, and Rodney Rothman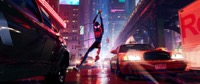 With three directors Bob Persichetti, Peter Ramsey, and Rodney Rothman and two writers, Phil Lord and Rothman (not to mention a total of 140 animators), it is of no wonder the new Spider-Man movie, an animated one at that is all over the place, a venue that anything and everything can happen at one time. Which is hard to follow. In this age of cellphone, internet and gaming technology, younger folk will be able to appreciate more of what is whizzing past on the screen that the older moviegoer. I was not too impressed. The film is produced by Phil Lord and Christopher Miller, the duo that directed the LEGO MOVIE and after that the incomprehensible LEGO spinoffs that I hated. SPIDER-MAN: INTO THE SPIDER-VERSE was initially more than 2-hours long then edited into a trim 90-minutes, the normal run ing length or an animated feature.
As if there are insufficient directors and writers, it appears that one Spider-Man is not enough. Drawing parallels from the super action hero movie GUARDIANS OF THE GALXAY, more here are needed. In fact a character runs similar to the Groot character in GUARDIANS, Peter Porker aka Spider-Ham, a cartoonish dwarfism version of Spider-Man. Peter Porker is he funniest of all the spin-off pier characters.
The premise involves Miles Morales (Shameik Moore) who becomes Spider-Man after bitten by a spider. To be racially and political accepted in films, Miles is of his Brooklyn upbringing, half-Puerto Rican and half-African-American background, and the fact that his family is still alive, with that family dynamic being central to the film's story. Spider-Man crosses a parallel universe and teams up with the Spider-Men and Spider-Woman of those dimensions to stop a threat to all reality.
The other Spider-Men in the film include Jake Johnson as Peter B. Parker (Spider-Man), Miles' reluctant mentor, a disheveled version of the heroJohn Mulaney as Peter Porker (Spider-Ham), Kimiko Glenn as Peni Parker Hailee Steinfeld as Gwen Stacy (Spider-Woman), a "free-spirited" superhero.
Nothing much else in the story but lots of animated action sequences, if one likes that sort of thing.
At least the animation is impressive. Aaron Davis, the animated Mahershala Ali character who is Miles' uncle looks almost exactly like the red actor Ali, and so do a few more characters.
If you have not had enough of Spider-Man and his cronies after this film, there is another Iive action Spider-Man opening in the near 2019. Soon there will be live action and animated Spider-Man movies running in parallel every year.
Critics have so for far praised SPIDER-MAN: INTO THE SPIDER-VERSE, which went on to be nominated for Best Animated Feature at the next Golden Globes 2019.
Trailer: https://www.youtube.com/watch?v=tg52up16eq0
SUPERGRID (Canada 2018) **
Directed by Lowell Dean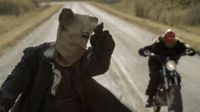 The Grid is a highway through post-apocalyptic Central Canada from the U.S. Border to the Northwest Territories. It is the setting of this futuristic dystopian film that plays like a MAD MAX FURY ROAD wannabe. The film unites the crew of the successful WOLFCOP films.
Watching SUPERGRID increases ones admiration for FURY RAOD's director Australian George Miller. The classic is hard to imitate. In SUPERGRID, unlike in Mad Max where every character is tough desperate and angry, every character in SUPERGRID just stands around trying to look tough. They carry lots of weaponry are are not afraid of using them. They spew out mean words with cussing, often threatening each other to no end.
The film cents on two estranged brothers, Jesse (Leo Fafard) and Deke (Marshall Williams) who must travel the notorious "Grid" to collect and deliver a mysterious cargo. Deke is the good-looking one while the scruffy Jesse has more anger to contend with. In the middle of the movie, Jesse's ex girlfriend shows up to help, among the situation more intense. They have failed in the past and they do not like each other. Cliche and no surprises in plotting here! The job is supposed to be their last detail. Why? No real reason is given and one knows that they will always be forced to make another one. As in the case of the story that the brothers have to survive one last run.
SUPERGRID is quite an intense and serious film for a totally escapist actioner. The script's only funny parts are Deke's one-liners and these are the most unfunny one-liners written in an action film this year. One would imagine that at least one of the two script writers T.R. McCauley and Justin Ludwig cold have come up with something remotely funny. Not only does the future look bleak, but one thing after another keeps going wrong for the brothers.
The film's production sets, containing largely of trash, broken walls and sparse landscape are convincing enough. The film aims for a MAD MAX look and the film looks it, being shot in the open sparse plains of Saskatchewan, Canada. The special effects are all right and the action sequences passable. But there are no fantastic panoramic shots of riders or car chases in the vast desert as in the MAD MAX films.
The film at least looks like a proud Canadian production, deserving of Saskatchewan fundings. It uses the landscape of Saskatchewan. The film also features the province's indigenous people in the casting
The brothers are not told what the cargo they are picking up, not that anyone cares. The brothers also encounter a lot of weird characters at the U.S. Canada border who demands sachets of water. All the apocalyptic events are vaguely explained resulting in a scenario that one can hardly be sure of.
SUPERGRID would have resulted in a better film if the filmmakers put in the same effort to connecting the audience to the story and characters as they did in creating the film's look and atmosphere.
Trailer: https://www.youtube.com/watch?v=-5XHdmQuSkk
THEY SHALL NOT GROW OLD (UK 2018) ***** TOP 10
Directed by Peter Jackson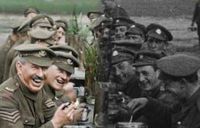 Un-reputedly the best documentary of 2018, hands down, THEY SHALL NOT GROW OLD arrives right between Remembrance Day and Christmas, an appropriate time for good cheer to celebrate the heroism of man, less we forget. The setting are the front lines, as the closing credits proudly declare - shot on location on the Western Front between 1914 and 1918 during the First World War WWI.

The film was created using original footage of World War I from the Imperial War Museums' archives, most of it previously unseen, alongside audio from BBC and IWM interviews of British servicemen who fought in the conflict. The first 30 minutes of the film is black and white, turning then into colour, with most of the footage colourised and transformed with modern production techniques, with the addition of sound effects and voice acting to be more evocative and feel closer to the soldiers' actual experiences. The film is in 3-D.

But the film is clearly not a recounting of events. The film reveals the unforgettable riveting experiences of the common soldier as seen from the eye of the common soldier, many not old enough to be recruited to fight but were passed through the enlistment lines anyway, as the British had a duty to perform. Jackson's crew reviewed 600 hours of interviews from 200 veterans, and 100 hours of original film footage to make the film. The title was inspired by the line "They shall grow not old, as we that are left grow old" from the 1914 poem "For the Fallen" by Laurence Binyon, famous for being used in the Ode of Remembrance.

The documentary captures a capsule of the great or disastrous war, depending on how one sees it, as fought in the trenches. The last British war film set in WWI trenches was JOURNEY'S END last year, that film based on a famous British play. I admired that film for reminding the world what fighting did to men but a fellow critic complained that, that film did not reveal anything new. The same argument might be applied to Peter Jackson's labour of love and duty, but the effort is a worthy cause, for human beings need to be reminded both the horrors of war and the heroism of men.

But it is not one man's or a few men's stories. It is the story of all the men as the footage covers the all the infantrymen in the front lines of the Western Front. The footage follows the young men, mostly from recruitment to training to fighting to return after the war. After the war, these heroes had their feel of redundancy as human beings being out of work in unemployment. Job signs would shamefully read: "Servicemen need not apply'. Civilians had no clue what the war was all about.

These are the words that are heard on the soundtrack at the film's beginning before the soldiers went to fight - a variety of words that emotionally describe all aspects of emotions on the war!

job that needed to be done

take it in stride

rough but did not complain

nothing really exciting

like a boy going out to play

good and bad days

I was only a kid

like a game

going to be over in a few days

Jackson then puts the viewer into the training and then right into the war. Reality sets in. The film contains vivid scenes with rats and corpses lying around. The horrid yellow colour of mustard gas can almost be tasted. The sight of young German soldiers, when they were captured, look no different that the British lads. The segment of one German soldier speaking English to his English captor, saying "I used to work as a waiter at the Savoy', moved me to tears.

The film ends with black and white credits listing all the soldiers who lent their voices to this doc. The famous WWI song "Mademoiselle from Armentieres," often sung by WWI-era soldiers is heard on he soundtrack to complete the viewer's total experience.

If there is only one film you see this year THEY SHALL NOT GROW OLD should be it. The film opens December the 17th and widely on December the 27th in Toronto!

Trailer: https://www.youtube.com/watch?v=fGaDOpKbyVA

}