US opens and should make the big bucks. THE HUMMINGBIRD PROJECT a Canadian/Belgium co-production directed by Canadian Kim Nguyen is worth a look.
BEST FILMS PLAYING:
Best Animation:
Wonder Park
Best Documentary:
They Shall Not Grow Old
Best Foreign:
Never Look Away
Best Drama:
Gloria Bell
Best Film Opening:
The Hummingbird Project
FILM REVIEWS:
THE AFTERMATH (UK/USA/Germany 2018) ***
Directed by James Kent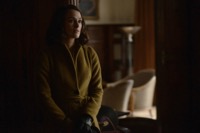 A few years ago, a sprawling war romance TESTAMENT OF YOUTH captured the heart and awed moviegoers. Its acclaimed director, James Kent has understandably been handpicked for another war themed romantic drama entitled THE AFTERMATH. THE AFTERMATH is based on the novel of the same name by Rhidian Brook. It should be noted that the novel was written after Brook's screenplay was commissioned by one of the producers, BLADE RUNNER's Ridley Scott. The script is written by Joe Shrapnel and Ana Waterhouse.
The story is set in postwar Germany in 1945. The film begins with an aerial scanning in black and white of a war torn city that is revealed to be Hamburg of 1945. It is later stated that more bombs landed in Hamburg one day than all the bombings in London.
Rachael Morgan (Keira Knightley) arrives in the ruins of Hamburg in the dead of winter, to be reunited with her husband, Lewis Morgan (Jason Clarke), a colonel charged with rebuilding the shattered city. Germans in Hamburg are angry as evident in the violent protests around the city. Many of the more determined citizens are willing to sacrifice their lives to do away with the British. But as they set off for their new home, Rachael is stunned to discover that Lewis has made an unexpected decision: they will be sharing the grand house with its previous owner, a German widower, a past architect, Stefan Lubert (Alexander Skarsgård) and his troubled daughter, Freda. It does not take genius to guess that Rachel will start a tempestuous affair with the architect. In this charged atmosphere, enmity and grief give way to passion and betrayal.
The film is clear to emphasize the differences in the attractiveness of both men, Morgan and Lubert. Morgan is ruffled, disheveled and makes frequent comments angering Rachel. Even Morgan's military uniform is not smart or pressed but wrinkled. This is compared with Lubert's attire. Lubert is always shown smartly dressed, always wearing a shirt and tie even at leisure in the house. His immaculate white sweater (who wears a white sweater to a dirty cottage in the middle of winter?) in the cottage scene looks ridiculous.
All actors carry their eclectic roles well. Knightley is British and Clarke, Australian has proven he can carry other non-Australian roles well. He was excellent as Ted Kennedy in CHAPPAQUIDDICK and is more than in apt in this role that demands more from him than required from the other actors. Swede Skarsgard has the distinguished German look and is sufficiently hunky to sweep any married woman of their feet.
The production design is worthy mention from the vehicles to the interior setting of the architect's stunning residence. The period atmosphere with cinematography by Franz Lustig is worth the film's price of admission.
Kent's film ends up as a sprawling romantic drama that could have been more effective if the film emphasized certain parts instead of playing everything with uniform importance.
Trailer: https://www.youtube.com/watch?v=FPv3e2FZOgo
ASH IS THE PUREST WHITE (China 2018) ****
Directed by Jia Zhangke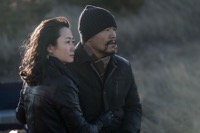 The first 15 minutes of ASH IS THE PUREST WHITE shows the difference between China and the western world. Everyone is smoking in the train that goes into the city. Smoking is still allowed everywhere in 2001, China. When Qiao arrives at a mah-jong parlour. she hits several men who tease her hard on the back. Hitting is tolerated. A debt argument in the parlour results in a firearm pulled out and pointed at the debtor. This is clearly a China or country one is unfamiliar with, which would make a good intriguing story for a film. The first half of the film is set in 2001 and the second half in 2006 after Qiao has served a 5-year jail sentence for firing an illegal gun. She did it to protect her gangster boyfriend, who leaves her when she gets out of jail.
The story follows Qiao, a strong willed woman who survives the changing environment of cultural progress and her relationship changes. Qiao never break down. The film begins in Shanxi, a dying coal town, where Qiao, a modern, feisty local beauty spends her time with her boyfriend, Guo Bin, a local gang boss. Qiao takes care of her father, who insists on fighting for the coal workers' rights, although in an embarrassing fashion. Qiao is not Bin's woman, as she carries herself as an equal among gangsters. When a group of young thugs starts making noise in the town, the clash with Bin's gang is inevitable, and in the film's most violent scene, Qiao ends up saving her boyfriend by shooting a gun, in a series of events that lead her to prison.
Five years later, and during the fourth phase in the evacuation of the Three Gorges Dam Project area, Qiao is released and tries to reconnect with Bin, who is is avoiding her.
ASH is a female dominated picture. The protagonist, Qiao is a survivor. When she is robbed, she pursues and cares her thief and retrieves the stolen I.D. and money. When sex affronted by a motorcyclist, she steals his bike. The film is told from Qiao's point of view.
Jia's sprawling film can hardly be classified as a particular type of genre. It is a character study while the protagonist undergoes changes in her life as society progresses as well. New cities have sprung up and adapting is difficult. Jia's shows that one cannot always control destiny. Qiao and Bin begins as a decent couple, not overtly loving but not in an abusive relationship either. Bin's gangster connections lead him to trouble. One can see and pity Qiao. She loves him and sacrifices 5 years of her life for the man she loves, spending it in prison and still helping him along when Bin loses everything while becoming a cripple. One can see Bin's bitterness. Bin also cheats on Qiao with another woman. "I don't hate you. I do not have any feelings for you," Qiao tells Bin at the end.
The film's message is revealed during early in the film. Bin tells Qiao, "Enjoy the moment."
Jia's film is never short of surprises. The surprises propel the narrative and are not without reason. One of these involves Qiao on a train where she meets, by chance a loud man trying to recruit others for his UFO-tourism company. "Yes, I have seen one." Qiao quips.
ASH IS THE PUREST WHITE is a moving story, one so deep in emotional content that it should keep audiences fully glued to the characters and the story.
Trailer: https://www.youtube.com/watch?v=SOCpXuHQAZQ
THE HUMMINGBIRD PROJECT (Canada/Belgium 2018) ****
Directed by Kim Nguyen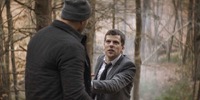 Canadian Kim Nguyen (EYE ON JULIET, WAR WITCH) directs his most commercial film to date based on a script he wrote.
The film is about THE HUMMINGBIRD PROJECT. This project will enable one of the characters, a bespectacled nerdy telecommunications fibre genius named Anton (the hardly recognizable Alexander Skarsgard) to earn millions in order to purchase a cottage in which hummingbirds abound and sing. It also refers to the saving in timing provided by the fibre which is equivalent to a fraction of the flapping of the hummingbird wing.
Young entrepreneur, Vincent Zaleski (Jesse Eisenberg) dreams of making millions by saving a millisecond of communication speed by building a direct fibre link involving drilling under ground beneath personal residential property as well as protected natural parks. He succeeds in getting finance. He just has to make it happen This is what the film is all about - capitalism, done is a clever, entertaining and largely humorous way. Vincent gets the aide of a telecommunications genius, his cousin Anyone (Alexandre Skarsgard) and buddy, Mark Vega (Michael Mando) to do the project. The villain of the piece is Anton's former employer, Eva Torres (Salma Hayek). Vincent had to have Anton quit his job and Eva Torres is furious and killing to sabotage the project. Another complication arises - Vincent is diagnosed with stomach cancer and requires immediate treatment. All this craziness ceases more mayhem or vine and everyone.
The film's best segment captures Trump's white racist American to a 'T'. In the scene, the Eisenberg character and his driller approach the owner of a house whose property they need to drill under. The driller, clearly of some non-white background asks the owner permission, who then asks the driller where he is from. When the driller says he is American, he is questioned again where he came from before arriving in America. Eisenberg steps in, saying, clearly white American saying he is proudly American and explains, in sweet talk how the drilling would financially benefit the owner. "You have this all on paper?" A contract is immediately pulled out. Similarly, Trump has fooled his whole America and promised benefits if he gets the vote, and he succeeded. If you are offended by what is written, you are likely one of these people. Hopefully, you are able to appreciate a little self-conscious humour.
Eisenberg reprises his sweet taking millions of words a minute sweet talking role he had in THE SOCAL NETWORK. He is not able to convince the people in the film to accept what he says but also able to have the audience on his side rooting fro hi character.
THE HUMMINGBIRD PROJECT, which premiered at last year's Toronto International Film Festival to general favourable reviews. What is also impressive is the turn the story takes towards the end where the project turns into complete mayhem (beautifully created) and then everything closes in compete synchronicity with nature.
Trailer: https://www.youtube.com/watch?v=3-IlhKbakFA
THE MUSTANG (France/Belgium/USA 2017) ****
Directed by Laure de Clermont-Tonnerre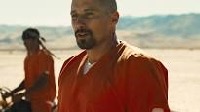 Credited as a 2019 American-French-Belgian production, the film's end credits list 2017 as the year of production. Regardless, THE MUSTANG is a pretty solid dramatic film and a textbook example of how following formula can still work to create an excellent film.
THE MUSTANG is basically a film about a boy and his horsie which in this case is really about a wild horsie and a wild boy. As these stories go, the wild can never be tamed and has to be set free. The horse teaches the boy in his case a man or rather tames him as he tames the horse and as expected the horse is awarded his freedom.
The film begins with the rounding up of wild horses in the U.S.'s west. The segment emphasizes the open spaces and the wild animals having their freedom taken away. The scene is contrasted by a prison interview in establishing the character of the film's protagonist. The man is an unrepentant and violent convict named Coleman Roman (played by Belgium actor Matthias Schoenaerts). In an interview with his worker, he loses it while claiming the understatement that he has a problem of not getting along with people when asked whether he values his freedom. He is reluctantly and accidentally put into a program (called the wild horse inmates program in some states in the U.S.) where convicts train and tame wild horses to be later auctioned. The man in charge of the program is Myles (Bruce Dern) a cynical but not necessarily a good man. Myles knows and loves horses.
The serious nature of the film's subject does not mean the film is without humour. When Roman has a surprise visit from a young woman, he sits at the wrong table with another young lady. A plaque of Myles reads: "If my horse doesn't like you, I won't either".
The film benefits immensely from two outstanding Academy Award worthy performances by Schoenaerts and Dern. Dern, who has been nominated many times might see his first win. Schoenaerts is also extremely good and carries the film but the Academy is not one to give an unfamiliar name especially a non-American the award.
Besides Roman's violent nature, the script which was co-written by the director with Mona Fastvold and Brock Norman Brock subtly reveals the sensitive side of the violent Roman with one scene showing him breaking down with tears and another of him showing loyalty to his co-trainer. The film is able to connect the audience with the material, so important in any movie. The film keeps key plot points from the audience revealing them as necessary thus heightening the audience anticipation factor. Who the young lady visitor is and what crime Roman committed are only revealed later on in the film.
But the film's absolute prize and delight lie in the film's surprise closing and extremely moving shot.
To emphasize the authenticity of the film's story, the end credits show images of convicts and their horses: Dan and Pete, Jason and Jessie, Luis and Smokey among others.
THE MUSTANG is a well-made film in all departments, entertaining at the same time and garnishing a 100% approval rating on Rotten Tomatoes at the time of writing. The film was obviously made with great pride and respect for horses, and it is executively produced by Robert Redford famous for a related film, THE HORSE WHISPERER.