AVENGERS ENDGAME will still be drawing in the crowds this week depsite a few new films opening.
BEST FILMS PLAYING:
Best Animation:
Wonder Park
Best Comedy:
Long Shot

Best Foreign:
Never Look Away
Best Action:
Avengers Endgame
Best Drama:
High Life
FILM REVIEWS:
HAIL SATAN? (USA 2019) ***
Directed by Penny Lane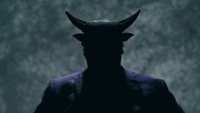 In the middle of the new doc HAIL SATAN?, a member of the Satanic Temple tells the audiences that a lot of people appear disappointed when told what the Satanic Temple is all about. Despite its name, it does not worship the devil or burn human flesh or indulge in sex but is an alternate religion that challenges Christianity as an American religion. Similarly, those who go to see HAIL SATAN? might be disappointed that this doc is a mild doc that dos not expose any controversial devil worship.
Penny Lane's (OUR NIXON, NUTS!) HAIL SATAN? is an entertaining eye-opening (and yes, noncontroversial and mild) documentary that traces the rise of The Satanic Temple (TST), one of most colourful religious movements in American history. Under enigmatic leader Lucien Greaves and headquartered in Salem, MA, TST is calling for a Satanic revolution to save the nation's soul.
As the doc reveals, these Satanists are not what one might expect. They fight for individual rights. They fit against tyranny. They do favour hoods, the colour black, horns and shock tactics. But they also aim to take the "evil" out of devil, challenging authority to ensure that America remains secular. Their target - Christianity.
Director lane uses the first half of the doc to extol TST's virtues. Their beginnings go back to 2013 when they rallied to fight Florida Governor Rick Scott's push to allow prayer in public schools. Why? Because the United States is not a Christian nation, so inviting God into the classroom would require schools to do the same for Satan. But it was their 2015 win that put them on the map. They forced the removal of the Ten Commandments monument from Oklahoma government property by petitioning to erect a statue of goat-headed Baphomet beside it. Garnering international attention, TST membership grew from three to 100,000 in just three years with chapters worldwide. Hey, I myself would join the membership. Also on their agenda are a Pink Mass, a Black Mass, an after-school Satan club and a "Menstruatin' With Satan" drive for sanitary products for shelters. And when they help pick up litter, it's with a pitch fork.
Lane includes excerpts from classic films involving dvil worship including ROSEMARY'S BABY.
Lane's film fails to expose the 'bad's of the TST. The only incident where the legitimacy of the TST is challenged is when the film records Gov Scott's anger at Lucien Greaves. Scott says even Lucien's name is false. But the TST's expansion also brings internal woes. Greaves cuts ties with the Detroit chapter leader after she calls for a presidential assassination in one of her speeches. Greaves maintains that such acts are not in line with the temple's beliefs.
The film contains extensive interviews wth Greaves, who in real life has one eye, looking rather demonic. But the doc reveals him as a decent film, rather smart and entrepreneurial and able to tackle and challenge bullying institutions.
The film uses the TST's fight to be able to put up its own monument the Baphomet Statue, as its climax, so that the film would end with a rousing happy ending.
Lane's film ends ups a satisfying noncontroversial eye-opening doc about the Satanic Temple proving that there are always good people around despite what they call themselves.
Trailer: https://www.youtube.com/watch?v=27RtJp-rhHk
THE INTRUDER (USA 2019) **
Directed by Deon Taylor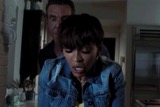 THE INTRUDER is a slasher flick advertised as a psychological thriller featuring no real surprises, about a couple having to survive an intruder to their new home. As far as intruder movies go, it is a well-worn genre done in one form or other. The best ones are the two FUNNY GAMES, both directed by Michale Haneke, the Austrian and Hollywood versions.
THE INTRUDER sees a handsome looking black couple, Scott Howard (Michael Ealy) and the missus, Annie (Meagan Good) purchasing their dream home in the wine Napa Valley. They leave city life for the wine region. But they do not get what they dream of. Instead of a funny and entertaining GREEN ACRES, the scenario turns out to be a campy horror INTRUDER in which director Taylor accomplishes a few good turns but ends up churning out a run-of-the-mill boring slasher film.
There are two kind of black films. One shows the hardship of the African Americans like IF BEALE STREET COULD TALK, MOONLIGHT or 7 YEARS A SLAVE. The others are these unrealistic fairy tales, especially the romantic comedies and this one that show the blacks as rich, wealthy and beautiful people. They often work in advertising agencies or some executive position with white people as their lackeys.
The married couple move into a gorgeous mansion that has been carefully kept for generations by its owner Charlie Peck (Dennis Quaid). After selling the house Peck keeps showing up unannounced, much to the chagrin of Scott, though the wife does not mind the extra help Peck offers. Peck is supposed to leave to live with his daughter but that date never realizes.
It soon becomes apparent that Peck has the hots for Annie. When Scott gets aggressive with Peck, Peck runs him off the road while jogging.
The careless script is glaringly full of loopholes. When Scott is in hospital, he asks his world buddy and colleague, Mike (Joseph Sikora) to run a background on Peck. That very night, Mike has got all the back information on Peck, way too soon and way to convenient before Peck starts terrorizing Annie.
The only interesting character in the film is Mike, the white friend of the couple, who the audience is sure of will come to a grisly and violent death. Mike is conveniently freaked out by a domineering Peck, making up the film's queaziest scene.
The otherwise unimpressive film film benefits from Wilson's occasional inspired direction and Quaid's campiness. One such example is the scene that suddenly lights up that reveals Quaid crouched up and ready to pounce on the unsuspecting victim. A few other good camera angles achieve a few surprise jolts as well. Dennis Quaid, a handsome bulked up actor now shows signs of his age though still possessing a body to be envious for. Quaid hams it up, giving the film some camp and wicked humour needed to lift the film out of the doldrums. One scene has her licking his victim's body using his tongue to file her while she is passed out.
The audience at the promo screening appear to be enjoying the movie, though laughing too much for a horror film.
Trailer: https://www.youtube.com/watch?v=1K7y0zsuPic
JT LEROY (USA/UK/Canada 2018) **
Directed by Justin Kelly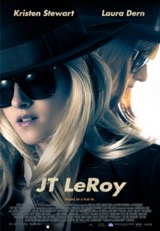 The film opens with Savannah (Kristen Stewart) being fetched from the airport by her brother-in-law. Slowly but surely the film introduces its characters including Laura Albert.
Laura Albert (Laura Dern) writes tough, insightful fiction under a pseudonym, JT LeRoy. The full name of the pseudonym is Jeremy Terminator Leroy, which incidentally is also the original title of the film that served as the Closing Night Gala last last year's Toronto International Film Festival.
JT is not just a pen name but a whole persona, a teenage boy from West Virginia living a dangerous life as a truck stop sex worker. Laura was born in Brooklyn a generation earlier, and grew up in New York's punk scene. Writing books such as The Heart is Deceitful Above All Things as JT gives her complete freedom to explore the darker regions of human experience. Readers and the media apparently love it so much that they begin to demand JT in person.
As journalists press for interviews with JT, turmoil mounts with Laura's husband Geoffrey (Jim Sturgess) and sister-in-law Savannah (Kristen Stewart). Partly from desperation, partly for kicks, they conspire to have Savannah don a wig and sunglasses, adjust her voice, and become the teenage boy author.
This is supposed to be inspired by a true story that is satin San Francisco in 2001. Despite everything being based on a true story, Kelly's film is extremely dull. He makes no attempt to make the events authentic or to make Savannah believable as JT. Whenever she appears as JT, she mumbles all along and the media and everyone takes it in from Cannes to Paris to the U.S.
Laura Dern (daughter of Bruce Dern) has proved herself an excellent actress in films like BLUE VELVET and CITIZEN RUTH. She appears in this film as a free spirited bohemian author filling everyone and forcing her sister and husband to do what she wants. Her character (and therefore her) is extremely annoying. The last straw is when Laura pretends to be an obnoxious Brit, complete with outrageous British accent. As expected, all these things lead nowhere. Stewart, spotting short hair looking like a lesbian that she really is in life goes through the film mumbling and trying to look cool. Jim Sturges is wasted as Laura's husband.
Worst of all is the pretentious bit at the film's end where Laura preaches to the audience that everyone has to be the person he or she is.
There is nothing really wrong with the film JT LEROY. But if you would not mind spending 2 hours in a theatre watching annoying characters doing annoying things trying to be cool when in fact they are not, then this film might be for you.
Trailer: https://www.youtube.com/watch?v=DC-6gwt822M&feature=youtu.be
LONG SHOT (USA 2019) ***1/2
Directed by Jonathan Levine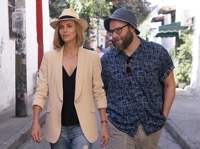 The words LONG SHOT could refer to either the Seth Rogen or Charlize Theron character in the film. Fred Flarsky (Rogen) is a chubby, out of work and untidy journalist who is in love with a beautiful President hopeful, Charlotte Field (Theron). They are equally long shots if he gets the girl or she gets the Presidency. But no guesses whether each attain their aims by the last reel.
British comedian and talk show host, James Corden recently complained in the media that chubby actors are never cast in romantic films. Seth Rogen proves Corden wrong once agin with his latest romantic comedy LONG SHOT as well as his previous films like NEIGHBORS and KNOCKED UP. It is indeed refreshing not to see the typical romantic comedy where the couple are both model good-looking.
It all starts with a very young pre-teen Fred in the kitchen with his then babysitter Charlotte. When they have a hug, Fred gets a super hard-on with his little dick that Charlotte notices, before Charlotte's boyfriend breaks in and laughs at it. At a chance meeting at a party that Fred attends after losing his journalist job, he recognized her. She now holds the prestigious position of U.S. Secretary of State. She hires him to be her writer as she campaigns to be the first female President of the United States.
When the film opens, the audience sees Fred Flarsky doing his thing as a journalist undercover infiltrating a pro-Nazi organization of some sort. To prove his loyalty, he agrees to get a swastika tattoo but the members discover Flarsky's identity. Fred escapes by jumping through the window from a floor severals storeys high in one of the film's funniest moments. Rogen proves once again his excellent timing for comedy and often wild ones at that. Director Levine has directed Rogen in another outrageous comedy before - THE NIGHT BEFORE.
Despite its outrageousness, the film tackles key issues like the environment and political correctness. Field is fire up with her will to protect the environment while the crooked U.S. President (Bob Odenkirk).
The apt cast aids the comedy. O'Shea Jackson Jr. plays Lance, Fred's best buddy who does not always have the best advice. Jackson Jr. looks very much like his father Ice Cube in his mannerisms though not as bitingly funny. Alexander Skargard is hilarious as the Canadian Prime Minster, again as unrecognizable as he was in his last role in THE HUMMINGBIRD PROJECT. Lisa Kudrow has a tiny role at the start and one wishes there would have been more of her. But it is Rogen and Theron that are the key comedy players, and they provide solid laughs. Rogen can make any scene funny as witnessed in the first neo-Nazi group segment.
The film clocks around 2 hours, longer than the typical comedy. The film goes on beyond the climax. LONG SHOT could be shortened and made tighter but the isolated incidents of comedy just coincidental to the main plot are still as hilarious.
Trailer: https://www.youtube.com/watch?v=S5jiaHvx-kY
RED JOAN (UK 2018) **
Directed by Trevor Nunn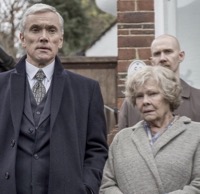 RED JOAN (based on the real life Melita Norwood) is inspired by true events, but what is true and what is fictionalized are never made clear in the movie. The fact allows the script by Lindsay Shapiro to take certain liberties with the story. The romantic element is strengthened as well as the main character's reasoning for her actions. "No other atomic bombs have been dropped, have they?" Red Joan insists, implying her spying allowed two countries to be able to scare each other instead of using the bomb if only one country had one. This again is a one-sided argument subject to debate.
The film opens in the year 2000 where an unsuspecting Joan Stanley (Dench), then living a quiet retirement in suburban London is arrested by MI5. She is charged with treason as being a spy leaking atomic secrets to the Russians.
The story flashbacks into the past with a teenage Joan attending Cambridge University. Her chance meeting with a communist (Tereza Srnova) leads her to meet her cousin Leo (Tom Hughes). Leo and Joan begin an affair till he asks her for atomic secrets. Joan has a first class degree in Physics which gives her employment and contact with her lab mentor, Max Davis (Stephen Campbell Moore) who designs the atomic bomb. Joan also has an affair with the then married Max. Torn between her love for Leo (who wants her to betray the project's secrets) and her growing love for her lab mentor (Stephen Campbell Moore), Joan must make a decision of what she thinks is right for her country.
The script and film put Joan on a high pedestal of doing what is right. Even her lawyer son is on her side, defending her at the end, though it is thoroughly unconvincingly why he has changed his mind as he had initially spurned his mother's act. "Is anything you ever told me ever true?" he questions her at one point. The answer to an important question is also left out. A reporter asks Joan on the day of her arrest, "How much did the Russians pay you?" She as the film does deliberately ignore the question. It is apparent that the film wants the audience to take her side, which is a difficult task to achieve, given that she has allegedly continued to spy for at least 40 years.
The two important questions left unanswered are whether she received monetary gain for her deed and whether she had leaked other information besides the atomic bomb, which makes her argument false. The fact that the government never prosecuted her due to her old age of 90, (she passed away a few years after) means the truth never fully came out.
Dench has done this kind of role before - that of an old lady where her past catches up on her, as in Stephen Frear's PHILOMENA, the much better film. Both films also featured a different actress to play the younger Dench character, as Sophie Cookson plays, who does a fair job at that. But Dench does not get to do much here but to sulk and look guilty. Dench performs better when she plays a headstrong character as in PHILOMENA or as M in the James Bond films.
RED JOAN is a muddled romantic espionage story based on true events that leads nowhere.
Trailer: https://www.youtube.com/watch?v=gkecgBW-Y80
UGLYDOLLS (China/Canada/USA 2019) ***
Directed by Kelly Asbury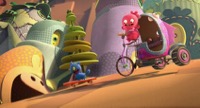 UGLYDOLLS (one word) is an animated adventure in which the free-spirited UglyDolls confront what it means to be different, struggling with a desire to be loved, and ultimately discovering who they truly are and what matters most. It is not a new concept. Beauty is from the within and not in eternal appearances. Films like I FEEL PRETTY, TROLLS and now UGLY DOLLS stress the importance of internal beauty and to celebrate the idea of being different.
The film begins with a scene from the insides of a doll manufacturing facility. The rejected dolls, damaged, for example with one eye, are picked out. These UglyDolls live in a city called Uglyville while the perfect dolls live in their perfect world. The protagonist is Moxy (Kelly Clarkson) an ugly female doll. Her dream is to be adopted by a human child in the big world.
In animated features, the aim of the story is often to save the world or the world the characters are living in. In UGLYDOLLS, the aim is Moxy's dream come true. And it does not take an intelligent child to guess the outcome of the film.
Though the film starts off rather oddly with all the Chinese banners as the film is a Chinese co-production, ULGYDOLLS is the love child of both Kelly Clarkson and Pitbull who have reported put in quiet a lot into the film. Both have contributed their music and with Clarkson a few of the original songs. The film clearly contains one too many songs, which often sound identical. The best musical number is performed by Lou (voiced and sung by Nick Jonas), the super good looking perfect doll in Perfectland) with super cool animated dance moves that demand to be imitated by the youngsters. Unfortunately Lou is a nasty dictator hiding behind the blond hair and good looks.
The Moxy character is surrounded by her assortment of friends, the most notable voiced by comedienne Wanda Sykes and singer Pitbull. Like Moxy, these are all cardboard characters that are not given much to do but crack the occasional side joke. The only interesting and different character in the movie is Mamdy, one of the perfect dolls who is not really that perfect as she has imperfect eyes that are hidden behind huge classes. She shows that pretty dolls need not be mean dolls. She becomes Moxy's friend. They end up helping each other out. The characters in ULGLYDOLLS are silly rather than goofy. Silly means toned down and less funny than goofy.
UGYDOLLS is not truly original. The film follows other animated successes like TROLLS (also featuring ugly characters), TOY STORY and even the LEGO MOVIE (with a song paralleling 'Everything is Awesome' sung by Moxy when she gets up in the morning that runs a positive fresh outlook for the day.
UGLYDOLLS is not that bad a film, though obviously catered to younger children who will laugh at anything, even unfunny stuff on screen.