Two new Hollywood films JOHN WICK 3 and A DOG'S JOURNEY make their debut. But the English historical epic by Mike Leigh WATERLOO is the one not to miss.
BEST FILMS PLAYING:
Best Doc:
Meeting Gorbachev
Best Comedy:
Booksmart

Best Foreign:
Never Look Away
Best Action:
Avengers Endgame
Best Drama:
The White Crow
Best Film Opening:
Waterloo
FILM REVIEWS:
ANIARA (Sweden 2018) ***
Directed by Pella Kågerman and Hugo Lilja
This is a sci-fi disaster film based on a prescient epic poem by Swedish Nobel Prize winner Harry Martinson that could very well be a based on true fact event set in the not too far distant future. A ship carrying settlers to Mars is knocked off course, causing the consumption-obsessed passengers to consider their place in the universe. ANIARA is the name of one of several ships launched into space to start anew on Mars. ANIARA is also a giant shopping mall, but once the accident occurs, no one knows when they will go back on course towards Mars. The film tracks the time period of the time of the accident, a few weeks after, then a few months after followed by years after. The settlers get addicted to a room where the protagonist (Emilie Jonsson) runs a computer that can recall their best memories (nods to Kore-eda's AFTER LIFE). The premise is excellent coupled with great production sets but the film's narrative stays dead ended.
FILM REVIEWS:
ANIARA (Sweden 2018) ***
Directed by Pella Kågerman and Hugo Lilja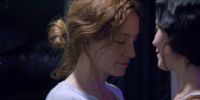 This is a sci-fi disaster film based on a prescient epic poem by Swedish Nobel Prize winner Harry Martinson that could very well be a based on true fact event set in the not too far distant future. A ship carrying settlers to Mars is knocked off course, causing the consumption-obsessed passengers to consider their place in the universe. ANIARA is the name of one of several ships launched into space to start anew on Mars. ANIARA is also a giant shopping mall, but once the accident occurs, no one knows when they will go back on course towards Mars. The film tracks the time period of the time of the accident, a few weeks after, then a few months after followed by years after. The settlers get addicted to a room where the protagonist (Emilie Jonsson) runs a computer that can recall their best memories (nods to Kore-eda's AFTER LIFE). The premise is excellent coupled with great production sets but the film's narrative stays dead ended.
ASK DR. RUTH (USA 2018) ***
Directed by Ryan White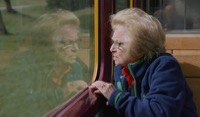 Dr. Ruth Westheimer seems to be the perfect subject of a documentary. Dr. Ruth was famous as a sex therapist, a TV personality and an American icon. She has a good sense of humour and is a good sport. She is still alive and healthy enough to provide candid interviews in this doc on her life. She also has a colourful past the makes the doc more personal as well.
Ryan White's (THE KEEPERS, THE CASE AGAINST 8) Ask Dr. Ruth traces the incredible life of Dr. Ruth Westheimer, a Holocaust survivor who became America's most famous sex therapist. With her diminutive frame, thick German accent and uninhibited approach, Dr. Ruth transformed the conversation around sexuality. As she approaches her 90th birthday and shows no signs of slowing down, Dr. Ruth revisits her painful past and her path to a career at the forefront of the sexual revolution.
Ryan's film covers all the details following Dr. Ruth as she travels from New York (where she's lived in the same apartment for 54 years) to Switzerland (where she was sent to a Jewish orphanage at age 10 from her native Germany, never to see her parents again) to Israel (where she trained as a sniper). Two highlights will bring tears to viewers' eyes. (1) A sweet meet up with her childhood boyfriend. (2) The discovery of her parents' fate.
Dr. Ruth's childhood is recalled through her own diaries, with storybook animation (as opposed to clumsy re-enactments) filling in the gaps. The film also shows lively excerpts from her hit radio show Sexually Speaking and her TV appearances with the likes of Arsenio Hall and Johnny Carson. "Is it all right to make noise while having sex?" asks one man to Dr. Ruth in one of her open sessions. "Only of you do not wake up the wife," she answers. Her shows are always humorous if not insightful - sex-wise.
After two early marriages, Dr. Ruth's third – to her beloved Manfred Westheimer – lasted for over 35 years until his death in 1997. The day he died is the only time their daughter ever saw her mother cry. The film includes interviews with her grown up children.
But why has Dr. Ruth done wrong? Nobody is perfect. The only instance White looks at the other side of Dr. Ruth is when he interviews an expert psychologist who claims Dr. Ruth is impulsive and should study more of her patients before dishing out advice. Dr. Ruth claims tat she has helped countless people overcome their sex problems when they never before dared to talk about the subject of sex. True, she also became a champion for causes like homosexuality, fighting to educate AIDs in a time that nobody dared to speak up.
White has assembled quite the exhaustive footage on his subject resulting in an informative and entertaining documentary. The film premiere at Hot Docs to favourable reviews.
Trailer: https://www.youtube.com/watch?v=CTLwBeyjPWI
THE BIGGEST LITTLE FARM (USA 2018) ***1/2
Directed by John Chester
THE BIGGEST LITTLE FARM traces the difficult life of a couple as they leave city life to establish a farm that are and grew.
As the song in the famous TV series goes: "Green Acres is the place to be; farm living is the life for me; land spread out so far and wide; Goodbye Manhattan just give me that countryside."
These are the words pretty much in the minds of the couple, John and Molly. They attribute the change from city to farm life to their barking black dog who cannot keep quiet when left alone. The only option, besides putting it down is to move to a farm. They settle on one an hour north of Lo Angeles, which they fondly name Apricot Farm.
John the subject is also an Emmy Award winning director. In the doc, they establish
that like the comedy Green Acres, everything can also go wrong from the wild California fires to drought and flooding but they always somehow get back on their feet. One must give the couple top credit for perseverance.
The film preaches the natural order of things - how the eco-cycle should not be broken. There is a sad scene of a coyote being shot at one point in the film with John's voiceover lamenting the deed. John is sad at what he had done. He had sworn it would never have come to any sort of killing. But John reveals eventually how nature performs her miracles. The ducks devour the snails that were destroying the crop; the coyotes eat up the gophers that were eating the face crops and at one point, the coyote population was diminished due to lack of food, thus increasing the gopher population (poor cute creatures) that were again taken down by snakes,
The film turns too preachy at the end even telling the audience to go to the website to continue their story. But at least the message is worthy enough that the preachiness be overlooked.
THE BIGGEST LITTLE FARM is a crowd pleasing documentary. The film premiered at the Telluride Film Festival. It had its second screening at the 2018 Toronto International Film Festival, where it was named second runner-up for the People's Choice Award: Documentaries.
Trailer: https://www.youtube.com/watch?v=UfDTM4JxHl8
CITY DREAMERS (USA/Canada 2018) ***
Directed by Joseph Hillel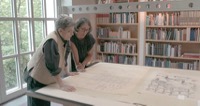 CITY DREAMERS is a small little documentary that opens in the equally little cinema complex, the Carlton Cinemas for a limited run. The doc would appeal to a smaller audience as well, not to the masses. The target audience in this case, would be architects and city planners, more particularly female ones at that.
The film celebrates women, inspirational women who have done their fair share of changing the world through their work and city landscapes. Hillel's doc is one of information and insight. Hillel's doc focuses on four women architects from different cities. One of them (when interviewed) prefers to use the word aspirations instead of dreams, as what is eventually designed and constructed has to be real and effective not just an unrealistic dream.
The film's four featured female architects from different backgrounds are:
Phyllis Lambert
Cornelia Hahn Oberlander
Denise Scott Brown and
Blanche Lemco van Ginkel
Phyllis Lambert (who when interviewed speaks in French), who hails from Montreal, Canada has spent most of her career as a city planner advocating for the preservation of historic properties. She talks of Old Montreal when it consisted of burnt out buildings. She also aided in the preservation of old historic buildings and the founding of the heritage society that prevented developers from tearing down beautiful old architecture. The plan of the expressway were also diverted and redone. These are illustrated by looking at the old and new locations of the expressway on architectural blueprints.
Vancouver landscape specialist Cornelia Hahn Oberlander, in contrast, designs elaborate green spaces, which are now vanishing thanks to cities building upward instead of outward. She talks of the need of parks to complement housing.
In the United States, Philadelphia, Denise Scott Brown talks about Philadelphia's notably black and low income South Street. There are images of these poorer and dilapidated buildings. Yet these people fight against change. The government at the time was afraid of ensuing riots if their buildings were torn down.
Lastly, Blanche Lemco van Ginkel was one of the first female professors of architecture and engineering in the world, and her world renowned firm was committed to creating sustainable, pedestrian friendly environments since 1957.
Each is given equal importance and screen time. These women talk about their aspirations, their work and what moved them in their respective careers. One could also see that these architects, now in their senior years, have completed so much in their lifetimes. They have entered University at a time when females were generally left out of higher education. They did marry and also talk about their husbands and their influences. At the time blueprints are literally blue prints, prints on blue paper.
A lot of the doc contains archive footage and home movies provided by the subjects. The subjects are also interviewed and they speak candidly on camera.
What is lacking in Hillel's doc is a clearer narrative and to have some direction as to where the doc is heading. As such, CITY DREAMERS seem loosely strung together, in a way that any order of the presentations of the subjects would not have made any difference. The positive side of this is that he lets the women tell their stories in an unobstructed way.
Trailer: https://www.youtube.com/watch?v=qwWxKhVo8j0
A DOG'S JOURNEY (USA 2019) **
Directed by Gail Macuso
How many dog movies can Swede filmmaker Lasse Hallstrom make in his career? Ever since his claim to fame with his MY LIFE AS A DOG (English translation of its Swedish title), he championed A DOG'S PURPOSE in 1977 and now its sequel A DOG'S JOURNEY.
A DOG'S JOURNEY requires all credibility be thrown to the wind. Even its lead character, C.J. tells her friend Trent near the end of the story that the dog story is impossible to believe. One has to believe that:
dogs can be reincarnated from one canine to another right after death

this particularly canine has found and protected its mistress C.J. in 4 different coincidental cases

dogs can sniff and identify cancer in human beings

dogs can sniff and find someone miles away

that people will love this dog movie no matter how ridiculous the plot may be
The film continues in the spirit of the faithful translation of author W Bruce Cameron's original concept of dogs delivering humorous voiceover narration (here the voice of Josh Gad) that surprisingly got the majority of laughs at the promo-screening I attended. But the dialogue is amusing and I found myself chuckling at best. It is at least more respectable than the poo (or rather dog poo) jokes that abound throughout the film.
The film opens Ethan Montgomery (Dennis Quaid) farming his land with his faithful blubbering pooch, Bailey. Bailey does tricks, is huge and cuddly and the kind of dog that is impossible to dislike. Well almost. The widowed daughter-in-law, Gloria (Betty Gilpin), who is staying with Ethan and Hannah, Ethan's wife (Marg Helgenberger) thinks Bailey dirty. Gloria has a child, Clarity June (C.J.) (Kathryn Prescott). One day, as a result of an argument, Gloria leaves Ethan and Hannah taking C.J with her. Bailey dies vowing to find C.J. to look after her in the next life. The next life, C.J. grows up and owns Molly, Bailey's reincarnation, And the story or the dog's journey continues.
The dog lives a total of 4 different lives in total, from Bailey to Molly, Max and Toby. Molly the hound is the most adorable while the happy Toby the most spoilt and annoying. C.J. grows from toddler to child to teen in the process while Ethan grows old with the faithful reincarnated Bailey by his side. C.J. is played by n less than three different actresses.
As a family doggie movie, A DOG'S JOURNEY, written by no less than 4 authors, delivers and turns out exactly what fans of the original DOG's PURPOSE is looking for. A DOG'S JOURNEY is best looked as a doggie fairytale, very corny and very sentimental (imagine a doggie heaven, as implied at the end of the film). The best thing about the film, is understandably the trained dogs on display. Dog lovers are advised to bring lots of Kleenex.
Trailer: https://www.youtube.com/watch?v=A2FrrSyyKfA
JOHN WICK: CHAPTER 3 - PARABELLUM (USA 2019) **
Directed by Chad Stahelski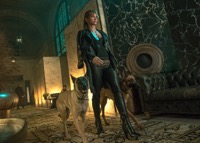 Keanu Reeves as John Wick is back - uglier and unshaven as ever. In trouble as ever. And the film is bloodier and violent as ever - it obeying the rules (not like Wick in the Continental hotel) of being bigger and louder a sequel than the original. But not necessarily for the better. The film proves that there can be too much of a good thing - arguably if one wants to count action set pieces as a good thing.
The word Parabellum in the film title mens 'prepare for war' though it is arguable that all the assassins in the world vs. John Wick can be defined as one .
Chad Stahelski who also directed the original returns to the director's chair in the third instalment of the franchise offering more action and violence as the first two John Wick films. The film is all action based on a loose story line that surprisingly took four screenwriters, Derek Kolstad, Shay Hatten, Chris Collins, and Marc Abram to pen.
The most interesting aspect of the first JOHN WICK1984 film is the Continental Hotel. As every John Wick fan knows, no one can do away with anyone there - as it a place of solace and amnesty that every criminal or cop has to adhere to. John Wick broke the rule. As a result he finds himself on the run for a host of assassins all out to kill Wick to earn the huge bounty of $14 million put on his head. Being declared as excommunicado after killing D'Antonio on Continental grounds, the chances of survival have never been thinner for Wick. With the aid of old allies, John seeks to turn the tide.
A subplot involves the head and owner of the Continental, Winston (Ian McShane) forced to step down but refuses who also helps Wick by giving him blood markers, whatever that means.
The film was shot in exotic locations like Morocco, Montreal and New York City. The soundtrack by Tyler Bates who is good for putting lots o signs together in a soundtrack is a winner.
Besides Reeves, other actors in the franchise like Halle Berry as Sofia another assassin but close friend, Laurence Fishburne and Lance Reddick as Charron the continental concierge reprise their roles.
The film is excessively violent. There nastiest of these is a blade stabbed right into a victim's eye during fight. Other stabbings to the head and other body parts happen frequently.
The action flick runs two hours. After a quarter through the film, one realizes that the film is nothing more than actions set pieces that eventually get really boring and repetitive. Wick fights his assassins using Martial Arts, knives, motorbikes, guns, hand-to-hand and cars. All the fight options are too exhausted. So is the audience's attention span. Chapter 3 is clearly the worst of the John Wick franchise.
JOHN WICK 3, as the film is alternatively called hopes to derail AVENGERS ENDGAME from the number 1 box-office this weekend.
Trailer: ttps://www.youtube.com/watch?v=xBB1whi46QE
MEETING GORBACHEV (USA/Germany/UK 2018) ***1/2
Directed by Werner Herzog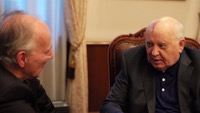 Werner Herzog's documentary MEETING GORBACHEV is an enlightening insightful little film on his candid conversations with Gorbachev, the former Soviet head of state. Gorbachev was one of the defining figures of the 20th century., a humanitarian and also a very intelligent individual. More respected abroad than he is at home (where many continue to blame him for the 1991 break-up of the Soviet Union), Gorbachev speaks like a man with nothing to lose, and Herzog applies his own unique perspective and inimitable narration to a deep archive of footage.
The film opens with Herzog's last meeting with Gorbachev. He questions him about his impressions of Germans as the Germans devastated the Soviet Union during the war. But Gorbachev has nothing bad to say about anyone, less of all Germans. Gorbachev says tithes first neighbours he visited as a child were Germans and they made great cakes and that anyone that cook bake that delicious a cake has to be good people.
There is a lot that many do not know about Gorbachev, myself included. That is what makes the film more intriguing. Gorbachev comes from a poor family, his uncle and aunt died on the farm from starvation and he was looked after by very kind grandparents. He is revealed to be very diligent and a man who studied hard and worked himself up the ranks in a society that followed old rules and traditions. Obviously the Russian system and government did not work as people were starving and protesting and Gorbachev had to do his thing.
Herzog reveals many outstanding qualities about the subject which pique the film's interest. Gorbachev is a man who is basically a good person, and one who intends to do good for his fellow man ie. the Soviet Union. Herzog trails how thesis accomplished, through his diligence, his intelligence and through perseverance, despite bureaucratic odds, Soviet Union style.
Herzog has assembled an impressive amount of archive footage, much of it from newsreel, on Gorbachev and also of the Soviet Union under the other leaders before him, tying in his story through voiceover from himself, or the offering his point of view, which often is intelligent, makes much sense and puts his story into perspective,
Herzog is a German director of extreme experience. He has directed classics like FITZCARRALDO, WOYZECK and STROSZEK as well as documentaries like CAVE OF FORGOTTEN DREAMS in 3D and INTO THE INFERNO. MEETING GORBACHEV is another impressive documentary from the German Master, that not only reveals the story of a great man, but impresses on the good one ordinary man, rising through the political ranks can do for his fellow man. The film also shows through archive footage, how other politicians like Margaret Thatcher relate and felt about Gorbachev.
Herzog sneaks into his film several messages - his view on nuclear disarmament; desire for peace and harmony for mankind. His images on the dismantling of the Berlin Wall are particularly moving.
MEET GORBACHEV premiered at the Toronto Itrnational Film Festival last year and begins a limited run at the Bell Lightboxthis week. It is the best documentary playing in Toronto at the moment
Trailer: https://www.youtube.com/watch?v=ZcTWadiv6vI
PETERLOO (UK 2018) ***** Top 10
Directed by Mike Leigh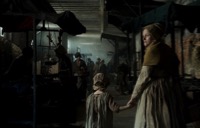 Mike Leigh's PETERLOO (named after the Battle of Waterloo as this other massacre took place at Peter's Field) is described in the press notes as a historical drama that portrays the
epic events surrounding the infamous 1819 Peterloo Massacre, where a peaceful pro-democracy rally at St Peter's Field in Manchester turned bloody. British government forces charged
into a crowd of over 60,000 that had gathered to demand political reform and protest against rising poverty. Many protestors were killed and hundreds more injured, sparking a nationwide outcry.
The outcry was made known by the Guardian newspaper thus re-defining a moment in British democracy.
It is a 150 minute film which builds up to the last 30 minutes when the bloodshed begins. The audience is aware of what will happen, but it is a climax of the film the audience dreads. The build up is nothing short of brilliant, resulting in an expected brilliant from an equally brilliant writer/director who has delivered great films in the past - both of historical epics (MR. TURNER) and personal dramas (VERA DRAKE, HAPPY-GO-LUCKY, SECRETS AND LIES).
The film is bookended with the presence of a young, handsome soldier dressed in red coat, who at the start of the film is seen surviving from the Battle of Waterloo. This is Joseph
(David Moorst) who returns to his loving but poor family in Manchester. In contrast, the Duke of Wellington, the victor of Waterloo, is rewarded with a staggering £750,000 from Parliament. Joseph cannot find a job, his mother trades pies for eggs, and the rest of his family works in the cotton mill for pittance. With no voting privileges, bad harvests and a restriction on corn
imports, the labouring classes of Northern England are in a bad way.
Finally the poor and oppressed decide to make their say and plot out a plan for change.
They enlist an initially reluctant but charismatic orator Henry Hunt (Rory Kinnear) from
London to speak at a big rally in St. Peter's Field. Dressed in their Sunday best, thousands of men, women and children come to hear what Hunt has to say. Joseph and his family are among them.
There many reasons to see this historical epic. The most important one is to listen (and hence appreciate) the well written and spoken oratorical dialogue delivered by the actors in glorious English that is seldom heard in films. Hearing the speeches reminds one of the oratorical debates that used to take place in ones schools.
PETERLOO encompasses both the historical epic with the tragedies of personal drama. The film is full of scenes wth crowds of the poor, with dingy clothes and bad teeth, often dirty and unwashed but then putting other Sunday best for the St Peter's gathering.
Cinematography is by Dick Pope (10 Leigh films), who creates a film resembling an Old Master painting. The film is written and directed by Mike Leigh, who grew up in Greater Manchester, just a short walk from St. Peter's Field.