The high profile films opening are DARK PHOENIX and the film that opened Cannes DEAD MEN DON'T DIE.
BEST FILMS PLAYING:
Best Comedy:
Booksmart

Best Foreign:
Never Look Away
Best Action:
Avengers Endgame
Best Drama:
Rocketman
FILM REVIEWS:
ALWAYS BE MY MAYBE (USA 2019) ****
Directed by Nahnatchka Khan
Reviewers had to sign a waiver not to disclose any key plot points or surprises of this rom com before given a screening link. After watching the film, one can see the reason. The first surprise the waiver cautioned reviewers not to reveal is the identity of a guest celebrity which turns out to be the film's funniest moment leading to the most laughs of the entire film within the following 15 minutes.
ALWAYS BE MY MAYBE is a romantic comedy. Romantic comedies is the least liked of my film genres as these films are typically cliche ridden, predictable, unfunny and comes off even worse if the chemistry of the couple is off skelter. What happened to the successful and very entertaining Rock Hudson and Doris Day romantic comedies that were so much fun and so entertaining? This is despite the fact that Hudson was gay and Day was the over prude gal who always said no when it comes to sex. Fortunately ALWAYS BE MY MAYBE, the new Netflix original comedy works. And very well too. It is much funnier that the last Asian romantic comedy CRAZY RICH ASIANS.
The plot is simple enough - the simpler, the less restrictions to tell the story and hence the more opportunity for laughs. Childhood friends end up having an awkward sex moment when they grow up as teens leads to a misunderstanding and separation. They meet up later in life as adults, each with a boyfriend and girlfriend which obviously do not suit them. After all, the two are meant for each other as the rest of the film will prove. In the 16 years since, they have grown up in vastly different circumstances: Sasha (Ali Wong), is a celebrity chef while Marcus (Randall Park) is still living in his childhood bedroom and working for his father's air conditioning service, his life largely frozen since his mother's premature death. Sasha and Marcus reconnect when Sasha returns to San Francisco to open a restaurant and romantic chemistry from their teenager years remains, but Marcus's fears and Sasha's fame and demanding career challenge their relationship.
The film is written by Ali Wong, Randall Park and Michael Golamcoand. As it is written by the two stars, the written characters turn out convincing illustrating the great chemistry for a romantic comedy. Wong is a stand up comedienne, Park is famous for the TV series 'Fresh off the Boat'. Their comedic experience pays off as evident in the film. The younger actors who play the 12 and 15 year old versions of Marcus and Sasha are also excellent and funny.
The film is directed by Khan who demonstrates a few fresh impressive innovations in her film. One can be seen in the applauding of the audience during Park's band performance. That scene fades out into another with the couple together on a date. The applause can still be heard in the background serving as approval to the new relationship of the couple.
When everything looks fine when the film has 30 minutes to go, predictability dictates that there will be a major argument between the couple. This does not mean the film cannot still surprise with a new twist and turn, as the film does.
If you are unconvinced by this review to watch ALWAYS BE MY MAYBE, click on the trailer link below. The trailer has sufficient bright laugh-out loud parts to get you to watch the movie which is currently playing on Netflix.
Trailer: https://www.youtube.com/watch?v=iHBcWHY9lN4
DARK PHOENIX (USA 2019) ***
Directed by Simon Kinberg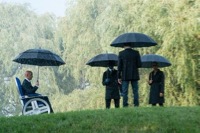 A disclaimer from this reviewer that is to be read before proceeding with this review - I am not a fan of the super action hero film genre, so what is written might not apply to the general public who adore action hero movies. The 10th of the series of X-MEN films, DARK PHOENIX has so far been the worst reviewed film of the series. Critics have complained that the film is boring and the rating on Rotten Tomatoes at the time of writing is around 20%. (but the film has a higher 70% approval on imdb). Personally, DARK PHOENIX is not bad, is entertaining and has a good solid storyline. The same can be said for the FANTASTIC FOUR films. But he Fantastic Four films bombed because the filmmakers spent too much emphasis on story and less on action. Action hero fans DO NOT like that at all. They want mindless violence and special effects. DARK PHOENIX falls into the same trap.
DARK PHOENIX concentrates on the life of one X-man or X-woman rather, Grey (Sophie Turner). There is a lot of story here, The film opens with her as a child, engineering a car accident that kills her parents making her an orphan to be taken in by Professor Charles Xavier (James McCoy) in his school of Gifted Youngsters or in other words, School for mutant super heroes. He mentally blocks the accident from her memories and helps her hone her psychic abilities.
The film shifts to 1992 when the X-Men respond to a distress signal from the space shuttle Endeavour. The shuttle is critically damaged by a solar flare. While the X-Men save all of the astronauts, Grey absorbs the solar flare in her body. Her psychic powers are greatly amplified as a result. At the same time, the mental block placed by Xavier is destroyed and she travels to Red Hook after discovering that her father is still alive. The X-Men attempt to take Grey home. Grey meets Vuk, a D'Bari (Jessica Chastain) who explains to her that she possesses the Phoenix Force, which wiped out the D'Baris' home planet years ago. Meanwhile, Hank McCoy (Nicholas Hoult), who feels betrayed by Xavier's manipulation of Grey's memories, allies with Erik Lehnsherr (Michale Fassbender) and his mutant refugees to bring down Grey in New York City. Enough said about the plot, though there is much more. The action amplifies from here, with lots of special effects.
Most of the other X-Men are present like Cyclops, Beast, Storm, Mistique, Quicksilver among others. They are not given such to do though. McAvoy and Turner both turn in solid performances bringing in more emotions in the action flick.
The action sequences are well staged, a lot done old school style like exploding real houses instead of CGI (though there is still quite a lot of CGI). Director Kinberg is fond of using slow motion to allow the audience to appreciate the action.
Regardless of critics approval, DARK PHOENIX should do well at the box-office grossing an expected $50 million for the opening weekend.
Trailer: https://www.youtube.com/watch?v=azvR__GRQic
THE DEAD DON'T DIE (USA 2019) ***
Directed by Jim Jarmusch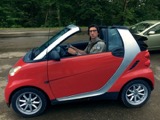 Jim Jarmusch the king of independent American cinema re-invents the zombie movie with THE DEAD DON'T DIE as he did the vampire genre with ONLY LOVERS LEFT ALIVE. THE DEAD DON'T DIE, however, is more of a comedy, the type Jarmusch is better known for, as demonstrated in his earliest works, STRANGER THAN PARADISE and DOWN BY LAW. There are two directors best known for deadpan comedy - Finnish director Aki Kaurismaki and Jim Jarmsuch. The film is arguably Jarmusch's most ambitious to date, featuring an all-star cast and the film chosen to open the Cannes Film Festival this year in May.
It all starts to happen when the earth tilts out of its axis. "Something weird is going on," says Centreville Police Chief Cliff Robertson (Bill Murray) to his partner, Officer Ronnie Peterson (Adam Driver) after a hilarious encounter with Hermit Bob (Tom Waits). Ronnie predicts that things do not look good to the very end, a line that the film comes back to several times at different points in the film. That night in Centreville, 2 zombies (Sara Driver and Iggy Pop) suddenly rise from their graves to kill the workers at the local diner. The reason for the earth's off kilter is attributed, according to news lady Rosie Perez on TV, to fracking by the oil companies. More zombies rise from their graves the following night eating up many of the town's residents as well as three teens (including Selena Gomez) who meet their death. Director Jarmusch does not skimp on the gory graphics, the corpses with their innards pulled out from their bodies left by the zombies, enough to make anyone throw up including the third police officer, Mindy (Chloe Sevigny). "This will not end well," repeats Officer Ronnie. "How do you know?" Asks Chief Cliff to which comes perhaps the film's most unexpected reply.
The film benefits from a superb cast, many of which are Jarmusch's past collaborators. Adam Driver was in his last film PATERSON, arguably Jarmsuch's best movie, Tom Waits in DOWN BY LAW and Tilda Swinton who steals the show as a sword yielding mortician of the town, speaking with her strong native Scottish accent. Drive demonstrates his talent for deadpan comedy here, Jarmsuch giving him the best lines. Other well known stars in the cast include Steve Buscemi as Farmer Miller, Danny Glover, RZA, Caleb Landry Jones and Carol Kane.
The film drags a bit running close to two hours. But it is Jarmusch style to let his film play long with long lazy takes that he made famous in STRANGER THAN PARADISE. Nothing much seems to happen except the zombies but that is the pleasure of a Jarmsuch film.
Do not expect THE DEAD DON'T DIE to be a masterpiece. After all, it is a zombie movie - the best thing it can achieve is cult status, as in George Romero's zombie flicks. But the film is totally amusing aided by solid performances from his all-star cast and some hilarious writing coupled with a bit of parody.
Trailer: https://www.youtube.com/watch?v=bs5ZOcU6Bnw
ECHO IN THE CANYON (USA 2019) ***
Directed by Andrew Slater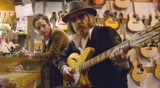 ECHO IN THE CANYON should be a delight for 60's music fans. Those were the times, music writers and artists gathered in Laurel Canyon in California as that was where all the recording labels were. This nostalgic doc traces the stories of the music of these times while focusing on a few bands like The Byrds, The Mamas and the Papas, Buffalo Springfield (made up of Canadian Neil Young, Stephen Stills and others) and the Beach Boys.
The doc is loosely written by director Andrew Slater and Eric Barrett. The doc begins with Roger McGuinn entering a guitar/music instruments shop and playing guitar. Effortlessly. McGuinn establishes the film's mood and is seen throughout the film.
Many of the artists of the period still living today are interviewed by singer-songwriter Jakob Dylan of the Wallflowers. Rich with revealing observations and engaging anecdotes, Slater's documentary skirts the nostalgia trap by entertainingly connecting with an impressive lineup of contemporary singer-songwriters referencing the influential '60s pop style with their own releases.
Also on display are performances from a 2106 Los Angeles concert that Dylan headlined. The songs are performed by Dylan and his collaborators from the "Echo" album, including Beck, Regina Spektor, Cat Power and Jade Castrinos were originally written and performed by the bands like The Mamas and The Papas and the Byrds. Brief musical performances are by Wilson, Phillips and McGuinn, sometimes playing with Dylan's band. They represent some of the film's musical highlights.
The doc does not seem to have a clear path or aim. A few insightful information is offered like the influence of songs from one band to another. The doc calls this cross-pollination. The songs from The Beach Boys' 'Pet Sounds' albums are supposed to have influenced The Beatles' Sgt. Pepper's Lonely Hearts Club Band. This what Brian Wilson of the Beach Boys interviewed in the doc claims. Ringo Starr who offers his two cents worth in his interview does not refute the claim. After listening to the music one can see the reason.
The doc has an odd reference to a 60's movie, Jacques Demy's MODEL SHOP (in which nothing much happens), for whatever the reason I do not see.
ECHO IN THE CANYON would have created more impact if it had put those musicians in perspective to today's music - how there music shaped music at present. As such, ECHO IN THE CANYON is too free flowing a doc that at least is still enjoyable for the excellent music and songs on display.
Trailer: https://www.youtube.com/watch?v=QRVFBQHBUls
FRAMING JOHN DELOREAN (USA 2019) **
Directed by Don Argott and Sheena M. Joyce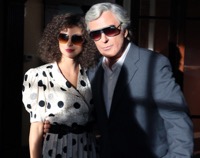 FRAMING JOHN DELOREAN is a documentary directed by Don Argott and Sheena M Joyce, written by Dan Greeney and Alexandrea Orton (good combination of both sexes) fused with narrative scenes. This portrait of John Z. DeLorean covers the enigmatic automaker's rise to stardom and his shocking fall from grace. Interviews with colleagues, employees, lawyers, friends and family who knew him best are interspersed with dramatized vignettes, including a performance by Alec Baldwin - as they all endeavour in their own ways to uncover the real DeLorean.
The doc examines how far one can go to achieve ones dream.
The doc is interesting in the way it infuses re-enactments with Baldwin as DeLorean to archive footage of the real DeLorean. Baldwin is made up to look like DeLorean. So what is missing in continuity in footage to propel the narrative is provided by the reenactments. Whether the tactic works, or whether the reenactments are distracting is subjective.
At the beginning of the documentary on John DeLorean, the voiceover proudly informs that there has never been a film made about the famous car maker John Delorean. In the words of President Trump: "Fake News". There has been a recently made one, I cannot recall the title of that movie, but certain incidents in this doc, I already know about from that film, like the drug exchange meeting presided by John DeLorean in a hotel room.
The voiceover also goes to describe DeLorean as a winner, a loser, a champion or perhaps the greatest con-man in the history of man. The draw of this doc and also the draw of the man as a personality is not from the good he has done (though he has a few up his sleeve) but his outrageousness and uncanny rise to fame that eventually led to his downfall.
DeLorean took on the car companies like Pontiac and General Motors to design his sports car, to chase his dream hopefully to become a legend forever. The doc highlights both the achievements and failures of the man.
One of DeLorean's main achievements was the opening of his successful car assembly plant in Belfast, Northern Ireland. The doc is quick to point this out. At a time when the Catholics were fighting the protestants and the Irish economy was in ruins, DeLoeran got the two fighting groups to work together in the same factory with his common goal. The cars were made and shipped to the United States,
Unfortunately not much of the background of DeLorean is provided of his childhood, upbringing or the influences. The missing information would have provided clues to DeLorean's character.
FRAMING JOHN DELOREAN emphasizes and glorifies the events surrounding the man. Though this makes the doc more watchable, it lacks a fuller picture.
Trailer: https://www.youtube.com/watch?v=YIa1gn9wVNo
LATE NIGHT (USA 2019) ***
Directed by Nisha Ganatra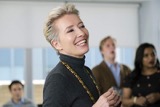 The timely talk-show host comedy LATE NIGHT earns a double boost from being selected to headline the Toronto Inside Out Gay and Lesbian Film Festival's Closing Night Gala as well as having the fortune to have Academy Award British actress Emma Thompson star as the legendary talk-show host Katherine Newbury.
The script has been widely publicized as being written by Indian comedian Mindy Kaling, one fo the most well known and respected TV and film personalities. In her script, she gets to offer her take on feminine and minority issues. Though her script is by no means perfect, it has good moments, is earnest and also occasionally quite funny.
The film centres on American talk-show host, British born Katherine Newbury (Emma Thompson), a pioneer in her field. The only woman ever to have a long-running program on late night, she keeps her writers' room on a short leash ― and all male, and all white male at that. But when her ratings plummet and she finally realizes that she but not her show is going to be axed, she starts taking notice and action, and oddly enough, inappropriate action. She is accused of being a "woman who hates women," Katherine puts gender equality on her to-do list and impulsively hires Molly Patel (Mindy Kaling herself), a chemical plant efficiency expert from suburban Pennsylvania, as the first and only female on her writing staff.
The film swings into Molly's character. Molly is the underdog with lots of criticism but with few solutions. When Katherine fingers her out to express her views, she is upset that a newbie can find fault her but offer little in terms of answers,
When rumours begin swirling that Katherine is being replaced by a younger, hipper male host, Daniel Tennant (Ike Barinholtz), she demands that the writers make her funny and relevant again. This is when Molly makes her mark while running at the same times, loggerheads with Katherine. The film plays like a romantic comedy between Katherine and Molly, the two fighting and then respecting each other.
At its best, the script shows the strength of diversity and women at the work place. The success of Katherine in what is normally a male occupation says a lot. Most of the real late night talk show hosts at present are men - so networks should take notice. The Katherine character is fashioned a bit around the Ellen Degeneres personality and similarities (like Katherine's remarks) exist. The restraint of putting a lid on a romantic subplot pays off too. There is a little romance brewing but just enough to make Molly a vulnerable character. The script shows the female crying a well. (Molly cries behind her desk in one scene after being humiliated by Katherine).
On the negative side, all the males are depicted as second class idiots. All of Katherine's white males writers are bumbling no-brainers. The role of Katherine's husband (John Lithgow) is over-written and over sympathetic. The males also cannot keep a decent relationship going.
Kaling's script also seems over eager to please. It is clear enough that LATE NIGHT is supposed to be a feel-good movie but at times, when the music comes crescendo-ing over the dialogue to steer how the audience to feel, it all seems a bit too much.
Thompson delivers a winning performance, regardless and Kaling tries hard in her role which basically her film of her own.
LATE NIGHT is still entertaining despite its over eagerness to please, the film aided by Thompson's and Kaling's otherwise working chemistry.
Trailer: https://www.youtube.com/watch?v=DxefiCjQirw
MOUTHPIECE (Canada 2018) **
Directed by Patrica Rozema
Based on the theatrical play by Amy Nostbakken and Norah Sadava, MOUTHPIECE (premiered at TIFF) centres on Cassandra, a woman who is making the arrangements for her mother's funeral, who is played by both Nostbakken and Sadava as a dramatization of her inner conflict.
Canadian writer/director Patricia Rozema shot to fame with her quirky features, most notably I SAW THE MERMAIDS SINGING (and a more stable MANSFIELD PARK) which also propelled its star Sheila McCarthy to stardom. The film was at the time the darling of the Toronto International Film Festival and Rozema's films have frequented TIFF ever since. This gives her the chance to be more daring. MOUTHPIECE, based on the play by its two leads is as daring as daring can be.
MOUTHPIECE opens with a 30-year old writer riding home a bicycle during Christmas with another girl. They sleep on the same bed. The immediate question is whether they are lovers. But it turns out that they may be sisters and they react similarly to the revelation of the death of ones mother. It turns out that these two women are manifestations of the same character both portrayed by two different actresses. These two actresses also wrote the script and the play which director Rozema based her film on. But the audience is not told of the fact that these two persons are one of the same. The result is a confusing and very annoying beginning.
The two leads Amy Nostbakken and Norah Sadava fare well, playing against each other, being one and then being different, considering that they should since they write the original material (the play) together.
Is MOUTHPIECE a dark comedy? For one, it is not funny. As an experimental piece, the novelty of the experiment wears off quite fast. Worse of all, the experiment is never explained and it takes a while to figure what is going on. Nothing makes much sense as well, so there is no point trying to figure what is going on why, when or what. The sex scene in which one personality is watching the other copulating is one of the more inventive segments - weird as it is.
The film contains other quirky scenes like the one where the two lie in the coffin Cassandra has picked up for her recently passed mother. The funeral parlour director can only say that people feel differently for they losses.
The film shot in Toronto, apparently during the festive season is a pleasant diversion to look at. Cinematography, quite stunning especially in the one scene with the multitude of birds in the sky, is by d.p. Catherine Lutes. Most of them film's crew are feminine which is a welcome change from the norm.
There are a few reasons, primarily its novelty for watching MOUTHPIECE. Unfortunately, there are even more reasons particularly the exasperating result (try watching the film in its entirety in one sitting) for not seeing this pretentious artistic exercise.
Trailer: https://www.youtube.com/watch?v=ILvNjYJo-G0
PAVAROTTI (USA 2019) ***1/2
Directed by Ron Howard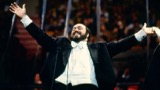 PAVAROTTI is one famous opera tenor that everyone has heard of - even though he has passed away in 2007 from pancreatic cancer. PAVAROTTI is arguably one of the most famous tenors ever lived. PAVAROTTI is director Ron Howard's doc and from the tone of the film, his tribute to the great singer.
Ron Howard's PAVAROTTI is a riveting documentary that lifts the curtain on Luciano Pavarotti, the icon who brought opera to the people. At the film's start, the audience sees the man travelling to the Amazon in South America to bring opera to an obscure part of he world. Pavarotti is credited with introducing an "elite art form to the masses." (The film is from the same team behind the acclaimed The Beatles: Eight Days a Week – The Touring Years.)
Documentaries about famous celebrities follow the same outline. There is a story of the celebrity's background, where he came from, his influences how he became famous and the good he or she has done for mankind. As with every person in life, there would be a downfall, usually the larger the celebrity, the larger the downward spiral. Then there is the redemption or climb back to normalcy. Howard's PAVAROTTI follows the same pattern.
Director Howard question at the film's start Pavarotti's gift. Is it a purpose or a burden? The film sets out to reveal the answer.
The film thus traces Pavarotti's earliest beginnings to the very last days of his life,
the film following the renowned tenor over the course of his prolific career. It features history-making performances, intimate interviews, never-before seen footage and previously
unknown details about one of the beloved entertainers of all time.
The film's highlight are, expectedly Pavarotti's performances especially the concerts. He organized the 3 tenors (himself together with Plácido Domingo and José Carreras).. The concerts with the three opera singers singing their best make the film's best segment. Other highlights include the concert in the rain in the United Kingdom attended by the then still living Princess Diana. The weather did not cooperate with the concert organizers. So it was announced during the open air performance for the audience to close their umbrellas despite the rain so that the view of the stage will not be blocked. Everyone ended up having a great time despite getting wet. The shot of Pavarotti together with Princess Diana is unforgettable.
Pavarotti's rendering of Puccini's famous song in "La Turandot' marks the best of all the singer's performances. Watch the film in proper theatrical sound as in cutting-edge Dolby Atmos sound (that was used in the press screening attended).
As for the celebrity's downfall, director Howard concentrates on the man's weakness for women. While being married, he flirted around, finally finding his true love with Nicoletta Mantovani and having a daughter before being diagnosed with cancer. Howard concentrates more on the singer's good deeds, like helping the poor especially the children, particularly organizing benefit concerts with other famous people, including rock starts to help the poor and unfortunate.
PAVAROTTI ends up superlative entertainment even for non-opera fans. It ends up too study of a man with talent and how this man or for that matter, any person with a gift can and should use it to help mankind.
Trailer: https://www.youtube.com/watch?v=CnPPrjwyLW8
THE SOUVENIR (UK 2018) ***
Directed by Joanna Hogg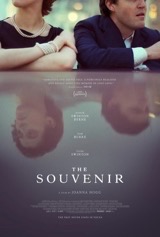 "What does a student living in a posh London area know about the subject of a little boy living in the coastal town of Sunderland who has an over affection for his ailing mother?" A faculty member advises student filmmaker Julie (Honor Swinton Byrne) on making films on a subject matter that she would be familiar with. Writer/director Joanna Hogg has taken this piece of advice to heart, as this odd love relationship tale of a young filmmaker runs close to home. Hogg herself was a filmmaker who had spent time in Sunderland. The photographs that she took back in the 80's open the film. Not only that, but Hogg has Tilda Swinton start in her short film, and now her daughter in the lead for this film. And as Julie is also advised on filmmaking, the film should be about life experienced not the way it plays out. THE SOUVENIR is a bit of both. It is clearly about life, as difficult as it is, experienced by Julie which she controls to prevent it playing out on its own.
Julie (Swinton Byrne) wants to film a working class drama set in the coastal city of Sunderland – even though she gets push back from her faculty advisors et al. Meanwhile, she meets Anthony (Burke), an art buff who works for the Foreign Office. He starts asking for money which, in turn, she borrows from her mother (Swinton). The couple's passion for each other is undeniable. But there are awkward moments in the relationship.
"You are not normal. You are a freak." Anthony tells Julie at one point in the film. "It is your fragility." "Is that good?" she asks to which she gets no reply. The most awkward moment is the one during a visit to a restaurant where he gives her a really hard time for no apparent reason. Warning bells are ringing that this man is not the one to live with. In real life couples stay together for the weirdest of reasons even though common sense says they should stay apart. The same can be said for this couple. This is definitely one unstable relationship. One wonders if Hogg went through such a caustic relationship as well. Hogg shows with romance also comes trouble and couples are not always perfect.
Hogg's drama which runs close to two hours is a slow burn. At times, it seems that nothing is going on. But the cinematography is great, the atmosphere of Sunderland nostalgic (set in the 80's), the characters human and interesting and the storytelling is engrossing. The film's title is from the Jean-Honoré Fragonard painting in The Wallace Collection that Anthony takes Julie to see. Words also describe the souvenir as a love souvenir. The film also won the Grand Jury Prize (Dramatic World Cinema) at Sundance 2019. Plans for Hogg's The Souvenir Part II with Robert Pattinson are now underway.
Trailer: https://www.youtube.com/watch?v=JhYHBLPBCbQ
THE TOMORROW MAN (USA 2019) ***1/2
Written and Directed by Noble Jones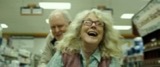 Romantic Comedies are not part of my favourite film genre. And least of all romantic comedies where the subjects are old folks. So, what can I say about THE TOMORROW MAN? - a romantic comedy about two seniors who fall in love. The directorial debut of Noble Jones, the film is a charming and winning film, full of surprises that works because of a heartfelt script and two amazing leads - Blythe Danner and John Lithgow.
THE TOMORROW MAN is Ed Hemsler (Lithgow). Ed spends his life preparing for a disaster that may never come. Ronnie Meisner (Danner) spends her life shopping for things she may never use. In a small town somewhere in America, these two people will try to find love while trying not to get lost in each other's stuff.
Just as Ed surprises Ronnie every time they meet (the first time suddenly appearing at the supermarket, one time when his face appears as she closes her car's hood) the script is also full of surprises. When Ed drives Ronnie home after the first date, when he turns on the car radio, Ronnie starts singing. Out of the blue he screeches the car to a stop and runs out screaming. What happens next is unexpected, surprise and totally charming. And enough to knock the audience off their seats - the couple's first embrace. This is is makes he film work - a script that is so engaging, funny and unexpected. Another scene has Ed going on and on talking non-stop about himself and his family and then suddenly stopping to say that he is saying too much. Ronnie then surprises with her candid revelation about herself and her family. Other examples, in fact too many to mention follow - a really good thing.
Both characters are eccentric. Ed imagines that the news lady on TV speaks to him. "There has been a third power outage. But Ed Hemsler has a backup generator. Because Ed Hemsler thinks of everything. Because Ed Hamster thinks of everything." Ronnie is more forward about the relationship than is believed at the start. A few wise words from the couple also offers advice to the audience, just as Ed tells his son on the telephone at the film's start: "What matters is what you do now."
Lithgow and Danner make the perfect believable senior couple. They do not come across as condescending. They do not relive their old younger glory days but acknowledge their age (I retired at the wrong side of 60, says Ed at one point in the film) and limitations.
The film has been described by Jimmy Fallon as an old age version of SILVER LININGS PLAYBOOK. Yes and no. THE TOMORROW MAN is a film about eccentrics, too but it is not a sensationalized romance like PLAYBOOK. Both are well-made, entertaining films and THE TOMORROW MAN excels in its own weird way. The film shows that there is life after 60 and that a romantic comedy about seniors can still have appeal and zest.
Trailer: https://www.imdb.com/title/tt8769848/videoplayer/vi1054063641?ref_=tt_pv_vi_aiv_1
WILD NIGHTS WITH EMILY (USA 2018) **
Directed by Madeleine Olnek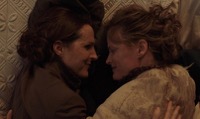 The first thing one notices about this biopic on American poet and writer Emily Dickinson is the casting of Saturday Night Live's Molly Shannon in the time role of the adult Emily Dickinson. Dickinson was a serious poet and even more serious a person, avoiding contact with the outside world for the most offer life. The opening scene where Emily (Shannon) and Susan embrace falling on the floor as a result an over-compassionate kiss is obviously played for laughs. The biopic of poet and author Emily Dickson is thus treated with some biting humour. It is ambitious and challenging for the filmmakers to make a deadpan comedy on the life of serious Emily Dickinson.
The film is part bio as re-enacted by the actors as directed, but the bio pic should be taken with a grain of salt.
The film begins with Emily in her teens, played by not Molly but by someone younger, Dana Melanie, in love with Susan Gilbert. The two met during a recitation of the Amherst's Shakespeare Society, and during a scene in which they play lovers, a romance blossoms. On a stroll afterwards, they kiss. Emily's family leaves for a month long trip, and Susan stays with Emily for the duration. They continue to spend time together, concealing the romantic aspect of their relationship from others.
Susan gets a teaching job out west, and they write countless love letters to each others while she is away. When she returns, Emily is surprised to learn that Susan has been betrothed to Emily's brother Austin, which Susan had kept secret from her. Susan apologizes to Emily and explains that it's all part of a greater scheme: Susan cannot financially support herself without getting married, and by marrying Austin they can build a house right next door to Emily and no one will suspect their romance.
The dead pan comedy ends up irrelevant at times and sometimes a bit funny and at other times not. One has a possible publisher and his wife slurping tea loudly when served by Emily. Another has Emily saying that she would listen to what a speaker would say, and the scene moves to this person mumbling under his breath all the way. The most irrelevant has Emily and Susan engaged in a discussion in bed just before Emily says' "I have a desire for a strawberry", before reaching out for one and eating it.
Odd too is the ending with Emily talking to another corpse in the adjoining room. They have a discussion with the dead balks man asking her Why'd you die?" The she replies 'For beauty!", he replies "him for truth." The meaning of what is occurring will escape many. Or perhaps that is the purpose.
Weird does not automatically translate to smart or deadpan funny as evident in this biopic that ends up more like WEIRD NIGHTS WITH EMILY.