Best and most interesting film opening is the female sailing doc MAIDEN. Netflix original POINT BLANK opens Friday.
BEST FILMS PLAYING:
Best Comedy:
Booksmart

Best Foreign:
Never Look Away
Best Action:
Spider-Man: Far from Home
Best Doc:
Maiden
Best Family:
Story Story
Best Horror:
Midsommar
FILM REVIEWS:
MAIDEN (UK 2018) ****
Directed by Alex Holmes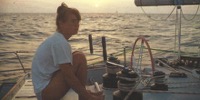 The newly refurbished Maiden yacht will dock in Vancouver, July 28-August 2, as part of a two-year world tour to raise funds and awareness for girls' education and female empowerment. Why is the Maiden famous and what is it known for? Alex Holmes's MAIDEN is an exhilarating documentary that played at TIFF 2018 and Sundance 2019, delighting audiences with its story about 26-year-old Tracy Edwards, who broke the
glass ceiling when she skippered the first all-female crew to enter the world's biggest sailing event, the Whitbread Round the World Race, in 1989-1990 (renamed Volvo Ocean Race in 2001). Maiden is name of Edward's racing yacht.
The film begins with these warning words: "The ocean is out to kill!" "It does not take a break." "There is no hope if anything happens." Yet, the doc's subject, Tracey Edwards, at the time of the race at the age of 26, face crashing waters and frigid temperatures - the big setback at sea. In 1989, the concept of an all-female crew was inconceivable to the manly world of open-ocean yacht racing. Press bet on their failure. Sponsors balked, fearing that the crew might perish and bring bad publicity. After a failure at almost 2 years for sponsorship, Edwards refused to give up – she remortgaged her home and bought a secondhand boat that the crew refurbished themselves. She finally secured sponsorship through Jordan's King Hussein.
Holmes humanizes the story by telling the story of Tracey from young child to older woman with white hair that she has now. This was, that the audience can relate to the character, the underdog and root for her. Tracey had the idyllic childhood till the worse thing imaginable could happen, happened to a child - the loss of one of a parent. She moved to Wales with her mother and new abusive step-father which resulted in her running away from home. Other adventures led her to her realization of her love or sailing. When she realized the difficulty of females getting on a crew for the Whitebread World Race, she formed her own crew. The doc continues this story.
The film contains interviews with Tracey and her crew as well as a few male sailors who talk about their admiration and astonishment of the female sailor. The film has a major part of its running time, the race that the Maiden won. One wonders how many of the scenes were shot, especially with the waves crashing the boat. According to the press notes, archival footage were taken on the boat, which explains the authentic 'fly off the wall' footage film that would almost get one seasick.
But what is most exhilarating about the doc is the human account of an underdog doing well - showing off those skeptical who claim that it cannot be done. Edwards hows the triumph of ones human spirit over adversity, The film also shows that she is not the person you want to be around with either, when she is under pressure - showing both sides to the coin.
MAIDEN is a beautiful documentary celebrating the harshness of nature and the foibles and strength of man - or woman in that respect.
Trailer: https://www.youtube.com/watch?v=AecVJ3Br4zc
MARIANNE & LEONARD: WORDS OF LOVE (USA 2019) ***
Directed by Nick Broomfield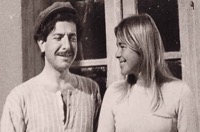 MARIANNE & LEONARD is the in depth look of the stormy relationship between author/poet/singer/so writer Canadian Leonard Coen and his muse and love, Norwegian Marianne Ehlen. Those who love Cohen's music will be pleased to note that the doc is interspersed with hissings include g the famous one, So, Long Marianne which he wrote for her.
Documentarian Nick Broomfield is an award winning filmmaker well known for his serial killer docs and his most famous THE LEADER, HIS DRIVER AND THE DRIVER'S WIFE. He is a filmmaker who knows how to capture the audience's attention with his sect and he does the same with MARIANNE & LEONARD. The segment of how Leonard competed one concerti Jerusalem after shaving on acid illustrates this fact. another part was the partaking of 'desert dust' with a tip of a needle dipped in it not he tongue to get high for a full 23 hours.
The first third of he film shows Cohen's early life during the hippie 'flower people' days. Marianne anthem experimented with LSD which serves as an inspiration for his work. It is amazing the amount of archive footage that is available and on display on film. It is a wonder why Cohen was not filmmaker himself.
Broomfield's most entertaining interviewee is the wife of Cohen's contemporary, Aviva Layton. Not only does she provide insight on Cohen's genius, but she talks about other taboos like her husband perhaps having slept with Cohen's mother. Cohen's Jewish roots are also discussed as well as its influence brought into the picture.
Director Broomfield also brings out the human side of the artist with all his faults. Cohen went into depression mode after his novel "Beautiful Losers' failed to sell. Leonard's downfall was his depression which was quite bad at one point. As in the recent Ari Aster's horror film MIDSOMMAR, MARIANNE & LEONARD is also a break-up film. Broomfield illustrated that as much a muse and lover to Leonard Marianne was, they were not meant to be with each other. Marianne had to make up her mind to break up. One of them was always angry and destructive. The film also looked at Marianne's son, Axel from her first husband. There were quite a lot of casualties. Axel had to be institutionalized. Marianne had an abortion when pregnant with Leonard's child. Another tragedy was the Johnsons, the family they stayed with at Hydra one of the Greek islands. The parents both died and the children also died one by one from suicide, drugs and drink with only one of them surviving. For all that is worth, tMarianne and Leonard's relationship can be described as bittersweet while it lasted, with a last declaration of love t Marianne's hospital death bedside.
The film also looks at the flower, hippie and acids culture. Despite the peace and love the culture was supposed to propagate. Just like the island of Hydra, people from there cannot function int he real world.
Broomfeld proves that there is much to be learnt from his doc on Leonard and Marianne providing an insight on life based on the experiences of failed humans. Other lessons from the film include the need to solve ones problems besides being in love. The film is shot in both English and Swedish.
Trailer: https://www.youtube.com/watch?v=LB6nIzPf9r8&feature=youtu.be
POINT BLANK (USA 2019) ***
Directed by Joe Lynch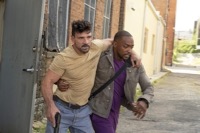 The Netflix original movie which opens this week is an action thriller not to be confused with the John Boorman 1967 classic crime-noir of the same title POINT BLANK that starred Lee Marvin and Angie Dickinson. 1967 POINT BLANK was one of the most well reviewed films of the year, a very violent and unforgettable piece of art. But the Netflix POINT BLANK written by Adam G. Simon and directed by Joe Lynch (who makes B-movies like the little heard MAYHEM) is a remake of 2010 French action-thriller Gaumont film directed by Fred Cavaye which most people would have not seen. Actually, Lynch shows promise. This one has a male nurse played by hunk Anthony Mackie whose pregnant wife (Teyonah Parris) is kidnapped by thugs - a sort of Netflix TAKEN.
The film begins with an apparent hit and murder of a D.A. The apparent intruder (Frank Grillo) is hit by a car while escaping and ends up in hospital where the protagonist an emergency room male nurse, Paul (Anthony Mackie) is working. The intruder's brother (Christian Cooke) kidnaps the male nurse's pregnant wife in order for the intruder to be kept alive.
A few action setups are worthy of mention. One is a fight while the two are on a conveyor going through an automatic car wash. It sounds silly but it works. The film contains a few well executed car chases, with good continuity.
Good too that the film offers a black actor well deserving of a leading white role in an action flick. Anthony Mackie should attract a large African American audience as well.
The script also offers the kidnappers a bit of sympathy, a tactic seldom tried. The script also pays homage to the homeless, with one scene where a homeless man helps out the hero.
Lynch's film is not without humour. One has to love it when out of the blue, the film pays homage to LES SALAIRES DE LA PEUR (THE WAGES OF FEAR), Henri-Georges Clouzot's suspense classic. The thugs watch this movie when one of them say, "When I becomes a director, I want to make this kind of shit."
The soundtrack is impressive (Music is by Mitch Lee) ranging from rap to yes, Motown. ABC's "The Look of Love" is played while the baby is delivered.
Two good performances to watch - Anthony Mackie's and Oscar Winner Marcia Gay Harden's, the latter who steals the show. To say more of her role would only spoil a plot twist. The buddy buddy nurse/ bad guy interplay works well too.
"You think killing me would make any difference? You have no idea how high this goes." is the only defence the villain can use. But there is a good rebuttal (not mentioned in the review).
POINT BLANK is an entertaining enough action thriller, slick, fast and occasionally cliched that should keep not too demanding Netflix viewers satisfied.
Trailer: https://www.youtube.com/watch?v=Sa-D9GbWEWw
STUBER (USA 2019) ***
Directed by Michael Dowse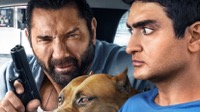 STUBER is an action buddy comedy involving a blind cop and a Uber driver that the L.A. cop hijacked in order to take down some drug Kung-fu fighting villain. It is not a high brow film project. For the promo screening, I could not get anyone to come see the free movie because of its theme. But if one goes with the lowest of expectations, STUBER will turn put to be surprisingly entertaining.
One would not think of filmmakers like Steven Spielberg or Martin Scorcese directing STUBER. But a good choice is London (London, Ontario that is) born Michael Dowse who made the Canadian cult-hit FUBAR and the impressive British feature about a DJ gone blind called IT'S ALL GONE PETE TONG. Coincidentally, the L.A. cop, Vic (Dave Bautista, THE AVENGERS movies) is also going blind. The Uber driver Stu (Kumail Nanjiani, THE BIG SICK) acts as his eyes. If all this sounds pretty corny, it all is. But the fact that this would pose a challenge to the scriptwriter, Tripper Clancy and director. It would seem all to easy to dismiss the film as a wasted exercise, but given the fact, Dowse and his scriptwriter has risen above the dauntless task.
The film's first 15 minutes is all edge of the seat excitement as Vic and his partner, Sara (Karen Gillan) attempt to take down an escaping Korean drug Lord, Oka Teijo (Indonesian Martial-Arts star, Iko Uwais, THE RAID, THE RAID 2, STAR WAR: THE FORCE AWAKENS)
On the negative side, the buddy buddy stuff has been seen before and done better in other buddy cop films. The difference in characters - Stu is so mild mannered that he cannot express hi love towards his girlfriend while Vic is so stone-hearted cannot communicate with his artistic daughter. The Ryan Gosling gay joke where Stu believes in brain over brawn is the typical homophobic shit that goes round in male chauvinistic films. The film is also too male dominated, where females are given just a token nod. Vic's female partner is killed off in the film's first 15 minute, the daughter has to struggle to become a sculptor while the chief villain turns out female. Stu's girlfriend is finally revealed as a real bitch who not only not now what she wants but a really floozy.
The buddy chemistry between Bautista and Nanjiani works well. Their fight in the warehouse looks so similar to the Jonathan Winters garage destruction scene in Stanley Kramer's IT'S A MAD MAD MAD MAD WORLD that I could almost be certain Dowse took his inspiration there.
The film ends in the Christmas season where the film delivers a few neat surprises. But the film has so far obtained mixed reviews from critics. And understandably why as the film is a mixed bag of tricks. Go see STUBER with as little expectations as possible and you won't be disappointed.