Outstanding openings this week include the doc AQUARELA and perhaps the most disgusting film of the year - TOUCH ME NOT. See that at your own risk!
BEST FILMS PLAYING:
Best Comedy:
Booksmart
Best Drama:
Luce

Best Foreign:
Museo (Museum)
Best Action:
Spider-Man: Far from Home
Best Doc:
Aquarela
Best Family:
Story Story
Best Horror:
Midsommar
FILM REVIEWS:
ANGEL HAS FALLEN (USA 2019) **
Directed by Ric Roman Waugh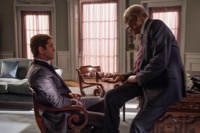 ANGEL HAS FALLEN is the third instalment of the FALLEN series of films following 2013's OLYMPUS HAS FALLEN and 2016's LONDON HAS FALLEN. The films follow United States Secret Service agent Mike Banning played by Gerard Butler saving the President for nay harm as his personal bodyguard/agent. The President was played by Aaron Eckhart in the first two films and replaced by Morgan Freeman in this last venture. If one has not heard of the FALLEN series, it is not surprising as the films were not that memorable.
Director Ric Roman Waugh appears to believe the notion that sequels have to be louder bigger and more of everything but not necessary better. What the film lacks compared to other action flicks like martial-arts choreography of car chases is more than made up in the department if pyrotechnics. There are lots of fire power (weaponry of assorted types) and explosions including one big massive bombing of a huge hospital, the St. Matthew's.
The plot involves Mike Banning who must race against time to clear his name after being framed for an attack on the US President, Allan Trumbull. Hence the title ANGEL HAS FALLEN as agent Banning is regarded as the President's guardian angel who seemingly has fallen from grace. After the events in the previous film, Secret Service agent Banning finds himself framed for an assassination attempt on President Allan Trumbull. Pursued by his own agency and the FBI, Banning turns to unlikely allies to clear his name and uncover the real terrorist threat.
The unlikely ally in the story is Mike's father, Clay (Nick Nolte, still recognizable under all that beard) who has had a falling out with his son and now living like as hermit and very strange person (as Nolte is, in real life). Clay has ammassed a whole lot of explosives in order to protect himself and property, which is another excise for lots of pyrotechnics.
ANGEL HAS FALLEN appears to follow all the rules of action filmmaking. There is a showdown between villain and hero at the film's climax where the two fight to the death in hand-to-hand combat. Included is the national concern of the Government employing private syndicates to do its dirty work instead of the military which is less transparent to the people. The President is updated to a African American and he has good heart and wishes the best for the country. The hero is connected to family. He has served well his country in the past and suffers from past injuries such as insomnia and migraines from his previous work. Yet ANGEL HAS FALLEN is predictable being so formulaic in its determination to be a hit. The film also runs a lengthy two hours with so much firepower and explosions that the action set-pieces look lacklustre and dull. There is nothing here that audiences have not seen before and louder and bigger do not necessary make it better.
Trailer: https://www.imdb.com/videoplayer/vi1869200409?playlistId=tt6189022&ref_=tt_ov_vi
ANGELIQUE'S ISLE (Canada 2018) ***
Directed by Marie-Helen Cousineau and Michelle Derosier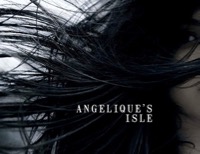 Premiering back in 2018 and screened for free at the ImagiNative Film Festival, ANGELIQUE'S ISLE, an entertaining indigenous story and period piece finally gets a commercial run.
The setting is 1845 during the copper rush. Times are changing - retrospectively. Fur trade is down and fur trappers have to search for an alternative for of living. So faces the problems of Charlie Moss and his working buddies. The film begins with Charlie's marriage to an indigenous woman before an offered job which he takes on due to the hard times with his new wife in tow.
Angelique, a young Anishinaabe woman (Julia Jones), and her voyageur husband Charlie (Charlie Carricj) are abandoned on Lake Superior's Isle Royale by a corrupt copper hunter (Aden Young). Granny initially advises her not to go but Angelique replies: "He is my husband." The newlywed couple have been left with few provisions and as the winter sets in they begin to starve. With Charlie beginning to demonstrate strange behaviour, Angelique - a devout Christian - struggles with her faith and must rely on the teachings she received from her grandmother (played by Tantoo Cardinal, who appears to be in every single indigenous film sees days) in order to survive the harsh winter. Angelique's Isle is a harrowing tale of perseverance and a testament to the resilience and strength of Indigenous women. The story is based on the novella "Angelique Abandoned", a true story of Angelique Mott.
The film is beautifully shot by cinematographer, Celiana Cardenas. The winter on Angelique'sIsle is indeed beautiful though harsh for human beings. One look at the winter there and one immediately feels for the unfortunate couple who have been abandoned there. The couple have nothing and no provisions. Angelique eats bark and when spring finally arrives, the wild berries she finds and grinds. One thing that looks odd is the interior of their hut which looks too cosy to be real.
The reason for Charlies's descent into madness is never clear explained. If he goes mental, why not Angelique? Again, this is yet another film that testifies to the strength of the female. One can also appreciate the love the couple for each other. It is truly a wedding bond for better or for worse, which in this case is for the worse.
The suffering of the couples appreciated but is toned down several notches for the audience. There are no nasty scenes of violence or suffering. As such, ANGELIQUE'S ISLE comes across as a family film, with a little warning regarding certain scenes, but it is a handsomely mounted Canadian Indigenous tale of hardship and survival.
ANGELIQUE'S ISLE won 3 awards at the American Indian Film Festival. It won for Best Picture, Best Actress (Julia Jones) and Best Supporting Actress (who else but Tantoo Cardinal?)
Trailer: https://www.youtube.com/watch?v=hWNlZyPweP0
AQUARELA (Denmark/Germany/UK/USA 2018) ****
Directed by Victor Kossakovsky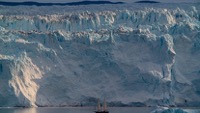 A visual feast, the documentary AQUARELA, the title derived from the Portuguese word of 'watercolour' is about the precious commodity of water. The doc is shot in 96 frames-per-second (rather than the usual 24fps), which gives the images a visceral feel.
From the press notes, it appears that the filmmakers are proud that there are no talking heads or preaching. But, even without words, it is impossible to know where each segment is shot, unless one stays and notes the closing credits. The icebergs that glide off are of Greenland and the beginning ice lake is in Siberia and it would be informative if the audience be told these locations.
On display in AQUARLEA are these incredibly shot ice/water set-pieces. Off the Greenland coast, icebergs glide like sculptures through the bays. On a trans-Atlantic trip, a yacht faces 30-ft. waves. California's Oroville Dam overflows, flooding communities downstream. Hurricane Irma batters Miami streets, rendering them surreal. Then there's Venezuela's Angel
Falls, the world's tallest continuous waterfall, with a plunge of 2,368 feet.
The arguably best sequence which arouses ones curiosity, is the first with a few men wearing orange outfits looking through the ice. It takes a while before it is revealed that a car under the ice is what these men are looking for. The men speak Russian (for those who can recognize the language.) In one case, the car has just sunk and they pull out two men from under the ice These are things many have not seen before. The scenes are nothing short of fascinating. One of the rescued mentioned that the ice melted which should not have been melted till 3 weeks later - clearly a case of the effects of global warming. The lake is Siberia's frozen Lake Baikal, the world's oldest and deepest fresh water lake. Visitors come from around the world to witness its spectacular fissures and cacophonous sound that occur when the ice melts. But rapidly changing temperatures have shifted the seasons. When the thaw unexpectedly comes three weeks early, drivers are caught off guard, their cars plunging into the lake while they cross it.
The filming of both Hurricane Irma and the yacht facing the enormous waves are impressive. But nothing can top what comes after the little yacht sailing by the towering icebergs along the coast of Greenland. See the image attched to this review. It is a magnificent sight. What follows is truly astronomical. An avalanche occurs and the ice collapses i to the sea with waves engulfing the vessel.
AQUARELA is my pick for one of the best documentaries of the year. The achievement in filming technique alone - for example how the camera could be kept so still during a hurricane or waterfall is indescribable being words. There should be a doc on how these efforts are achieved. But AQUARELA is pure cinematic delight and comes complete with the all-important message of environmental conservation.
Trailer: https://www.youtube.com/watch?v=3xAIuDF25kE
THE PEANUT BUTTER FALCON (USA 2019) ***
Directed by Tyler Nilson and Michael Schwartz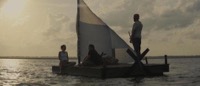 Written and directed by Tyler Nilson and Michael Schwartz, THE PEANUT BUTTER FALCON gets its inspiration from Mark Twain's THE ADVENTURES OF HUCKLEBERRY FINN and is unafraid to say it, as one of the film's characters mentions the classic at one point in the film. The setting is around the Mississippi River where crab fishing is common and boats motor around the high grown reeds.
Audiences and cries love a film when they an connect withe the film's characters. Unless you live in this region in America, the characters are as foreign as night and day. Tyler (Shia LaBeouf) is a crab fisherman who is upset with his work and lifestyle and acquaintances. This leas him to burn up all the fishing gear of his employer with two men out to get him. So angry are these two that killing Tyler is not an option. One has little sympathy for Tyler as he need not have done this awful deed in his anger but he is the film's hero. He goes on the lam with the two in hot pursuit. This is one character that audiences are unfamiliar and have hard time connecting with.
The other character is Zak (Zack Gottsgen), a teen with Down's Syndrome. He is sent to a home under the care of a sympathetic social worker, Eleanor (Dakota Fanning). Zak escapes with the aid of a resident (Bruce Dern) with Eleanor in pursuit. Zak dreams of becoming a wrestler and hopes to travel to a wrestling school conducted by his hero, with the professional name Salt Water redneck (Thomas Haden Church).
These two charters meet when Zak hides in the boat that Zak steals. Both travel to the wrestlings school to meet Salt Water Redneck. The film turns in a buddy road trip movie.
Alternatively unfamiliar characters in equally unfamiliar settings can work out fo the better. Things unfamiliar can turn out to be fascinating, as the area around the Mississippi River proves. Alligators are around and the river and vegetation is rural wild beautiful.
LaBeouf plays himself in real life, where he becomes an inconsiderate a**hole to those around him. Gottsgen as the Down Syndrome kid is utterly winning and charming in his naive and goofy way, holing his own and often stealing the limelight from LaBeouf and his other co-stars. One can also feel for Zak, who is chasing his dream of becoming a professional wrestler against all odds. Zak does get a chance.
THE PEANUT BUTTER FALCON is so called as it is Zak's professional wrestling name. It is a well-intentioned film with real life characters with problems chasing their dreams. Though set in a different setting, audiences can still connect with certain aspects of the characters while being fascinated with a foreign setting.
The impressive and authentic setting soundtrack brings together bluegrass, folk songs, and spirituals, for a mix of contemporary and timeless. There is original music composed by Zach Dawes, Jonathan Sadoff, as well as new and classic songs from Sara Watkins, Gregory Alan Isakov, Ola Belle Reed and The Staple Singers.
The film also avoid's the typical Hollywood ending and has an independent feel to it.
Trailer: https://www.youtube.com/watch?v=ACze83fG4wM
READY OR NOT (USA 2019) **
Directed by Matt Bettinelli-Olpin and Tyler Gillett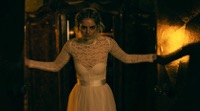 From a script by Guy Busick and R. Christopher Murphy READY OR NOT is a horror black comedy directed by Matt Bettinelli-Olpin and Tyler Gillett that serves to amuse but ultimately disappoints. An example of a film that closest follows READY OR NOT is Jonathan Lynn's 1985 CLUE based on the board game.
READY OR NOT (the phase conned from the game hide-and-seek) follows Grace (Aussie Samara Weaving), a young bride who joins her new husband Alex Le Domas (Canadian Mark O'Brien) and his rich, eccentric family led by the patriarch (Henry Czerbny) and the mother (Andie MacDowell) playing a game of deadly hide-and-seek, where her in-laws attempt to find her before dawn. Grace is 'it'. The other members of the family are to find her. The family are armed with an assortment of weapons like pistols, rifles and crossbows, the latter who many are still experimenting its usage. When she realizes that the Le Domas family intends to hunt and kill her, she turns the one-sided hunt into a free-for-all, with everyone fighting for their survival. As Alex goes against his family to help her, Grace discovers that the night is part of a diabolical ritual. Why the ritual? The reason given is that if the new member of the family is not killed by dawn, then each member of the family will be killed or destroyed instead by some form or other. The ritual has worked in the past. But this time around, it might not owing to Grace's resourcefulness.
The concept of READY OR NOT sounds solid but there is difficulty in translating it to film. One flaw is the script which is little too ambitious to be credible on screen. There are two twists in the story towards the end (which will not be revealed in this review) but both quite predictable. It also takes quite a bit to believe what s happening at the end, as the film has nothing supernatural about it except during the ending. The script is also limiting as it concerns family members playing hide-and-seek which means not many opportunity for many to be killed in a violent or gruesome way. The only means the family killers are killed off in the film are by the weapons accidentally going off.
READY OR NOT, a low budget film looks more expensive on screen. The film was shot mainly in Oshawa, a town close to Toronto with a cast of a number of Canadian actors including the roles of the groom and father. The film should easily cover its cost in box-office receipts.
READY OR NOT ends up a little amusing time-waster though aspiring but never achieving the giddy heights of deliciously wicked horror-camp like the Italian Gallo films popularized by Dario Argento (OPERA, SUSPIRIA, BIRD WITH THE CRYSTAL PLUMAGE).
READY OR NOT has a Wednesday opening like many horror films and should pull in a decent box-office sum.
Trailer: https://www.youtube.com/watch?v=ZtYTwUxhAoI
TOUCH ME NOT (Romania/Germany/Czech Republic/Bulgaria/France 2019) **
Directed by Adina Pintilie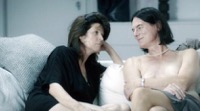 TOUCH ME NOT, filmmaker Adina Pintilie's Golden Bear–winning first feature is a brave and raw look at bodies, intimacy, and empathy, exploring the private lives and sexual desires of four people with an approach that blurs the line between fiction and documentary. Moving seamlessly between erotic clubs and closed-door reflections, TOUCH ME NOT is a self-assured journey into the intimate lives of Laura, Tómas, Christian, and Grit.
Not an easy watch as well as opening windows into a world of those who dare to break with social conventions and access the hidden aspects of their sexuality, the film revels in a space where anyone — no matter the obstacle — has the possibility of touching their inner rebel. In what feels like galaxies beyond the sexual revolution of the 1960s, Touch Me Not invites one to start as a tabula rasa and TOUCH ME NOT opens this transcend all previously imagined limits.
Within protective spaces that are entirely free of judgment, Adina Pintilie and her protagonists explore new perspectives on human relationships, and we, as viewers, are challenged to question our own self-knowledge and continue our journey of self-discovery beyond the cinema in our everyday lives.
In the middle of the film the one subject, Laura has a session with someone that could be described as a healer. He talks about being in a good space and energy and such. For those who like myself who do to believe in stuff like new age energy and healers, this section along with a whole lot more in the film will be difficult to take in. Laura says: "I do not understand how I have come to reach at this point. Or maybe I have forgotten." The healer then says: I will touch you now." At this point in the film, myself and many others would have given up oaths mumbo-jumbo. My background is engineering and science and it takes incredible patience and effort to each this film, which looks totally pretentious, unplanned and irrelevant.
On the positive side, the experiences of a few characters in the film resonate with raw emotions. A man who has lost his blond hair when he was young relate the difficulty of undergoing the experience from being a cute boy to a weird one. In one experiment, he touches a disabled male with his eyes closed. This is a difficult scene to watch. The disabled male gos on total about the pleasure of his sexual experience being born different.
Whether one likes or hates TOUCH ME NOT, one thing is for sure in that the often disgusting film, which could be described as porn disguised as art opens ones eyes (to put it mildly) to the sensation of touch and sexuality. But the film leads nowhere as to were all the studies or leading or whether anyone has gained from the examinations.
TOUCH ME NOT opens at the TIFF Bell Lightbox with a Q&A session with its director Adina Pintilie on Friday August 23 at 830pm.