The Toronto Interantional Film Fetsival movies are beginning to make their theatrical run. Watch for JUDY and ABOMINABLE.
FILM REVIEWS:
ABOMINABLE (USA 2019) ***
Directed by Jill Colton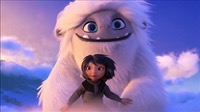 The new Dreamworks animated feature that premiered at the Toronto International Film Festival has nothing abominable about it. It is so pleasantly nice that that the film title should be re-named "Pleasant" or perhaps "Happiness" since the setting is Shanghai, China.
In the current times of 'more women in movies', it is not surprising that the main protagonist is a female.. She is Yi (Chloe Bennet), a resourceful girl in a totally female family consisting of mother and granny, 'nai nai' right after the loss of her father. Being Chinese, she knows how to play the violin (a little stereotyping here),the instrument worth to her more than anything else in the world. What is puzzling in one scene is when asked to play for the family after dinner, she says she sold the violin. The reason is never clear and left for the audience to decide the reason for her decision to say that. The gender of the yeti that she saves is brought into question in one scene, as likely to the filmmakers whether to make the yeti male or female. It would be a little much to make it also a female, so 'male' looked after by a female would be the expected option.
Having fled the secret laboratory where he's been detained, a young Yeti, that is named Everest (non-speaking, just making abominable snowman sounds) frantically scurries through the streets of Shanghai before hiding on an apartment rooftop, where he takes solace in a billboard advertisement for travel to Everest. It's also where he meets Yi. Yi and the Yeti discover a shared fondness for Yi's grandma's dumplings — which the Yeti consumes in crazy quantities — and a love of music. An outspoken advocate for Asian actors and film roles in Hollywood, Bennet voices Yi with an impressive mix of American confidence and Chinese family values.
Yi quickly surmises and turns correct that her new companion is being hunted by a squad of ruthless militiamen, led by wealthy collector Burnish (Eddie Izzard) and the zoologist Dr. Zara (Sarah Paulson). with red hair looking like an animated Tilda Swinton who usually has roles of this nature in films. Recruiting two cousins as accomplices (Chinese have large families - stereotyping?), Yi determines to help the Yeti get away. With their pursuers hot on their tails, the quartet hop on a barge bound fo
The setting in China instead of the U.S, makes total sense. The Himalayas where Yi takes Everest is close to the Himalayas compared to the U.S. Also, a film set in China will do better at the box-office globally as Chinese the second largest market in the world. (Will this film be subject to tariffs on the Chine-American trade war?)
The film draws from other films like E.T. (also from Dreamworks). Yi is aiding Everest finding home and reuniting with his parents. The bonding between master and teen is reminiscent of HOW TO TRAIN YOUR DRAGON.
The animation from Dreamworks is great as expected though there is not much excitement in anything in terms of insight or innovation. Recommended for little kids!
Trailer: https://www.youtube.com/watch?v=XrgVtuDRBjM
CHARLIE AND HANNAH'S GRAND NIGHT OUT (Charlie en Hannah gaan uit) (Belgium 2017) **
Directed by Ben Scoliers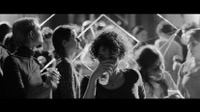 This playful film, CHARLIE AND HANNAH'S GRAND NIGHT OUT follows 2 girls, Charlie (Evelien Bosmans) and Hannah (Daphne Wellens) as they step out in the night scene of Antwerp.
The film is shot mostly in black and white (but with bouts of colour later on), giving it a trippy look. It begins with Hannah arriving in the late of a Friday night to meet with her friend, Charlie. She apologizes for being late as she says she was urgently doing irrelevant things like eating a kiwi. Then she says she dropped a pair of scissors on her toe. It is ok replies Charlie and the two carry on, playfully, engaging in irrelevant conversation that appears cute at the start but leads to boring and even monotonous quickly. They arrive at their party after purchasing cheap liquor at 5 euros as they figure that that is what their friends are worth. 'Is this film worth 5 euros?' comes the immediate question to my mind. At the party Hannah meets with Fons (Patrick Vervueren) and indulge in more irrelevant chi-chat.
Director Scoliers spans equal screen time on each of the heroines. Though Charlie appears on the outside less fickle than Hannah, both are indistinguishable.
Some parts of the film defy logic. When the magic candy (code name they use for drugs) they consume take effect, Hannah's boobs talk. They talk to each other. But why is Fons who had not taken any hear the boobs? Another segment has Charlie on a rack in an old horror movie. She then escapes by taking another candy and turning herself into a block of flats, when she can see the whole city. "Oh, there's Hannah," she remarks.
On the other hand, Charlie shares a cigarette with Catherine the Great. Before long, Charlie is out spending the rest of the night with Fons, Hannah's friend. It is clear the Fons is interested in Charlie. Hannah does not care that Fons has ditched her (both of them have had sex before).
The film spends a lot of time on the ex's of both women. Not that they are that interesting, but the girls bitch about their ex's non-stop. Do their new male friends (or the audience) really care?
To the film's credit, the visuals, especially when the girls get high are visually 'cute', colourful (favourite colours appear to be red, blue and purple) and made trippy especially when combined with a bit of animation.
As a result of their drug trip, the girls get to evaluate a little on their lives, though one can doubt if they will really change their lives at all. The girls are too immature and indecisive for that matter. One scene has plates hanging on the wall of women being fucked - really offensive to women. Women are also treated as slags in the film.
There is nothing really grand about Charlie and Hannah's Friday night out and there is nothing grand about this film either. Everything fizzles out quickly. Playful does not necessarily fun and this film proves it.
Trailer: https://www.youtube.com/watch?v=fbqeiSnq3Zo
THE FIRST KING: BIRTH OF AN EMPIRE (Il Primo Re) (Italy 2019) ***
Directed by Matteo Rovere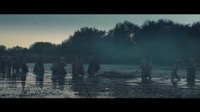 An Italian re-making of ROMULUS AND REMUS, an early pre-Christianity feature way back when, when films of this genre together with Biblical films were extremely popular.
When the film opens, the audience sees two brothers Romulus and Remus as they tend sheep right before everything is swept away by a tidal wave. They are captured by a tribe and locked in cages. After they are others are forced to fight each other in the mud (dirty, brutal and sexy fights) for amusement of the captors, the prisoners escape, only to travel through hard terrain in order to survive. They also have to fight superstition and sometimes each other to survive.
Why do Romulus and Remus care so much for each other that they are willing to sacrifice their lives for each? Apparently they have sworn allegiance when they were taken apart as kids from their mother by an attacking tribe.
There is hand-to-hand combat and fighting with ancient weapons like swords, clubs and hammers. All this allows for a lot of blood-letting such as a spike on the side of the neck letting out gushing blood or a head cracked open. There is even a half body (a silly looking special effect) seen hanging from a tree.
This is a male oriented film so females beware. There is only one female in the group surviving the journey. There is no romance - only macho males fitting each other and showing off their muddy bare bodies.
It is just one fight after another. The film gets a bit monotonous in tone though not for lack of trying. If the men are not fighting other tribes, they are fighting each other. The lack of humour clearly puts a damper on the entire film. The founding of Rome is the excuse given for the film to have more clout. Romulus and Remus are given credit to the founding of Rome hence the subtitle "Birth of an Empire".
To the film's credit, THE FIRST KING is beautifully shot. Most of the action takes place in the country and woods amidst streams and rivers. The men are not very gruff and sport lots of facial hair. There has bonnet been a group of uglier actors assembled on display film. But everyone seems to be in shape.
The film runs a lengthy 2 hours and 5 minutes but it could be cut short and edited for a tighter film. The action set piece are equal well spread out, so there is not long a dull moment, unless one finds the action boring. One imagines that this is reason for keeping the fights sufficiently violent.
Yet, THE FIRST KING delivers if one likes films in this genre.
The DVD and Blu-ray are just out October 24th this week. They come with these bonus features: "Making of" and "Trailer". The English version is also available but it is best to watch the film in Italian with subtitles.
Trailer: https://www.youtube.com/watch?v=g1MHA-swPjs
JUDY (UK 2019) ***
Directed by Rupert Goold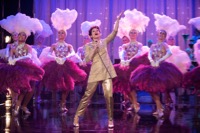 Premiering at the Toronto International Film Festival just last September to a standing ovation likely because Oscar Winner Renée Zellweger was present, JUDY makes its debut in theatres just two weeks after. Oscar winner Renée Zellweger delivers a note-perfect performance (she reportedly sang all the songs herself) as Judy Garland during the last year of her life. When one thinks of Judy Garland, one thinks good times like THE WIZARD OF OZ and the famous song "Over the Rainbow", but those expecting a feel-good movie will be out of luck. In fact, the first song sung by Garland occurs after 40 minutes of screen time. The film is based on the Peter Quilter's stage play "End of the Rainbow" which is pretty grim.
The film shifts to and fro, intercutting from Judy during the last year her life to the days where she was just 16 working at MGM Studios for MGM head, Louis B. Mayer. Two aspects of Judy's life are portrayed and both heavily involve performances.
For the 16-year old, Judy is shown to be raised on film sets and nearly every aspect of her life — from what she could eat to who she could date to what drugs she should take — was dictated by MGM studio head Louis B. Mayer. Mayer is shown just short of being as nasty as Harvey Weinstein. Judy became a wondrously gifted movie star who never learned to take care of herself.
When the film opens, the audience first sees Judy a middle-aged, homeless, broke, embroiled in a custody battle, and all but blacklisted in Hollywood. She is kicked out of the hotel is is staying at and she is left homeless with two children. She docks them off at her ex, Sid (Rufus Sewell). In a bid to regain some control of her career, she accepts a residency at a London theatre. She refuses to rehearse and, crippled by anxiety, insomnia, and alcoholism, can barely make it to the stage opening night. But once there, in the spotlight, before an eager audience, microphone in hand and a crackerjack band at the ready, she's suddenly at home. And it's magic. But not all the time. One scene has her collapse on stage and another being heckled but the audience and then boo'ed off after she loses it and insults the audience. These are not pleasant scenes to watch.
Though based on a play, the film does not feel like one, owing primarily to the frequent intercutting of Judy in her last year and Judy when young. Unfortunately, the film falls into cliched territory with the expected manager that uses her, her bout with alcohol and her descent from fame. There is little insight or background about Judy Garland that is provided. JUDY can best be described as a play about Judy Garland than a biopic.
The film has a few solid moments. The best of these is Judy's chance encounter with a couple of gay admirers. They sing with Judy and reminisce of the times when they were arrested for gay behaviour. Judy Garland and her daughter Liza Minelli are gay icons.
JUDY is an ok watch aided by a solid performance by Renée Zellweger but do not expect too much and you will not be disappointed.
Trailer: https://www.youtube.com/watch?v=HU2GJwkH71M
THE LAST KING
(TO BE POSTED)
THE MEANING OF LIFE (Canada 2017) ***
Directed by Cat Hostick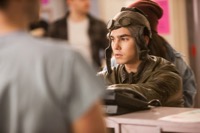 It is bold for a film to be entitled THE MEANING OF LIFE. One expects some life altering experience for the audience or perhaps some urgent message of life. In writer/director Cat Hostick's film, she attempts both. These are extremely high goals to achieve and one cannot fault her for want of trying. The film poses this all-important question: Would one give up ones career for family or for someone one loves?
A starving musician Finn Faber (Tyler Shaw) gets a temporary job as a therapeutic clown at a hospital entertaining sick kids. Finn is a music songwriter. He is assigned a 9-year-old leukemia patient: Sophia Hill (Sadie Munroe). Finn soon learns that Sophia coming into his life was no coincidence, but an important lesson he needed to learn before making a big step forward in life.
Finn's inconsistency in character is too noticeable. Finn is super patient with Sophia. He encourages her in her painting to no end. At one point, in order to start her on drawing live animals, he tells he to close her eyes and imagine that it can be done." But Finn has absolutely no patience or time for his father. Thee is no real reason of how the enmity between father and son has come to this level.
The dialogue between Finn and Sofia is at times corny, but it works and if one evaluates, one can hardly come up with anything better. "You are a nice dork, I like you." "You are beautiful, with or without hair," Finn tries to convince Sophia to do chemo.
Tyler Shaw who does Finn's songs is pretty good. He sounds like a cross between Ed Sheeran and Sam Mendes. The guitar playing is not half bad either.
The best thing about this film are the performances. Tyler Shaw, who has been signed on by Sony Music in real life does a marvellous job singing and acting. The young actress Sadie Monroe is a scene stealer. Other veterans include Dan Lett (who I personally just got acquainted with at the gym) playing Finn's father, a Canadian actor who has acted in countless films including X-MEN APOCALYPSE and THE SHAPE OF WATER. Lett has only two scenes in the film but makes them count.
The film has a good message and story but it get a bit sappy and preachy especially towards the end. "You are the only therapy these kids look forward to each day." says the nurse to Finn at the end. Or Finn saying: "I will never give on music." The tacked Hollywood ending is also a bit too much, spoiling what might have been a decent believable story.
Flaws aside, THE MEANING OF LIFE turns out to be a pretty decent film. Director Hostick tries her best and the effort shows. Entertaining with a message to boot, the film makes a worthy watch.
Trailer: (unavailable)
MONOS (Colombia | Argentina | Netherlands | Germany | Sweden | Uruguay | USA | Switzerland 2019) ***1/2
Directed by Alejandro Landes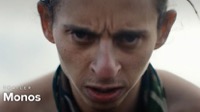 Premiering at this year's Sundance, MONOS (meaning 'monkeys') is an original enough film that draws from Lord of the Flies but filmed in Colombia. A commando group of youth train in the jungle while given the task of looking after an American hostage by their chief. Thing go south when the cow they have borrowed is killed and the hostage escapes.
There is something inherently beautiful to see male bodies tugging at each other during military training. Famed French director Claire Denis realized this and her film BEAU TRAVAIL has an image of topless men in combat - a very homoerotic image. This image is repeated 20 minutes into MONOS with half naked men (youths in this case) fighting each other. But the recruits on training her are of both sexes, so naturally there is some making out between male and female (of the characters Wolf and Lady, which they celebrate.
Looking at youth reacting to war and chaos has been a fond subject in English literature as evident in the bestseller Lord of the Flies, where a group of boys stranded on an island start up their one rules for survival. MONOS holds intrigue for the identical reason but in an ambiguous war setting.
The setting is on a remote mountain in Latin America. The film tracks a young group of soldiers and rebels — bearing names like Rambo, Smurf, Bigfoot, Wolf and Boom-Boom — who keep watch over an American hostage, Doctora (Julianne Nicholson). The teenage commandos perform military training exercises by day and indulge in youthful hedonism by night, an unconventional family bound together under a shadowy force known only as The Organization.
The script (co-written by Landes and Alexis Dos Santos) does not give details of what the group MONOS is fitting for or where the hostage is coming from. These lack of details undermine the authenticity of the plot. Director Landes does not favour any singular one of the rebels. Each react more with their instincts than their brains. Anyone of the revels can turn violent and kill, including the American hostage who ends up killing a rebel.
The musical score by Mica Levi is accompanied with non-musical sounds which creates an eerie environment. The landscape of the jungle (fog hovering around the mountain tops; thick rain clouds) and the river waters is stunning, credit to cinematographer Jasper Wolf.
The film takes a more violent turn after an ambush drives the squadron into the jungle, both the mission and the intricate bonds between the group begin to disintegrate. Order descends into chaos and within MONOS the strong begin to prey on the weak in this vivid, cautionary fever dream.
MONOS opens with a special week long engagement at the TIFF Bell Lightbox. The film has already played at many film festival receiving accolades of praise. MONOS is also Colombia's entry for Best Foreign Language film for the next Academy Awards.