FILM REVIEWS:

GRACE A DIEU (By the Grace of God) (France 2018) ****
Directed by Francois Ozon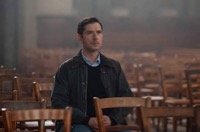 French veteran director Francois Ozon has made his name with upbeat comedic drama like SITCOM, LES AMANTS CRIMINELS (The Criminal Lovers), SWIMMING POOL and others. His mood takes in turn to sombreness in his latest offering GRACE A DIEU (By the Grace of God). The film is a fictional account inspired by the real life and trials Father Preynat, implicated for acts of pedophilia dating back to 1986. With a case still then pending before the French courts, the film created an unprecedented controversy and the Father Preynat's lawyer even asked for the postponement of its release. At present, French justice has ruled and authorized the film's release in France in February. Since then, Father Bernard Preynat has been found guilty of sex abuse of minors and defrocked.
This film tells the moving incredible story.
The film first centres on Alexandre (Melvil Poupaud of Xavier Dolan's LAURENCE ANYWAYS) living in Lyon with his wife and children. One day he learns by chance that the priest who abused him, Father Preynat when he was in scouts is still working with children.
The consequences are deeply rooted in Alexandre's life. He confronts Preynat who admits the deed but does not ask for forgiveness. The important moment is examined in the film when Alexandre tells his wife that if Preynat went on bended knee to ask for his forgiveness, he would not know what to do. The wife replies that if Alexandre forgave him, he would be Preynat's victim forever. The film also debates the fact that the church's aim is forgiveness and redemption at the expense of the victim. "I don't want forgiveness," says Alexandre. "I want Other Preynat sanctioned. He is a danger to children."
Alexandre decides to take action and is soon joined by two other victims of the priest, François and Emmanuel. They band together to "lift the burden of silence" surrounding their ordeal. But the repercussions and consequences will leave no one unscathed. Based on events from the 2019 conviction of Cardinal Philippe Barbarin of Lyon for concealing the conduct of Father Bernard Preynat, the film compassionately illustrates the varying effects of trauma on survivors and their families in this urgent portrait of resistance, the power of mobilization, and the mysteries of faith.
Ozon's film might not stop child abuse in the Catholic Church forever but his heavy guilt-laden film will almost certainly make the guilty ashamed.
Ozon is known for his twisted sense of humour as evident in his breakthrough film SITCOM or his gay re-telling of the Hansel and Gretel story in LES AMANTS CRIMINELS. Not much humour can be found in GRACE A DIEU, but he includes one quote of Father Preynat's victims: "In my life, I have only made love to 3 people - me , my wife and Father Preynat"
The film finally gets a release in Canada on October 18th after official selection at the Halifax, Cinefest Sudbury and Vancouver Film Festival. Grand Jury Prize winner at this year's Berlin Film Festival, BY THE GRACE OF GOD is a film, told as it is in all its sensitivity and dead seriousness and should be seen for its subject of pedophilia in the Catholic church to be revealed.
Trailer: https://www.imdb.com/title/tt8095860/videoplayer/vi2285091353?ref_=tt_pv_vi_aiv_1
GREENER GRASS (USA 2019) ***1/2
Directed by Jocelyn DeBoer, Dawn Luebbe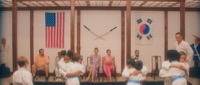 The opening credits appear framed by a mouth with quivering lips in front of braced teeth. If you think that is weird, consider the following scenario when a mother Jill (Jocelyn DeBoer) asks if she can get back her baby daughter she had given to her friend Lisa (Dawn Luebbe) because her only other child, her son has turned into a dog. When the answer is no, Jill says,, "Cannot hurt in asking." when the reply comes: "It does hurt." It is a good reply though it shorts stop any other possible responses that could top that.
Described rather accurately as KAFKA meets THE LOBSTER, this is absurdist satire that not everyone will be comfortable with. But if this is your cup of tea, GREENER GRASS which could also be called ROOM FOR IMPROVEMENT WITH A DOSE OF OVER-POLITENESS will be quite the delight.
The setting is an unnamed American suburban town. The lead characters are two families each with children, and children with problems. Lisa and Dennis (Neil Casey) do not have sex anymore. Jill and husband Nick (Beck Bennett) on the other hand, have a sex schedule of five times a week. The former's son Julian (Julian Hilliard) is horrible at sports, school and music (he plunks the piano) at a concert compared to the latter's son who is downright rude and would mouthed - all perfect excuses for hilarity. But everyone is so polite except when telling the truth that they always do resulting in extreme awkward moments. The grass is always greener on the other side and there is always room for improvement. Nick thinks the pool filtration results in better drinking water despite the awful taste. Nick brings his own water to the restaurant for drinking.
Other absurdities involve Lisa giving birth to a football that she keeps wrapped in swathing clothes. There is another neighbour with twins who wants everyone too know that she is separated.
All the actors play their material straight faced including the child actors who are actually the funniest, special mention going to Julian Hilliard before turning into the cutest dog. The scene stealer is D'Arcy Carden as Miss Human, the school teacher that conducts inappropriate examples in the children's classes.
Apart form all this, the film is framed by a serial killer, a bagger at the local supermarket that serves as a kind of whodunit, and also serves as an appropriate climax to the film.
The comedy is fresh, funny and relatively clean except for the few vulgarities uttered by the rude son. This is the kind of original comedy that one does not want to end, though the film runs only around 100 minutes.
Though relatively unknown, the actors have done Saturday Night Live before and this is SNL that works not like the 90% of the skits every Saturday that are just unfunny. GREENER GRASS is not 100% flawless. The film is a bit messy at times as with its ending and a few set-ups like the photography session turning up a dud. Still it might just end up on the list of cult movies to be remembered.
Trailer: https://www.youtube.com/watch?v=iyOvQfgQhKQ
ZOMBIELAND DOUBLE TAP (USA 2019) ***
Directed by Ruben Fleischer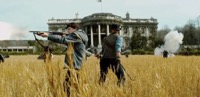 ZOMBIELAND begins with the Lady Statue of Liberty Sony Pictures Logo coming off her pedestal and whacking off two zombies, reminiscent of the time she drew guns from her cowboy belt way back when in 1965 at the start of the Jane Fonda western comedy hit CAT BALLOU. Expect the same zaniness.
ZOMBIELAND takes half the film to pick up. The first half is a little slow, boring and annoying wth little action, silly special effects, unfunny jokes and impromptu nonsense from the actors. But be a little patient. The film improves. It calls for the narrator Columbus to bring the audience up to date with the state of affairs. The audience is informed that there are three categories of zombies, the very slow, the stealthy and the new almost invincible breed.
ZOMBIELAND picks up, fortunately once a few comedic set ups set in. It is clear that the single premise of human beings fighting zombies is insufficient material for an entire film. One setup involves the meeting of Little Rock (Abigail Breslin) with a musician and their quest to find their Utopia, which in this case is Babylon. The problem with this one is the really annoying musician boyfriend, (Avan Joglia's Berkeley) who is as unfunny as he is unoriginal. Babylon is a sort of hippie haven. Another set-up, the film funniest and best has the two Columbus and Tallahassee meet their doppelgangers. Each are unaware oftener own doubles, which make the situation even funnier. Columbus's double is as dorky as himself with his own rules which he calls commandments.
A little romance is provided. One is the couple played by Emma Stone (as Wichita) and Jesse Eisenberg which is a little played out and manipulative. The other between Harrelson and Rosario Dawson (as Madison) is the wilder but funnier one which is more in tone with the movie.
Performances-wise, Harrelson and Eissenberg deliver exactly what audiences would expect of them. Harrelson overacts the way he normally does, screaming out his lines while jumping all over the place. Eissenberg does his usual talky dorky bit. The two opposites make the perfect unlikely buddies.
For a big budget zombie horror comedy, the special effects are excellent as is expected. There are lots of gore and violence with some good vomit thrown in. Chopped limbs, severed heads, gushing blood are plentiful whenever there is a zombie attack.
The film's climax is the big zombie attack on Babylon after the residents celebrate with fireworks thus attracting the monsters. Special effects are turned on to the maximum with lots of pyrotechnics and explosions.
There is one last comedic set-up at the end so audiences that leave at the beginning of the closing credits. Bill Murray plays himself being interviewed at some sort of comic con convention promoting what is his new GARFIELD 3 movie When trying to churn out a fur ball with his interviewer, the interviewer strut spewing out vomit and while the convention is then attacked by zombies who are fought off by Murray.
Is ZOMBIELAND DOUBLE TAP better than the original? Hard to say as many will not remember the original (back in 2009) being quite some time back.