Quiet week - before the storm of Christmas movies descend upon us.
ANTIGONE and IN FABRIC open this week
.
FILM REVIEWS:
ANTIGONE (Canada 2019) ***1/2
Directed by Sophie Deraspe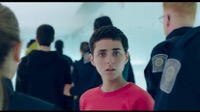 Two French language films involving police brutality (in these films, police opening fire causing riots) make this year nomination entries for their country's Best Foreign Language Film entries. ANTIGONE is Canada's entry for the Best Foreign Film. LES MISERABLES is France's entry. Both films are quite different. The short list has at the time of writing not yet been announced.
ANTIGONE is an ambitious film adapted from the classic Greek tragedy.
ANTIGONE is the name of a Lebanese immigrant living in Montreal with her grandmother, sister and two brothers. The film begins with a dinner scene where the audience is introduced to each family member. Things look rosy for the new Canadian family. Antigone has a romantic fling with a white Canadian boy whose father is running for politics office.
Things take a turn one day when cops show up unexpectedly at a playground. One brother is shot and the other arrested. Because the arrested brother has got a record, he likely will be deported. Antigone having a clean record and not yet an adult figures she can pose as her brother and get him out of prison by pretending to be him. This she does. But nothing is what it seems.
By helping her brother escape from prison, Antigone confronts the authorities: the police, the judicial and penal system as well as the father of her friend Haemon. The brilliant teenage girl, on a spotless path so far, feels the noose tighten on her. But to man's law, she substitutes her own sense of justice, dictated by love and loyalty
Director Deraspe always has some new twist in the story, as the film progresses. Antigone discovers that the brothers are not as innocent as they seem. The arrested one is part of a local drug gang in which the shot brother held a high position. Antigone is arced with a dilemma. Family for citizenship? The film stresses both the importance of family as well as the need to lookout for oneself and not be bogged down by family. After all, it is one that is responsible for ones own life. The decision Antigone takes is revealed in the film's final shot.
ANTIGONE is a rough watch and is meant to be so. It is a film that reveals the hardship of immigration in an extremely cruel world. But director Deraspe shows that there is hope. There is always good people out there. The good people out there in this film turns out to be Antigone's white boyfriend's father who goes out of his way to do the right thing and earn back the respect of his son.
ANTIGONE is a film deserving of the distinguished honour of being selected as Canada's entry for the Best Foreign Film Oscar. But LES MISERABLES is the better picture as it is more spectacular and daring in its storytelling, taking more risk than ANTIGONE does. Still ANTIGONE plays more with conflicting raw emotions. ANTIGONE starts off slow, but it hits boiling level pretty fast. Definitely worth a look, the film went on to win the prize of Best Canadian Feature at the last Toronto International Film Festival.
Trailer: https://www.youtube.com/watch?v=Eo5os3XbZC4
IN FABRIC (UK 2019) ***1/2
Directed by Peter Strickland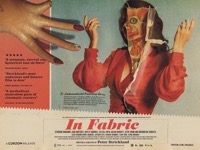 IN FABRIC is a comedy horror about a killer red dress - literally. The red dress has the ability to cause death wherever it is worn.
If all this sounds weird, it should - as the story makes no logical sense at all. But this fact does not spoil the pleasure this odd and deliciously film of evil delivers.
The dress comes into possession of two people.
The first is Sheila Woodchapel (Marianne Jean-Baptiste from Mike Leigh's SECRETS AND LIES), a recently divorced bank teller who lives with her son Vince. She buys the dress from the department store Dentley and Soper's after being convinced by a very weird store clerk Miss Luckmoore (Fatmah Mohamed).
Luckmoore is strange for a number of reasons. Luckmoore partakes in strange rituals with the store mannequins and often takes a dumbwaiter deep into the store. At one point, she caresses a store mannequin which is revealed to have a bleeding vagina while the store worker Mr. Lundy (Richard Bremmer) watches and masturbates.
In the film's second half, the dress comes into possession of washing machine repairman Reg Speaks (Leo Bill) who is made by his friends to wear it on a night out. He is engaged to Babs (Hayley Squires) and is also chastised by his boss for minor indiscretions. He also makes people go into trances when reading out washing machine faults. Babs takes a liking to the dress and decides to wear it as well however she is concerned by how the dress is able to fit them both despite being different sizes and the appearance of a strange rash on their chests. The dress also breaks down their washing machine and Reg is fired from his job when he is reported on for repairing his washing machine off the books.
There are other kinky scenes such as the store looting scene that begins with two female customers having a go at it after quarrelling who should be served first. Babs also gives birth to a demon baby while Reg does her delivery screaming on her behalf.
Other strange scenes include Reg's firing scene. It takes Strickland to show Reg's boss chewing up Reg's company card to imply his termination at the company. Other's include Sheila's attempts at dating other men after her husband leaves her for a younger model. At two of her dates, her date informs her that he has brought discount coupons.
Both Sheila and Reg are equally interesting victims of the dress. Luckmoore provides the necessary excuse for director Strickland to indulge in his comic horror. The film often fills with saturated colours, particular red, reminding one of the Italian gallo movies of the 60' and 70's that Italian directors like Mario Bava and Dario Argento used to make.
The film has a huge fire as its climax but it takes more than fire to burn the devil dress. A sequel in the works, maybe? But I think director Strickland would have other innovate ideas to scare or surprise his fans.
Trailer: https://www.youtube.com/watch?v=biHUTtV4K40
KINGSWAY (Canada 2018) ***
Directed by Bruce Sweeney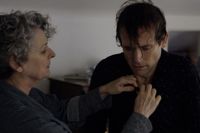 This dysfunctional comedy is done with much of the Bruce Sweeney wit that viewers of his previous films DIRTY, LAST WEDDING and EXCITED are used to. And it is bitingly funny. Take the first scene with Matt (Jeff Gladstone) in his psychiatrist office. "I am better. I don't need to be here and I can leave." So he gets up and leaves the office. But Matt is not better but getting worse, even considering suicide. It does not help that his wife, Lori is having and affair but worst of all, his dysfunctional family is butting in trying to do what they think is best for him - which is not. The bossy sister, Jess (Camille Sullivan) and mother, Mary (Gabrielle Rose, who is always a pleasure to watch) will not leave Matt alone, even stooping so low as to confront Lori for him. Director Sweeney knows how to tread the fine line between anxiety and crazy and often the line is blurred. One wishes that there would be something deeper in the story or some message for the audience but Sweeney's film is so entertaining, no one really cares for anything deeper. The fantastic cast do a great a job as well.