05
Jan
2020
Details

Category: Movie Reviews
Written by Gilbert Seah
The Best Film of the Year, according to me and the Golden Globes has a wide release beginning this week. The film in 1917 directed by sam Mendes.
FILM REVIEWS:
CLEMENCY (USA 2019) ***
Directed by Chinonye Chukwu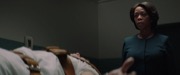 A hit at Sundance 2019 and coming out of nowhere, the drama CLEMENCY has already garnished accolades wherever it is shown. CLEMENCY benefits from both the sensitive delivery of a controversial topic and the bravura performance of its lead, Alfre Woodard who plays the female warden, Bernadine Williams of the prison that hold prisoners on death row.
From the first frame, director Chukwu establishes Williams as a no-nonsense warden who gets her job done by following the rules often without human sympathy. She is effective but her job causes a rift in her marriage to Jonathan (Wendell Pierce) who has almost given up on her.
Among the film's many moving moments is the one where the warden explains the execution process to Mr. Woods (Aldis Hodg). Mr. Woods is sitting in his cell wearing white while the warden explains what each of the three injections that will be administered to him will do. She then asks if he has any family members that might want to claim his body to which he remains silent and she continues to tell him that his remains will be the property of the state and then goes to ask him he wants to choose any of the witnesses. The camera effectively stays on the face of Mr. Woods who remains silent throughout the dialogue, the camera then capturing streams of tears that roll down his cheeks. At this point in the film, I recalled the time when our then Prime Minister, Brian Mulroney was asked whether to bring back the death penalty, to which his reply was that we (Canadians) will not go back to the times of the stone age.
Director Chukwu creates effectively the prison setting. One scene has Woods going into the open, where the sky can be seen. Many prisons in North America do not have this feature.
CLEMENCY bears the traits of a director's first effort. This means the film being single layered, which tends to follow a traditional path of past films, though not necessarily stereotyped. The film contains a few cliches. One can see right away that the warden is her own prisoner just as Woods is. A characteristic of a layered film is one with more to show - a singled layered film is a film that would not surprise on a second viewing. Once the story gets into gear, one can predict one incident after another right to the very climax. To Chukwu's credit, she creates her dramatic set-pieces with discipline and authority though one can tell that she is trying too hard with her various alternative camera placements. She elicits superlative performances from her cast particularly Woodard and Aldis Hodg. In contrast, if one is to watch a director with a dozen or more films under his resume, there is often more than one thing going on, on screen. Director Chukwu should eventually get there, as this effort puts her up there as a first director to be reckoned with.
Trailer: https://www.youtube.com/watch?v=r-E8-yPtQcY
CUNNINGHAM (USA 2019) ***1/2
Directed by Alla Kovgan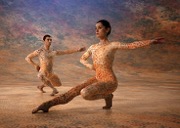 Every movement is possible for dancing - from nothing to the most expansive movement. These are the words of Merce Cunningham, the meaning of which are demonstrated in this documentary homage entitled CUNNINGHAM, written, edited and directed by Russian born director, Alla Kovgan (who also directed the acclaimed NORA). Alla's voice can occasionally be heard during the film as she interviews subjects in the documentary.
Mercier Philip "Merce" Cunningham (April 16, 1919 – July 26, 2009) was an American dancer and choreographer who was at the forefront of American modern dance for more than 50 years. Cunningham passed away at the ripe age of 90. He is also notable for his frequent collaborations with artists of other disciplines, including musicians foremost of which is John Cage, his partner and lover. As a choreographer, teacher and leader of the Merce Cunningham Dance Company, Cunningham had a profound influence on modern dance. Many dancers who trained with Cunningham formed their own companies. They include Paul Taylor, Remy Charlip, Viola Farber, Charles Moulton, Karole Armitage, Robert Kovich, Foofwa d'Imobilité, Kimberly Bartosik, Flo Ankah, Jan Van Dyke, Jonah Bokaer, and Alice Reyes. In 2009, the Cunningham Dance Foundation announced the Legacy Plan, a precedent-setting plan for the continuation of Cunningham's work and the celebration and preservation of his artistic legacy.
Kovgan's doc does justice to CUNNINGHAM's legacy. It respects his ideals and propels them. When asked if he is a modern or avant-garde dancer, Cunningham, in the interview replies that he just wishes to be classified a dancer. He emphasizes that it is movement he is interested in, and that his dance does not rely on music or a certain movement like ballet. It is odd then, that he formed a solid alliance with musician John Cage. The doc shows their collaboration as on their first performance in 1944. Their love letters are also illustrated in the film.
The film includes lots of archival footage of the dances, when Cunningham was older as well as when he was young. The film features 14 dances that were originally created by
Cunningham between 1942 and 1972 – including 1942's "Totem Ancestor" (his first collaboration with composer/life partner John Cage), 1958's "Summerspace" (where
Robert Rauschenberg's pointillist costumes and decor create a camouflage effect) and 1968's "Rainforest" (where Andy Warhol's silver pillows wander around the stage).
Foremost in the doc are Cunningham's dances. There is plenty of them, as expected and these form the film's highlights. Though this film reviewer is not an avid dancer, Kovgan's film is captivating and engrossing as she effectively draws her audience to Cunningham's work.
CUNNINGHAM is released in 3D and the publicist insists that the film be best watched in 3D. This reviewer did not watch the doc in 3D owing to his busy Christmas schedule, and watched a streamed copy. The publicist should be right. It would be great to watch all the dance sequences with 3D effect. This doc should be a feast for those working in dance and music.
Trailer: https://www.imdb.com/title/tt8574836/videoplayer/vi1368833817?ref_=tt_ov_vi
IL PLEUVAIT DES OISEAUX (AND THE BIRDS RAINED DOWN) (Canada 2019) ***1/2
Directed by Louise Archambault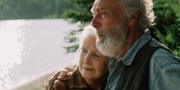 Director Louise Archambault's elegiac and charming AND THE BIRDS RAINED DOWN based on the award winning novel by Jocelyne Saucier is a tale of lonely old people with a slow pace to match. The film runs a little over two hours and requires some patience to watch though it comes wth a few rewards. The film is shot in Quebec showcasing some magnificent landscapes and in French, thus its French title. The film has been selected Canada's Top 10 by the Toronto International Film Festival poll.
It takes a death to bring all the film's characters together. In fact two deaths, though it is a bit confusing at the start as it appears that the two deaths were the same person. One death brings in the local hotelier Stephen (Éric Robidoux) with his aunt Gertrude (Andrée Lachapelle).
The other death is Ted, one of three hermits living in cabins in the Quebec countryside, miles from civilization. The hermits are Tom (Rémy Girard), Charlie (Gilbert Sicotte), and Ted (Kenneth Welsh) all of whom fled society years ago. They grow pot and sell it to the closest locals with help from Stephen.
All four come together resulting in several interactions, one of these being a senior romance between Gertrude and Charlie. Warning: There are sex scenes that includes old people nudity. To the director's credit, these are taken slowly and executed in good taste.
The film is so called because of fires that often rage through the forested area. One previous huge fire affected many of the characters including Tom who survived the fire but witnessed his entire family dying from it. The heat and fumes were too much for the birds that just rained down, dropping on those below.
This is a lifestyle that is increasingly endangered by nature, infirmity, and age. Into the picture arrives photographer/ researcher Ange-Aimee (Eve Landry). She threatens to disrupt their lives when she starts looking for survivors of this catastrophic blaze.
One thing noticeable about the film is the way more and more stories creep into the plot. The final one involves yet another fire that once again threatens the existence of the hermits. Cops arrive, clearing people from danger.
Each character has his or her own story, or baggage as better described. Tom is the local guitarist/singer who appears stuck there perfuming his tunes, one of which belongs to Tom Waits' famous collection - "Time" and another of which is Leonard Cohen's "Bird on a Wire". Apparently, these two songs were performed live by Girard. Charlie had been ill, near death but survived. Gertrude had been institutionalized and had never found love, though have had no shortage of sex inner younger days. All these stories make intriguing fodder, though they take their time to unfold.
As director Archambault's film comes to a close, it becomes apparent that it is not the stories of the lives of the characters that make the movie but the surprises that these stories of life brings that makes the film worth watching.
Trailer: https://www.youtube.com/watch?v=7kj_Wq8FfI8
LIKE A BOSS (USA 2020) **
Directed by Miguel Arteta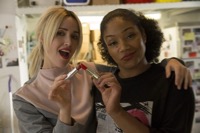 LIKE A BOSS is the story of two life-long friends who open their own cosmetics company. Their friendship is put to the test when their M & M Compay is bought up by a major company led by a ferocious CEO played by Salma Hayek.
LIKE A BOSS is a story of female friendship and how females should stick together no matter what. This is a genre of well tread territory. Just last year, the story of two high school graduates BOOKSMART directed by Olivia Wilde also had the importance of friendship as its main theme. BOOKSMART shocked both moviegoers and critics alike because the film was smart, original, current and brilliantly written. LIKE A BOSS, on the other hand, directed by Miguel Arteta and written by Sam Pitman & Adam Cole-Kelly is clumsy, all-over-the-place and cliche-ridden. The one good thing about it is that it lasts 83 minutes. The film stars Tiffany Haddish and Rose Byrne as the two friends, Jennifer Coolidge, Natasha Rothwell, Billy Porter, and Salma Hayek.
Two female friends, with very different personalities decide to start their own beauty company, Mel (Byrne) & Mia's (Haddish), despite not agreeing on how they should run it. One is more practical, while the other wants to earn her fortune quickly and live a lavish lifestyle. Things take a turn for the worse when their company runs into debt, forcing them to turn to an unscrupulous benefactor, Claire Luna (Hayek) who intends to steal the business out from under them, and forcing the two to address their differences to save Mel & Mia's. Of course, friendship prevails and Luna gets her come-uppance.
One would have expected more from director Aeteta whose break out film was the CHUCK AND BUCK known for its originality. LIKE A BOSS also condones drug use indirectly - and not only the relatively harmless weed, which is now legal in Canada but the heavier stuff like cocaine. One scene has Mel and Mia smoking weed in a room with a infant sleeping in the cot. Another segment implies the two friends doing blow in the past together.
Byrne is the less funny of the two leads while Haddish is unafraid to go all out crazy. The result is Haddish getting more laughs. Hayek reprises the role of an over-controlling boss she perfected in the serious THE HUMMINGBIRD PROJECT. Of the supporting cast, Billy Porter steals the show as the flamboyant gay employee who gets canned after being treated to an expensive restaurant meal.
To director Arteta's credit, there are few funny thought-of comedic set-pieces, as in the one Mia partakes too many hot peppers and the one where Mel and Mia take Barrett out for dinner to fire him.
LIKE A BOSS illustrates that good comedy is hard to come by, even thug it might hold a good solid message for women.
Trailer: https://www.imdb.com/title/tt7545266/videoplayer/vi4010589977?ref_=tt_ov_vi
UNDERWATER (USA 2019) **
Directed by William Eubank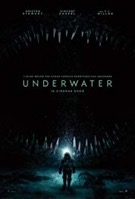 Initially filmed 3 years ago, UNDERWATER that cost between $60-$80 million to make finally opens January during the slow film period. So, it might stand a chance to make a few bucks, considering how boring and awful this supposedly horror/thriller is.
UNDERWATER opens with the camera scanning several written newspaper articles. They report the perils of being underwater at great depths for too long periods of time (like boredom, as audience o this movie will also experiecne) as well as sightings of a strange creature. This probes audience interest and is a good tactic to begin a horror movie. The film also ends with more titles explaining that the survivors do not revealing interviews what had actually occurred.
A group of researchers are in an underwater lab at eleven thousand meters deep, when an earthquake causes the vehicle to be destroyed and exposes the team to the risk of death, they are forced to walk deep into the sea with insufficient oxygen to try survive. However, as they move across the sea floor, they discover the presence of a deadly creature(s).
The titles at the start of the film inform the audience that it is an oil drilling company that is the cause of the problem. The oil company is called 'Tian' which in Chinese means sky. Tian's Kepler Centre is supposedly housing 316 crew members though never more than half a dozen is ever seen. The lazy script fails to identify the individual responsibilities of the group of researchers on board. Only the captain (Vincent Cassell, barely recognizable with his helmet) has an assigned duty. The main lead, Norah Price played by Kristen Stewart is shown in many segments scantily-clad, sweaty and sexy, reminiscent of Sigourney Weaver in the ALIEN movies. When the snarling monster comes face come to Stewart, the coincidence with the ALIEN movies feels too close for comfort. Stewart is not given much to do, and it shows. The other researchers are forgettable and not given much to do but to be picked off, one by one, for one reason or another. Nothing is mentioned of the background of the researchers either.
The film falls into the trap of other underwater films. It is often difficult to figure out what is happening underwater or in the facilities, so that the characters have to verbalize to each other or speak aloud, so that the audience knows what is happening. At one point, a character has to explain that a death has also occurred. Homage is paid to the classic Disney's (1954) 20,000 LEAGUES UNDER THE SEA in a line of dialogue.
The director William Eubank was handed this blockbuster after two successful indie small budget sci-fi hits LOVE (2011) and THE SIGNAL (2014). Like many indie directors given a big project for the first time, Eubank clearly discovers the difficultird of making a big budget film. At best UNDERWATER can be described as an underwater-ALIEN, coupled with cheap scares, and uninteresting characters (though great sets) that ends up a total bore after the first 15 minutes.
Trailer: https://www.imdb.com/title/tt5774060/videoplayer/vi1414249497?ref_=tt_pv_vi_aiv_1