21
Jan
2020
Details

Category: Movie Reviews
Written by Gilbert Seah
FILM REVIEWS:
COLOR OUT OF SPACE (USA 2019) ***1/2
Directed by Richard Stanley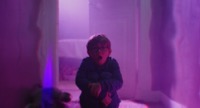 Remember the mediocre horror movie directed by John Frankenheimer THE ISLAND OF DR. MOREAU in 1996 starring Val Kilmer and Marlon Brando? The film won a few razzie awards for the best worst of the year in several categories. Richard Stanley was the director fired from that picture. COLOR OUT OF SPACE is his next film after that, making the film an interesting look.
Nathan Gardner (Oscar Winner Nicolas Cage) and his family -- wife Theresa (British actress Joely Richardson), daughter Lavinia (Madeleine Arthur), elder son Benny (Brendan Meyer), and youngest son Jack (Julian Hilliard) -- have given up life in the city to work Nathan's father's farm raising, believe it or not, alpacas. Things take a turn once a pink/purple glowing meteor crashes into the Gardners' yard. The farm starts yielding sick, large, inedible fruits and vegetables grow, the animals begin to mutate, and everyone starts acting very oddly as odd colors radiate everywhere. Cage gets to do crazy as he is famous for.
"What the hell is going on?" cries Lavinia, the daughter at the film's mid-point. This is the question that needs be answered. The film takes the first half to set the various series of events leading to this current inexplicable and weird state of affairs, and then to see what happens next. The story is based on the short story "The Color Out of Space" by H.P.Lovecraft.
These are three reasons to see the film - the choice of Stanley as director ; H.P. Lovecraft's based story and the outrageous Nicolas Cage.
Director Stanley, as evident from the film's first frame opts to infuse his film with quirkiness - from his odd characters to the unusual setting of his film. He and Cage seem an ideal filmmaking pair, made in craziness heaven. A dysfunctional family lives on a farm property when something from the skies drops on the property creating even weirder circumstances.
Nicolas Cage is no stranger playing odd and strange characters. In fact he won the Oscar for playing one such the drunk in Mike Figgis' 1995 LEAVING LAS VEGAS. In this film, he is given an odd but more serious role trying to cope with a dysfunctional family headed by a rebellious daughter and a wife suffering from cancer. "If only I could get some fucking consideration around here?" He screams at one point in the film. "Dad's acting weird," is the next line uttered by his son Benny. Who knows what effects this meteorite will have on this man? Make him crazier? Well, the audience learns then there is a hermit (Tommy Chong) squatting on the lake property, and now as described as having special qualities. The government officials who have come to inspect the meteorite damage then venture out to see him.
And a scene to watch is the tribute to the Hitchcock PSYCHO shower scene where Nicolas Cage freaks out while naked taking one.
The film contains a few gory scenes like the one with mummy's chopping off her two fingers (but all is 'a-ok') and the one where Lavinia slices skin off the back of her hand.
COLOR OUT OF SPACE is horror craziness at its best - if you can handle it.
Trailer: https://www.imdb.com/video/vi735493913?playlistId=tt5073642&ref_=tt_ov_vi
THE GENTLEMEN (UK 2020) ***1/2
Directed by Guy Ritchie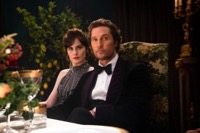 THE GENTLEMEN opens with Mickey Pearson (Matthew McConaughey) entering a British pub for a drink, only to be apparently shot and gunned down. The film flashbacks to the events leading to this supposed assassination and then goes on from here.
Back when, years back, Pearson won a Rhodes Scholarship to Oxford University, where he began selling marijuana to privileged fellow students before dropping out and building his empire by violence. He plans to sell his business to American billionaire Matthew Berger (Jeremy Strong) for $400 million so he can retire peacefully with his wife Rosalind. Pearson shows Berger one of the labs where he grows his cannabis under the estates of aristocratic landlords, who need cash for the upkeep of their stately homes. Pearson is later approached by Dry Eye, an underboss for Chinese gangster Lord George; Dry Eye offers to buy out Pearson's business, but he refuses. Pearson's lab is then raided by amateur boxers who film their encounter defeating the lab's guards and stealing the marijuana before uploading it online as a rap video; the boxers' eponymous Coach later orders them to delete the video. Complicated plot? It is and one can only follow so far.
In one of the film's comic scenes, Coach (Colin Farrell) is in the gym arguing with one of his boys about the term 'black cunt'. His black kid is arguing the term being racist while Coach says it is not. Coach says that the boy is black and he is a cunt and therefore a black cunt. Not all blacks are cunts. Therefore being called that is non-racist. They go on and on, with an argument that has little to do wth the story or the picture. Still this is an interesting argument and it is fun to watch two people argue or reason about nothing. Another similar segment involves the name of one of the criminals, Phuc (Jason Wong). This is a key trait in a Guy Ritchie film. The plot also goes round and round and becomes so convoluted that one forgets the premise in the first place. In films like his SHERLOCK HOLMES films with Jude Law and Robert Downey Jr., this trait becomes rudely annoying and destroys the enjoyment of solving a murder from clues typically in a Sir Arthur Conan Doyle book. However, in films like THE GENTLEMEN and in Ritchie's well-known LOCK STOCK AND TWO SMOKNG BARRELS, the tactic works.
Ritchie allows his actors the freedom to inhabit their roles. The Irish Farrell speaks in his native Irish accent using terms like idjit (which means idiot) and pronunciations like filem (for film). Hugh Grant, who is reported saying that he is glad to be doing characters roles like this one, speaks with his working class British accent. If you remove him from the screen and just listen to his vocie, he sounds almost exactly like Ricky Gervais.
In the spat of a month comes three gangster films. There is Martin Scorsese's THE IRISHMAN, Marco Bellochio's THE TRAITOR that opens in a week and Guy Ritchie's absurdist gangster saga, THE GENTLEMEN. All three films are significantly different, complementing each other rather than competing for box-office.
A Guy Ritchie film is often irrelevant. It begins with an important issue and then goes way off tangent dispersing in so many directions that one room forgets what was the original premise. THE GENTLEMEN is thus, a visually styled, Guy Ritchie imprinted film strictly for Guy Ritchie fans and then some. I fall in the category of the then some. Ritchie's irrelevant THE GENTLEMEN works in its odd irrelevant way, but just so - be prepared for a wild ride.
Trailer: https://www.imdb.com/video/vi3741564697?playlistId=tt8367814&ref_=tt_ov_vi
THE LAST FULL MEASURE (USA 1998) **
Directed by Todd Robinson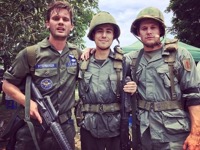 THE LAST FULL MEASURE was completed in 1989 and it took two years before the distributors decided to dump the film in January. It is easy to guess the reason. There is no main star attraction but with Sebastian Stan (the lesser known Winter Soldier in AVENGERS: INFINITY WARS) who is not super well-known standing in for the lead. The film could hardly be classified as an action flick, a compelling drama or a current issue commentary.
The film informs of the true story of Vietnam War hero William H. Pitsenbarger (Jeremy Irvine), a U.S. Air Force Pararescuemen (also known as a PJ) who personally saved over sixty men. During a rescue mission on April 11, 1966, which is shown in flashback, he was offered the chance to escape on the last helicopter out of a combat zone heavily under fire, but he stayed behind to save and defend the lives of soldiers of the U.S. Army's 1st Infantry Division, before making the ultimate sacrifice in one of the bloodiest battles of the war.
It is thirty-two years later, that makes the film's setting. Pentagon staffer Scott Huffman (Sebastian Stan) on a career fast-track is tasked with investigating a Medal of Honour request for Pitsenbarger made by his best friend and PJ partner on the mission (William Hurt) and his parents (Christopher Plummer and Diane Ladd). Huffman seeks out the testimony of Army veterans who witnessed Pitsenbarger's extraordinary valour, including Takoda (Samuel L. Jackson), Burr (Peter Fonda) and Mott (Ed Harris). But as Huffman learns more about Pitsenbarger's courageous acts, he uncovers a high-level conspiracy behind the decades-long denial of the medal, prompting him to put his own career on the line to seek justice for the fallen airman.
The recent war film 1917, which is based on the director Sam Mendes' grandfather's tales of WW1 (which may not be all totally true) has a different emphasis on a war medal. In 1917, the protagonist soldier exchanges his medal for a bottle wine. To him, the medal is nothing more the a ribbon on a piece of tin. In THE LAST FULL MEAURE, which is inspired by a true story, however, the medal is a symbol of a story that needs be told. The more fictitious film uses the medal for its material worth while the truth inspired film sees the medal as a symbol of heroism - the most supreme sacrifice of one giving up ones life that others may live.
The film has a large chunk comprised of a series of interviews (interviews of military personnel who can attest to the man's deservedness of the medal of honour) resulting in a boring exercise (except for watching the cast of stellar guests). The only acton scenes are the ones centred on the hero's deed in Vietnam - a scene why the medic saves several lives before sacrificing his own - that is revisited once too often. Who would really want to see a war inspired film with hardly any action scenes set during the Vietnam War, a war that the Americans have lost and one that Americans want to forget? Despite the good intentions of the filmmakers, THE LAST FULL MEASURE is a boring trip filled with typical Hollywood cliches.
Trailer: https://www.imdb.com/video/vi540065561?playlistId=tt0783640&ref_=tt_ov_vi