I have seen a total of 85 films this year, my personal record. (The previous record was 82 last year); made possible because of many pre-TIFF screenings and screeners provided by the publicists, thank you.
I have selected my personal Best 10, followed by other TIFF Winners like the Public Audience Award,
BEST 10 FILMS (Personal).
1.
THE PROMISED LAND (BASTARDEN) (Denmark/Germany/Sweden 2023) ***** Top 10
Directed by Nikolaj Arcel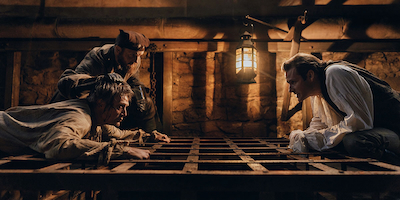 THE PROMISED LAND comes across as an efficient enough epic, epic in emotional and storytelling proportions that come with an all-important message to boot. Mads Mikkelsen stars as Ludvig Kahlen, the illegitimate son of a maid and a nobleman, who defied his low status to succeed in Denmark's military.
Trailer:
2.
THE HOLDOVERS (USA 2023) ***** Top 10
Directed by Alexander Payne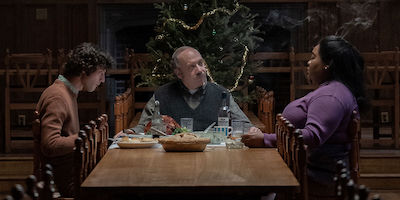 Written by David Hemindson and directed by Alexander Payne, this film won the runner-up roil for the Audience Choice Award at TIFF, but should have been the prize winner. The film is an updated variation of the Charles Dickens' A CHRISTMAS CAROL, in which the miser is replaced by a very strict and unflinching schoolmaster whose past catches up with him with the help of a troublesome student who eventually brings out the man's good side. The film is both sad and funny with Paul Giamatti delivering a career-best Oscar Winning performance. Set in the early 1970s (the year no revealed till the new year is shown on the TV), the film follows Paul Hunham (Giamatti), a disliked teacher at Barton Academy, who's responsible for supervising students who are unable to return home for the Christmas holidays. During this process, Paul is forced to deal with one particularly rebellious but troubled student, Angus (Dominic Sessa), who is grieving the loss of his father. One also learns the all-important lesson that there is much more alike in human beings than one can imagine. Extent funny and quotable dialogue too!
Trailer:
3. ANATOMIE D'UNE CHUTE (France 2023) ***** Top 10
Directed by Justine Triet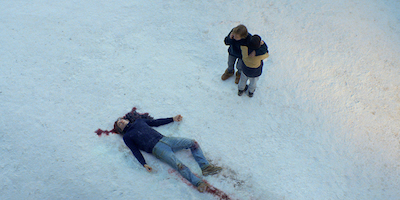 The film that both received great applause during the screening at Cannes and the coveted Palme d'Or (Best Film) is a taut courtroom drama and thriller that keeps one glued to the set from start to end. Great performances from all especially the lead, Sandra Huller and including the dog that voids and has its eyes rolled whitened.
Trailer:
4. SPIRIT OF ECSTASY (France 2023) ***** Top 10
Directed by Héléna Klotz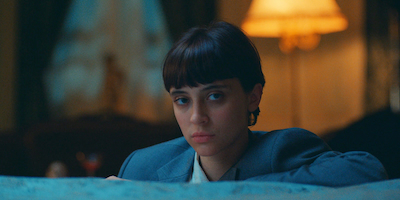 The film follows Jeanne Francoeur (French pop star Claire Pommet in her first but impressive role), a young non-binary person (who dresses like a man but looks like a girl but nothing else is disclosed about her non-binary character) from a long line of gendarmes. . The same can be said of this film, which is extremely smart, confident, funny and totally winning.
5. FALLEN LEAVES (Finland/Germany 2023) ****
Directed by Aki Kaurismaki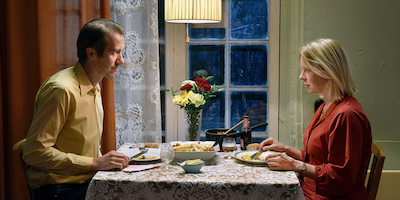 A love story of sorts between two lonely working-class people showing that love can still be found. FALLEN LEAVES is simply wonderful because of all the little details and observations Kaurismaki inserts in his film. The film pays tribute to lots of oldies, particularly David Lean's BRIEF ENCOUNTER, the Finnish poster seen in the background, both films share similar stories of lost love opportunities. Even the dog in the movie is called Chaplin, another tribute to another Master of film.
Trailer:
6. THE ZONE OF INTEREST (Poland/UK/USA 2023) ***** Top 10
Directed by Jonathan Glazer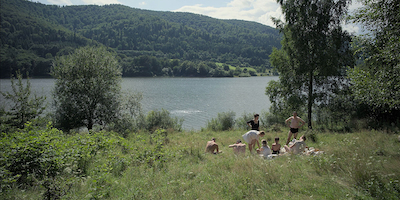 Winner of the Grand Prix at this year's Cannes (2nd Best Film), Jonathan Glazer's (UNDER THE SKIN) THE ZONE OF INTEREST is a horror film about the Holocaust without a single scene of concentration camps. It depicts the banality of evil so well put forward that the audience is left just as silent as in the recent Christopher Nolan nuclear war vehicle, OPPENHEIMER. Auschwitz commandant Rudolf Höss (Christian Friedel), always dressed in white as if to symbolize purity, and his wife Hedwig (Sandra Huller), live so close to Auschwitz camp that one can hear the horrors from the nearby camp (as in a prisoner drowned by the guards for fighting for an apple). They live in a beautiful home, with food, vegetables, fruit and herbs cultivated next to a swimming pool and river flowing with clear water close by. They argue about household problems and are oblivious to the horrors of the war that are going on. The thousands gassed are discussed as a matter of efficiency of transportation in a meeting among Nazi officials. The most chilling film of TIFF that many critics claim should have won the Palme d'Or Prize for its groundbreaking filmmaking.
7. IRENA'S VOW (Canada/Poland 2023) ****
Directed by Louise Archambaul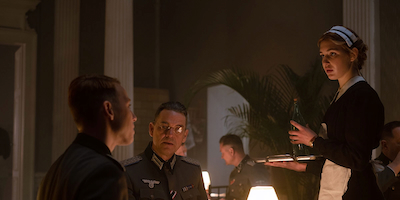 IRENA'S VOW follows her solemn silent and personal vow Irena makes when she witnesses a German officer killing an innocent Jewish baby by crushing it with his military boot. It is a terrifying scene that makes the entire audience gasp in shock and sets the raison d'ete for Irena's actions for the film. The film shows the triumph of the spirit over impossible odds, all made the more astonishing that the story is all true. One of the best Canadian films of 2023.
Trailer:
8. A NORMAL FAMILY (South Korea 2023) ****
Directed by Hur Jin-ho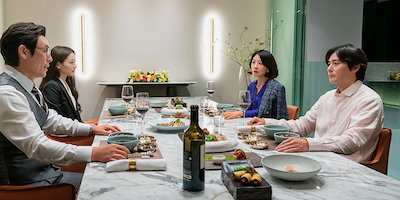 Credit must be given to the source material for its compelling tale of family struggles on decisions of how far one might go to protect one's child. The question is: What would you do? Based on the celebrated Dutch novel Het Diner (The Dinner) by Herman Koch, which has sold more than a million copies and has been translated into several languages.
89 AMERICAN FICTION (USA 2023) ****
Directed by Cody Jefferson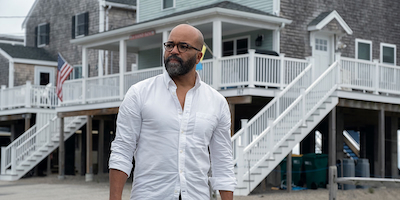 So comes this highly intelligent film entitled AMERICAN FICTION - a satire of stereotyped black stories. The film based on the book, Percival Everett's Erasure — a wicked satire about the commodification of marginalized voices and a portrait of an artist forced to re-examine his integrity, is the book director Jefferson claims is a gift written for him.
10. LA CHIMERA (Italy/France/Switzerland 2023) ****
Directed by Alice Rohrwacher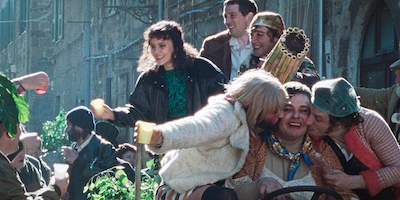 LA CHIMERA follows the adventures of a linen-clothed British archaeologist first name of Arthur (Josh O'Connor) as he digs up tombs and sells treasures in the likes of Indiana Jones. Arthur has the uncanny ability to be able to foretell where treasures are buried. Unlike the Spielberg movies, this is art-house Indian Jones, competing with the latest Indiana Jones and the Dial of Destiny. LA CHIMERA has its major surprises and is an utter delight in its delivery, presentation and originality. Arthur is a handsome fellow and O'Connor portrays him with a certain suave and likability. It turns out that Arthur has just been released from prison, the only one caught the last time he was tomb digging with the gypsy romans, who are eager to get up with him again. The Romans are shown to be a colourful and playful art and director Rohrwacher delivers many of the film's funniest and brightest moments of this group. many members of which love to dress in drag. The film's ending has a nod to Alfred Hitchcock's final scene in NORTH BY NORTHWEST, in which Cary Grant reaches out to Eva Marie Saint as she almost falls off the cliff only to reveal the final scene where Grant lifts her to the top of the bunk bed on the train.
Trailer:
11. L'ETE DERNIER (LAST SUMMER)(France 2023) ****
Directed by Catherine Breillat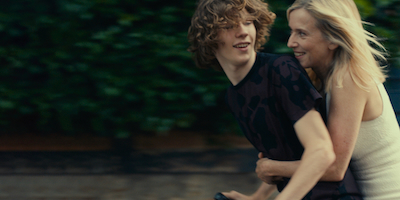 French director Breillat returns to the screen with another provocative film as in one of her best films MA SOEUR. Breillat films can never have the adjective 'pleasant' to describe them, but their unpleasantness and unease make her films so memorable. In the latest film by French provocateur Catherine Breillat, a prominent lawyer's passionate affair with her 17-year-old stepson threatens both her career and family.
TIFF AWARDS
PEOPLE'S CHOICE AWARD

For the 47th year, the People's Choice Awards distinguish the audience's top title at the Festival as voted by the viewing public. All films in TIFF's Official Selection were eligible.

The TIFF 2023 People's Choice Midnight Madness Award winner is Dicks: The Musical dir. Larry Charles.
The first runner-up is Kill dir. Nikhil Nagesh Bhat.
The second runner-up is Hell of a Summer dirs. Finn Wolfhard, Billy Bryk.

The TIFF 2023 People's Choice Documentary Award winner is Mr. Dressup: The Magic of Make-Believe dir. Robert McCallum.
The first runner-up is Summer Qamp dir. Jen Markowitz.
The second runner-up is Mountain Queen: The Summits of Lhakpa Sherpa dir. Lucy Walker.

The TIFF 2023 People's Choice Award winner is: American Fiction dir. Cord Jefferson.
The first runner-up is The Holdovers dir. Alexander Payne.
The second runner-up is The Boy and the Heron dir. Hayao Miyazaki.