CANADIAN FILM FEST 2023
Beginning Tuesday, March 28, the festival will run Tuesday to Saturday presenting 9 feature films, 25 short films and 1 digital series. This year the Canadian Film Fest will be showing at both Scotiabank Theatre Toronto and on Super Channel Fuse.
 Super Channel and the Canadian Film Fest (CFF), an indie-spirited festival dedicated to celebrating Canadian filmmakers, team up for the fourth time to present a hybrid festival from March 28 to April 1.  Canadian Film Fest Presented by Super Channel will showcase nine features, 25 shorts, and a digital series, running concurrently for audiences to enjoy in-person at Toronto's Scotiabank Theatre and virtually on Super Channel Fuse. Tickets for the theatrical screenings can be purchased at canfilmfest.ca starting March 7. 
"With the festival returning to the theatre this year, the fest is  proud to be able to continue our partnership with the team at the CFF to bring these unique and engaging Canadian stories to a national audience to enjoy," said Don McDonald, President and CEO, Super Channel. 
Capsule Reviews of Select Films:
BABYSITTER (Canada 2023) **
Directed by Monia Chokri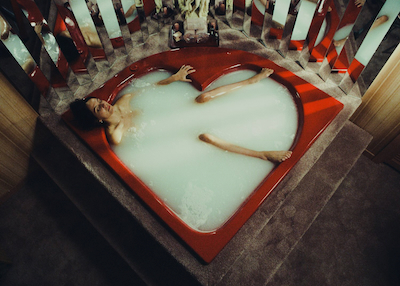 Chosen as the opening film of the festival, BABYSITTER from Quebec plays it fast and furious from the very first scene, set at an MMA match where the loser gets punched to a pulp in a ring of blood.  As the winner is announced by  newscaster, Chantal, Cedric 'sexually assaults'  with the words: I Love Chantal.  This sexist joke goes viral, Cédric loses his job and embarks on a therapeutic journey to free himself from sexism and misogyny.  He and his girlfriend hire a mysterious and liberated babysitter to help shake things up.  The comedy runs just short of 90 minutes and is a forceful and somewhat confusing  look at sexism.  Director Chokri shows the worst of sexism on screen, particularly at the beginning to get the message across.  A relevant film that is occasionally all over the place rather than entertaining, but the film is a brave choice for the opening of the festival.   The film is set in Montreal and is in Quebecois French.
Trailer:
HOW TO GET MY PARENTS TO DIVORCE (PAS D'CHICANE DANS MA CABANE) (Canada 2022) ***
Directed by Sandrine Brodeur-Desrosiers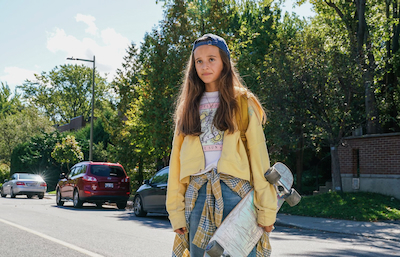 Most children get visibly upset when their parents argue for whatever reason or even worse when they try to separate.   And the English title of this Quebec comedy, filmed in French HOW TO GET MY PARENTS TO DIVORCE goes, the film takes an opposite stance.  The film opens with several different kids talking about how great it is to have separated parents - such as having two closets and rooms; having more love with one parent and the new step mum or dad; having better cooked meals; seeing less of an annoying sibling and so on.  The film then zooms in on one girl whose parents are always arguing and she detects an upcoming divorce.  Justine is about to finish grade six and is tired of her parents fighting all the time. Maybe she'll be happier if they divorce? In order to force their hand, the pre-teen decides to create her own court.  The end-of-school-year show is the pretext for this. With her friends, she must find young people from her entourage who will serve as lawyers and judges. When her plan turns into an obsession, her friendships may suffer. Especially since the situation could very well escape her…     At its best the film reminds one of the spirit and sincerity of Francois Truffaut's minor masterpiece on school children L'ARGENT DE POCHE (Small Change), the best scene being when one teacher talks to a class about children's rights, after one abused child's parents are taken into custody.  Children have rights and more important, emotions and feelings that are often pushed aside and neglected by adults, as shown in this occasionally brilliant film.
WINTERTIDE (Canada 2023) ***
Directed by John Barnard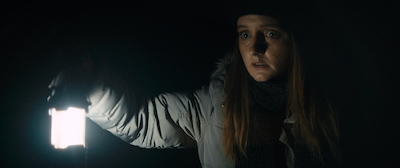 The closing night feature of the Canadian Filmfest is as weird as a weird film can get.  The film looks and feels like an art-house zombie horror flick where what appears to be going on is not what it seems.  "I do not understand what is going on," says the protagonist Beth in the film, and she is not alone on this.  Beth, a volunteer watch person of an isolated unnamed northern city that is Canadian (from the sight of a Canadian flag shown at one point) battles a plague of depression that transforms the few remaining residents into empty, zombie-like automatons.  The film was shot in Manitoba,  She discovers that by entering an alternative dimension through her own dreams, she's able to stave off the illness during the long, possibly endless winter.  But will her power be enough to sustain her without taking her meds?   Everyone in the town who survives is taking theirs.  If all this sounds confusing, it is.  But director Barnard's film's wintry landscape and atmosphere is stunning on screen, thanks to his d.p. Markus Henkel.
Trailer: