AFIRE (German title: Roter Himmel) Germany 2023) ***½
Directed by Christian Petzold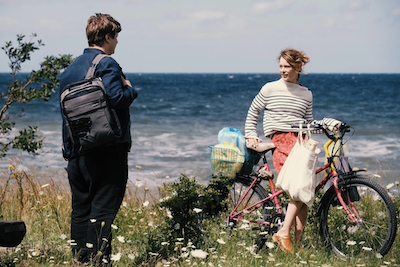 German director Christian Petzold revealed that he wanted to make a series of films loosely inspired by the classical elements of water, earth, fire and air. Starting with relatively successful and critically acclaimed UNDINE in 2020, a tale of a water nymph, fire will rise for his new movie AFIRE.
AFIRE (Voter Himmel) is a 2023 German drama film directed by Christian Petzold, starring Thomas Schubert, Paula Beer, Langston Uibel and Enno Trebs. The relationship drama focuses on four people who are trapped in their holiday home on the Baltic Sea by uncontrolled forest fires.
In a holiday home on the Baltic Sea not far from Ahrenshoop in hot, dry summer four young persons meet. There is a forest fire and slowly and unnoticeably they are enclosed by the walls of flame. Trapped they get closer, and then the desire, love and sex overtakes them.
Pardon the pun, by AFIRE as in the other Petzold films, is a slow burn. That does not mean that the film is boring, but it is quite interesting to see how the director weaves and reveals the individual personalities and nuances, strengths and weaknesses of his 4 characters. The news of the fire is only heard on the radio, but one knows that the fire will eventually affect the story's 4 characters.
The main character is a sulking and pouty Leon (Thomas Schubert) who arrives at the holiday home for the sole purpose of finishing his book and meeting with his publisher. He is tense and nervous at the response he is going to get, thus behaving oddly and way irritated. He is more introverted than the friend Felix he is travelling with, whose home they are residing. Leon is slightly overweight and self-conscious, never taking pff his clothes to swim or never swimming at all, despite being at a beach home.
Felix (Langston Uibel) is the opposite- extrovert, always taking off his shirt and always winning and flirting with the others. It is soon revealed that he is gay. Felix is preparing his portfolio at the beach home in order to enter an art school, but he is constantly distracted.
Nadja (Paula Beer) is the unexpected girl in the beach home that Leon and Felix suddenly find. Despite she being quite the flirt and having loud sex nightly, Nadja is a very nice person. And a great cook.
Devid (with an 'e' is the rescue swimmer at the beach who is also Nadja's lover.
With the seaside setting and the youthful characters, Petzold's film feels very much like the French Eric Rohmer's youth innocence youth comedies like THE GREEN RAY (Le Rayon Vert) and PAULINE AT THE BEACH (Pauline a la Plage), but only much more serious.
AFIRE won the Silver Bear Grand Jury Prize at the 73rd Berlin International Film Festival, where it had its world premiere on 22 February 2023. The film opens on July 14th, 2023 at the TIFF Bell Lightbox.
Trailer:
BIRD BOX BARCELONA (Spain 2023) ***
Directed by Alex and John Pastor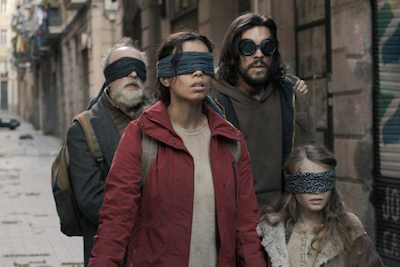 BIRD BOX BARCELONA is a follow-up or remake or less likely a sequel, depending on how one wants to look at it, to the highly successful 1985 Sandra Bullock dystopian vehicle BIRD BOX directed by Dane Susanne Blier, based on Josh Malerman's 2014 source novel. The central character follows Bullock's Malorie as she tries to protect herself and two children from entities which cause people who look at them to kill themselves.
Why did Netflix bother to make BIRD BOX BARCELONA? To make more money with the cash cow. BIRD BOX began a limited release on December 14, before streaming worldwide on Netflix on December 21, 2018. The film received mixed reviews from critics but went on to become the most-watched film on Netflix within 28 days of release, according to Netflix. BIRD BOX BARCELONA is set in Barcelona, Spain follows a male lead and his daughter, instead and treads several differences. The film follows the father (Sebastián) and daughter (Anna) as they join up with to try and survive a dystopian future in which no-one survives looking at entities that have invaded and roam the earth. More religion is brought into the plot (Is God saving the world or destroying it?) and there are more expansive action set pieces that are done with CGI. The film is in Spanish with a little English.
Both films are all right watches, not too bad and not too good either, the main flaw being there lack of a credible plot. Incidentally, both BIRD BOX films are currently streaming on Netflix so there is a choice of watching either one, or maybe both if one has the time.
Trailer:
THE DEEPEST BREATH (USA 2023) ***½
Directed by Laura McGann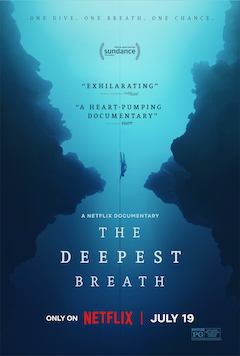 Dangerous sports that toy with death make intriguing stories.
Hot on the heels of current headlines following the deadly demise of OceanGate's Titan submersible, in which five people aboard were declared lost, likely in a violent, deep sea implosion comes a documentary THE DEEPEST BREATH on the dangerous sport of freediving.
Freediving, aka breath-hold diving, or skin diving is a form of underwater diving that relies on breath-holding until resurfacing rather than the use of breathing apparatus such as scuba gear. Besides the limits of breath-hold, immersion in water and exposure to high ambient pressure also have physiological effects that limit the depths and duration possible in freediving.
Written and directed by Laura McGann THE DEEPEST BREATH is a breathtaking (sorry, had to use the pun) and emotional and educational journey into the sport that is made more poignant as it covers the intimate life of freediver Alessia Zecchini, following her goals, dreams and heartbreaks.
The doc mentions at the beginning that additional footage and archive ones as well were added to enhance the storytelling. The beginning segment shows Alessia doing a free diving stint only to arrive at the surface, passing out and having to be given mouth-to-mouth resuscitation. The constant danger of the sport is clearly established.
The doc follows the subject, an Italian freediver, Alessia Zecchini. Alessia Zecchini (born 1992) set world and Italian records in freediving. A third way through the doc, another sportsperson is introduced, sort of out of nowhere, He is an Irishman, Stephen Keenan who later meets Alessia. forming an unbreakable bond of romance and friendship.
Alessia has an illustrious career and is still alive and breaking records all the time. But director McGann concentrates her doc during one portion of her life, a portion that is both most devastating and exhilarating. The main setting is the year 2017, when she began her outdoor training with international coach and safety diver Irish Stephen Keenan, who died during a training accident with Zecchini in June of that year. In the same year she beat the AIDA world record with −104 m depth in the Vertical Blue competition on May 10 on Long Island in the Bahamas. During the last days of the competition, Natalia Molchanova's record in constant weight (CWT) of −101 m (which had been held for six years), was beaten three times. On May 6, Zecchini was the first to go down and take off the tag at −102 m; breaking the world record. Four days later, Hanako Hirose dropped to −103 m but minutes later she went on to detach the tag at −104 m, setting another world record. Natalia was herself missing in action and died during one free diving event,
The free diving segments are stunning and are as mesmerizing as they are scary, many scenes shrouded by darkness owing to the lack of light at great ocean depths. Also educational is the subject of lung collapse, a danger facing most divers that can often cause them to back out during a dive.
THE DEEPEST BREATH debuts on Netflix July the 19th.
Trailer:
MISSION: IMPOSSIBLE - DEAD RECKONING PART 1 (USA 2023) ****
Directed by Christopher McQuarrie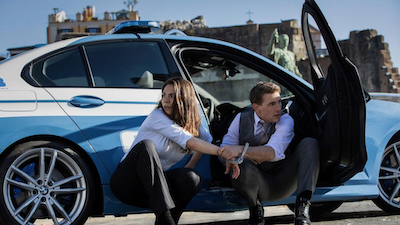 In the 7th instalment of the Mission Impossible franchise, M:I. MISSION: IMPOSSIBLE - DEAD RECKONING PART 1, Ethan Hunt (Tom Cruise) and his IMF team are confronted by a mysterious, all-powerful foe known as "The Entity", Hunt is forced to consider that nothing can matter more than his mission.
It is matter of hunting down the two halves of a key that can open something Hunt and the others do not know what. In the wrong hands, the world will be destroyed. In typical M:I style - the message will self-destruct etc, and the audience is plunged into another adventure - and a solid one in this latest instalment.
Action blockbusters (JOHN WICK 4; SPIDERVERSE) have demonstrated that story is only minimal in importance to the action set pieces. As for the latest edition to the Mission Impossible franchise, MISSION: IMPOSSIBLE - DEAD RECKONING PART 1 has the best action sequences including stunts performed by Cruise himself. The one and most dangerous stunt is the segment involving Hunt speed diving from the top of a mountain cliff to the top of a speeding train. Speed diving is an extremely dangerous sport and involves landing at close to 80 miles per hour. I have skydived twice and landed around 10 miles per hour and slowly descended from heights at that. The speed diving sequences are amazing, Another action sequence worthy of mention is the car chase down the Spanish Steps in Rome. The Spanish Steps have been seen in many films before from the classic Gregory Peck and Audrey Hepburn film ROMAN HOLIDAY. The chase in the little Fiat 500 is both exciting and hilarious, the little car often spinning out of control as pursued by an armoured truck.
The most impressive action sequence, not only in this film but for any action film this year is the train crash scene at the film's climax, the setting being the Swiss Alps. After, much scouting and trouble finding an old WWII railway bridge to blow up in Poland, the filming eventually settled to the small village of Levisham, North Yorkshire, North Yorkshire Moors Railway, for a sequence set in the Alps in Switzerland with a train going 60 miles (97 km) an hour through a bridge being blown up. Needless to say, it is best to watch the film on IMAX.
MISSION: IMPOSSIBLE - DEAD RECKONING PART 1 received a nomination for Most Anticipated Film at the 6th Hollywood Critics Association Midseason Film Awards. If part 2 is going to be anywhere close to Part 1, Part 2 would also be one of the most anticipated films to come. So far, MISSION: IMPOSSIBLE - DEAD RECKONING PART 1 gets my vote for Best Action blockbuster of 2023.
Mission: Impossible – Dead Reckoning Part One premiered on the Spanish Steps in Rome on June 19, 2023, and is scheduled to be theatrically released in the United States on July 12, by Paramount Pictures. It has received critical acclaim. A direct sequel, Dead Reckoning Part Two, is set to be released on June 28, 2024.
Trailer:
MR. CAR AND THE KNIGHTS TEMPLAR (Poland 2023) **
(Polish title: Pan Samochodzik i Templariusze)
Directed by Antoni Nykowski
Poland attempts a family adventure fantasy to the likes of Ian Fleming's CHITTY CHITTY BAND BANG, the car that flies and floats on water. Based on the Polish novel of the same name MR. CAR AND THE KNIGHTS TEMPLAR introduces a car (very ugly compared to Chitty) that can travel the waters for its owner, Mr. car to retrieve a hidden treasure after overcoming an adversary in a fight at a lighthouse.
The voiceover touts the attraction of a hidden treasure. Is it the riches or the mystery of the unknown? For movies that deal with treasures, one would expect an Indiana Jones type hero and some treasure that can provide both riches and a curse if fallen into the wrong hands. This is true in the Netflix origin Polish adventure, MR. CAR AND THE KNIGHTS TEMPLAR, which is unfortunately a poor man's version of Indiana Jones. The film might prove interesting if one is Polish or can speak the language, which the film is shot in.
When an art historian (cross reference Indian Jones who is an archaeologist), Mr. Tomasz, who sometimes introduced himself as Tomasz the Vagabond, was called by his friends Mr. Samochodzik finds an ancient Templar cross, he must join forces with an unlikely group of adventurers on a quest to unlock the relic's secrets.
The car of the film's title is an unusual vehicle inherited from Tomasz' uncle-inventor. This car, although ugly, "a cross between a canoe and a wheelbarrow", as the malicious people called it, had incredible capabilities: with a Ferrari 410 engine, it could run at a speed of 280 km per hour. Thanks to the screw used, it served as a motor boat. In this vehicle, Mr. Tomasz went to Poland to decipher another historical mystery, to catch thieves and smugglers trying to steal valuable historic items.
The bad guys are some Danes and a suspicious group of Polish youth who follow Tomasz' search in the Teutonic castles and the headquarters of the Templars. A little romance is provided by a female reporter who is at loggerheads at the film's start but the arguments only show that the two will eventually come together.
Mr. Car has a cult status in Poland. Series of books written by Zbigniew Nienacki in the 60-70s are great adventure-treasure hunter stories and are still quite popular. The film is based on the second in the series. To note is that there is a series on the books made in 1971.
To find the treasure you need a lot of knowledge, cunning and... a lot of luck. But who really cares? Though aimed at a family audience, the film is uninteresting at most, cliched and quite a brutal watch. The film is also a bit violent (example: a head sizzling birth under a hot lamp at the film's start), though little blood and gore is shown. Special effects are possible at best.
MR. CAR AND THE KNIGHTS TEMPLAR opens on Netflix this week for streaming.
QUICKSAND (Colombia 2023) **
Directed by Andres Beltran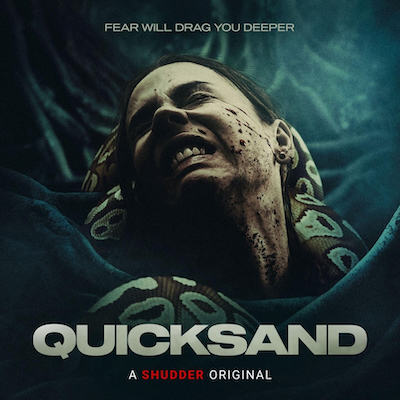 It is 30 minutes though the movie QUICKSAND that the couple falls and is trapped into quicksand. The rest of the film shows how they survive their ordeal while also being attacked by a vicious snake protecting her nest of eggs.
The big question is how a film can remain interesting for a full hour of its running time if the couple trapped in quicksand would, expectedly sink and die within a few minutes. For one thing, it is impossible for a human to sink entirely into quicksand, due to the higher density of the fluid. Quicksand has a density of about 2 grams per cubic centimetre, whereas the density of the human body is only about 1 gram per cubic centimetre. At that level of density, sinking beyond about waist height in quicksand is impossible. Even objects with a higher density than quicksand will float on it if stationary. Continued or panicked movement, however, may cause a person to sink further in the quicksand. In the film the couple is trapped in the quicksand.
Quicksand is a trope of adventure fiction, particularly in film, where it is typically and unrealistically depicted with a suction effect that causes people or animals that walk into it to sink until fully submerged and risk drowning. This has led to the common misconception that humans can be completely immersed and drown in quicksand; however, this is physically impossible. In the film QUICKSAN\D, there is a scene when Sofia (Carolina Gaitan) falls and sinks head into the quicksand. Her ex (Allan Hawk)jumps in the pull her out. So uhh for the film's accuracy for the truth.
The couple is then trapped in the pond. Since this increasingly impairs movement, it can lead to a situation where other factors such as exposure (i.e. sunstroke, dehydration and hypothermia), drowning in a rising tide or otherwise aggressive animals may harm the couple. The script uses snakes that bite Sofia's ex.
Director Beltran has his hands full with a misguided horror project based on a script by Matt Pitts that has limited potential. The metaphor of the couple's troubled marriage, which is ending in divorce mired by muddy troubles akin to being trapped in quicksand without any progress is all too obvious. Under the extreme reassurances of being tapped near death in quicksand , the couple has to pull their resources together, ousting their difference in order to survive. It does take a genius to force where all this is leading to, least of all moving into cliched story telling.
QUICKSAND contains a few genuine scary moments, such as the impending snake attack segment. But the film also show the couple trapped in quicksand standing still with the head level above the fluid. But in truth, a person would be at waist level if trapped in quicksand due to the density of the human body. It is impossible for a human body to sink completely innquicksand! There are more things that need to be unlearned about quicksand in this sorry case of a horror movie.
QUICKSAND makes Its Exclusive Streaming Debut onm Shudder on July 14.
Trailer:
UNKNOWN: KILLER ROBOTS (USA 2023) ***
Directed by Jesse Sweet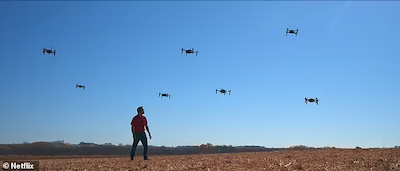 UNKNOWN: KILLER ROBOTS is a Netflix original documentary that touches on the topic of Artificial Intelligence form the military point of view.`
The doc opens appropriately with the introduction to A.I. and robots with a woman, Emilia Javorsky of the Future of Life Institute touting both its practicality and dangers. She tells of A.I. eliminating poverty and creating peace but warns of the risks that A.I. poses.
A good example of A.I. robots is given on these smart killer drones. It is to just a matter of going from point A to Point B. It is more like going out to find milk. The robot has to decide which grocery store to go to, acquire the milk and bring it back safely. If under threat, then it has to deal with the threat accordingly.
The absurdity of a manless war just using AI robots is akin to one funny scene in John Hughes 1985 college robot comedy WEIRD SCIENCE. In one scene, a professor in a lecture hall is delivering his lesson. Among the seats scattered throughout students were a couple of recorders taping the lesson. Later on in the movie, there is a scene in the same lecture hall. The camera pans the seats and there are no students present but a whole lot of recorders. The camera settles in front of the room where the board is. There is no professor present but a recorder delivering the lecture. So this absurdity, though hilarious, is quite a realistic truth. Will war just be fought using machines?
Very interesting is the doc's segment on drone swarms. The drones can collectively form a swarm and hunt a target. Like its nature counterpart, swarms of birds or insects behave collectively following simple rules There is no leader, but the swarm behaves collectively. The concept of drone swarming is explained where a platoon can perform the function of a battalion and a battalion can perform the function of a brigade. The aim is to save the number of lives of men and women in warfare. The question is how autonomous machines will change the face of warfare into the future.
The danger and possible misuse of A.I. is understandably touted in the doc. This is a prime example of well intentions missed by the bad people. To this extent, currently many top company CEOs like Elon Musk are asking for a pause in A.I. development. The one major question is to prevent A.I. to make the decision of killing humans, leaving the decision to be made only but humans. One thing that is not argued is that humans could be crazy or non-rational and do worse than A.I. that could make a better decision based on a huge number of human inputs.
UNKNOWN: KILLER ROBOTS is a satisfactorily made doc from Netflix, nothing too fancy or made with extensive research. However, the doc is informative and educational, especially in these times when Artificial Intelligence is all the hype. There is much to learn still from this doc and from any new information arising from the topic of A.I. It is important to know both the potential and risks of this new technology that will very soon transform human lives.
UNKNOWN: KILLER ROBOTS opens for streaming on Netflix this week.
Trailer: