Unlike last year when the doc provided the strongest section, only one this year stands out - HAULOUT that gets my vote for best Documentary short.
Playing at the TIFF Bell Lightbox
THE ELEPHANT WHISPERERS (India 2022) ****
Directed by Kartiki Gonsalves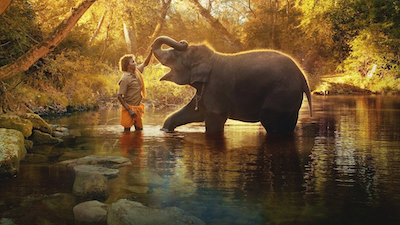 This ode to elephants is a poetic and stunningly photographed documentary of a connection to nature and its wild animals.  The short from Netflix, India follows an indigenous couple Bomman and Bellie as they fall in love with Raghu, an orphaned elephant given into their care, and tirelessly work to ensure his recovery and survival.  Raghu was never thought to survive when the baby elephant arrived injured with maggots on its open wounds and in really bad shape.  Bomman nursed the elephant back to health with the help of the Indian government in the elephant sanctuary.   Director Kartiki Gonsa lves is an Indian Natural History, Social Documentary photo-journalist and filmmaker currently based out of the Nilgiris and Bombay in India.  Her work has two foci. One is the environment, nature, and wildlife, where she seeks to raise awareness about the marvellous diversity of nature and wildlife and the importance of conservation.   She has made this wonderful doc that will bring the world with oneness with the Indian elephant.
Trailer: 
HAULOUT (UK 2022) ****
Directed by: Evgenia Arbugaeva and Maxim Arbugaev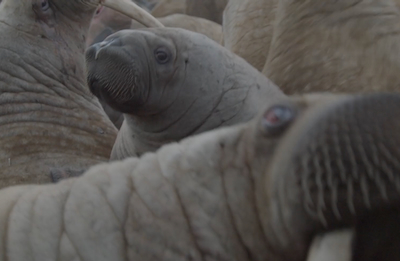 Simply amazing.  Everything from its cinematography of the Arctic landscape to the 100,000 walruses on display, this doc provides unforgettable scenes of extreme beauty and horror.  On a remote coast of the Siberian Arctic in a wind-battered hut, a lonely man, a scientist waits to witness an ancient gathering.  But warming seas and rising temperatures bring an unexpected change, and he soon finds himself overwhelmed by a walrus invasion.  Walruses gather on the island in thousands, tired and exhausted, not having any ice to rest on, as they migrate, the  fact of limited ice due to global warming.  They barge into his hut and trample on each other.  HAULOUT gets my vote for the best documentary score for reason of sheer astonishment.
Trailer: 
HOW DO YOU MEASURE A YEAR (USA 2022) **
Directed by Jay Rosenblatt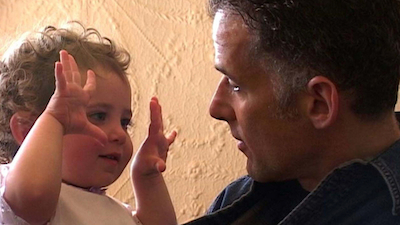 For 17 years, (from the age of 1)filmmaker Jay Rosenblatt filmed his daughter Ella on her birthday in the same spot, asked the same questions by the mother.  The questions are "What is a tower?" "What do you want to be when you grow up?  etc.  rather uninteresting questions.   The responses are likely to be more interesting to the Rosenblatts or parents with young children.   The whole exercise is nothing really new, and in fact rather boring and feels like someone else's home movies that one is forced to sit through.  All these filming at different ages have been done before, most notably in British Director Michael Apted 7UP series inn= which a cross section of children and filmed every 7 years, thus producing the films 14 UP, 28 UP and so on.  Thiamine a a real chore to sit through.
THE MARTHA MITCHELL EFFECT (USA 2022) ****
Directed by Anne Alvergue and Debra McClutchy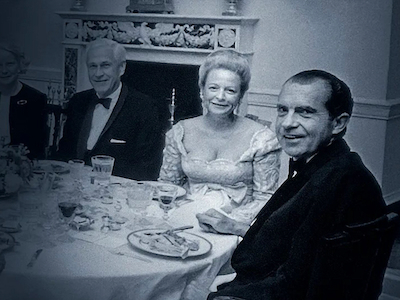 THE MARTHA MITCHELL EFEECT is known to be the state when a person is deemed delusional for his or her beliefs but later shown to be true.  This was the case of the wife of John Mitchell who was ex-President Richard Nixon's right-hand man in the Watergate scandal that forced Nixon to ultimately resign.  The tell it as it is, warts and all doc short is a riveting account of what the woman had to go through in order to speak out what iSight and to do what its right for the country.  She was ridiculed deemed delusional and crazy but when truth cam out, she was hailed a hero.  The doc examines her life up to her death when she was presented with a white wreath of flowers saying boldly that 'Martha Was Right'.   A story that needs to be told, a doc that matters that many non-Americans are unaware of.  A completely compelling watch from start to finish of a true hero that in her own words, will make politicians honest again.  (…till Trump came along!)
STRANGER AT THE GATE (USA 2022) ***
Directed by Joshua Seftel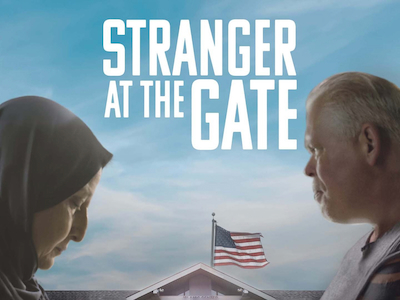 The subject of STRANGER AT THE GATE is what another character in the doc, Dr. Bahrani describes as a redneck.  And indeed, Richard McKinney is one.  He has served 25 years as a US marine in Afghanistan and has an inborn hatred for Muslims.  He has PDST, hears voices in his head and can be described as the kind that would do extreme harm to others.  He now plans to bomb a Muslim mosque.  Director Settle must be given credit for being able to interview Richard asking him candid questions such as: "How does killing change you?"  or asking his stepdaughter, Emily "How does it feel staying in the same house as a mass murderer?"  But nothing is what it seems in what canoe described as an audience-manipulative documentary, even though director Seftel has good intentions.  Eventually, it is the good of man that prevails in this feel-good doc that shows that it never hurts to show kindness to a fellow human being.