LIVE action section:
- the strongest of the 3 sections this year;  a hard fight for the best, with 3 outstanding ones that are riveting and moving.  Every short in this category reviewed!
INVALU (Denmark 2022) ***
Directed by Anders Walter and Pipaluk K. Jørgensen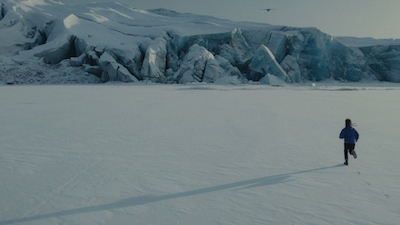 INVALU is an indigenous Danish film that exhibits stunning cinematography and tells a tale of abuse.  The short is dead serious which is necessary to tell its tale but also serves as a negative in watching the short.  A girl wakes up one morning to find her elder sister missing.  It is the day of the Danish Queen's visit to her local school.  She hunts for her sister, but to not avail.  The directors film a raven flying through the cold Arctic skies and the girl reminisces of the good times she had spent with her sister.  She wears the dress her grandmother made former sister.  It is at this point of the short that it becomes dead serious.  Perhaps a tale that needs to be told but one is not sure whether this short should have been in the doc category or in the live action category?
AN IRISH GOODBYE (Ireland 2022) **
Directed by Tom Berkeley and Ross White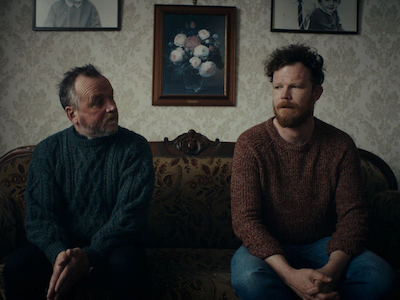 AN IRISH GOODBYE is the second collaboration from writer-director duo Tom Berkeley and Ross White, following their breakout debut ROY.  On a farm in rural Northern Ireland, estranged brothers Turlough and Lorcan are forced to reunite following the untimely death of their mother.  The ashes are in an urn.  Turlough wants Lorcan to leave the farm in Ireland and go live with Auntie Margaret in England but not until mum's list of 100 things to be done is fulfilled.  So, the two go about accomplishing the 100 tasks that include things like learning tai-chi, going up in a hot air balloon among other things.  The short is ok for a few laughs but it is not as funny as it thinks or likes to be.  The jokes are occasionally crass and include a few fart jokes.  Any episode of FATHER TED would bring more laughs.  The short has a little twist at the end.
 Trailer: 
NIGHTRIDE (Nattrikken)(Norway 2020) ****
Directed by Eirik Tveiten
This surprisingly charming and daring short gets my vote for the best live action short.  It starts of as an unexpected little film and appears to be allover the place but turns out to be a sweet story of courage and friendship celebrating the best of human qualities.  One has to overcome one's prejudices and timidity to excel in helping others and coming up on top. On one cold night in December around Christmas,  an older midget, Ebba waits for the tram to go home after a party.  She is not a;lowed tented theorem but told tomcat for 30 minutes for the driver but enters the tram anyway,  She starts the tram up, learns how to drive it, open the doors and stop it, and but the ride takes an unexpected turn, to the surprise of the audience.  She witnesses and a trans abused by two other passengers.  She tries to ignore the situation but she finally decides enough is enough.  An exceptional tale of courage amidst injustice.
LE PUPILLE (Italy/USA 2022) ****
Directed by Alice Rohrwacher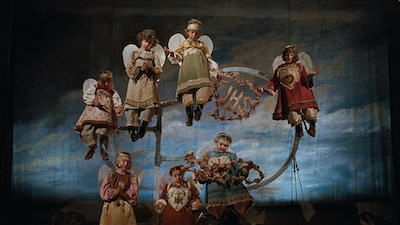 This surprisingly charming and daring short gets my vote for the best live action short together with Norway's NIGHTRIDE.  This short ism also a Disney original produced by Alfonso Cuarón (ROMA),  From writer and director, Alice Rohrwacher, and Academy Award® winning producer, Alfonso Cuarón, LE PUPILLE is a tale of innocence, greed and fantasy.  This live action short is about desires, pure and selfish, about freedom and devotion, and about the anarchy that is capable of flowering in the minds of girls within the confines of a strict religious boarding school at Christmas.  The sisters are as strict as hell but they face their match when they encounter Seraphina, a little girl too innocent to know how to be good.  She is deemed a 'bad girl', that she believes but her deeds show the beauty of innocence and kindness.  The young actress portraying her is also super adorable, which helps the tale.  Director Rohrwacher cannot help it but close her film with a frame of Seraphina giving a wry smile.
Trailer: 
LA VALISE ROUGE (THE RED SUITCASE) (Luxembourg 2022) ****
Directed by Cyrus Neshvad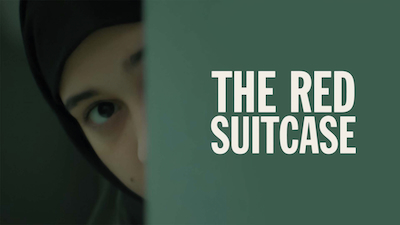 Directed by Cyrus Neshvad, LA VALISE ROUGE is a suspense thriller that sends a powerful message just as this short is a powerful one.  Director Neshvad's thoughts are with the
Iranian women right now who are fighting for their rights and it is his hope this short movie can help change the situation. An Iranian girl decides to remove her Headscarf/Hijab in a life changing situation.  She has just arrived at the airport where her father had sold her to be married.  She sees the older groom and decides to escape her doomed future planned by her father.  Her father tells the waiting groom that the daughter is carrying a red suitcase that she hides as she dodges him a couple of times at the airport.  The film feels like a Hitchcockian thriller at times, especially in the bus scene where she hides as he enters the bus looking for her (the Hitchcock bus scene in TORN CURTAIN).  Totally entertaining while sending a powerful message as well!
Trailer: