HOW TO BLOW UP A PIPELINE (USA 2022) **
Directed by Daniel Goldhaber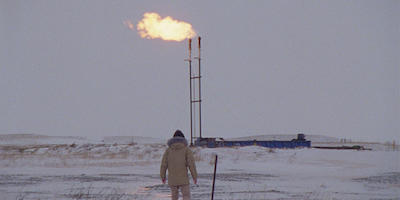 HOW TO BLOW UP YOUR PIPELINE is a well-intentioned but unfortunately poorly executed environmentally friendly thriller drama that is all over the place trying especially hard to be a thriller like Henri-Georges Clouzot's LA SALAIRE DU PEUR but failing miserably. Director Goldhaber ends many segments with an exciting part, like an explosion and then interrupts it with the background story of one (or two) of the activists. It is confusing at first as it goes back in the time-line not to say that it makes little purpose to employ this technique, unless one is making a series in which the end intrigues the viewer to watch the next episode. The virus young subjects leave much for the audience to care for. They just do what they think is right. The film gives mixed messages on what to do with the environment. Should everyone be as destructive by blowing up other pipelines and destroying property? The film also opts out for a cop-out happy ending. One might lay part of the blame to the film's source material, Andreas Malm's controversial 2021 non-fiction treatise of the same name.
Trailer:
KIDS VS. ALIENS (Canada 2022) ***
Directed by Jason Eisener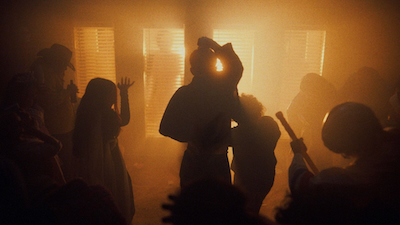 The new horror comedy streaming on Shudder may sound cheesy based on its title, but that is because the film fully embraces its cheesy nature. However, this does not necessarily detract from the film's entertainment value. Director Eisener successfully leans into the film's cheesiness, resulting in an over-the-top and highly entertaining horror comedy.
KIDS VS. ALIENS is part of a group of Canadian films that are often erroneously recorded as American, despite not referencing any specific location. Although the film could easily stand in for America, it is evident from the absence of American accents, the scenery, and the presence of Canadian actor Calem MacDonald, that the film is Canadian. The movie was shot around Dartmouth, Nova Scotia, where the director was born and was financed by the provinces of Ontario and Nova Scotia. The film is reportedly based on the director's own childhood experiences.
Although the story revolves around kids and teens, KIDS VS. ALIENS is not a children's movie, as evidenced by the frequent swearing by the young characters and the graphic violence and gore that involves lots of blood and gooey substances. Actor Calem MacDonald delivers a standout performance as the traitor boyfriend villain, Billy, who ultimately gets his comeuppance. MacDonald's impressive physique is also on display in a bedroom scene where he takes off his shirt, showcasing his toned body that perfectly complements his good looks. Hailing from Nova Scotia, where the film is produced, MacDonald is a rising star who has appeared in Canadian series such as TRAILER PARK BOYS and the CBC comedy MR. D.
For a low-budget Canadian horror comedy, KIDS VS. ALIENS boasts impressive special effects and lighting that create a convincing atmosphere of an alien invasion at a beachside residence. The movie is set to stream on Shudder, the horror streaming service, beginning on April 14th.
Trailer:
QUEENS ON THE RUN (FUGA DE REINAS) (Mexico 2023) ***
Directed by Jorge Macaya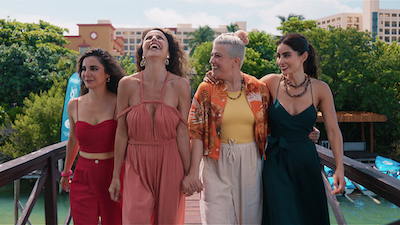 As the breezy title implies, QUEENS ON THE RUN is a light (with some laugh- out loud moments) action comedy - more comedy than action, that aims to entertain simply with a simple story for its hour and a half running time. For the reason the film does not aim high, it succeeds as a female feel-good, road trip comedy but do not expect anything in the vein of THELMA AND LOUISE.
4 female ex-schoolmates decide to abandon their individual lives (not too funny here nor too convincing) and decide to take a road trip (with no husbands, no children just naked) they had always wanted to take. The motive is rather: "No matter what age, life is an adventure. It's never too late to start over. No matter what age, there is a beast inside us waiting to wake up." Of course, no surprises - they literally bump into some trouble which they get out of eventually based on their female verve and unity.
Nothing special, this Netflix original from Mexico serves as an entertaining and forgetful time-waster. Extra bnus for female audiences, which is the targte audience for this movie. Males - be prepared for abuse! But fun abuse!
Trailer:
RENFIELD (USA 2023) **
Directed by Chris McKay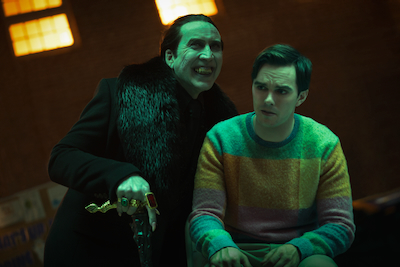 RENFIELD is the new comedy horror fantasy that takes liberties on the Bram Stoker Dracula novel and updates the tale to modern times. The film's central character is Dracula's (Nicholas Cage) servant Robert Montague Renfield (Nicholas Hoult). Renfield finds a new lease on life in modern-day New Orleans when he falls in love with Rebecca Quincy (Awkwafina), a traffic cop, and decides to finally stand up to his creator in hopes of finally breaking free of his servitude.
Performances-wise, Nicholas Cage does a remarkable job as the deranged vampire, hamming it up the best he can and succeeding immensely bringing in most of the film's pleasures. Hoult is the pretty boy hero and Awkwafina does what the rapper/ comedienne does best - doing Awkwafina as most audiences are familiar with in her roles such as in CRAZY RICH ASIANS.
The romance portrayed by Rebecca and Renfield is a strange one - as strange as one is human and the other a half monster. There are no kisses or sex, not even the holding of hands or a light peck on the cheek. It shows perhaps that love can overcome all boundaries. Or perhaps the romance could have just been left out more conveniently in the story.
RENFIELD in the Bram Stoker 1897 novel is Count Dracula's servant. Arguably this insect eating half vampire is more interesting than his master, the count himself. In Stoker's Dracula, he is the deranged, fanatically devoted servant, helping him in his plan to turn Mina Harker into a vampire in return for a continuous supply of insects to consume and the promise of immortality. Throughout the novel, he resides in an asylum, where he is treated by Dr. John Seward. The devotion in the novel is left intact but everything else about RENFIELD appears to be changed for 'artistic entertainment' purposes, which in the film's case is for comedy fantasy horror.
The film contains lots of swearing, blood and gore and action fight scenes. The amount of blood seen is understandable as Dracula is a blood drinking vampire, but the insect eating scenes are more disturbing. There are lots of gore from broken limbs to decapitation, but all done in the fun and spirit of entertainment. Everyone swears in the film, particularly Rebecca, The action scenes are exciting enough though more could have been done in improving their continuity.
The best thing about the film occurs at the end during the closing credits. The film is deliberately made to look all scratched up like the old horror movies of Dracula and other horror classics, with dancers that are mentioned in the credits but can hardly be seen performing owing to the blurred images.
As a fantastic comedy horror, the film fails as both a comedy and a horror. The comedy is childish and bland though the storyline is just passably modified to suit current times. The film is definitely a horror fantasy though hardly an entertaining one, a rather muddled up blend of too many ingredients in one pot.
SWEETHURT (Australia 2022) ***
Directed by Tom Danger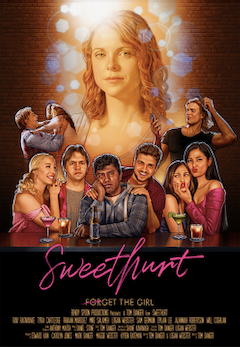 From down under, arrives a new quirky comedy of the young entitled SWEETHURT. A play on the word "sweetheart", the story is about being hurt when or after falling in love. There are two interlocking stories here one with a young indigenous male and another with a female. Bit are trying to get over their breakups.
In the director (Tom Danger( and scriptwriter's (Logan Webster) heartfelt look at love and heartbreak as a young adult, SWEETHURT follows Jacob (Rav Ratnayake), who embarks on a road-trip to a small, beach-side town with his two best friends Mike and Drew, (Mehdy Salameh, Logan Webster) as well as his sociopath sister, Abby (Sam Germain), for what promises to be a fun weekend of going through their newly-deceased grandfather's stuff. When friends get together with an empty house in view, a party is just waiting to happen. And when a party is waiting to happen, all hell will break loose. Upon arrival, Jacob's true motivations are revealed; his ex-girlfriend, Olivia (Alannah Robertson) now with some new hunk Tyler, lives in the town, and Jacob wants one last shot at probably disappointing her again. Meanwhile, in the second story, Skye (Tyra Cartledge) has just had her heart broken, and the only one who can pick up the pieces is her best friend Carly (Rhiaan Marquez) - together, they go on a voyage through the night as Skye struggles with her burgeoning sexuality, having to deal with perverts, pirates, and worst of all - her parents. There is also a baby goat, of course.
The film features a pop-punky, fist-pumping, skateboardy soundtrack, evoking the ripped-jean vibes of the late 90s/early 2000s. SWEETHURT features pop-rock legends Third Eye Blind, current glam-rock megastars The Struts, underground pop-punk royalty Mest, as well as a collection of modern and classic bands from all over the world, creating a nostalgia-soaked instant classic of young adult angst, romance, friendship and partying until you pass out.
SWEETHURT is not as good or as hilarious or even as original as it wants to be, but not for want of trying. Take for example, the dialogue that tries so hard to be original and funny - the one referring to the scenic route, which means meeting up with the average guy before dumping him for a hotter one, once the average guy has introduced all his better looking friends.Audiences have seen films with wilder parties, crazier stories with young teen love anode course much funnier teen comedies with teen angst. Still SWEETHURT is amusing and entertaining and watchable for its short running time of 92 minutes.
SWEETHURT has made its rounds at various film festivals, already screened at Byron Bay Underground Film Festival, New Jersey International Film Festival, and Sydney Underground Film Festival.
Gravitas Ventures will release SWEETHURT on digital platforms on April 18, 2023. The film has a running time of 92 minutes and will not be rated by the MPAA.
Trailer: