ALEX BORSTEIN: CORSETS & CLOWN SUITS (USA 2023) ***
Directed by Scott Ellis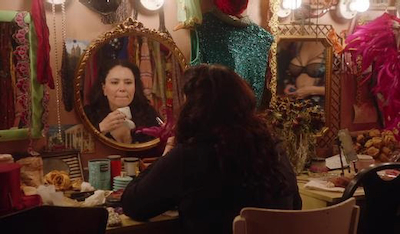 ALEX BORSTEIN: CORSETS & CLOWN SUITS is a deeply personal and wildly fictitious account of one woman's attempt to f*** with perception. A night of comedy, music, and waxing rhapsodic. The title is so-called because the standup comedienne performs her act wearing a modified clown suit and a corset.
Alex Borstein is a three-time Emmy winner and one of the stars of the hit series The Marvelous Mrs. Maisel. The film is set to release this first Amazon Original comedy special. She comes with a string of accomplishments. Borstein is a multi-hyphenate talent who acts, produces, voices the character Lois Griffin on FOX's Family Guy, and wrote for Showtime's long-running series Shameless. She also starred alongside Laurie Metcalf and Niecy Nash in HBO's Getting On, where she brought the vulnerable character of Dawn Forchette to life. Getting On rose to critical acclaim during its three seasons, as it followed the daily lives of nurses and doctors struggling with the dark comedic realities of caring for the elderly in an overwhelmed health care system. Borstein has won two Primetime Emmys, two SAG Awards, and two Critics Choice Awards for her turn as Susie Myerson on Prime Video's award-winning series, The Marvelous Mrs. Maisel. She also took an Emmy home for her voice-over work as Lois Griffin on FOX's long-running mega-hit, Family Guy.
This is an hour and 30 minute unique comedic special that will lead audiences into Alex Borstein's mind through a marriage of humour and music. Corsets & Clown Suits is equal parts provocative and whimsical. Borstein's self-penned performance showcases her captivating form of storytelling with the help of her muse and maestro, Barcelona-native musicians, Eric Mills and Salva Rey.
In 1997, Borstein grew in fame once she became a cast member on the third season of the sketch comedy show MADtv. She originally joined the cast as a featured player, but was upgraded to the repertory mid-season. Borstein was best known on MADtv for her character Ms. Swan (owner of the Gorgeous Pretty Beauty Nail Salon)
So the magic question is whether Alex, short for Alexandrea, is funny enough to entertain for an hour and a half? The answer is yes, though the laughs begin to lag in the middle and the singing parts, though quite melodic, are not as hilarious as they are supposed to be.
It is the perfect evening to enjoy standup comedy at home without the inconvenience of dressing up and going to the theatre. And without being singled out and insulted by the standup comic, which happens quite often in comic performances. Alex insults a number of married couples in the audience in her fiancé route. No one is immune to her verbal attacks, including her own mother and father, present in the audience.
Linda shows her talent in other forms besides delivering verbal jokes. At one point, she croons "Hamilton' - the musical and in another, argues her funniest moment on the stage, does a baby llama impression after the baby llama has squeezed itself put of mama llama's ass. The funniest moments are the ones most audiences can identify with, as in the routine on McDonald's.
Linda is foul-mouthed and funny but not overtly so. She speaks nasty only when there is a good nasty joke coming on and not otherwise. Still children should stay away, even though Linda first appears onstage in a clown suit.
Besides the special being mainly Alex's standup routine, the special is bookended with skits of what happened before her act and what happened after. The first is amusing with a striptease act done 60's night club style and the second staged at a restaurant with jokes taken out of her routine.
The special opens on Prime Video April the 18th.
Trailer:
BEAU IS AFRAID (USA 2023) ***
Directed by Iris Aster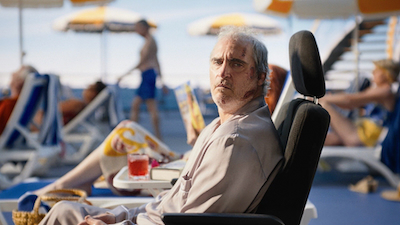 BEAU IS AFRAID is the highly anticipated horror film from the director of the hit successes of MIDSOMMAR and HEREDITARY, proving him the one director to watch in the vein of M. Night Shyamalan. Truth be told, Aster has at least not had a single flip yet, though his best film is his first and the next best his second film with BEAU IS AFRAID, an indulgent occasional mess but extremely well executed in parts as his weakest, especially in narrative sense. But the concept of BEAU IS AFRAID, an entire total nightmarish account of a loser's life, has apparently been in the mind of director Aster for more than 10 years and finally morphed into this movie. If a director gets to do what he or she wants with free reign, this could sometimes spell trouble.
The film centres on Beau Wassermann (Joachim Phoenix), the son of a famous and wealthy businesswoman, Mona (Patti LuPone). He grows up without a father, who his mother says died during an orgasm (which was also when Beau was conceived), a hereditary medical condition that she claims was passed down to Beau. As a teenager, Beau meets and falls in love with a girl named Elaine (Parker Posey). The two kiss and Beau promises to remain a virgin until they meet again as adults.
BEAU IS AFRAID has sequences that are hallucinatory, some that do not happen and some that are true. Director Aster does not fully explain nor make it clear which is which, so the film is up to grabs as to what the audience interprets. Intros sense, the film is quite a challenge and clever, if one does not get too frustrated at what is seen on screen. The first part of Arbiter's film unravels at its best, many segments extremely well shot and layered in terms as to what is happening to Beau. This is the scene, looking like a Khafka-ishhorror, where he is at his apartment, which was built onstage, in a whole lot of horrors occur outdoors which he witnesses - a naked man stabbing random pedestrians; two homeless people fighting and rolling around in the street, a person screaming for help and others. These occur while he has his keys stolen from the door, while his water in the building shut off, just as he needs water to take his medication for his mental well-being. "Always take it with water," says his therapist on the prescription.
As a horror film, the sets and art direction are excellent. The film was largely shot in Montreal, Canada with two blocks taken for the filming process. The architectural mansion , which is nothing short of gorgeous, is a real find that serves as the climax of the film where Beau finally confronts his mother, who is apparently not dead but alive. The key confrontation between the two veteran actors deserves mention. Phoenix mainly hams it up, winging his performance compared to Patti LuPone the stage actress who plays the mother uttering long lines of dialogue as if performing on stage. The two contrasting methods of delivery mark the best part of the film.
Not for everyone, but by no means flawless as well, BEAU IS AFRAID succeeds as a nightmarish journey in which the end might not turn out as to what Beau has wished for. Running at 3 hours, BEAU IS AFRAID might very well be the longest running horror film to be remembered. But it is also one that demands to be seen.
Trailer:
CHOKEHOLD (Boga Boga) (Turkey 2023) ***
Directed by Onur Saylak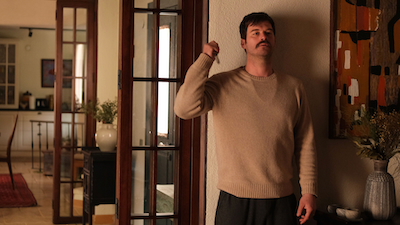 CHOKEHOLD is a Netflix original movie from Turkey - a drama/thriller. Netflix offers North American audiences to view quality international films for all over the world. CHOKEHOLD - original title Boga Boga falls into this category of films
The film, directed by Onur Saylak and written by Hakab Gublay begins impressively with the description of a sky that is cloudless and yet there is no sun to shine on brightness. Yet the man is happy, so goes the voiceover before the screen opens and the audience sees exactly what is described in a grey cloudless sky on the screen. The happy man in this case is Yalin.
Yalin and Beyza, a couple from Istanbul, move to a village in Assos from Istanbul to start a new life. However, from the first day they settle, the villagers treat Yalin with hostility. Soon, their threatening attitude intensifies and a young man attacks Yalin.
The theme of new movers to a new village incurring hostility has been fond fodder for films ever since Sam Peckinpah made THE STRAW DOGS in 1971 with newcomers to an English village played by Dustin Hoffman and Susan George, the film remade in 2011. In CHOKEHOLD. Yalin has been in the village before, as is indicated by a conversation with his grocer.
But in CHOKEHOLD there is a reason for the villagers' hostility. It is revealed on TV that Yalin had been released from prison for embezzlement of millions, while the country is suffering from a financial crisis. The whole village likely has seen the news on TV and Yalin is attacked by the young man for this reason. Worst still, the young man is killed by Yalin, as incidents slowly spiral out of control.
The rocky landscape of rural Turkey is put in full view and use in the film. Despite the barren and unwelcome look, the landscape is still stunning. It reflects the trouble Yalin and Beya both face in the village.
Though a dramatic thriller at heart, there are bouts of humour some, good enough to effect a laugh-out loud moment. Take the conversation scene between Yalin and the grocer where the grocer describes a previous incident with his father who had hither. That is the first and last time my father ever hit me, says the grocer, who then asks Yalin advice about what to do with the gold he had received at his wedding. His father suddenly appears and, upset with his son revealing secrets to Yalin, hits him again on the head.
The film moves at a moderate pace that is conducive to a thriller of this nature,
CHOKEHOLD, the title of the film is so called for the reason that the couple is not allowed to breathe a life in the village as their supply of survival is cut off. A more literal reason for the title is that the young man attacks Yalin with a chokehold.
A worthy thriller set in a foreign setting for an additional element of awe, CHOKEHOLD is solid entertainment made simply and effectively without any use of explosions, car chases or special effects. The film streams on Netflix beginning April the 21st.
Trailer:
JOYLAND (Pakistan 2022) **
Directed by Saim Sadiq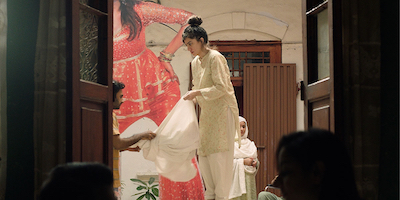 Pakistani family confronts emotional intimacy and social expectations when their son begins performing with a trans dancer, in Saim Sadiq's staggering debut feature — winner of the Un Certain Regard Jury Prize and the Queer Palm at the Cannes Film Festival. Haider Rana (Ali Junejo), a quiet, unemployed husband to a vociferous, employed wife, Mumtaz (Rasti Farooq), has a seemingly happy arranged marriage and ordered family life, living under the same roof as the rest of the Rana clan. Amidst pressure and ridicule from his father, Haider finds work as a backup dancer for the trans performer Biba (Alina Khan), opening his eyes to another way to love — and another way of life. Mumtaz, meanwhile, is frustrated with the expectations of patriarchal society. Soon their desires collide, forcing them and their family to reckon with what has been buried for so long. The film plays as a comedy in its first half, poking fun at the Pakistani culture and norms before getting serious in its second half. The second half gets a bit confusing and a few plot points that do not make sense. Still, from Pakistan, JOYLAND is quite an achievement in progress for gay rights.
TO CATCH A KILLER (USA 2023) ****
Directed by Damián Szifron
TO CATCH A KILLER boasts the direction of Argentinian Damian Szifron whose 2014 Cannes debut WILD TALES not only wowed everyone but went on to earn a nomination for Best International Feature. Though it did not win the Oscar, the film entertained audiences and critics alike. WILD TALES is comprised of six short stories involving the subject of revenge that explores the extremities of human behaviour involving people in distress. TO CATCH A KILLER, though a dramatic thriller explores the same.
After more than 10 years director Szifron returns, oddly enough with a detective thriller set in the American City of Baltimore. But like WILD TALES, TO CATCH A KILLER contains lots of sardonic wit from start to finish and is a totally enjoyable watch from start to end, the equivalent of a page turner, thanks to director Szifron. The film also marks the debut of actress Shailene Woodley. Shailene broke into fame playing George Clooney's daughter in Alexander Payne's THE DESCENDANTS in 2011. She co-produced as well as stars as the lead in TO CATCH A KILLER, a remarkable debut.
The film begins impressively on New Year's Eve in Baltimore. It is the eve of the New Year. 29 unconnected victims are shot and killed by a mass shooter who blows up the building destroying all the clues. The police are puzzled. A talented but troubled police officer, Eleanor Falco (Shailene Woodley) is recruited by the FBI's chief investigator, Geoffrey Lammark (Ben Mendelsohn) to help profile and track down a disturbed individual terrorizing the city.
The rest of the movie is the hunt for the killer while developing the relationship between boss and recruit. The often brilliant script, written by both the director and Jonathan Wakeham, plays well as a whodunit, together with clues and false leads. It is more a thinking film than an action thriller, though never lacking in suspense. All the while, the script also takes a look at social issues of America tackling current headliners like terrorism, gun-laws, immigration, racism and LGBT relationships.
This is that rare film that makes one cry for the film's gay character. Not more to be said about the fact lest the film's surprise be spoiled. The film heralds gay relationships in just a few distinct scenes.
The film begins light and then transcends to dead seriousness while making a point of America's problematic issues. It is a wild card for the film to tackle such serious issues, that many a commercial audience might not appreciate. One flaw is the film getting too extreme in getting a point across, such as the repetitive mention of Eleanor's drug use.
TO CATCH A KILLER is a surprising little gem that opens on the 21st of April that appears to have come out of nowhere. A suspenseful whodunit thriller filled with sardonic wit and superior performances from the two leads, it is a compelling brilliantly executed film that marks the best of detective films to date.
Trailer: