FILM REVIEWS
ARE YOU THERE GOD? IT'S ME, MARGARET (USA 2023) ***½
Directed by Kelly Freeman Craig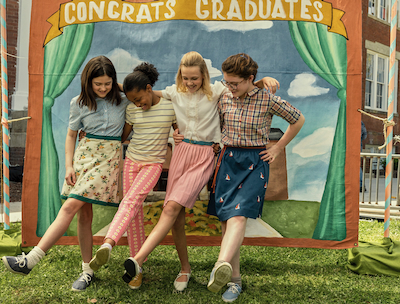 ARE YOU THERE GOD? IT'S ME MARGARET is an American coming-of-age period comedy drama film written for the screen, co-produced, and directed by Kelly Fremon Craig, based on the 1970 novel of the same name by Judy Blume. Blume is an American writer of children's, young adult and adult fiction. Among her best-known works are Are You There God? It's Me, Margaret (1970), Tales of a Fourth Grade Nothing (1972), Deenie (1973), and Blubber (1974). Blume's books have significantly contributed to children's and young adult literature. She was named one of the 100 most influential people in the world by Time magazine in 2023. The film cannot have been more timely.
After rejecting several offers to adapt her book in the 49 years since its publication, author Judy Blume sold the film rights to James L. Brooks and Kelly Fremon Craig, who worked together on The Edge of Seventeen, with Craig set to write and direct. It is a worthwhile wait as this is a solid and faithful adaptation of Blume's novel, capturing all the nuances, trials and spirit of teen youth. A studio bidding war over the distribution rights was won by Lionsgate. This is a rare departure for Lionsgate who now distributes dire action films and is in desperate need of a hit since their TWILIGHT and DIVERGENT young adult hits. ARE YOU THERE GOD? IT'S ME MARGARET is a solid teen film that caters to both adults and the younger folk, and this film and future adaptation of Blume's books might just be the thing Lionsgate needs.
The film begins in1970 when the protagonist, Margaret, is 11 years old. Margaret Simon's family moves from New York City to the New Jersey suburbs. Her mother is Christian and her father is Jewish, but Margaret was raised without an affiliation to either faith. She frequently prays to God, beginning her prayers with, "Are you there God? It's me, Margaret." Margaret feels uncomfortable with her lack of religious affiliation. For a school assignment, she studies religious beliefs, hoping to resolve her faith-based issues. Her study includes attending different places of worship to learn about religious practices. Her Jewish grandmother, Sylvia Simon, takes Margaret to Rosh Hashanah services and hopes her granddaughter will embrace Judaism.
Other Grade 11 issues Margaret faces include anticipation of her first menstruation (which is humorously explained in less than a minute), boy crushes, breast envy among other things that are only important to kids that age.
But director Craig has done a faithful adaptation that works for a variety of reasons. The antics the girls are up to are simple, real and what many an audience experience in their youth. For example, to prevent slow growth of their breasts, the girls believe in doing breast exercises while chanting: "We must, we must, we must increase out Bust!". There is the cute boy next door; and of course for the girls the worry about their upcoming first period. For Margaret, she worries both for her breast size and also, praying to God that she would not be the last to get her period. These are worries that youngsters deem important but are in reality not. Thirdly the performances by all the young cast are excellent, believable, sweet and endearing, especially Abby Ryder Fortson in the lead as Margaret. Veterans Rachel McAdams and Academy Award Winner Kath Bates are both a delight to watch playing Margaret's mother and grandmother respectively.
ARE YOU THERE GOD? IT'S ME MARGARET will win the hearts of many for its humour, drama, story and look at a slice of ordinary real life that every female goes through.
Trailer:
FREAKS VS. THE REICH (original title: Freaks Out!H (Italy/Belgium 2020) ***
Directed by Gabriele Mainetti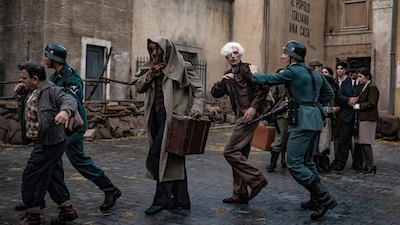 FREAKS VS. THE REICH is the sophomore effort of director Gabriele Marinetti best known for his film THEY CALLED ME JEEG, never distributed in theatres but had a showing at Toronto's local ICFF Italian InternationalFilm Festival and was voted by the crisis jury (of which I was a member) as Best Film. Tee director tackles a more ambitious and more difficult film. Despite its tacky title, the film is a serious piece that covers strong emotional characters. The characters in this case are circus performers, or freaks at the half penny circus.
During World War II in occupied Rome a group of circus performers endowed with supernatural powers band together to fight the oppressive Nazi regime's occupation of Italy in FREAKS VS. THE REICH, a fantastical historical action-adventure. It all starts when Israel, the owner of their circus, disappears in the attempt to find a getaway overseas for them all. Not everyone agrees to go with him, but one can understand the reason as Israelis a Jew. The four friends are in disarray. Without anyone looking after them but above all, without the circus, they lose their social placement and they feel only as sideshow attractions on the loose in a city at war
Looking to flee the Nazi menace for the shores of America are four super-powered circus performers: there's beautiful, young, electrically-charged Matilde, Cencio, an albino with the ability to control insects, Mario, a dwarf graced with magnetic powers, and Fulvio, a strongman covered from head to toe with hair. Matilde gets the most attention in the film, and the story includes a coming-of-age element as well from her point of view. She is able to light electrical bulbs but anyone who touches her can feel an electric shock. She has a father figure, Israel who is captured by the Nazis.
On their heels is the psychotic Franz, an ether-addicted, six-fingered Nazi who runs the nearby circus, Circus Berlin and believes that the supernaturally gifted quartet will help him turn the tide of the war, delivering the ultimate victory for Hitler and the Reich. Franz is a freak himself gifted with certain powers like being able to look into the future. He has seen Hitler shoot himself. Franz Rogowski (recent film, UNDINE) plays Franz, with madcap intensity.
At its best, FREAKS resembles a Federico Fellin as Fellini loves to have segments in his films involving the circus in one form or another (FELLINI SATYRICON and 8 ½). The characters here are part of a circus and a few of the film's segments are as weird as those found in a Fellini movie. Even the music score of the film (the music is by both Michele Braga and the director himself) resembles a bit of the music of Fellini's frequent composer Nino Roa.
FREAKS has an overblown ending that blows away the film's credibility and whatever strength it has built. It opens VOD/Digital on April the 28th.
Trailer:
PETER PAN & WEDNY (USA 2023) ***
Directed by David Lowery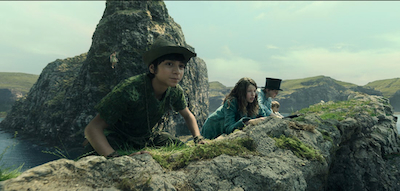 PETER PAN & WENDY is the new 2023 American fantasy adventure film directed by David Lowery (PETE'S DRAGON) from a screenplay he co-wrote with Toby Halbrooks. A live-action adaptation of Walt Disney's 1953 animated film Peter Pan, in turn based on the 1904 play Peter Pan; or, the Boy Who Wouldn't Grow Up (also known as Peter and Wendy) by J. M. Barrie, the film contains the story already everyone is familiar with - which is shame, as three are little to no surprises left in the story, no matter how hard the filmmakers try.
The film stars Alexander Molony (in his film debut) and Ever Anderson in the title roles. Jude Law makes a welcome presence as an unrecognizable Captain Hook, Yara Shahidi, Alyssa Wapanatâhk, Joshua Pickering, Jacobi Jupe and with Molly Parker and Alan Tudyk as Wendy's parents.
Wendy Darling, a young girl afraid to leave her childhood home behind, meets Peter Pan, a boy who can fly and refuses to grow up. Alongside her brothers, Michael and John, and a tiny fairy, Tinker Bell, she travels with Peter to the magical world of Neverland. There, Wendy encounters an evil pirate captain, Captain Hook, and embarks on a thrilling and dangerous adventure that will change her life forever.
The film is handsomely shot, no doubt in Canada in the provinces of Vancouver and Newfoundland. The sea and rocky cliffs are well used to get effect. The live-action fight sequences are done with a touch of fantasy and derring-do. The segment with Captain Hook jumping across the crocodile looks both amazing and scary. There are lots of special effects like the golden fairy dust throughout the story.
The cast is largely eclectic with indigenous actors portraying the natives of Neverland. Wendy and siblings and family are white where everyone else is not. Films these days do the best to give all non-whites an equal opportunity.
The film went through delays due to the Pandemic. It was supposed at one time to have a theatrical release but it now arrives to direct streaming on Disney+ from April the 28th. Too and as the magnificent landscapes would look really good on the big screen.
Trailer:
POLITE SOCIETY (UK 2023) ***
Directed by Nida Manzoor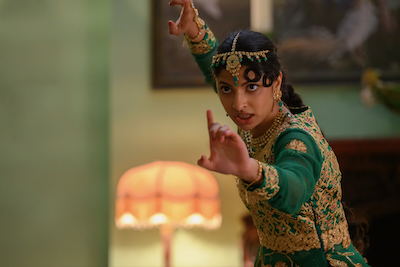 POLITE SOCIETY (perhaps a reference to the novel A TALE OF TWO CITIES - the best of times; the worst of times) belongs to the category of cross-cultural comedy that made films like EAST IS EAST and its sequel and BEND IT LIKE BECKHAM great commercial successes. When POLITE SOCIETY opens, there is a shot of a field and shop houses at the far end that is immediately recognizable as Shepherd's Bush (to me anyway, a frequent London visitor) in London England. There, shops of Indians and Pakistanis are common, in a slightly poorer neighbourhood than one is used to see in London, England.
Ria Khan believes that she must save her older sister Lena from her impending marriage. After enlisting her friends' help, she attempts to pull off the most ambitious of all wedding heists, in the name of independence and sisterhood.
The subject of sisterhood is effectively captured by the camaraderie of the two sisters. Lena films Ria doing her Kung-Fu kicks though Ria often falls flat the floor. The sisterhood is about to be broken when Lena is to be wed off to a handsome beau whose looks can be quite deceiving. It is up, to Ria and her fight technique to save Lena from impending doom. And with the help her eclectic classmates, including a bully that eventually warms up to her - yes, a cliched storyline included.
Football in BEND IT LIKE BECKHAM is replaced by sort of sci-fi storyline in which the protagonist's sister has been selected by an evil mother to have herself cloned. It is odd that writer/director Manzoor chooses to blend in this fantasy/horror to a real life comedy of family and sisterhood. It is fun to watch, but the blending is odd and out of place. It seems that as long as the audience is kept on their toes, it is ok for director Manzoor to incorporate it in her film.
The fight scenes are nothing too spectacular and are executed more for humour than anything else. "I am the Fury", yells Ria often,,just before she engages in a fight. Truth be told, Ria is not that good a fighter but not for want of trying. Director Manzoor's film is full of colour, especaully the Pakistani dresses from the saris to the groom's handsome uniform. The cast is mainly Pakistani with a few locals though the film is set in London. The two leads playing the sister and the relatively unknown cast do a credible and spirited work.
POLITE SOCETY is definitely crowd-pleasing, and it presses the right buttons, though too predictably. Besides the weird storyline, there are few surprises as what will happen at the end, though following a well worked formula often works into a lively and entertaining film. Critics might frown for reason of the film's feel-good cliched and well work material.
Focus Features and Universal Pictures Canada will be releasing POLITE SOCIETY in theatres on April 28th, 2023.
Trailer:
RADIANCE (VERS LA LUMIERE) (Japan 1987) **½
Directed by Naomi Kawase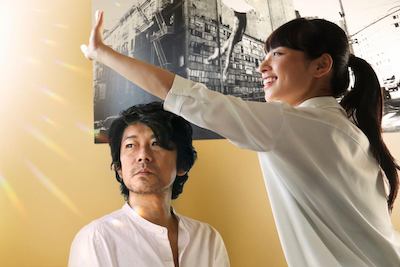 RADIANCE or TOWARDS THE LIGHT, the English translation of the French title VERS LA LUMIERE is a drama/romance made back when that got a premiere at Cannes and a release in Japan in May of 1987. RADIANCE has never made it to North America but will finally be seen when it gets a VOD/digital release on April the 28th 2023.
So, what is so special about the film RADIANCE? Or is it more the director Kawase that is of nterest? The darling of Cannes, Kawaseq had her films often premiered there with her serving on the Cannes jury once as well. Born and raised in Nara, Japan, KAWASE graduated from Visual Arts Osaka in 1989. Her films, EMBRACING and 'KATATSUMORI' received international recognitions and awards at the Yamagata International Documentary Film Festival in 1995. With her first feature, SUZAKU (1997), she became the youngest filmmaker to receive the Camera d'Or at the Festival de Cannes with her. At the Festival de Cannes, she has also won the Grand Prix with The Mourning Forest /MOGARI (2007), the Carrosse d'Or in 2009, and also served as one of the jurors for the competition in 2013. In 2015, KAWASE was bestowed with the Chevalier de l'Ordre des Arts et des Lettres (Knight of the Order of Arts and Letters) by the French Minister of Culture. In 2017. RADIANCE was selected as one of the competition films and given the Ecumenical Jury award.
As the film opens there is narration by Misako (Ayame Misaki) as she creates movie audio descriptions before a class of blind people. Her passion and her commitment to her work leads her to create scripts full of colours and textures in order to make them as accessible as possible to blind audiences. She tests it on a group of 10 blind people. At one of the pre-premiere screenings, she meets Nakamori (Masatoshi Nag ase), a renowned photographer who gradually loses his sight and ability to practice his craft. Nakamori's strong character makes him the only one to firmly criticize her scripts. He complains of her being too intrusive with too many descriptions filling in the gaps, leading to confusion, He helps Misako see the coldness of her careful descriptions. Despite the differences that arise between them, both manage to create a strong relationship that allows them to explore a world previously invisible to their eyes. In the last scene of the film, the old man struggles to climb a small dune, at the top he stops facing the setting sun. This reflects the message transmitted by his impassive face without imposing a vision on the viewer.
The budding romance between Misako and Masaya is a slow one. They begin at loggerheads. The chief complaint about Misako's verbal descriptions of movies is that she puts in too much thus being intrusive and not leaving much to the imagination. Director Kawase takes the point to heart as her film is extremely sparse.
One scene has Masako punch Nakamori, calling that the act feels good. In real life, director Kawase was charged with fist punching one of her staff, leading to problems on the set of one of her films.
RADIANCE is a slow but sincere work, as are the other films by Kawase. This could be the reason her films are an acquired taste for many.
Trailer:
SISU (Finland 2022) ***1/2
Directed by Jalmari Helander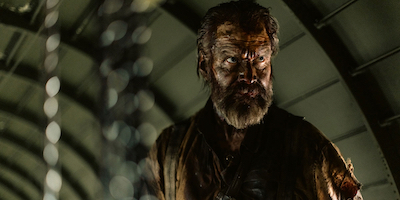 The word SISU as the film informs the audience not once but twice during the film is a word depicting a white-collared energy, of a spirit that never gives up - a word with no English equivalent. There is a lot of fucking issue in this violent gory horror flick that premiered last year in the Midnight Madness Section of TIFF.
In cinematic terms, it means a hero or protagonist that refuses to die. In the twilight of World War II, a solitary prospector (Jorma Tommila) strikes a rich vein of gold in the wilderness of Lapland in Northern Finland. Making tracks with his new-found bounty for the nearest town, the man runs afoul of a retreating detachment of Nazi soldiers led by an odious SS Obersturmführer (Aksel Hennie), who set their sights on claiming the gold for themselves. Unfortunately for these stormtroopers, this is no ordinary miner, but rather a mythic one-man army who epitomizes the quintessential Finnish concept of SISU. In the hero's refusal to die, he undergoes a whole lot of graphic beating that might be too intense for even the most seasoned horror fan to watch.
The film has been appropriately selected to open the Midnight Madness of TIFF. Watch out for the hanging scene where a nail from the wooden post gets nudged into his wounded leg.
Total maniac mayhem but also extremely entertaining.
TRIALS TO TRIUMPH (USA 2022) ***
Directed by Dan Ratner, Greg Romano, and Misa Garcia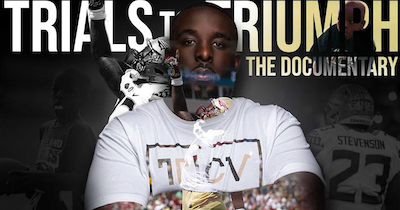 Primarily, TRIALS TO TRIUMPH is the story of Freddie Stevenson's meteoric football career, the crash that followed, and his reinvention. But the doc also digresses other mini-accounts of other football celebrities and their trials. There is not one but three directors. The doc understandably feel unfocused as it without notice, jumps from one to another athlete's story But the audience gets to witness primarily stories of struggle & redemption from Freddie Stebvenson as well as minor stories of Maurice Benard, Delvin Breaux, Tony Gaskins, and more and see them overcome the odds in these powerful, real conversations.
TRIALS TO TRIUMPH was directed by Dan Ratner, Greg Romano, and Misa Garcia. This inspirational documentary based on Stevenson's Best-Selling memoir features interviews with Freddie Stevenson, Maurice Benard, Dasia Torres, Neno Torres, Tyrell Lyons, Tony Gaskins, Dr. Dan Ratner, Delvin Breaux, Terris Stevenson, Sylvia Stevenson, and Ryan Green. It was produced by Dan Ratner, Greg Romano, and Freddie Stevenson.
Life is resilience, says his coach. And Freddie's life shows it. The major part of the doc has Freddie talk to the camera as well as those close to him, relatives like his father and mother and also his then girlfriend.m His girlfriend says: " He would go to the gym and give 110%. His father and mother were always there to support him and offer the pain and struggles their son had to go through. It is inspirational not to hear the words from Freddie himself but of the words of those close to him as observations also tell the whole story.
There is an extended talk by Freddie's father at the beginning of the film explaining how much hardship with limited opportunities available for coloured folk. He confesses to drug dealing, hiding the fact from his son, Freddie and how he was sentenced to prison. His incarceration followed by him becoming a born againChristian. The film almost gets preachy about Christianity but gaudy stayed away from the issue. Though this testimony has nothing to tell with TRIALS TO TRIUMPH, the segment is actually the film's most interesting part as it deals with real life problems of the coloured folk.
One of the key issues omitted in the doc, the larger problem that is responsible not only for Freddie's football injury but for the injuries of all footballers is the fact that football is a dangerous sport with already documentation of a very high percentage of permanent injuries arising from professional football players, particularly in the injury of head concussion, which fortunately Freddie does not suffer from. It is hinted that Freddie after recovering from an injury and offered a job back into football realizes the fact, and hesitates before accepting the position in the NFL. But the problem is systematic and more serious. North America is the only country in the world that champions this sport. The closest Europe has is rugby and Australia has, isastraluaq rules football.
Gravitas Ventures will release TRIALS TO TRIUMPH on digital platforms on May 2, 2023. The film has a running time of 1 hour 35 minutes and will not be rated by the MPAA.
Trailer: